Netflix (NASDAQ:NFLX) presented a bullish Double Top Breakout on Monday, March 19, signified by a traditional 3 box reversal chart. Typically I would interpret this as a bullish move however, based on short interest of 10.8M shares or 20% of float (nasdaq), I believe demand is being created by short position profit taking and the downtrend remains intact.
(Click charts to enlarge)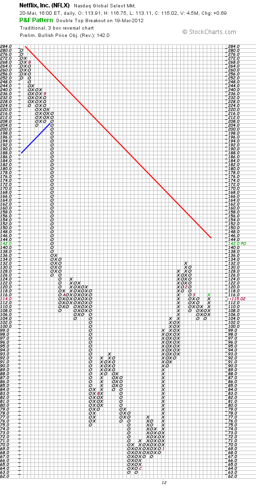 What concerns me with the move in Netflix is low volume during the two- day rally, 4.5M shares on March 20 and 5.3M on March 19, compared with an average daily volume (3 month) of 8.3M shares. It is well to remember that Netflix can be extremely volatile at low volume, the share price fell -4.29 on 3.9M shares traded March 5th. (Volume data from Yahoo)
The Bull case is present for Netflix, SA contributor Erick McKitterick outlined a bullish options play, here, and Chief Technical Analyst, Sam Collins, of InvestorPlace presented a bullish analysis, here.
It is hard for me to reconcile a bullish position in Netflix in light of its own admission that the core of the business is declining. From the Form S-3:
Consistent with our Q4 guidance, our domestic streaming and DVD gross cancellations continued to steadily decline in October and the first half of November, while gross additions of new streaming subscribers remained strong," followed by, "As a result, consistent with our prior guidance, we continue to expect our domestic streaming net additions to be about flat for November as a whole and strongly positive for December. We expect that consolidated quarterly revenue will be relatively flat until we can achieve positive net subscriber additions. As a result of the relatively flat consolidated revenues and previously announced increased investment in our International segment, we expect to incur consolidated net losses for the year ending December 31, 2012.
On March 19, the day Netflix rallied $4.37, the 6-month chart revealed a break above the 50-day average of $110.83 however; the MACD shows a strong bearish signal as the MACD is below the 9-day moving average. Moreover, the Stochastic Oscillator had already moved above 80 indicating the move upward may not hold.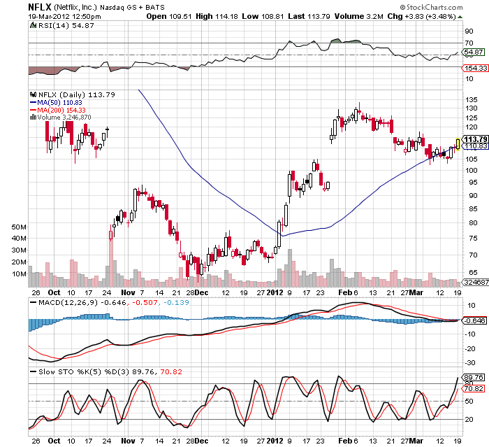 Whether it is hope that the new iPad will boost exposure and produce a bump in trial memberships or profit taking from an enormous short position in Netflix, the current run does not look sustainable from a fundamental or technical perspective.
Technical analysis of this week's price action presents a potential opportunity to initiate a short position with a 30-day price target at critical support of $99.61.
Disclosure: I have no positions in any stocks mentioned, and no plans to initiate any positions within the next 72 hours.