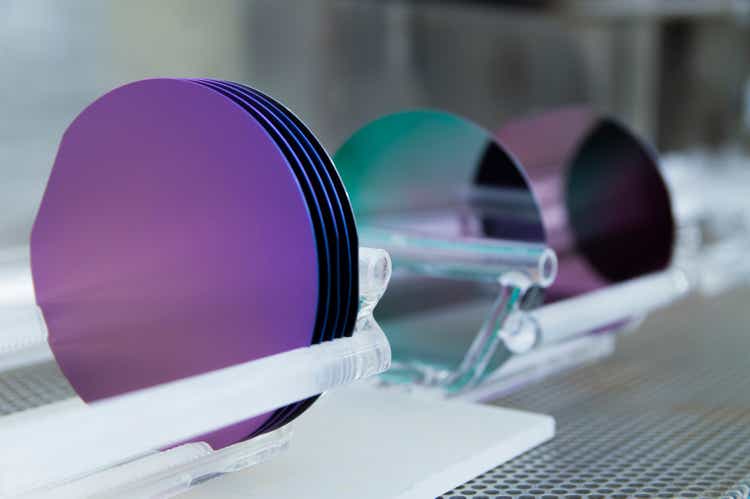 Introduction and Background
There's a lot of uncertainty in the current investing environment. If you're looking for someone to predict the future or perfectly time the market, you probably better move on. However, if you're looking for solid long-term investments that are potentially trading at fair to bargain prices, I believe the results presented here are a good starting point.
By maintaining a list of the highest quality companies and consistently tracking their valuations, I have confidence to invest when the right time arrives regardless of things happening in the market. Will this always result in timing the market perfectly, no, but I do believe this will be a favorable strategy long term. Because of current uncertainties and fear in the market, I'm finding more high-quality companies trading at or below fair value than I have seen in quite a while.
Let's look at all the companies on my list that are high-quality, consistent dividend growers, are trading below 20% above Future Fair Value, and below 10% above Historical Fair Value. My Future Fair Value estimate tends to be conservative, and it's also based on some prediction of future performance, which carries more uncertainty, hence the higher threshold for FFV.
Using this very simple first pass criteria, we will be further exploring the following list of companies:




Fair Value Estimation
As I've described in previous articles, I like to calculate a fair value in two ways, using a Historical fair value estimation and a future looking fair value estimation. The Historical Fair Value is simply based on historical valuations. I compare five-year average: Dividend yield, P/E ratio, Schiller P/E ratio, EV/EBITDA, and P/FCF to the current values and calculate a composite value based on the historical averages. This gives an estimate of the value assuming the stock continues to perform as it has historically. I also want to understand how the stock is likely to perform in the future so utilize the Finbox fair value calculated from their modeling, a Cap10 valuation model, FCF Payback Time valuation model, and 10-year earnings rate of return valuation model to determine a composite Future Fair Value estimate.
I also gather a composite target price from multiple analysts including Reuters, Morningstar, Value Line, Finbox, Morgan Stanley, and Argus. I like to see how the current price compares to analyst estimates as another data point and as somewhat of a sanity check to my own estimates.
Plotting three variables on one plot is tricky but using a bubble plot allows us to visualize three variables by plotting the Historical fair value vs. the Future Fair Value on a standard x-y chart, and then use bubbles to represent the size of discount relative to analyst estimates.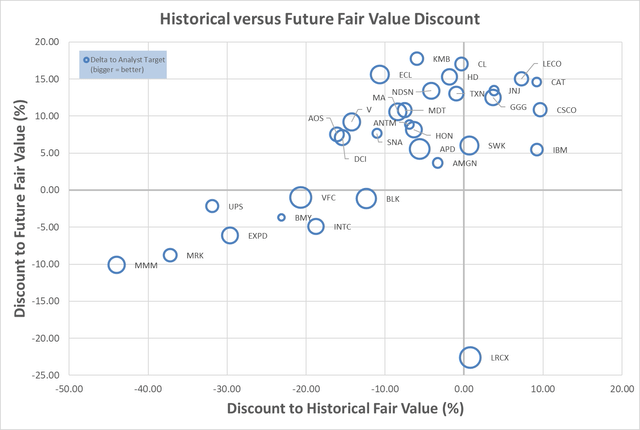 This chart is insightful once you understand how to interpret it. What we're looking for are stocks that are trading at a discount to both the Historical Fair Value and the Future Fair Value. So, those stocks that are farther to the left, and farther to the bottom, are potentially the stocks trading at the largest discount to fair value. This would be the bottom left quadrant of the graph. Additionally, those stocks with the biggest bubbles are the stocks that are trading at the largest discount to analyst estimates, so in theory, stocks in the lower left quadrant that also have large bubbles, should be very decent candidates for investment.
This month, we see several high-quality companies trading at a discount to both Historical Fair Value and Future Fair Value. Looking at the chart, 3M Company (MMM), Merck & Co (MRK), United Parcel Service (UPS), Expeditors International of Washington (EXPD), Bristol-Myers Squibb (BMY), Intel Corp (INTC), V.F. (VFC), and Blackrock (BLK) all appear to be trading at values below the Historical Fair Value and Future Fair Value. They also have upside based on analyst estimates. Another stock that's interesting is Lam Research (NASDAQ:LRCX) which is trading around fair value based on Historical Fair Value, but well under fair value based on Future Fair Value. The Future Fair Value estimation tends to be conservative, so it's not often I see stocks trading so far below the potential Future Fair Value.
I already own 3M, Merck, UPS, Intel, and Blackrock. I also recently initiated a position in Lam Research. I better come clean about LRCX though, I picked up the stock at $576. At the time this article was written, it's trading for $483. As I said, don't look to me to perfectly time the market, especially with the uncertainties we're now dealing with. Looking at the $576 that I originally paid, it was higher than I should have paid based on my own valuation. I pulled the trigger about 10% early. I would have still overpaid compared to where it is currently, but not by as much. This is why it's so important to have a consistent system, but then you still have to follow it.
The question now is should I look at this as a gift – as an opportunity to buy more on sale, or did I miss something originally, which means I should hold off, or even sell while I can? I want to take this opportunity to dig deeper into LRCX to see if I can answer that question for myself.
Lam Research Preliminary Look
After my preliminary filtering above, I like to go another level deeper. I look at Return on Equity, Return on Invested Capital, and key dividend metrics. I also like to estimate a future potential growth rate, just to have a feeling for how sustainable the business is likely to be.

LRCX has good historical RoE and RoIC figures. I like to see RoIC above 10% as a minimum and like to see a relatively small difference between RoIC and RoE. LRCX has impressive five-year RoIC of 27% and five-year RoE of 46%, suggesting it is a strong competitor in its industry. LRCX receives a Wide Moat rating from Morningstar and is also currently four stars, suggesting it could be under-valued. Looking at the dividend, LRCX has paid a growing dividend for about eight years when it was initiated. The yield is not great at only 1.2% but the 5-year growth is stellar at 34%. Even with the strong growth, the earnings and free-cash-flow-based payout ratios are very healthy at 19% and 21%. My estimated growth rate for LRCX of 20% suggests that the high dividend growth rate of recent years could continue. This is the ideal dividend growth type of company for long-term investment.
Seeking Alpha makes available a summary of ratings, as well as factor grades. These make for another nice, first pass filter for investment timing.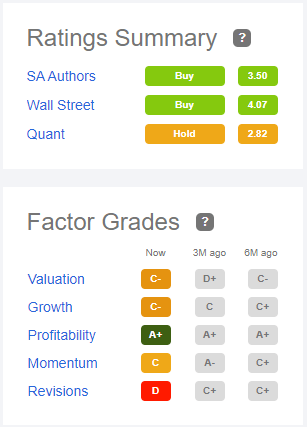 The quant ratings from Seeking Alpha are around average, however, SA Authors and Wall Street both rate LRCX as a buy. The factor grades don't look great at first blush; however, this is partly to do with LRCX being less beaten down than some of the comparisons in the sector. Specifically, from a Price / Book and Price / Sales perspective, LRCX is richer than some of the comparisons. Having said that, the actual values do not appear overly high to me. On growth, really the only negative is that the growth is expected to be lower than some of the sector comparisons but is still likely to be double digit. Revisions are a challenge, in that analysts are expecting the chip shortage could create some short-term headwinds. I don't think any of this impacts the long-term positive expectations for LRCX. The question is whether there is more short-term pain to come.
Lam Research Background
Anyone that has tuned into the news or participated in the electronics economy in any way over the last couple of years has heard about the chip shortage. Companies across all kinds of products from simple appliances through cars through computers have been impacted by shortages of micro-chips. From my view, I don't see how this demand is likely to decrease in the future as the Internet of Things continues to grow, connectivity becomes more important to more products and customers, and our society continues to pursue technological progress with things like the metaverse and AI becoming more mainstream. Lam Research doesn't make chips, they make the things that make chips. To keep up with demand, multiple chip companies are investing in capacity. Lam Research should be well positioned to benefit from these trends.
Again, I already hold stock in LRCX. I already believe in the company. Having said that, I do think it's important to acknowledge some of the risks. First, the chip equipment manufacturing industry is very cyclical. Just because chips are in high demand doesn't necessarily mean that the manufacturing equipment will be consistently in demand. Companies tend to put in large investments, and then may hold back while they maximize utilization of that invested capacity. Second, LRCX is not the lone manufacturer of this equipment. They have strong competitors like Applied Materials and Tokyo Electron. Currently, there appears to be plenty of demand for everyone to be successful, but if that demand does diminish, competition will be strong. Third, this is a very capital-intensive industry and requires large amounts of R&D to stay competitive. Falling behind in technology, intellectual property, or failures of new products can have significant long-term impacts to future business and market share. Finally, LRCX is not immune to the chip-shortage issue in their own business, and in recent quarterly results has referenced chip shortages as a headwind to better business results. Making the equipment to make more chips it turns out also requires chips.
Lam Research Strategy
There really isn't a lot to understand about LRCX's strategy. They make things that help make things, in this case, some of the most sophisticated manufacturing equipment available to enable making very sophisticated semiconductor products. I like companies that make things that make things, especially if the things they are making are for a growing market with high barriers to entry. I believe this is the case with LRCX. There's some competition, but there's also plenty of market to go around. Depending on who you reference, there are about five major players in the markets that LRCX serves, with LRCX being considered one of the strongest three.
Rather than wading through lots of corporate jargon, blue-sky vision statements, and nebulous strategic imperatives, for me, I want to understand three things about LRCX: Is the market that they serve growing; are they investing for future growth; and are they keeping up?
So is their market growing? The semiconductor market has grown consistently since the beginning. Demand for semiconductors is expected to continue to increase.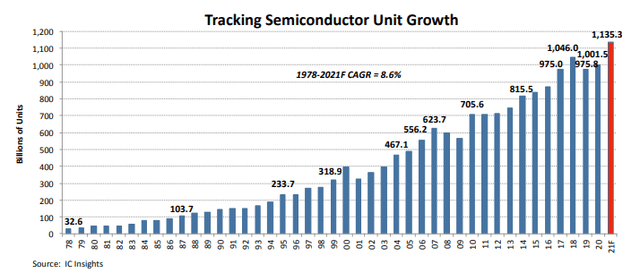 The growth of the internet of things, SMART homes, connected devices, the metaverse, and artificial intelligence, just to name a few, will continue to drive the need for chips and controllers. Have you tried to buy an appliance, power tool, or pretty much anything electronic recently that doesn't have a micro-controller? The automotive industry has been significantly impacted by the chip shortage as the next generation of autonomous and safety features require more chips. This is just one example. The water dispenser on my refrigerator has a micro-controller, and it's not even a fancy refrigerator. Additionally, Intel and Taiwan Semiconductor have both announced massive investments in new fabs. This is a good sign for the growth of the market, but also a good sign for LRCX, who will likely be a key supplier as these new fabs are built. I'm no expert, but I believe that demand for semiconductors and the products made from them will continue to grow.
What about investment? LRCX has a history of continuing to increase investment. With average RoIC of 27%, they also seem to know what to invest in. From the most recent annual report, we can see the recent investment trends: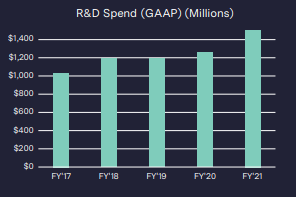 Now, what about keeping up? What I really mean about keeping up is do I see evidence of growth in the business at least in line with the market? Additionally, do I think they are investing in the right areas? Again, I'm no expert here, but I believe by investing in the best companies in good markets, I will still get the benefits of investing in these companies and markets.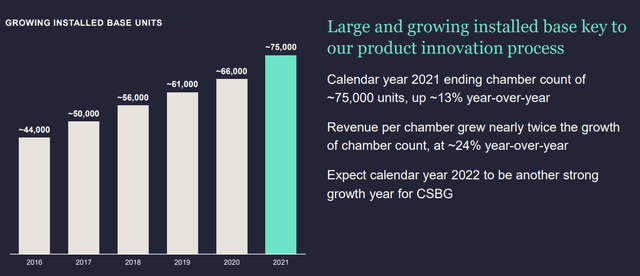 What I like about this chart is that it shows that LRCX is growing its installed base, but also growing revenue at a higher rate than the growth in the installed base. Let's start with that. If LRCX was not doing a good job from a competitive perspective, I believe it would be hard to grow revenue at a higher rate. Now maybe, the growth is desperation, given the chip shortages, but I believe it is indicative of the quality of the product that LRCX offers. Additionally, ever installed unit provides multiple benefits. There will be service revenue that comes from those units. There will be future upgrade revenue that comes with those units. From my experience, I also see that companies that use a certain brand of equipment, tend to continue to use that brand as long as it fulfills needs, based on familiarity of the equipment among employees, as well as the relationships that inevitably get established with service, sales, technical support and so forth. There is a stickiness that comes with sales of specialized equipment.
One more thing that contributes to the "keeping up" is the diversity of the business. LRCX appears to be well diversified from a product offering perspective – ability to service multiple products and markets, as well as geographically (that seems particularly relevant given current world affairs).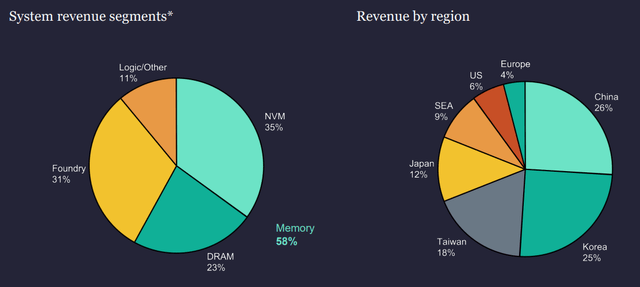 In short, I believe LRCX is well positioned to serve a growing market that enjoys high barriers to entry and will likely continue to result in business growth, financial benefits, and for me, a growing source of income as they reward shareholders with their success.
Lam Research Historical Analysis
Though we've all heard that past performance is no guarantee of future results, I think we also all realize that past performance can be somewhat indicative of the quality of the company. Obviously, it's important to understand the key drivers for that past performance, to see if you believe anything has changed that could impact that. So, let's start with how LRCX has performed for shareholders in the past:

LRCX has outperformed two of its key competitors over the past five years. The chart also shows that the current downturn is likely industry wide and not limited to LRCX. Valuations are fairly similar between these companies currently, and if anything, LRCX may be slightly more favorable.
Historical metrics don't tell the full story, but they give an indication of valuation. Two of my favorites are P/E and yield.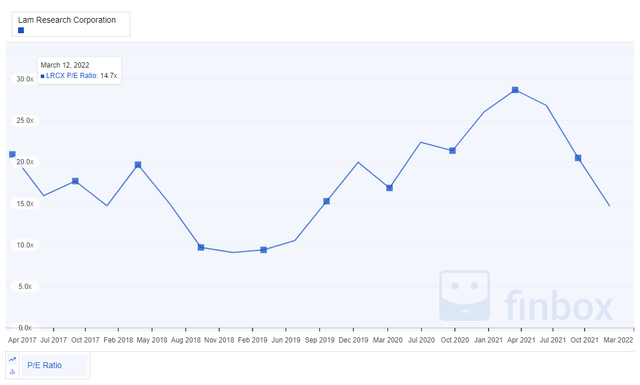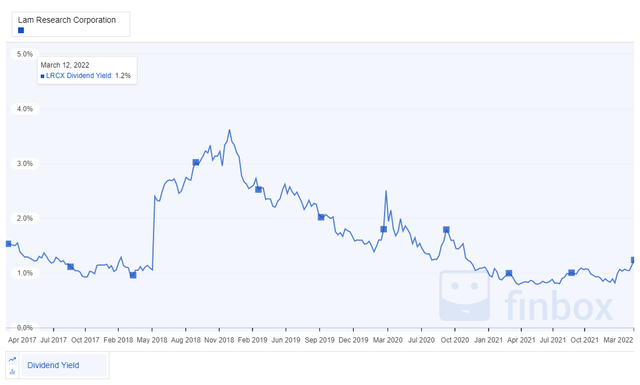 LRCX's P/E ratio has been relatively stable over the past five years. Compared to its 5-year average P/E ratio of 18, it's currently trading at a decent discount. The dividend yield also is a little below the five-year average of 1.7 at 1.9. Over the past five years there have been times that a much better yield was available, as investors were concerned about the stability of LRCX's growth and ability to maintain financial results in a competitive environment. This shows the risks of investing in industries and markets that are cyclical, and as discussed, even though future, long-term prospects appear good for LRCX, there could be some shorter-term bumps along the way. Dollar-cost-averaging through dividend reinvestment also works well with stocks like this.
A key part of the Total Shareholder Return includes stock buybacks, which are also important to dividend growth sustainability. LRCX shows a commitment to reducing share count over the past five years. Though share buy backs don't add incremental growth to the company, they do provide for growing earnings for shareholders, since earnings are divided up over a smaller number of shares. Obviously, it would be nice to see the company have enough growth ideas to reinvest internally, but this is a solid, tax-efficient way to return earnings to shareholders, while also increasing the sustainability of the dividend as the number of shares that require a dividend payout decrease. Plus, if earnings or cash ever do become tight, this is an easy knob to turn before having to think about a dividend cut.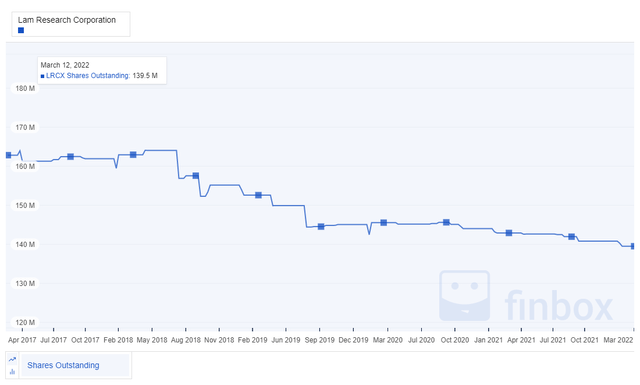 To even be considered in this article, we know that LRCX has solid financials. Revenue has increased nicely over the past several years. At the same time net debt is very low. LRCX definitely looks like it has the ability to sustain revenue growth and is doing so without resorting on excess leverage. This is especially important in cyclical companies so that they can manage during down-turns while continuing to invest, and importantly for me, keep the income coming through dividends.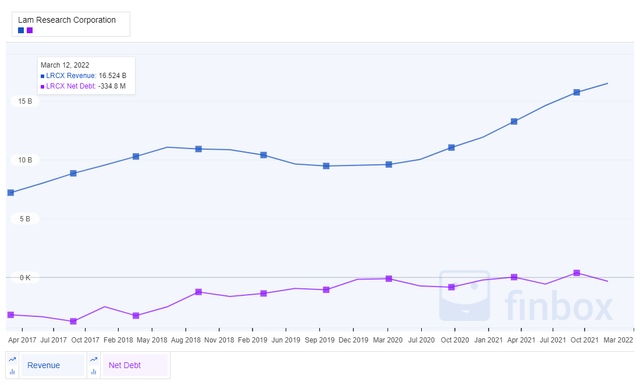 LRCX first initiated a dividend in 2014 and has been growing it strongly since that point. They have not made strong statements about dividends being a key part of their shareholder rewards strategy but are committed to rewarding shareholders. Furthermore, CEO pay is closely aligned to shareholder returns, which is always a good sign for dividends. In years when the market may not be rewarding shareholders through share price appreciation, a nice dividend payout helps the executives ensure that shareholder returns, and thus their compensation, are acceptable.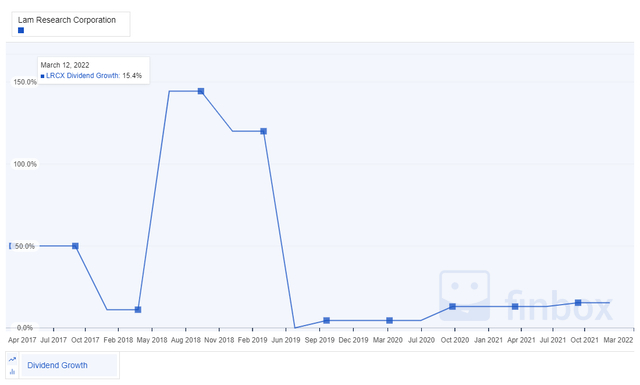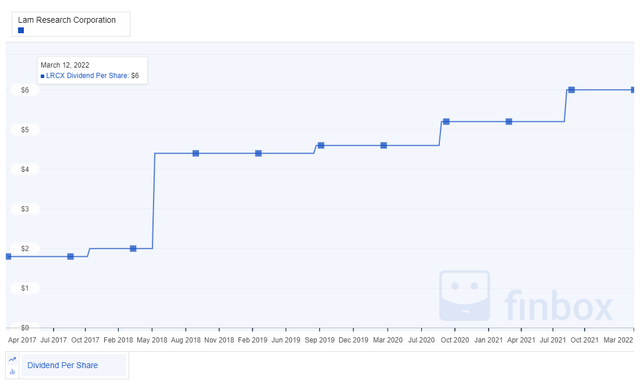 Obviously, high growth is great, but we also care about sustainability, especially if we're going to buy a low yielding stock under the expectation that the compounding due to high growth will compensate over time. Two ratios I like to look at are the earnings and free-cash-flow-based payout ratios. With some companies, you tend to see these payout ratios creep up over time until dividend growth becomes stifled due to the lack of available earnings and cash flow. LRCX shows some evidence of cyclicality, however, with neither of the ratios getting above 35%, there is still plenty of margin for cyclicality, while also providing room for future growth.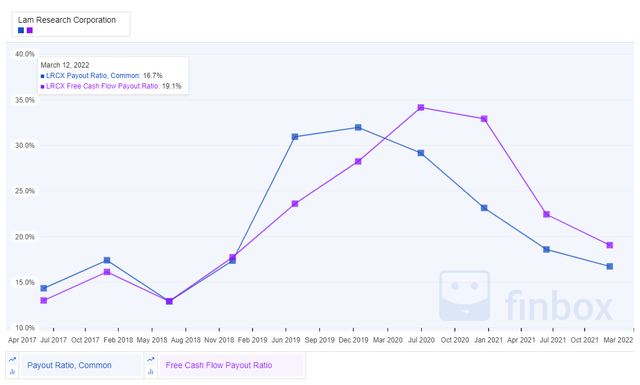 Lam Research Future Analysis
Because we want our dividends to grow in the future, not just the past, we need confidence that the results the company has already achieved will likely continue. Because of this, it's important to look at future projections for growth, which can give an indicator as to the longer-term sustainability of the dividend.
The first thing we see as we look to future earnings forecasts is that there's some cyclicality expected. As the industry recovers from the chip shortage, 2024 isn't expected to be very high growth. Now, they've been forecasting recovery in the chip markets for at least a year or so, and it just keeps moving out. So will the downturn happen, who knows? It's safe to acknowledge that there will be some cyclicality going forward. Having said that, the average future growth in earnings is impressive, and expected to be healthy double digits.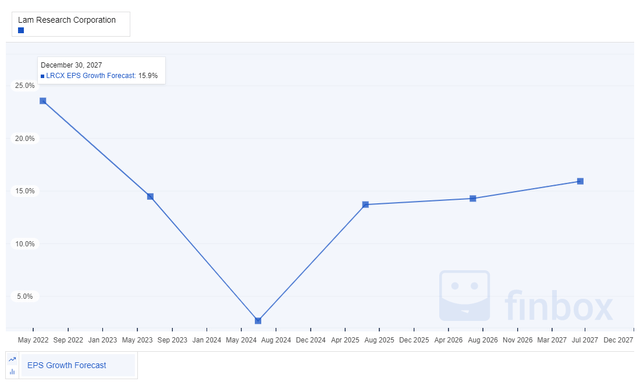 What I always find interesting though is to take a look at past growth estimates to see how they compare with the projected future growth estimates. What we see is that analysts have been fairly consistent with past estimates, and are expecting, as we already saw, similar levels going forward. That is usually a good sign that there is consensus for sustained growth.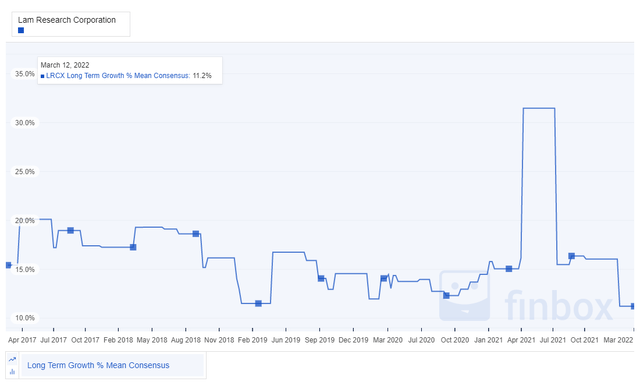 Though the projections for past and future earnings growth are impressive, it's probably worth noting that these growth rates will likely not sustain the same level of dividend growth that has been experienced in the past. Five-year average dividend growth of 34% is likely not sustainable, however, I do expect that dividend growth well above the rates of inflation, even with inflation running higher currently, are sustainable. My own future growth rate for LRCX is around 20%. This is a little higher than the rates that analysts are projecting, but even if it is, I believe the growth rate looks very attractive. Future dividend growth projections support this idea that LRCX's sustainable growth should result in healthy dividend growth.
Even though LRCX is unlikely to sustain the very high levels of dividend growth of the past five years, the projected payout ratios demonstrate that there's plenty of room for healthy dividend growth without increasing the payout ratios.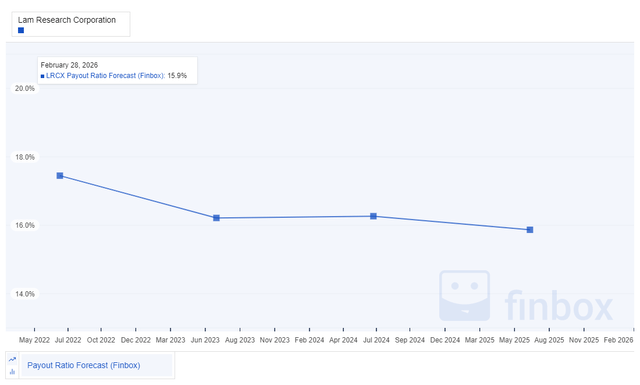 The reason that the payout ratios can stay at low levels is obviously due to the increasing earnings per share that we examined previously, supported by projected increases in revenue. This future growth appears very promising for dividend growth security into the future.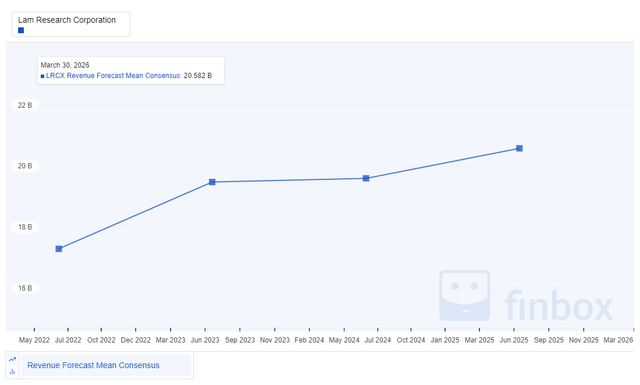 Based on past and future growth forecasts, LRCX appears to be able to continue re-investing in the business through R&D and capital, while also continuing to reward shareholders with strong dividend growth and healthy share buybacks. Additionally, it does not look like excess debt will be required for this. For the long-term dividend growth investor, this is the type of company we want to see.
Looking at Seeking Alpha's Dividend Grades for LRCX, suggests this is a solid investment for a dividend growth investor. The safety is excellent due to the solid financial footing and low payout ratios, the growth has been outstanding for the past several years, the yield is about average for this sector, and as we've covered, isn't particularly high. Consistency is due to the relatively short amount of time that LRCX has paid a dividend. However, we can say that it has never been frozen or cut.

Lam Research Short Interest and Risk
One final thing I like to check before pursuing an investment in a stock is the level of short interest. LRCX has a low level of short interest. Personally, I like to see these levels well under 5% and with LRCX sitting at around 1.5%, it does not seem like the majority of investors believe that LRCX is at risk of significant decline. Additionally, from a financial risk perspective, an Altman Z Score of 9.02 demonstrates the solid financial foundations that justify the A- S&P and A2 Moody's credit ratings.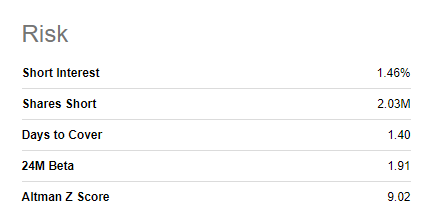 Summary
As I stated at the beginning, I already hold LRCX stock. This deeper dive has only confirmed for me that I'm comfortable with this investment and want to add more. I believe this is a very well-run company, in an attractive industry, with high barriers to entry, and excellent long term growth prospects. I'm coming away from this analysis excited that I will have the opportunity to add to my holding at a lower point than my original investment. Instead of being frustrated that I paid too much, I'm excited that this high-quality company is on sale. I will likely be adding to my position in the next few weeks as my annual bonus hits the bank account.
This analysis has also highlighted that 3M Company, Merck & Co, United Parcel Service, Expeditors International of Washington, Bristol-Myers Squibb, Intel Corp, V.F. Corp, and Blackrock may also be worth further investigation, as their Future and Historical Fair values, as well as analyst estimates, suggest they may be under fair value.