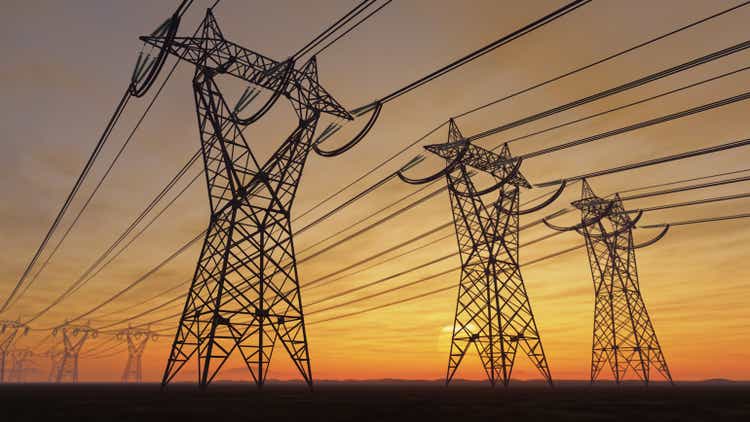 Genie Energy (NYSE:GNE) has net cash of 59% over the current market cap, with no debt. It also has FCF yield of 12% [from continuing operations] on its FY2021 numbers. Furthermore, the company has a 6.7x P/E on FY2022e. The company has strong valuations. It has also been growing rapidly over the past few years. EPS has been more volatile, but lately in the last few fiscal years, it has found its footing and has been gradually increasing at a steady and encouraging pace.
We firmly believe that Genie's domestic business will be a strong growth driver to push this stock forward. They have had strong top-line growth, with the international business really spiking as well. The company has an attractive value chart with limited downside risk and much upside potential, as it is trading well below its 5-year highs of $11.80. We think that this company can easily recover to that level.
Fourth Quarter Results: Adjusted EBITDA +5x on Revenue of +5.3%
Genie Energy reported 4Q21 results with revenue up 5.3% YoY, led by a 64.3% YoY increase in Genie Retail International [GREI]. US revenues [GRE] were down 2.9% YoY. Overall gross margin improved to 34.9% from 24.0% in 4Q20. Adjusted EBITDA jumped very sharply from $2.5mn in 4Q20 to $12.5mn in 4Q21.
GRE had an exceptionally strong quarter with record gross profit, adjusted EBITDA and income from operations. This was because of strong retail margins and mark-to-market increases in the value of its forward commodity positions after electricity and natural gas prices rose sharply. Gross margin at GRE increased by 900bps. GRE's RCE count of 260,000 was down 22.8% YoY as an aggregator deal did not renew and the company allowed less profitable customers to attrit. Adjusted EBITDA for GRE grew 61% YoY.
For GREI – gross profit margin expanded by 1855bps with revenue and adjusted EBITDA benefiting from higher consumption and mark-to-market pricing in Scandinavia.
Genie Renewables demonstrated encouraging performance, reporting a gross margin of 21.5% against -29% in 4Q20.
Genie's CEO Michael Stein's comments sum up the company's performance well - "Finally, we finished with the strongest balance sheet we've had in recent years. The balance sheet, combined with our strong operating performance, gave us the confidence to reinstate our quarterly dividend, yielding approximately 5% at the time of the announcement. Overall, the fourth quarter and full-year 2021 were successful for Genie, and I'm very optimistic about our financial and operational outlook for 2022,"
Resumption of Dividend: 4.5% Dividend Yield in FY22
As we had theorized in our previous note on the company, Genie's robust cash flow would result in the resumption of dividends. This has been announced by the company last month. Management expects to pay a dividend per share of $0.075, which translates to a yield of 4.5%. Simultaneously, the company also declared its plan to repurchase its preferred shares of up to $1mn/quarter at the liquidation preference of $8.50/share from 2Q22.
Strong Net Cash: 59% of the Market Cap
Genie Energy has a strong net cash position of $3.93 per share [including marketable securities], which over the stock price, represents a very healthy 59% net cash position. Importantly, the company has no debt.
Price Target and Valuation
We have updated our FY2022 estimate based on the FY2021 results. With volatility in EPS, mark-to-market gains/losses and changes in commodity pricing, it is difficult to accurately forecast financials for the stock. Our calculations suggest an estimate of $0.99 for FY2022. At today's price of $6.66, on FY22 estimates, we have a P/E of 6.7x and FCF yield of 12.7%.
Genie Energy has not reached its 5-year highs seen in mid 2019 of ~ $11.80 [currently it is only trading at $6.66]. This is one reason why Genie Energy is an attractive investment – because it is trading well below previous highs which creates potential for more upside. Genie Energy is currently trading at -44% below its 5-year high, and this is an attractive quantitative data point to take into consideration.
Our price target is $9.90, based on our FY2022 estimates, representing 49% upside. At a price target of $9.90, we value Genie based on a P/E of 10x and FCF yield of 8.5% on our FY22 estimates.
To arrive at our price target of $9.90, we used a P/E of 10x for the FY22 based on our estimates. We are pretty conservative and accurate in our approach as the P/E has been around that level in the past 3 years, discounting the aberrations seen early on when Covid-19 hit. For FY22, we have an EPS estimate of $0.99. Now comes the calculations part. Multiplying both P/E of 10x to our FY22 estimated EPS of $0.99, we were able to arrive at a price of $9.90 which is 49% upside.
With low interest rates, current earnings for Genie don't factor in much interest income despite its substantial cash balance. Therefore, the net cash per share can be added to the target price. This would result in an even higher upside potential for the stock.
Conclusion
We think Genie has strong and growing fundamentals. The resumption of quarterly dividends is a big positive and offers investors an attractive yield of 4.5% in FY22. The company easily has the financial clout to return capital to shareholders in an appealing way, with 59% net cash and 12% FCF yield in FY21. This, along with a low P/E, makes Genie worth the investment and a stock that could reach its prior 5-year highs. We see upside of 49% and favorable risk-reward.