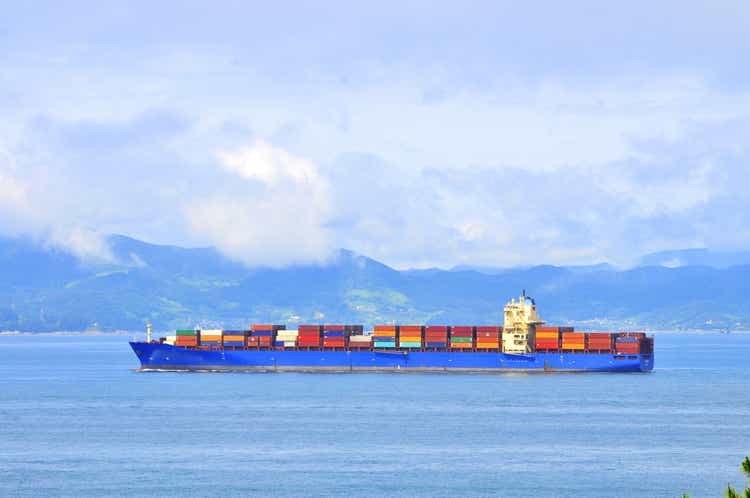 A Quick Recap
In our Wheel of Fortune Service, we have been bullish on the containership market for quite some time now. Amongst our favorite names in the space are Danaos Corporation (NYSE:DAC) and ZIM Integrated Shipping Services (NYSE:ZIM), which over the past couple of years have generated monster returns for us following record market rates and profit-generation levels.
Our view over the past few quarters has been that both companies (similar to other shipping names) remain consistently undervalued. With every new earnings report, Mr. Market is playing catch-up with both companies' extraordinary results. Wall St. analysts have been constantly way off Danaos' and ZIM's approaching results, leading to strong beats and relatively predictable stock price catch-up patterns that acquainted investors can take advantage of.
Following Danaos' and ZIM's Q4 results, we believe that, once again, both companies remain substantially undervalued. We are especially keen on the relationship between Danaos and ZIM. We believe Mr. Market has yet to realize how much the former is about to benefit from the latter's dividends.
What's Going On
The truth is that the containership market can be very cyclical. Investors have constantly feared that the current euphoria will eventually fade out, which should somewhat explain Danaos and ZIM's constant undervaluation.
This was especially the case last quarter, between September and December, when rates had flattened or somewhat retreated, favoring this case. However, as we had noted, 1) Danaos' long-term charter contracts will keep producing robust, record cash flows for quite some time even if rates were to decline in the short term, and 2), even if rates were to be halved, both companies would remain cash cows, and likely still undervalued on a medium-term investment basis.
Fortunately, not only rates didn't move lower but they have been, in fact, breaching new records amid excellent market conditions.
As ZIM's management has illustrated, demand will continue to outpace growth in supply this year. Further, possible supply chain bottlenecks, scrapping, and IMO (International Maritime Organization) regulations that are expected to come in 2023 should help offset supply growth in 2023-2024.
Why Danaos Will Smash Wall St. Estimates
We have been particularly interested in the relationship between Danaos and ZIM. ZIM's forthcoming dividends to be paid to Danaos have been apparently ignored in Mr. Market's earnings expectations. In fact, ZIM is increasingly evolving into Danaos' fat piggy bank, set to substantially boost its earnings.
We have previously demonstrated why analyst estimates contradict reality. Let's check if this is still the case.
Danaos' Fleet Employment
Danaos' existing fleet employment virtually guarantees that the company will keep producing record profits at least for the next couple of/few years. Take Danaos' 11 2,200-2,600 TEU vessels, for instance. As you can see, the new rates kicking in H1-2022 are, on average, around double their current ones.
This applies to several others of Danaos' vessels. Take, for instance, the company's 13 8,500-9,600 TEU vessels, whose new rates kicking in through Q3-2022 are, on average, almost double their current rates.
The existing charters for the total fleet have an average charter duration of 4 years, with some of the charters extending to 2029 (I have trimmed the charts shorter in the images to enhance clarity).
The company is set to generate record EPS through 2023, even if it were to recharter some of its existing calendar gaps at notably lower rates than the existing ones. Better yet, compared to last quarter, we now know that this could hardly be the case as rates have furthered rallied since, as we mentioned earlier.
The ZIM Equity Stake
Yet, Danaos has attained a supplemental earnings growth catalyst going forward. Specifically, Danaos' stake in ZIM following its updated dividend policy is set to feed heavy quarterly payments to the company, additionally strengthening its total net income.
As of December 31st, Danaos held an equity stake of 7,186,950 ordinary shares of ZIM, which was at the time valued at $410.4 million based on ZIM's then price of $57.17. As of writing this article, ZIM's stock price stands at $78.91, boosting Danaos' equity value in the company by 38%.
Discussing the possibility for future stock buybacks and what would be Danaos' ideal cash pile to start repurchasing shares, CEO John Coustas' response included the following:
Maybe some people when they look on the amount of cash and marketable securities, which is, I don't know, in excess of $0.5 billion, it's not that we're sitting on half $0.5 billion of cash. I mean, the vast majority of that is, let's say, ZIM shares. And to be honest, we believe that there is substantial upside in our ZIM shareholding. So there is no point in kind of swapping the ZIM shareholding with the now shares at this moment.
This is consistent with Mr. Coustas' view during the Q3 earnings call when he had commented that:
We believe that the ZIM shares are actually undervalued. [...] I think, for the time being, we are done with our sales. We are going to wait also, to see ZIM results. But when, practically, from the guidance which they are giving, you have market cap, which is equivalent to 2021 EBITDA. It's obviously a very cheaper stock.
Now, ZIM's adjusted EBITDA guidance for 2022 came in at $7.1-$7.5 billion. While I believe that guidance is going to be boosted in the coming quarter based on the current rates, if we assume ZIM achieves $7.5 billion in adjusted EBITDA, the stock's valuation multiple on this metric is just 1.25. Obviously, still very cheap. Combined with ZIM's juicy dividend policy, which is about to feed Danaos with fat quarterly dividends, Danaos' management is more than likely to hold their ZIM shares tightly. This brings us to the piggy-bank theme.
The ZIM Dividend's Effect On Danaos' Earnings
ZIM retained its net leverage at 0X in Q4. Hence following its remarkable Q4 results, ZIM's net cash position grew to $504 million, despite allocating $344 million towards CAPEX and $299 million towards dividends.
Hence, with rates remaining at record levels, ZIM remains a debt-free cash-cow, ready to distribute fat dividends that will greatly boost Danaos' bottom line.
As a reminder, here's ZIM's dividend policy:
ZIM is to pay a quarterly dividend between 30% to 50% of its annual net income to shareholders.
How it works:
ZIM's payout for each of the first three quarters of the year is going to be about 20% of its net income produced in each quarter.
Each fourth quarter once a year, ZIM is going to pay a dividend so that the cumulative distribution amount will sum between 30% to 50% of its annual net income.
In line with ZIM's dividend policy, the company declared a dividend of about $2.04 billion, or $17.00 per share, representing around 50% of its 2021 net income on a cumulative basis, including the $2.50 per share interim dividend paid on account of Q3-2021 results.
During Q4, Danaos' adjusted net income per share came in at $6.10, which excludes the change in fair value of its investment in ZIM of $52.2 million.
This figure includes, however, the $16.2 million in dividends received from ZIM. But here's a special note regarding this amount. Remember how most of us ZIM shareholders were irritated by the 25% Israeli dividend withholding tax on ZIM's dividends? Well, Dannaos has set up an entity in Singapore to receive ZIM's dividends, dropping the dividend withholding tax rate at 10% (My thanks to J Mintzmyer for having Danaos' management confirm this probably earlier than planned).
The math works out as well. Danaos holds 7,186,950 shares times $2.50 times 0.9 equals $16,170,637.5 ($16.2 million in the earnings report). Danaos numbered 20.62 million diluted shares at the end of Q4. Hence, out of the $6.10 in adjusted diluted EPS, around $0.78 per share was attributed to ZIM's dividend ($16.2 million in dividends/20.62 million shares).
Here's where we confirm that Wall St. estimates are once again behind the curve.
Analysts' EPS estimate of $6.11 for Q1 is way out of place. We know the company will generate significantly higher EPS than Q4's $6.10 for a fact since 1) vessels have been contractually locked at higher rates 2) ZIM's Q4 dividend is 4.8 times higher than its Q3 dividend.
You may argue that ZIM's dividend was only recently declared, and therefore, analyst estimates have yet to be updated. However, this is not the case since ZIM's dividend policy is out there, and combined with market rates, analysts could have easily forecasted a Q4 dividend from $ZIM of at least $12 - $15 even before ZIM declared the $17 dividend per share for Q4. This just goes to show you how undercovered Danaos is in Wall Street and why investors can repeatedly take advantage of this trend (low estimates, consistent beats) to outmaneuver the market.
So what should we expect in Danaos' upcoming report? Well, by multiplying Danaos' 7,186,950 shares in ZIM with the Q4 DPS of $17 and then embedding the 10% dividend withholding tax, Danaos should receive around $109.9 million in ZIM dividends. Assuming a constant share count for Danaos (could be marginally higher, but not significantly), the company will receive around $5.33 per share from ZIM's dividends alone. And yes, analysts expect $6.10 from Danaos' total adjusted EPS (analyst estimates target adjusted earnings).
Hence, based on the consistent pattern comprising soft analyst estimates and market-beating earnings reports, we remain strongly bullish on Danaos. This is, of course, on top of our fundamental belief that Danaos is undervalued in the first place.
What About ZIM's estimates
While our case is concluded above, here's something to consider regarding ZIM's valuation too as we advance.
Contrasting Danaos, ZIM operates mainly on the spot market. Wall St. analysts expect the company will generate EPS of $38.77 this year. Again, we believe that analysts are behind the curve, but at this point, estimates are so flawed it's funny. ZIM generated EPS of $40.3 in FY2021. Now consider that ZIM headed into FY2022 with rates that are triple those it headed into FY2021 while purchasing several second-hand during the year vessels that are incrementally contributing to earnings.
ZIM could very reasonably generate FY2022 EPS over $57 (Q4 run-rate despite rates even further increasing since). In any case, the $40.3 EPS estimate implies a 180-turn of the current trend and massive declines in rates, which is highly improbable for the reasons discussed at the beginning of the article.
In any case, assuming dividends equal 40% of a (could be 50% but let's be prudent) already prudent FY2022 EPS estimate (let's agree on $55 for now), Danaos would be receiving around $6.90 per share from ZIM's dividends alone.
I am not going deeper into ZIM now to remain on-topic, but just something extra to have in mind.