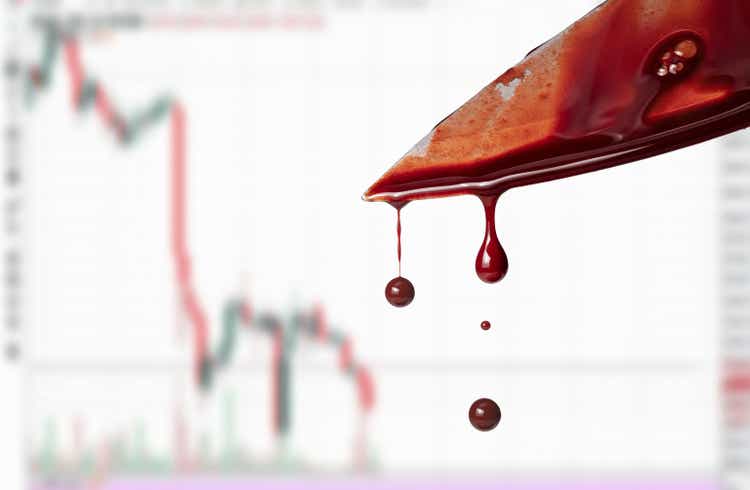 The article was written pre-market on March 15, 2022.
Sitting on the fence is no fun. While we told investors to run out of PIMCO funds in July, we have recently adopted a neutral stance. When we last covered PIMCO Corporate & Income Opportunity Fund (NYSE:PTY) & PIMCO Dynamic Income Opportunities Fund (NYSE:PDO), we wrote:
Despite that small increase, PDO has just generated 2.46% on NAV. This was probably duration hit kicking NAV down. If we are correct about another 130 basis points of climb on the high yields, the damage is likely to be substantial. We are staying out of PDO although we did come off the sidelines recently. We bought two individual preferred issues pushing our fixed income allocation to a stunning 2.5%. We are happy to buy the dip in this sector and think opportunities will be dime a dozen in due course.
Source: Gravity Is A Cruel Mistress
The turmoil in the markets continued and the two funds took more losses with PTY dropping 10% in the last month. We give you our shorter and longer term views on both and tell you why this time may be different.
Shorter Term
The kind of selling we have seen in closed-end funds almost always corresponds with shorter-term bottoms. The action appears like capitulation to us and a bounce here would not surprise us at all. Credit risk appetite has sold off heavily and current conditions are similar to 2020 in that regard. The price in relationship to NAV has improved for all funds. Since PDO has a very short history, we have thrown in PIMCO Income Strategy Fund II (PFN) and PIMCO Income Strategy Fund (PFL) to give investors an idea of what has transpired.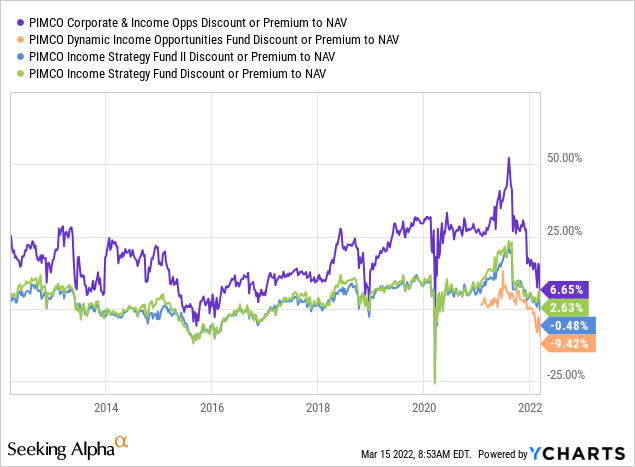 PTY's 3-month Z-score is at negative 3.00.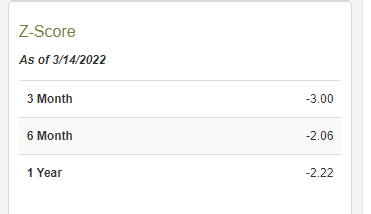 PDO is at negative 2.34.
Such extremes tend to not last. That is just the nature of statistics. Everyone cannot be above average and Z-scores this far out on the statistical range mean revert. What this likely means is that you will likely get a bounce here of modest duration that resets the pricing range and more importantly, sentiment. That should set us up nicely for the next phase down.
Longer Term
Both funds are running extreme levels of leverage, in our opinion. The leverage (for PDO below) is presented as a percentage of debt in relation to total assets.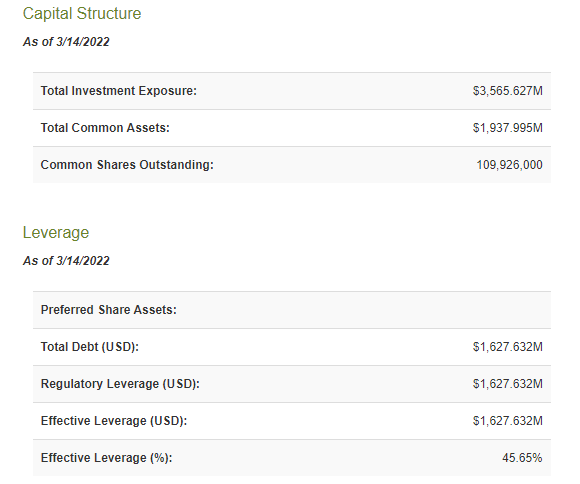 We like to look at its total debt as a percentage of total common assets. That percentage comes to 84% for PDO. PTY is right in the same zip code.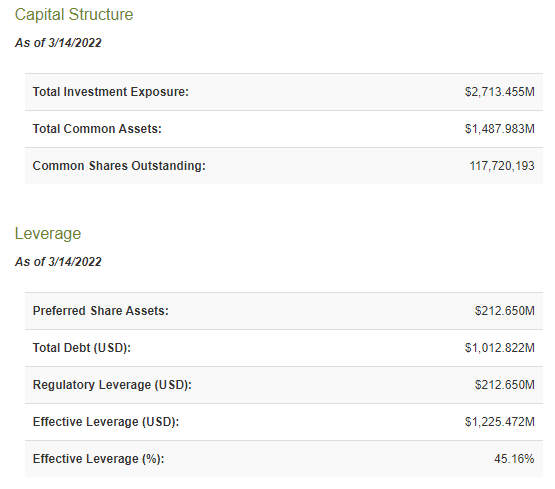 Let's keep in mind that the underlying holdings are not exactly AAA-rated companies. Those companies are already pushing the limits of leverage. After all, there is a reason they are rated junk. The leverage on leverage is not suited for what we think is coming next. Yes, PIMCO funds have fared well in the past, and certainly, PTY's longer-term performance can be thrown in every bear's face. There is one critical difference here. When PTY launched, junk bonds yielded 12% over inflation.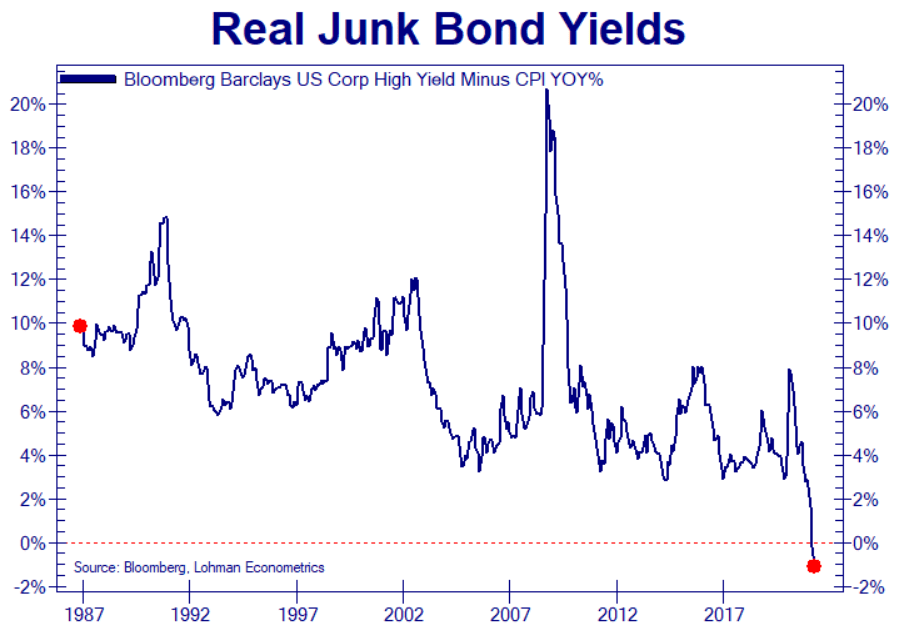 When we started issuing warnings to you in July, they yielded 2% below inflation. While we think commodities have peaked, wages actually accelerated in February.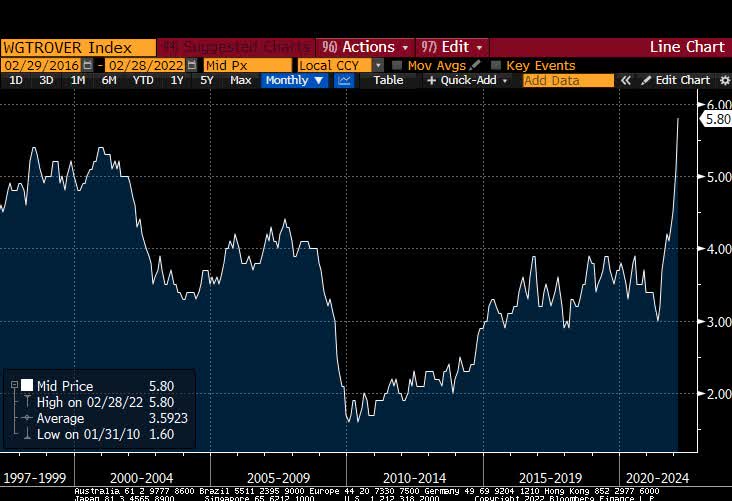 The Federal Reserve will have to raise interest rates till something breaks. We have no idea what that point is but we think those hikes are coming. The borrowing costs are all linked to shorter-term rates for PIMCO funds and will rise rapidly. If you still think the performance from the 2002 time frame still has any remote bearing on this environment, well, we wish you Godspeed.
Verdict
We think PTY and PDO offer a tradeable bounce. Beyond that, we still prefer individual preferred share issues that yield less but we hold them in a non-leveraged manner. The last one year should have been eye-opening for investors that even PIMCO cannot squeeze blood from stone. Total return (which includes those fat distributions) on NAV is negative for all 4 funds.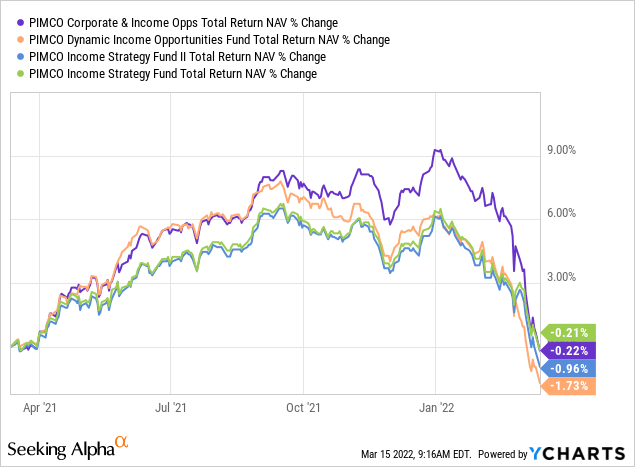 If you paid 20-50% premiums, above NAV, for this, chalk it up to an expensive education. From here, modest total returns (5-7%) are highly probable for both PTY and PDO, but we don't think those hefty distributions are sustainable in the medium term.
Please note that this is not financial advice. It may seem like it, sound like it, but surprisingly, it is not. Investors are expected to do their own due diligence and consult with a professional who knows their objectives and constraints.