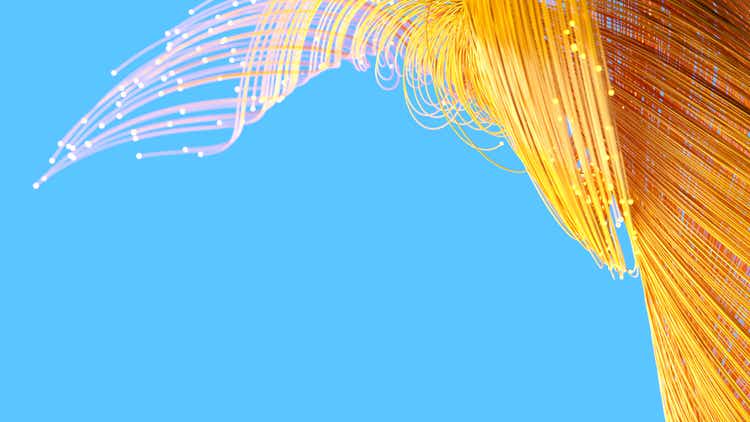 It's been a while since we've covered Lumen (NYSE:NYSE:LUMN). It has been a marginal part of the portfolio, as new funds have been funneled for all of 2021 into our biggest holdings, all in Europe, including Dassault Aviation (OTCPK:DUAVF) now up 44%. However, with realised profits from Europe, we are overweight the US this year. US equities live far away from the direct conflicts in Europe. Moreover, the US is well-endowed with natural resources, and much more self-sufficient. Even just looking at recent headlines around Russian import bans, the US only imports 7% of its oil from Russia, so the dislocation isn't too substantial. Inflation remains a key asset allocation theme for the year with much inflation being imported through commodities. With jitters in the markets, Lumen has traded down. The weakest segments in Q4 in terms of growth have been the legacy segments, as we expected, and much of this is getting sold off to sophisticated buyers who were willing to pay a higher multiple for Lumen's worst assets than for what residual Lumen is trading at. The outlook seems okay as well, considering that assets have been sold that were pretty meaningful EBITDA contributors. With such a high earnings and dividend yield, we feel that Lumen is being priced for imminent obsolescence and rapid terminal decline. We do not feel this is the case, and have tripled our position at the $10 level.
A Look At Earnings
Our feeling on earnings is that they are not at all worse than expected. There was a YoY decline, but EBITDA grew on a sequential basis. Sales did decline on a YoY and sequential basis. The consumer side of the business was definitely where performance was worse, and consumer broadband sales did decline.
On the enterprise side of the business, things looked better. IP transit and other services were only modestly declining by about 3%. This was the focus of our original thesis, where IP transit and those internet backbone revenues continue to be very major for Lumen, and we believed the idea that it was in secular decline overstated commoditisation and peering effects, and that 5G would stem that decline. We continue to believe that IP transit will achieve this in the coming year or two.
The only reason why the revenue picture is bleak this quarter is because of the legacy voice segment. This segment has always been a major loser, and really only good for FCF generation because Lumen would not invest in it. An 11% decline and a 15% on the consumer size is a lot, and that is what's dragging down the results quite meaningfully. But this is still declining more or less in line with the trends in the last decade for cord cutting on landlines. This is not news. Moreover, Lumen sheds much of this exposure (33%) in the deals that it is closing with Apollo, which valued these junky ILEC assets at 5.5x. These are sophisticated buyers, and acquisitions in this segment haven't been that low.
Let's shift to a few quick thoughts about our previously announced transactions. These transactions allow us to focus on the areas of our business that we believe are best poised for growth. As you think about the pro forma revenue mix, over one-third of our Mass Markets exposure to legacy voice and other revenue will be divested.
Also Lumen trades below the multiple that these assets achieved in the private markets, even though these sort of segments clearly weigh the Lumen profile down.
Often markets respond poorly to downward revisions in outlook, but as far as we can see, the outlook is not that bad.
Quarterly EBITDA is around $2 billion, so $6.5 billion signals $1.5 billion less than the annualised level from Q4 data. With closures of divestitures expected in mid-2022, this accounts for the EBITDA leaving in the Stonepeak and Apollo sales save for a $400 million shortfall in EBITDA based on the multiples and prices of those asset sales (about 6% of guided EBITDA). We expect this to be connected to marketing spend to get higher fiber penetration, but also continued declines in voice especially, which is an important contributor to the profit lines.
CAPEX Plans
One of the things that Lumen management really leaned into in the last earnings call was the Quantum Fiber rollout. Lumen used to do targeted projects with high IRRs, and that is how they've maintained exceptional profitability. Before that, like many other Telcos across the world, they were not that enthusiastic about fiber because the economics were pretty bad until maturity would be reached. Plenty of players didn't dive head first into the opportunity. With hindsight they should have, but they are pursuing this larger scale fiber rollout now. The appeal to their markets, primarily the US Midwest and Southeast, has been apparent in the penetration rates which are double the copper infrastructure. Last year's CAPEX was for the edge network, to get customers below very low latency levels and provide a suite of services, but now it's on this rollout, which should only take a few years based on how it's gone for European peers and Lumen's CAPEX plan.
This rollout should give some energy to the business, and we think the ability to return profitably on these investments is high, with the chance to bring back growth to the consumer segment especially. The edge investments have shown some value already. The declines in the compute and fiber infrastructure services are pretty low considering the challenging business environment we're in. Quantum Fiber is growing at 20% annually in terms of enabled fiber subscriptions, with the revenue being about 1% of total Lumen revenue as of Q4 2021.
There's lots to do, but the CAPEX plan should accelerate this to about 50% growth in 2022, and 33% in 2023. The whole plan could cost the company around $12 billion given the $1000 per location target for costs. It could get Quantum fiber to be about 20% of Lumen's total revenue once it's done, perhaps in five years, and a much higher proportion if they can grow their penetration rates. So it makes sense that in 2-3 years we should start to see revenue growth again. LTVs for fiber customers can be pretty high, so we think a 15-20% IRR on this fiber rollout is possible.
While the CAPEX plans are very substantial, the outlook on FCF is more than ample to cover the dividend. FCF is forecast to be between $1.6 to $1.8 billion, and the dividend burden is only around $1 billion. The payout ratio on FCF is pretty low and we're not worried about a dividend cut, also because management knows it would tank the shares.
Conclusion
There are risks. Of course, declines in voice have an impact on Lumen's finances, and we think that with the shock of COVID-19 we are seeing echoes of that on the cord cutting in landline accelerating. Moreover, while the CAPEX plan is a good idea to make sure Lumen can compete in the market by offering fiber to more consumers, construction is a tricky thing to accomplish with supply side shortages as well as labor shortages being potential headwinds for the rollout effort. However, the fiber investments are seeing good penetration, and with target markets being pretty fringe in general for Lumen, they could be a lot higher and marketing spend should be getting a good ROI. A plan to pass 12 million locations with a 40% penetration rate could bring the Quantum Fiber up to about 20% of revenue in the mix in five years by completion. In 2-3 years, topline growth becomes very likely. However, we don't even care about this rollout. We were fine with terminally declining cash cow businesses. The earnings yield is almost 20%, and the dividend yield is almost 10%. Five and 10 years is not the horizon we were worried about Lumen over, but the company is almost priced for bankruptcy despite the profits and shareholder payout. Quantum Fiber should change the narrative, which might mean capital appreciation in a couple of years, but frankly it's enough that Lumen trades below the multiple of its worst assets sold on the private markets to convince us that Lumen is a clear buy at these levels.