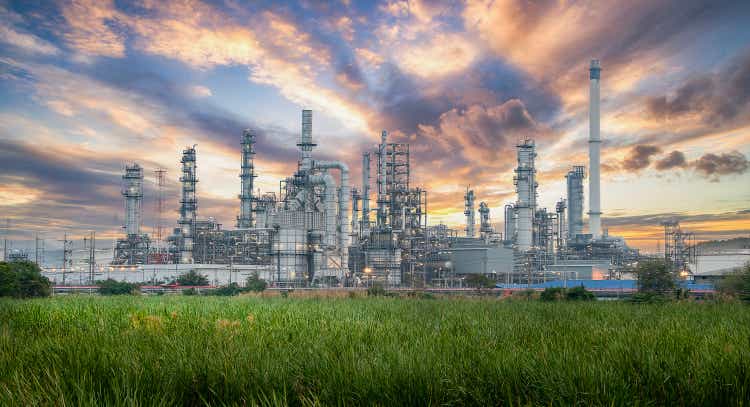 Introduction
Following a tough start to 2021, the small United States refiner, CVR Energy (NYSE:CVI), finally enjoyed a reprieve during the third quarter, with their cash flow performance showing tentative signs of a recovery, as my previous article discussed. Rather disappointingly, this seemingly did not extend throughout the fourth quarter of 2021, but thankfully, 2022 is looking bright after another tough year that gives hope for their dividends to be reinstated.
Executive Summary and Ratings
Since many readers are likely short on time, the table below provides a very brief executive summary and ratings for the primary criteria that were assessed. This Google Document provides a list of all my equivalent ratings as well as more information regarding my rating system. The following section provides a detailed analysis for those readers who are wishing to dig deeper into their situation.

*Instead of simply assessing dividend coverage through earnings per share cash flow, I prefer to utilize free cash flow since it provides the toughest criteria and also best captures the true impact upon their financial position.
Detailed Analysis
After seeing their operating cash flow surge ahead during the third quarter of 2021 to $382m for the first nine months, it was rather disappointing to see their full year result only ending the year barely higher at $396m, thereby seeing a mere increase of only $14m. Even if removing the impacts of temporary working capital movements that often skew results, their underlying operating cash flow was not materially better, as the graph included below displays.
It can be seen that even after removing the temporary impacts of working capital movements, their underlying operating cash flow during the fourth quarter of 2021 was still minimal at only $29m. If these quarterly working capital movements are aggregated, it sees 2021 ending with a sizable $178m working capital draw and as a result, their underlying operating cash flow was only $218m with their otherwise strong third quarter subsequently weighed down by a difficult fourth quarter, as per the commentary from management included below.
"Our capture rate for the fourth quarter of 2021 was negatively impacted by elevated RINs prices and a less favorable crude differential mostly due to the steep backwardation in the crude oil market."
- CVR Energy Q4 2021 Conference Call.
Apart from the generalized difficult operating conditions they experienced during the fourth quarter of 2021, they also saw continued pressure relating to the Renewable Fuel Standards program. This essentially mandates that refiners must blend a certain amount of ethanol into their fuel, or alternatively, they must purchase Renewable Identification Numbers to bridge this gap, commonly referred to as RINs. Sadly, the issues sending RIN prices skyrocketing following the severe downturn of 2020 is still unresolved, and thus as a result, RINs continue to consume a large portion of their refining margins, as per the commentary from management included below.
"EPA's persistence failure to comply with its obligations under the RFS has led to current high RIN prices environment. We're hopeful that EPA would capitalize on the opportunity to fix the situation in setting the 2021 and '22 RVOs, unfortunately they missed the market again as RIN prices rose after EPA issued the proposed RVOs in December."

"The Group 3 2-1-1 crack averaged $17 per barrel in the fourth quarter of '21, however, RINs consumed over 35% of that approximately $6.19 per barrel."
- CVR Energy Q4 2021 Conference Call (previously linked).
Whether the EPA resolves these elevated RIN prices during 2022 is uncertain, and if any new readers are interested in further details regarding this aspect, please refer to my other article. Despite these possible continued headwinds, thankfully, when looking ahead into 2022, their impact should be reduced significantly even without help from the EPA, as per the commentary from management included below.
"Fortunately for CVR, our RIN exposure should be reduced significantly in the near term as we complete the renewable diesel unit at Wynnewood, which we currently plan to have online by middle of April and at full rates during the second quarter."

"We estimate the total consolidated capital spending for 2022 to be $222 million to $251 million of which $136 million to $150 million is expected to be environmental and maintenance capital, and $80 to $90 million is related to the completion of the renewable diesel unit at Wynnewood, the construction of the pretreater."
- CVR Energy Q4 2021 Conference Call (previously linked).
Once they complete their renewable diesel refining unit during 2022, they will have the ability to generate their own RINs, thereby significantly reducing the amount they are required to purchase and thus, easing the burden upon their refining margins. Meanwhile, their capital expenditure guidance for 2022 of $236.5m at the midpoint is very similar to their capital expenditure of $226m during 2021 and thus, they are well positioned to translate any higher operating cash flow into higher free cash flow, thereby reinforcing their financial position and seeing scope for their dividends to be reinstated.
Thanks to their only minimal negative free cash flow during the fourth quarter of 2021, their net debt only increased slightly since conducting the previous analysis, thereby ending the year at $1.15b vs. its level of $1.104b following the third quarter. Meanwhile, their cash balance of $510m and equity of $770m are both broadly unchanged versus their respective previous levels of $566m and $765m.
Following the continued volatility seen within their financial performance during the fourth quarter of 2021, their leverage ratios once again swung around, with the most notable change being their net debt-to-operating cash flow that decreased to 2.90 vs. its result of 4.38 when conducting the previous analysis following the third quarter of 2021. While appearing positive on the surface, this was solely due to their working capital draw for the full year that if removed, sees their underlying result at 5.28 and thus now above the threshold of 5.01 for the very high territory. When looking ahead into 2022, the prospects for higher and more stabilized earnings should see their leverage decrease significantly back to a safer level.
Thankfully, their liquidity remains strong with a current ratio of 1.18 and a cash ratio of 0.44, which helps buy time until their stronger financial performance in 2022 helps reduce the risks from their very high leverage. Since there are no new developments elsewhere within their liquidity, such as their debt structure and maturities, it would be rather redundant to reassess in detail, but if any new readers are interested, please refer to my previously linked article.
Conclusion
Whilst the last two painful years are definitely ones that investors would rather forget, thankfully, they have survived and see hope on the horizon that their financial performance will recover and just as importantly, stabilize. Since 2022 is looking bright with the prospects to finally ease the RIN-related pain and see their dividends reinstated, I believe that maintaining my buy rating is appropriate.
Notes: Unless specified otherwise, all figures in this article were taken from CVR Energy's SEC Filings, all calculated figures were performed by the author.