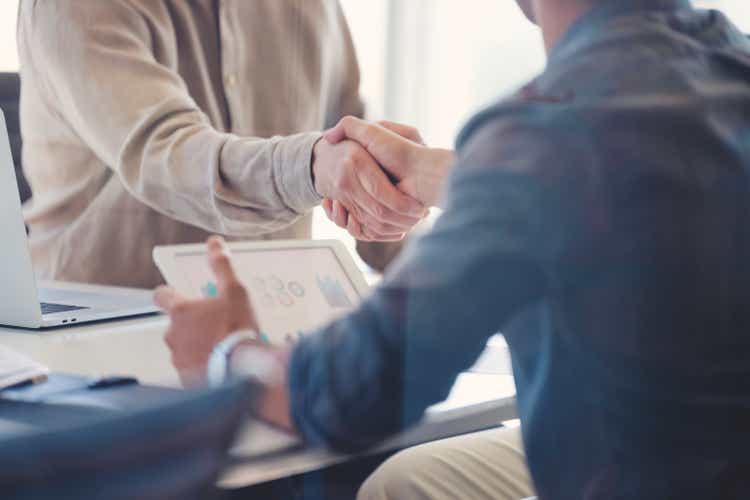 Booz Allen Hamilton (NYSE:BAH) is a company I seem to be one of the few contributors following here on Seeking Alpha. While I understand that this company's yield might be less than some are looking for, I argue that the fundamental upside of this company is massive.
I will argue, in this article, that the company is still a business you can consider a "BUY", provided you know what to expect and would be too positive/too high of an expectation.
It's all about moderation - as in, moderating your expectations to meet the conservative and realistic potential of an investment.
Let me show you what that means for Booz Allen Hamilton.
Booz Allen Hamilton - Revisiting the company
Booz Allen is a business I've been looking at a few times over the past year, usually in a positive light. As the "most profitable spy organization" on earth, it's an appealing prospect in the field of "business research", with a primary focus on governmental organizations. Its employees include public figures, former high-level government employees, CEOs and others. BAH is a highly specialized outfit, with fundamentals that are, to say the least, interesting.

What BAH does is various types of consulting activities in analytics, cyber, engineering, digital solutions, and others. 50% of the company's customers come from the defense industry, including the US Air force, Army, Marines, and others. Less than 30% of the company's customers are from the civil sector. In my original article on BAH, I said that the company's client base alone justifies its position in a portfolio as well as accepting the relatively low yield the company seems to be known for.
The company's strong fundamentals can be seen in its massive backlog, with record 2021 levels, an industry-leading organic sales growth with a sixth consecutive annual record, and good prospects for expansion and profitability.
While the company does share some volatility tendencies that are usually associated with public-connected outfits and companies, even temporary drawdowns in demand from one of the company's many clients wouldn't necessarily derail BAH. The company has a strong record of good financial performance through a variety of financial environments.
It has shown a 5-year EPS growth of 18.8% CAGR, with a sustained, 5-year margin expansion that, for the time being, seems set to continue even as we look forward. The company's backlog ending 2021 is absolutely massive.
The outlook for 2022 is a positive one, after another record year for the company. Given the current geopolitical backdrop, it's no wonder the company expects increased demand for its services to the tune of 5-7% sales revenue growth and an increased margin to 11% on an adjusted EBITDA basis. Bond interest rate increases are expected to draw down EPS a bit more, especially now with the increased interest rates, but the 2022-2025 is very much intact, and 2022 guidance is intact with the longer-term guidance for the company.
As I wrote in my recent article, it would be unfair to characterize BAH and its operations as anything except a massive success. The company's expertise, management, and results paint us a clear picture of what to expect as we move forward.
The things that can clearly impact BAH, as we've seen historically, are budget uncertainty and potential government shutdowns or negotiation freezes. This is not an uncommon occurrence, so expect BAH's valuation to correlate somewhat with these sorts of trends. However, through these periods, the company has never stopped investing or focusing on its business.
Not all analysts or agencies like BAH. The company was recently cut to a double-sell/underperform to an $80/share price target by Bank of America (BAC), due to operational near-term challenges that put the company's sales and cash flow growth rates into question. Some analysts believe in a growth rate much closer to the low end of that 5-8% target. They also believe the ramp-up for growth is more end-loaded than front-loaded, meaning investors shouldn't expect immediate bang for their buck when putting money to work here.
My argument would be that this could be the case - but that this would be contrary to not only the company's clear forecasts, which believes in a 9-10% EPS growth rate and has averaged 11.32% on a 20-year basis. To believe that the company's sales growth and cash flows would trickle down to only a 5-6% growth rate would not be in keeping with this trend, nor the forecasts.
We'll go into these more as we move into valuation, but I want to clearly state that I believe these downgrades, on the basis of the current macro backdrop as well as the company's history, to be flawed.
The company also recently announced an M&A of EverWatch, a provider of defense solutions. We don't yet know multiples, but BAH has a solid history of accreditive acquisitions done at appealing prices to increase its appeal and expertise in various fields. The acquisition here is no doubt meant to increase its appeal in terms of classified software development for some of its clients in national security.
The remaining challenges for the company, at least as of late January, include some COVID-19 impacts, delayed contracts award, lower staff productivity, and overall delayed work, which means delayed expenses/bills. While much can be said about the company's work to address these issues, I believe these to be part of a normal business cycle for BAH. I believe the company will manage to handle these through cost control, doubling down on opportunities, and focusing on underperforming areas.
We remain on track to deliver strong growth in adjusted EBITDA through fiscal year 2025, supported by continued revenue, growth, stable adjusted EBITDA margins, and strategic deployment of capital.

(Source: BAH earnings call, Horacio Rozanski)
This company is, to my mind, a rock-solid performer for a long time. A company that correlates extremely well/strongly to budget increases towards the defense and intelligence areas, which are likely to grow significantly over the coming years.
I believe BAH will be one of the better investments to make until 2025 based on its fundamentals and appeal, and nothing that I have seen in the latest report does anything to change that. The company's challenges, in fact, were stated prior to the Ukraine war - which means that any challenges or drawdowns discussed in late January are unlikely to be exactly in the same position as of today.
Let's look at today's valuation.
Booz Allen Hamilton Valuation
First off, the company's forecasts are never missed with a 10% margin of error.
There is a very high degree of certainty to the forecasts and scenarios we're about to look at. The company tends to trade between a P/E of 15-20X, and it's currently on the relatively high end of that spectrum - though not as high as it was back in 2020-2021. The yield is 2.05%, which isn't as low as you might have expected for a company in this field, and it still trades barely above $80/share.
If we allow for a forecast P/E range of 18-22X P/E, we find that the potential annualized upside ranges from 6.5% on the low end to 17% on the high end. Given the current macro backdrop and trends we're seeing in many of the company's crucial areas, I believe the current forecasts to be on the conservative side. I believe we may see upward revisions of some of these targets, which is what we've seen for BAH historically. The company's 2021 estimates were revised upward twice before they came in almost $0.2/share higher.
What I am telling you is that this company has a tradition of significant dividend growth, significant EPS growth, and beating estimates. This makes for a very appealing potential investment when you take into account the current macro and global situation.
That's why I invested more in BAH when it fell and why I will continue to invest in BAH at this valuation.
The company has what I would describe as a "safe" 10%+ potential annualized upside with the right sort of macro correlation given the period we're moving into. This, to me, justifies putting capital to work. While the company's targets have been reduced, and while I will not deny that BAH is close to where I would consider it a bit too expensive to "guarantee" that 10%+ target, I still believe it to be a "BUY" here.
S&P Global analysts call for an overall share price of $88.9/share, which is from a low of $80 and a high of $95, making it a fairly tight range. 6 analysts out of 10 have a "BUY" or "Outperform" rating on BAH, here, and only 1 analyst considers the company a "SELL" here.
I stick to my PT at $90/share and that's only because I really want that double-digit conservative upside here. There's also the small matter of a lack of a credit rating in this company.
Still, despite these reservations, I do view BAH as a "BUY" at this point, and the upside is around 5-7%. The world's largest spy business should be on your list, and I believe in your portfolio if you believe it to be a suitable match for your investment goals.
Thesis
Unlike many of my colleagues, my MO going into this crisis has not been a "flight" to suddenly "undervalued" growth stocks or tech. First, because I don't believe most of them are in any way undervalued, and second, because I'm a value investor with a fundamental focus on quality. I would rather buy a slightly undervalued Booz Allen Hamilton than a massively, supposedly undervalued Chinese "quality" business.
It might be tiresome to hear the same thing from me over and over again - but as my art teacher says, repetition is the mother of skill.
Find quality. Invest in quality. Hold quality.
Repeat.
Don't let yourself be discouraged by, or lured by supposed triple-digit short-term returns in speculative, risky investments. There is a reason many of these investments are crashing, many of them moving 10-20% in a single day.
They're not safe - and you deserve better than that.
My target for Booz Allen Hamilton is $90/share. I'm at a "BUY" here and I'm buying more.
I will continue to guide you only to what I believe to be qualitative investments at bargain or cheap prices. That is how I invest, that is what my portfolio looks like, and that is all I do.
Remember, I'm all about:
1. Buying undervalued - even if that undervaluation is slight and not mind-numbingly massive - companies at a discount, allowing them to normalize over time and harvesting capital gains and dividends in the meantime.
2. If the company goes well beyond normalization and goes into overvaluation, I harvest gains and rotate my position into other undervalued stocks, repeating #1.
3. If the company doesn't go into overvaluation but hovers within a fair value or goes back down to undervaluation, I buy more as time allows.
4. I reinvest proceeds from dividends, savings from work, or other cash inflows as specified in #1.
If you're interested in significantly higher returns, then I'm probably not for you. If you're interested in 10% yields, I'm not for you either.
If you, however, want to grow your money conservatively, safely, and harvest well-covered dividends while doing so, and your timeframe is 5-30 years, then I might be for you.
Booz Allen Hamilton is currently in a position where #1 is possible in my process, through #3 and #4.
Thank you for reading.