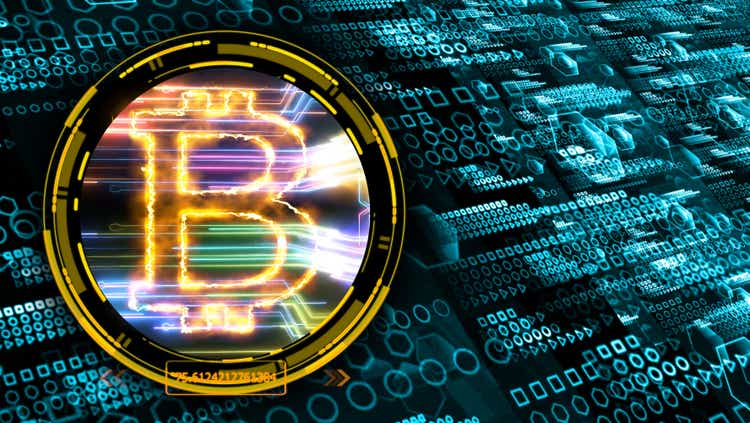 For the most part, Bit Digital (NASDAQ:BTBT) has performed similar to its Bitcoin (BTC-USD) mining peers, moving in conjunction with the price of Bitcoin after it temporarily experienced a decoupling from Bitcoin's price, when in May 2021 China basically shut down mining in the country.
As you can see in the chart below, news of the crackdown by leadership in China caused the stock to plummet far more than its competitors after moving in alignment with them from the beginning of the year.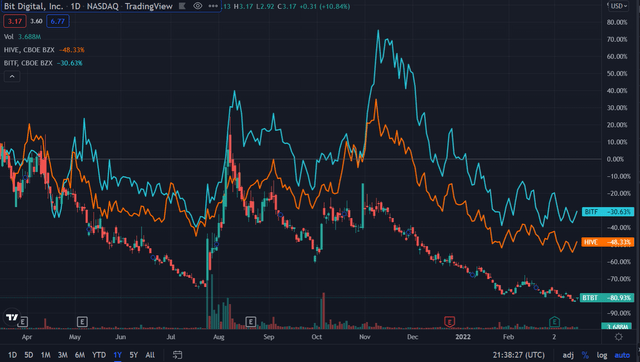 In this article we'll look at its potential to rebound again, as well as why I believe the recently reported drop in quarterly earned Bitcoins shouldn't have much, if any, impact on its share price going forward.
While I don't consider BTBT to be my top pick among Bitcoin miners, I do take positions in it because of the price range it moves in, and it occasionally moves the opposite direction of its peers, providing an option to enter at a decent entry point when its peers are consolidating.
The Chinese crackdown on Bitcoin mining
In June of 2021 it became official: China decided to ban Bitcoin mining in China, making it close to impossible for large miners to successfully operate in the country, resulting in the migration of those miners to friendly jurisdictions. BTBT was among them (the company actually started migrating to other countries in October 2020).
At the time leading up to and immediately after the news was confirmed, the share price of BTBT struggled, even when its competitors moved in conjunction with the price of Bitcoin; it's one of the few times a miner decoupled from the price of Bitcoin, even if it didn't last too long.
My point here is it resulted in the company having some negative sentiment associated with it for a period of time. Since then, it has rebounded to move once again in alignment with the price of Bitcoin and its peers. Even so, it is still being impacted from the time it's taking to transition geographically.
Quarterly earned Bitcoins for BTBT
Bit Digital reported on March 16, 2022 that almost 40 percent of its existing fleet of miners had now been deployed to North American markets; that included 10,462 Bitcoin miners and 712 Ethereum miners, representing 0.511 Exahash and 0.188 Terahash.
At the end of 2021 the company had 7,710 Bitcoin miners in North America, to give an idea of the progress it is making. At that time it owned 27,744 Bitcoin miners and 731 Ethereum miners.
Taking everything into consideration, it wasn't too bad that it earned 240.57 Bitcoins during the quarter, slightly down from the 248.36 Bitcoins it earned in the quarter before, which was reported in November.
As of December 31, the company held 808.2 BTC, with a market value of $37.4 million. When all is said and done, it reinforces my thesis of the two major factors that determine the share price of Bitcoin miners.
What determines the share price of BTBT
Like mentioned earlier, Bit Digital did temporarily decouple from the price of Bitcoin before and after the Chinese crackdown on miners. As the chart above shows, it didn't take too long before the company was once more moving in conjunction with the price of Bitcoin and its peers.
In other words, among Bitcoin mining companies, based upon temporary disruptions or anomalies, there can be a short-term break from the price movement of Bitcoin, but with the many Bitcoin miners I've studied, they have all snapped back to correlating with Bitcoin's price movement.
The second thing to watch with Bitcoin miners is their balance sheet. In the case of BTBT, it had cash and cash equivalents of $26.5 million at the end of September 30, 2021, with total liquidity of about $61.5 million.
One thing to take into account with Bit Digital that is less robust with the company is its lower volume than its key peers.
According to Seeking Alpha, average volume is 3,700,468, while HIVE Blockchain's (HIVE) is 6,405.005 million; Marathon Digital Holdings, Inc.'s (MARA) is 11,951,540; and Bitfarms' (BITF) volume is 5,158,167.
This shouldn't be a problem if investors are taking a relatively small position in the company, but even a few hundred shares would, at times, have to be sold in smaller amounts; that usually happens in mid-day trading. Assuming shares are being sold into strength, that's not really a huge issue unless you're trying to sell a significant amount of shares at once.
Conclusion
Bit Digital once again has its share price moving in correlation to the price of Bitcoin. That suggests investors are no longer discounting its share price over the temporary concerns they had when China clamped down on Bitcoin mining.
Even when it announced it is still in the midst of the transition, it didn't have any impact on the share price of the company, meaning investors are now comfortable with the progress it is making, no longer considering it to be in danger of underperforming going forward; management has done a good job under difficult conditions.
The good news is we can go back to the simplicity of trading a Bitcoin miner like BTBT, primarily following the price movement of Bitcoin and the amount of cash and cash equivalents it has under its belt.
This of course doesn't mean it isn't going to continue to go through periods of volatility, because it will. What has changed is the volatility is now tied into the price performance of Bitcoin, and not situations outside of the control of the company.
When the price of Bitcoin resumes a sustainable upward climb, Bit Digital should rise with it. Outside of less liquidity than its competitors, it should perform very similar to how they perform.
As I mentioned earlier, Bit Digital isn't the Bitcoin miner I go to first, or even second, when looking to take a position in the sector. This isn't necessarily for any specific reason other than there are other more liquid miners that move in much the same way BTBT does, so it doesn't make a lot of sense to copy my positions there, outside of if it temporarily moves in the opposite direction of its peers.
That said, I do like Bitcoin miners that trade at different prices, and having an option in the price range Bit Digital trades in, is appealing when I don't want to deploy as much capital in the space by taking positions in higher-priced miners.
The bottom line is Bit Digital moves similar to its peers, and other than the reasons I mentioned above, it doesn't offer much in the way of differentiation.