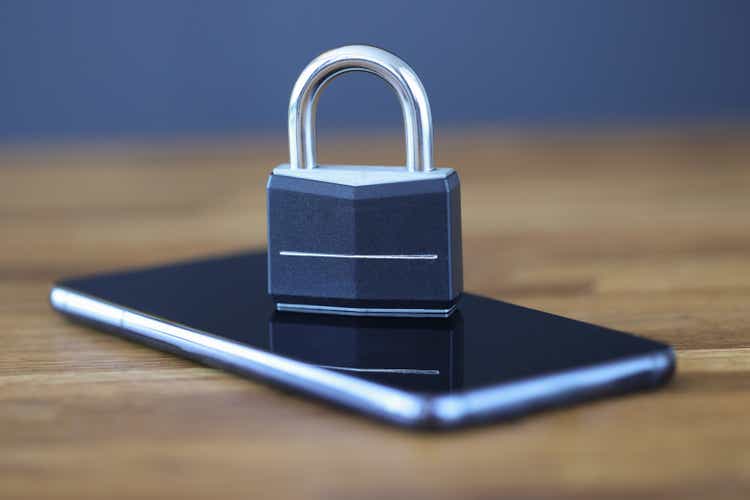 As I noted in my last article on Smith Micro (NASDAQ:SMSI), I expected 4Q21 results to be weak. I also figured 1Q21 guidance would be soft, especially considering the fact that T-Mobile (TMUS) still has not launched the much-anticipated SafePath7, which will be white-labeled as "FamilyMode 3.0." Until that product launches - which I will argue is imminent - SMSI is losing revenue from Sprint subscribers who switch to TMUS's network (the two networks have yet to be fully integrated despite the merger). The loss is two-fold: (1) loss of SafePath revenue from Sprint's white-labeled Safe&Found, and (2) loss of CommSuite revenue from Sprint's Visual Voicemail product operated by SMSI. Further exacerbating this problem is the fact that SMSI needed to invest significantly in operating expenses in order to prepare SafePath7 for the upcoming launch with TMUS.
All of these factors led to a situation that seems to have spooked some investors, including some analysts on the recent 4Q21 conference call, namely, that SMSI will run out of money before the revenue really ramps up with the TMUS launch. While this concern should be taken seriously, I believe investors would be wise to note that cash should only become a concern if the TMUS launch is delayed for another couple of months (very unlikely, as I will argue) or if SMSI would make the mind-boggling decision to raise cash via equity instead of borrowing short-term via debt.
In any case, long-term investors would be wise to look at the massive operating leverage built into SMSI's business. Once the new revenue kicks in from the TMUS launch, the company should be able to quickly pivot to profitability. And then after that, the company expects Verizon (VZ) to launch a new product with them by EOY22, if not sooner. So even more profitability. And then AT&T (T) should launch in 1H23 - even more profitability! In short, anyone selling SMSI shares at current prices, in my opinion, is missing the forest for the trees.
Since I have written about SMSI extensively over the past couple of years for Seeking Alpha, I'm going to structure this article a little differently. I will have two main sections: Headwinds and Tailwinds. In each of these sections, I will discuss various topics from multiple aspects of SMSI's business. If you are new to SMSI, I recommend you read at least my last article, linked above, and perhaps some prior to that. For those familiar with the name, you can dive in immediately below.
Headwinds Facing SMSI
Weak 1Q22
A good part of investor disappointment with SMSI is the weak 1Q22 guidance given on the previously-linked 4Q21 earnings call. Investors clearly suspected Q1 would still be relatively weak given the fact that TMUS has yet to launch its new FamilyMode using SMSI's SafePath7. But on top of that, SMSI management noted that CommSuite revenue from Sprint has been dropping faster than they previously expected, leading to a double hit in terms of Q1 revenue. This double whammy, then, leads into the next headwind.
Cash Concerns
As noted in several of my previous articles, SMSI needed to make a significant investment in its products to be in their current position - the undisputed leader in the family safety & security offerings for mobile carriers. These investments were two-fold: (1) Acquisitions of competitors' products, and (2) the hiring of additional developers to integrate these products with their prior SafePath product. Both of these investments required a significant outlay of cash upfront, well before the commensurate revenue will start to arrive in SMSI's coffers.
In speaking with an institutional investor following SMSI's 4Q21 call, it became clear to me that the potential lack of cash on SMSI's balance sheet before revenues begin to ramp is of great concern. The company guided on the Q4 call for the largest cash burn to come in 1Q22, followed by a slight uptick in Q2. While this means the company should still have cash on hand, there seems to be a concern that the cash balance would be getting low, and perhaps to meet carrier vendor requirements, they would need to raise more cash to bridge the gap to cash flow positivity in the back half of 2022.
After discussing this scenario with people familiar with the company's thinking, I believe the chances of SMSI conducting an equity raise for this purpose are as close to zero as possible. If SMSI wanted or needed cash for such a short-term scenario, they would clearly look at short-term debt versus dilution. In short, then, I believe this cash concern headwind is overblown, and will soon pass.
Near-Term CommSuite Revenue
As mentioned already, SMSI revenue for their CommSuite voicemail product took a larger-than-expected hit. The reason for this is simple. TMUS is incentivizing its acquired Sprint customers to switch from Sprint's old network to the TMUS network. Eventually, the two will be merged, but for now, they are still separate. When customers make this switch, SMSI's visual voicemail product is no longer available because TMUS uses a different product on their network.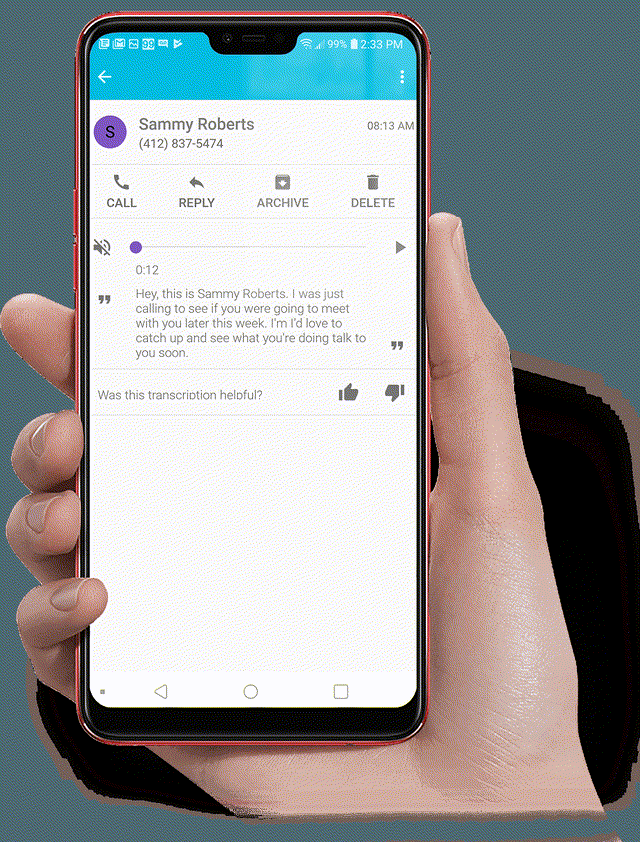 What's important to note, however, is that this headwind is almost finished playing out. I will discuss this in more detail in the Tailwinds section, but CommSuite is still running strong at Boost Mobile (the prepaid carrier formerly owned by Sprint, now owned by DISH Network (DISH)), and DISH just this quarter signed a contract for CommSuite on their upcoming postpaid network, as the company revealed on the Q4 call.
Russell 2000 Exclusion
The Russell 2000 (IWM) is an index that tracks the smallest 2,000 publicly-traded companies among the largest 3,000 publicly-traded US companies (the Russell 3000 or (IWV)) based on market capitalization. Mid-year each year, the IWM is re-constituted. That means that if a company is no longer among the largest 3,000, they are removed from the index. Removing them allows the IWM to add companies that surpassed them to become part of that exclusive group.
I include the IWM exclusion as a potential headwind because SMSI is currently in the IWM. However, at their current market cap, it's highly probable that SMSI will no longer meet the market cap criterion. As long as SMSI remains below that threshold - which I currently estimate to be around $225-250M - there will be some artificial selling pressure on the shares. This selling pressure comes from those who will be hedging that SMSI is dropped from the IWM, and the hedging occurs in advance. This advance hedging ensures that on the official day of re-constitution, the institutions tracking the IWM do not have to sell all their SMSI shares at once, which would create enormous volatility.
In short, so long as SMSI remains below the $225-250M market cap, there will likely be some artificial selling pressure due to this annual process. Investors should be aware of this, especially since SMSI will only provide one quarterly report between now and then, and that report will inevitably be weak in terms of past results (i.e., 1Q22). However, momentum for SMSI could pick up if its first major tailwind shows the company has real signs of life, as I expect it will.
Tailwinds For SMSI
TMUS Launch Is Imminent
Yes, yes, yes. We have all heard CEO Bill Smith talk about expected timelines by which TMUS would launch an SMSI SafePath product. And so far, none of these have come to pass. But eventually - and soon - the TMUS launch is going to happen. The signs of it happening are all over the place.
Before getting into more objective evidence of an imminent launch, I should note that Smith said on the Q4 call that the launch should happen within "a few weeks." He further noted that the new FamilyMode app has now been approved by both the Google Play and Apple App stores. That alone gives you an idea into the expected timing, as such approval is only sought once the developers believe the product is ready to launch.
But the objective evidence for an imminent launch of SMSI's SafePath product with TMUS is even stronger than Smith's timeline from the Q4 call. Specifically, when logging into FamilyMode this week, many users received the message seen immediately below.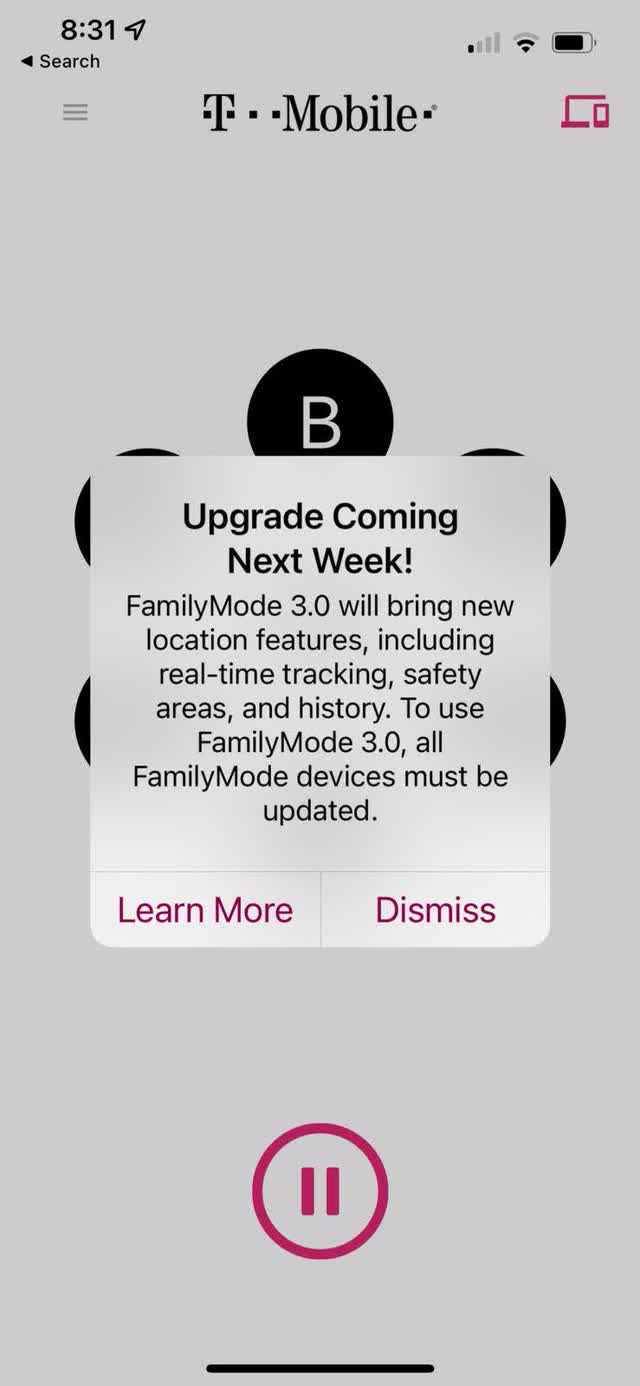 As you can see, at least some users have been told an upgrade is coming next week (i.e., the week of March 21). This is the strongest evidence yet that SMSI's launch of SafePath 7 with TMUS is imminent.
And finally, I should note that anyone paying attention to the hirings by both TMUS and SMSI on LinkedIn can see that both companies have been preparing for this launch for quite some time. TMUS seems to be fully-invested in SMSI's SafePath product, and I expect they will put their massive marketing weight behind it once it is fully rolled out. But before that happens, and based on information I have gathered from people familiar with how mobile carriers operate, I would expect that TMUS/SMSI will launch the product to fairly little fanfare, will receive feedback on the product, and then make an upgrade in the app stores, after which they will begin to market heavily this summer or at least by early fall. That timeline would be in line with what Sprint did with SMSI's Safe&Found product.
VZ and T Speeding Up
Smith made crystal clear on the Q4 call that the primary concern expressed by investors over the past few years no longer exists; to wit: "We expect our historical customer concentration issues are behind us." Smith expressed such confidence for the first time because, as he noted, the company's efforts with VZ and T are paying off, and both carriers are moving up their internal timelines for their own launch of a SafePath product.
Besides the customer concentration risk being removed, this acceleration process opens the door to a quicker and much larger revenue stream. In the case of VZ, the increased revenue will come from two sources. First, it will come from new subscribers who will be attracted to a significantly more robust app than the current VZ offering. And second, as made clear in my previous articles, SMSI has noted that the rollout of a new product for VZ would come with new contract terms that align with current market considerations. To be more succinct, such a change in contract will drive more revenue to SMSI from VZ's existing users who transition to the new product.
As for T, from what I can gather, they have very few family safety and security subscribers, so SMSI has a greenfield opportunity with that large carrier. My research into T and SMSI's relationship leads me to believe that T is serious about catching up to TMUS and VZ in this space, so I expect that once T launches - likely by 1Q23, if not sooner - that they will be fairly aggressive in their marketing efforts.
CommSuite Contract With DISH
While the current loss of revenue from CommSuite hurts, it helps that SMSI just announced that DISH signed a contract with them to offer the CommSuite product on their postpaid network. Although this network is not currently operational, it shows that CommSuite revenue may be able to eventually recover to historic norms. Perhaps even more importantly, however, this contract is a clear indication that the remaining CommSuite revenue will not soon go away. I say that because, as I noted earlier, Boost Mobile makes up almost all of the current CommSuite revenue. Since they are now owned by DISH, and DISH has this new contract with SMSI, we're assured that this portion of CommSuite revenues is here to stay for some time.
Strong Operating Leverage
SMSI investors who were around for the launch of their SafePath product with Sprint will never forget the strength of SMSI's operating leverage. The company went from being on the verge of bankruptcy to a company that easily vaulted its way into the IWM before its recent headwinds. This operating leverage can - and likely will - be shown to the market a second time.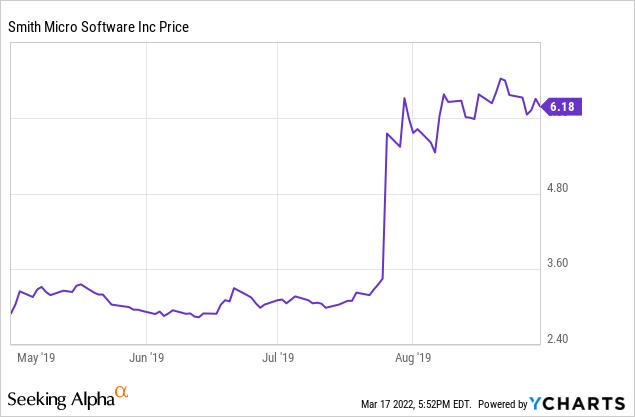 To be fair, SMSI has more shares outstanding, as well as significantly higher expenses, than they did back in the Sprint days. But that is a two-sided coin because the revenue potential is that much higher as well. Instead of having Sprint alone as a SafePath customer - by far the smallest of the four tier 1 carriers at the time - SMSI now has TMUS + VZ + T. In short, SMSI's TAM is now multiplied by around 4-5 times what it was with Sprint alone.
Further helping this operating leverage, the company has been guiding on their calls for the gross margins to expand back towards its historic norms with Sprint once all the carriers are using the SafePath7 platform (around 1Q23). Moreover, once all carriers are on the SafePath7 platform, the increased development expenses can be materially reduced. This reduction in expenses will not require the firing or laying off of employees. Instead, it will involve simply not renewing contracted work from developers who were brought on for the sole purpose of these integrations, and not for the continued maintenance/support of the platform.
In any case, even if expenses are unexpectedly held steady, the ramp in revenue from successful product operations with all three major tier 1 carriers will dwarf these increased expenses, with at least 80% of that increase dropping to the bottom line.
Huge Moat
In my years of following SMSI, it became clear to me that SMSI offered a superior product and service to the carriers than prior competitors. Yet, as I detailed in some of my previous articles, SMSI was never able to unseat these competitors, in large part due to the detailed, timely, and costly task of integrating a new contractor into the carriers' networks. Hence, SMSI was left with the option of either going alone with TMUS - leaving them with the customer concentration risk - or buying out their competitors and dominating the market. I believe the option they chose will prove to be wise over the coming years.
If SMSI - an established player in this space, with its CEO Bill Smith able to open doors with any of the carriers - could not unseat their competitors, who displaces SMSI? A newcomer seems unlikely as the carriers will not work with just anyone; and as we already learned, even an established player will have a hard time working their way in. Will one of the carriers try to go alone so as to cut SMSI out from getting a piece of the pie? My research indicates that has already happened, and the carrier who tried it failed and is now engaging SMSI for this reason. So, it is hard to imagine SMSI, as the well-established and known authority in its niche market, being replaced anytime soon.
Risks
For the most part, I have covered the significant risks for SMSI in the Headwinds section. Most of those risks are shorter-term. From a long-term perspective, the biggest risk is, of course, potential competition. The family location/safety business opportunity is enormous. And there are already several competitors in the space. The important thing to note with SMSI is that they are laser-focused on providing a solution to carriers. That is to say, they have shown no interest in a direct-to-consumer product.
This distinction between SMSI's model and most competitors in the space is key to understand. The reason for that is that working directly with the carriers and integrating into their networks is not something that carriers allow many companies to do. SMSI has two significant advantages with respect to this situation: (1) Prior, long-standing relationships with carriers, and (2) the moat mentioned above in Tailwinds, which will make it difficult for a newcomer to replace SMSI, even if the carrier believes that company may be able to offer a superior product.

The final risk worth mentioning is the possibility that either the carriers do not heavily market the product and/or SMSI's white-labeled product with the carriers simply does not penetrate the current marketplace similarly to how it did with Sprint. If any of the carriers market SafePath7 like Sprint marketed its earlier iteration, it's hard for me to believe a significant number of users will not add the product (personally, I have been anxiously awaiting the release of FamilyMode 3.0 so that I can use the product with my family!).
While many SMSI naysayers are quick to point out duplicative products that are native, most especially, to some iOS products, the reality is that many customers are unaware of the products and/or the SafePath7 product is superior given that it combines the functionality into one app. And that's not to mention the entire Android audience who is left without comparable products from Google. In any case, I believe that if the carriers put their marketing weight behind SMSI's SafePath product, it will sell well.
Valuation
Nothing has changed significantly from my most recent previous article with respect to SMSI's valuation, other than perhaps the revenue and EPS estimates should be pushed back by one quarter due to the fact that TMUS has not yet launched FamilyMode 3.0. By way of summary, I will include a few key highlights of my valuation below.
Gross margins begin to return to the 90% level, with that 90% number not being fully obtained until mid-year 2023. By EOY '22 I believe we should see mid-80s for gross margin percentage.
As of their latest 10-K filing on March 11, 2022, SMSI carries forward $180.3M and $148.6M in federal and state net operating losses, respectively. So, for some time, these revenue increases will go straight to the bottom line with no taxes.
I assume CommSuite revenue and ViewSpot revenue remain flat to slightly down from current levels. While CommSuite should eventually see a boost from the aforementioned DISH contract, I do not want to build that into my model until we have more clarity on DISH's postpaid launch success.
I assume Operating Expenses increase slightly each quarter. I think there's the distinct possibility we will actually see the opposite - that Opex decreases due to the ability of SMSI to cut some of the contracted developers who helped prepare SafePath7 for commercialization - but I want to see that happen before building it into my official assumptions.
I assume an average of 300,000 subscriber additions per quarter, beginning with 2Q22 through 4Q23. I recognize this number is likely high for 2Q22, but I believe it will be low for some strong quarters in between then and 4Q23.
Based on these assumptions, I show SMSI at an approximately $1.00/share EPS run rate by EOY23. To be clear, I'm not saying they will earn $1.00/share in 2023. What I'm modeling is that the run rate - which is the most important metric for a SaaS-based company like SMSI - will be at $1.00/share by then. That then means I would expect 2024 EPS to be well above $1.00/share.
Investors are welcome to put whatever multiple they want on that number, but it seems like the multiple should lead to a much higher share price than $3.00/share! Quite frankly, if - and there are many assumptions, as noted above - SMSI attains that $1.00/share run rate, then I would expect them to be a ten-bagger from current levels.
Conclusion
SMSI's weak results and guidance, and perhaps most significantly the concern with working capital, led to SMSI falling off by as much as 25% since their latest earnings report. Based on my research, I believe the biggest threat to shareholders - a dilutive capital raise - is something that SMSI would never consider at this point in their progression with carriers. With that off the table, and with the imminent launch of SMSI's TMUS product, followed shortly by the transition of VZ and T to the SafePath platform, I believe now is a good time to increase one's investment in SMSI. The company has a path toward $1.00/share in EPS run-rate by Q423, which makes the stock a possible ten-bagger from current levels.