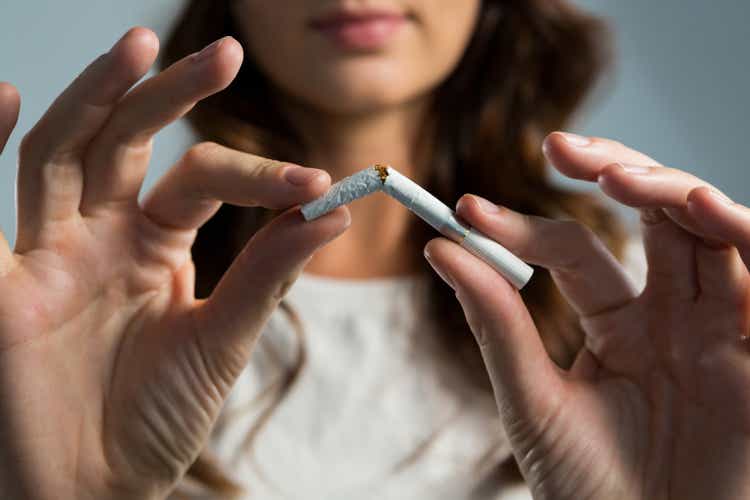 Introduction
We review our Hold rating on Imperial Brands PLC (OTCQX:IMBBY) (referred here as "IMB") based on recent news across the Tobacco sector.
While IMB last reported its results in November 2021, due to its fiscal year being different from its peers (and ending on September 30), other Tobacco companies have reported results more recently. The sector has also seen developments in Russia, the oil price and FDA action on U.S. cigars.
We believe IMB's structural problems are persisting, while recent news means it will face even more headwinds in the near future.
Our Imperial Brands Rating History
We have had a Hold rating on Imperial Brands stock, meaning it should be avoided, since we initiated our coverage in July 2019. We have more positive views on other Tobacco stocks, being Buy-rated on Philip Morris (PM) from the start, and Buy-rated on Altria (MO) and British American Tobacco (BTI) (referred here as "BAT") since February and March of 2020 respectively.
IMB shares have fallen by 18% (in GBP) since our initiation and, even with dividends, investors would have gained just 2.9% over nearly 3 years, significantly underperforming other Tobacco stocks:
IMB Share Price vs. Peers (Since July 3, 2019)

NB. Graph is based on USD share prices for ADR of U.K. companies.
IMB stock tends to fall more than its peers during market corrections, creating occasional short-term trading opportunities. However, even if an investor had bought into IMB at its record low in late 2020, they would have done worse than Altria and little better than Philip Morris:
IMB Total Gain vs. Tobacco Peers in USD (Since November 6, 2020)

IMB stock has proved to be a poor investment for most investors.
Imperial Brands Cautious View Recap
We have been cautious on IMB due to its fundamental business problems:
IMB is mostly in markets with unfavorable demographics or regulations; profit growth was weak even before Next Generation Products ("NGPs")
IMB has under-invested, including in NGPs, instead prioritizing an unsustainable dividend growth, until a dividend reset in May 2020
IMB's NGPs are far behind peers and have little hope of catching up
IMB's largest region is Europe (47% of EBIT), followed by the U.S. (approx. 30%). The U.S. and Germany together were 49% of its Combustible EBIT; the U.K., Spain and Australia together were another 23%. Other top-10 markets were France, Italy, Japan, Russia and Saudi Arabia:
IMB EBIT By Segment & Top 5 Markets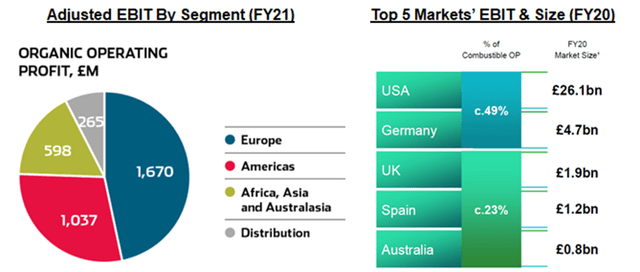 Under new CEO Stefan Bomhard, IMB has been executing a 5-year strategic plan, which specifies an Adjusted EBIT trajectory that is relatively flat in FY21 and FY22 but accelerates to a mid-single-digit 3-year CAGR in FY23-25:
IMB FY21-25 Outlook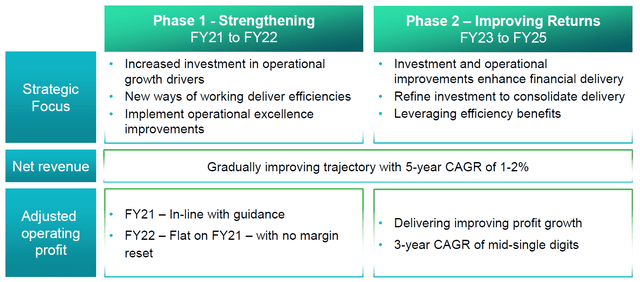 For FY21, excluding currency, IMB reported revenue growth of 1.4% and EBIT growth of 4.3% for its Tobacco & NGP business, and group EBIT growth of 4.8% (including its Distribution business).
However, excluding one-off items (particularly write-downs and larger investments in NGP in the prior year), group EBIT grew just 3.5%. Revenue growth was dominated by the Americas (up 9.6% excluding currency), with Europe basically flat (up 0.2%) and Africa, Asia & Australasia declining 8.2%.
Near-term headwinds show that FY22 will likely be much worse than FY21.
Volume Softened for Peers in Q4 CY21
Results from IMB's peers show that cigarette volumes have softened in Q4 CY21, due to both the fading of COVID's boost to demand and higher commodity prices negatively impacting consumer disposable incomes.
Altria CFO Sal Mancuso referenced this in their Q4 2021 earnings call:
We believe rising gas prices, inflation and the reduction of COVID-19 relief programs led to a decrease in disposable income on a sequential and year-over-year basis. In addition, increased consumer mobility versus the prior year offers consumers more options for their discretionary spending, and led to fewer tobacco usage occasions.
In the U.S., Altria reported a 6.5% year-on-year decline in industry volume for Q4 2021. Across two years, Q4's volume decline was 5.0%, continuing its acceleration across the year (4.0% in Q1, 5.0% in Q2 and 5.5% in Q3):
U.S. Combustible Volume Decline - Altria vs. Industry (2020-21)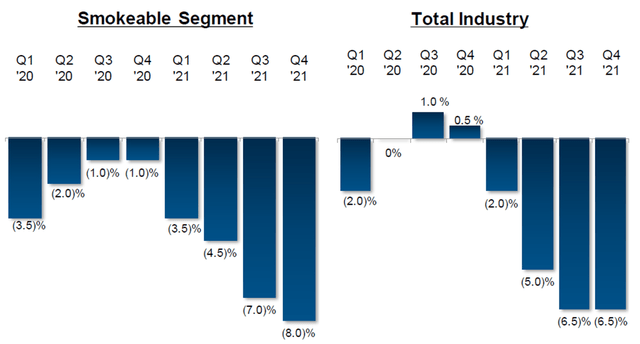 Outside the U.S., the two-year growth rate in Philip Morris' combustible volumes first improved between H1 and H2, as Emerging Markets recovered from the impact of COVID-19, before getting worse between Q3 and Q4:
Non-U.S. Cigarette Volume Decline - Philip Morris (2020-21)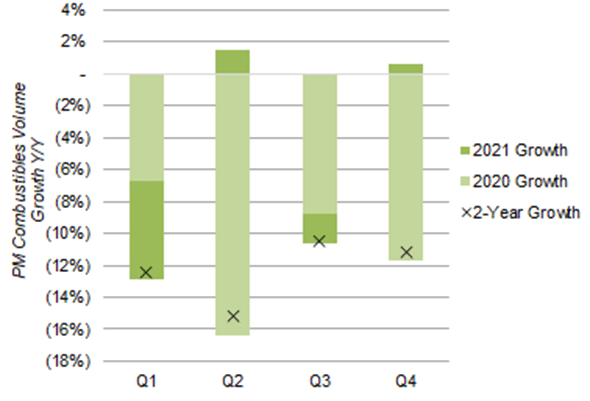 NB. Figures exclude inventory moves.
(We focused on two-year growth rates for PM due to the significant COVID-related volatility in its quarterly volume growth rates in 2020.)
Higher Oil Prices Even Worse in 2022
Among the negative macro factors, higher oil prices will be worse in 2022.
Crude oil price (for West Texas Intermediate, or "WTI") rose above $100 per barrel for the first time since mid-2014 after Russia invaded Ukraine:
Crude Oil WTI Price / Barrel Front Month (Since 2009)

There is a clear correlation between oil prices and combustible volume declines. Altria's U.S. combustible volume declines were the lowest during 2015-16 when oil prices halved, but rose to 5-7% during 2017-19 when oil prices rose (also made worse by an explosive growth in U.S. Vapor):
Altria Combustible Volume Growth Year-on-Year (2013-21)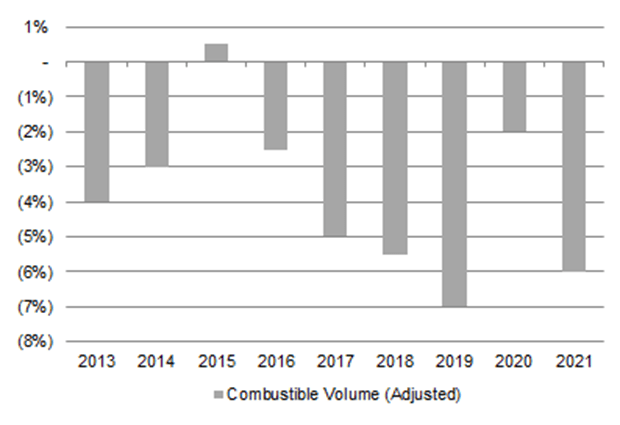 Our base case is for the U.S. cigarette market to be stable for the long term, but higher oil prices will still represent a stronger headwind in 2022.
IMB is over-represented in the discount segment, so it may do better than the industry but only slightly. In FY19, against an industry volume decline of 5.5%, IMB U.S. tobacco volumes fell 5.3%; revenues rose 6.8%, but was helped by 3.5 ppt of inventory benefit and large price increases.
IQOS Making Inroads in Europe
Philip Morris' IQOS has continued to make in-roads in Europe, which contributed 50.5% of IMB's Tobacco & NGP profit in FY21.
IQOS's Heated Tobacco Unit ("HTU") volume in Europe grew 7% sequentially and 32% year-on-year during Q4 2021, despite a global shortage of IQOS devices (that resulted from the global shortage in semiconductors):
PM HTU Share of Tobacco Market & Volume - the E.U. (Since Q3 2018)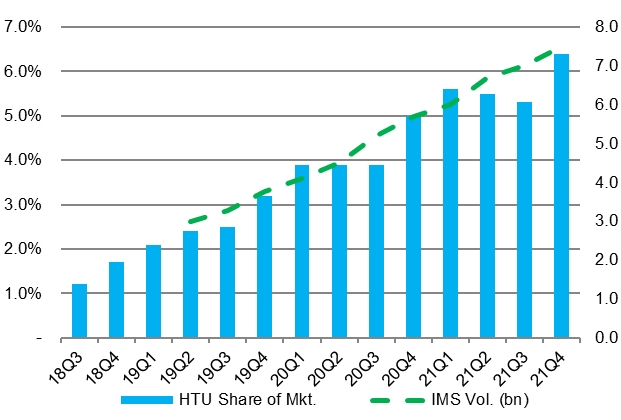 IQOS had reached 6.4% of the total tobacco market in the European Union in Q4 2021, up from 5.0% the year before, reaching double-digit shares in countries such as the Czech Republic and Greece:
PM HTU Offtake Share in Selected E.U. Countries (Q4 2021)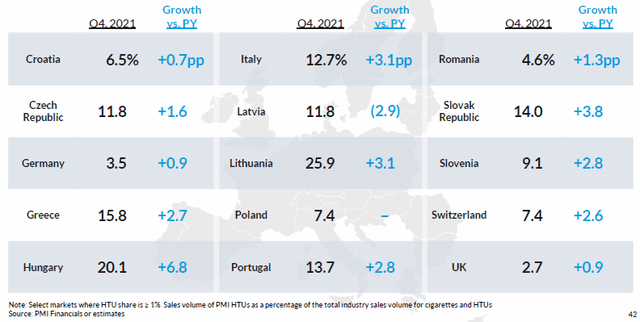 Compared to Q3 2021, IQOS gained 1.9 ppt of the tobacco market in the Czech Republic and 3.7 ppt in Greece. Part of this is likely seasonal (people smoke fewer cigarettes during the winter), but IQOS is clearly gaining share. This is significant as these are the two countries where IMB has launched national trials of its Heat Not Burn product (Pulze) in September 2021.
IQOS also reached 3.5% share of the tobacco market in Germany, IMB's second largest market (with 13% of group revenues), an increase of 0.9 ppt both year-on-year and compared to Q3.
Long-Term U.S. Risks from Vapor
Our base case remains that Reduced Risk Products will have limited impact on U.S. cigarette volumes. However, there have been negative news recently.
First, there was moderate volume growth in E-vapor in H2 2021, both for the category as a whole and for BAT's Vuse specifically:
U.S. E-Vapor Category Volume (Since 2019)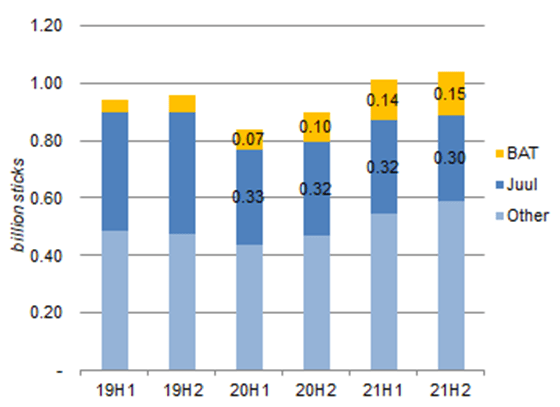 Second, Altria received a favourable ruling in February against the FTC lawsuit around its stake in Juul. The FTC has filed an appeal and the ruling may yet be reversed. However, there is a small risk that Altria will be able to rejuvenate Juul's growth once its ownership issues are resolved.
Russia May Be An Indirect Negative
The Russian invasion of Ukraine may produce headwinds for IMB indirectly.
IMB has minimal direct exposure to Russia and Ukraine, with the two countries representing just 2% of revenues and 0.5% of EBIT in FY21. While IMB has announced on March 15 that management "have begun negotiations with a local third party about a transfer of our Russian assets and operations", this will have limited direct impact on IMB's financials.
However, there may be a significant indirect negative impact, as both Philip Morris and BAT may redirect their Heat Not Burn products from Russia to Europe. Like IMB, BAT has announced that it will be transferring its Russian business, while PM has suspended all planned investments including new product launches.
Russia was around 18% of PM's HTU sales in Q4 2021, and is likely to be similarly significant for BAT's glo Heat Not Burn product:
PM HTU In-Market Sales - Key Markets (Since 2020)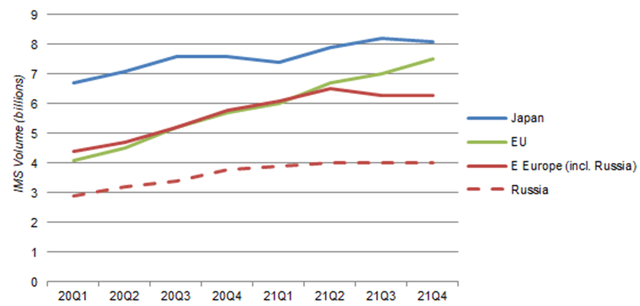 Both companies are likely to deprioritize Heat Not Burn sales to Russia (with BAT potentially ending them entirely). This would leave a larger supply for other markets, especially for PM, which has been suffering from IQOS device shortages since 2021 - thus cannibalizing IMB cigarette sales faster.
FDA Actions Against Flavored Cigars
The FDA's pending actions against flavoured cigars are also a risk for IMB, albeit one that is low-likelihood and will take years to have an impact.
IMB is the #2 player in U.S. mass market cigars, with a 21% category share. Mass market cigars generated 20% of IMB's U.S. EBIT in FY20 and grew volume by 45% in FY21, outpacing even the category's strong growth:
U.S. Cigar Category Volumes (2011-21)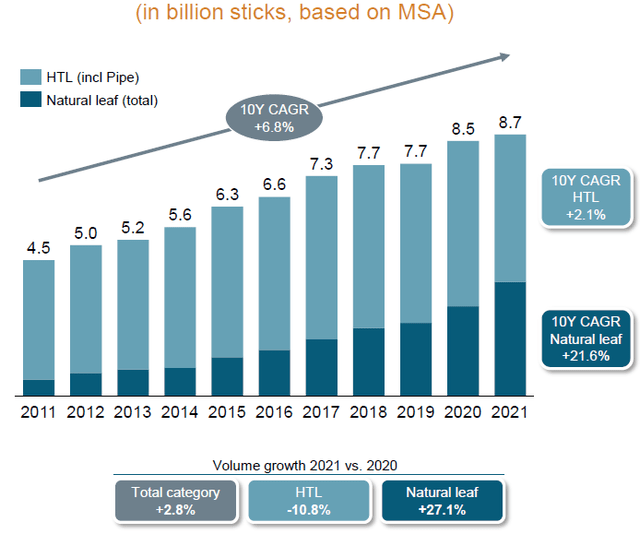 We believe a substantial part of IMB's U.S. cigar sales are in flavored cigars. (At Swedish Match (OTCPK:SWMAY), we estimate the percentage to be 40%.)
The FDA has a longstanding intent to ban flavored tobacco products, including in cigars, and has planned to issue new rules this April. This week, the FDA's Director of the Center for Tobacco Products (Mitch Zeller) confirmed at a conference that this plan is on track. Also, Swedish Match disclosed that the FDA has denied the Substantial Equivalence designation for approx. 3% of its U.S. cigars (by volume), and may issue further denials.
Our base case is that the FDA will not succeed in banning flavored cigars, at least for years. However, this represents a risk to IMB earnings.
Valuation: Is Imperial Brands Stock Cheap?
At 1,589p, relative to FY21 financials, IMB shares are trading at a 6.4x P/E and a 14.6% Free Cash Flow ("FCF") Yield:
IMB Net Income, Cashflow & Valuation (FY18-21)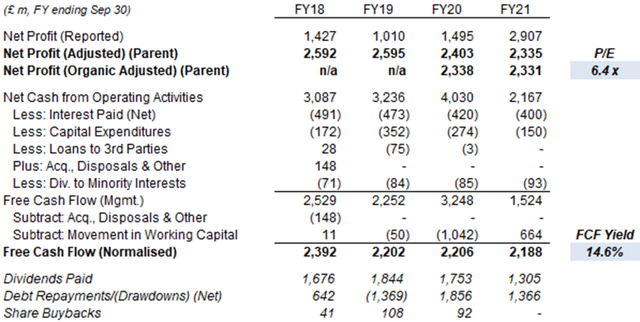 NB. Cashflows not adjusted for sale of Premium Cigars.
IMB's FY21 dividend of 138.08p implies a Dividend Yield of 8.8%. The dividend policy targets "growth reflecting underlying performance".
While these multiples seem "cheap", as before we do not believe they sufficiently offset the risk of an accelerating decline in IMB's businesses.
Is Imperial Brands A Buy? Conclusion
While Imperial Brands has not reported results since November, recent news across the Tobacco sector have made us even more cautious.
Other Tobacco companies have reported softness in Q4 volumes, from the COVID benefit fading and disposable incomes under pressure.
Philip Morris' IQOS is making inroads in Europe. Record oil prices after Russia invaded Ukraine will be an even bigger headwind in 2022.
Imperial Brands has little Russian exposure, but its volumes may see faster declines as rivals redirect Heat Not Burn products to Europe.
At 1,589p, the stock is trading at a 6.4x P/E and an 8.8% Dividend Yield, but this is not cheap enough in our view.
We reiterate our Hold rating on Imperial Brands - investors should avoid its stock.