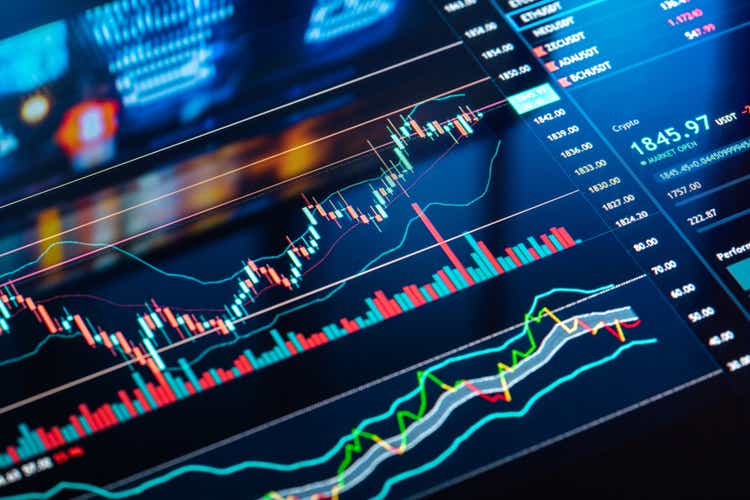 The results from the latest AAII Sentiment Survey show decreases in bullish and neutral sentiment. In addition, the number of investors describing their outlook for stocks as "bearish" rose.
Bullish sentiment - expectations that stock prices will rise over the next six months - declined 1.5 percentage points to a four-week low of 22.5%. The breakpoint between typical and unusually low levels of optimism is 28.0%. Bullish sentiment levels are below the historical average for the 17th consecutive week.
Neutral sentiment - expectations that stock prices will stay essentially unchanged over the next six months - decreased by 2.5 percentage points to 27.8%. This is the fourth consecutive week with neutral sentiment below the historical average of 31.5%.
Bearish sentiment - expectations that stock prices will fall over the next six months - rose 4.0 percentage points to 49.8%. The breakpoint between typical and unusually low levels of pessimism is 40.1%. This is bearish sentiment's 17th consecutive week above its historical average of 30.5%.
Most of this week's results were recorded prior to yesterday's decision by the Federal Open Market Committee to raise interest rates.
Bullish sentiment remains unusually low and bearish sentiment remains unusually high for the ninth time in 10 weeks. Historically, the S&P 500 index has gone on to realize above-average and above-median returns during the six- and 12-month periods following unusually low readings for bullish sentiment and for the bull-bear spread. (This week's bull-bear spread of -27.3% is also unusually low.) Unusually high bearish sentiment readings historically have also been followed by above-average and above-median six-month returns in the S&P 500.
The ongoing invasion of Ukraine by Russia, stock market volatility, inflation, interest rates, the coronavirus pandemic and politics are all influencing individual investors' outlook for stocks. Other factors include the economy and corporate earnings.
For this week's special question, we asked AAII members to share their thoughts on fourth-quarter earnings.
About one-third of respondents (33%) have a positive view of earnings, stating that many results were stronger than expected. In contrast, 31% of respondents express neutral or negative viewpoints. One prevalent reason for this isn't earnings, but rather the conflict between Russia and Ukraine. These respondents specifically pointed to the resulting market uncertainty as well as overall concern. Around 17% have a mixed outlook, stating that although earnings were stronger, they are worried in the long term about rising prices. Roughly 12% of respondents are neutral about fourth-quarter earnings.
Here is a sampling of the responses:
"These earnings were strong, and an investor looking at a new business should review the company's view forward."
"Future earnings are likely to be worse than expected as higher wages and materials costs and labor shortages dampen production."
"Putin and Ukraine are just too large of an unknown to allow me to think of the market moving higher at this time."
"More or less in line with expectations."
This week's AAII Sentiment Survey results:
Bullish: 22.5%, down 1.5 percentage points
Neutral: 27.8%, down 2.5 percentage points
Bearish: 49.8%, up 4.0 percentage points
Historical averages:
Bullish: 38.0%
Neutral: 31.5%
Bearish: 30.5%
The AAII Sentiment Survey has been conducted weekly since July 1987. The survey and its results are available online.