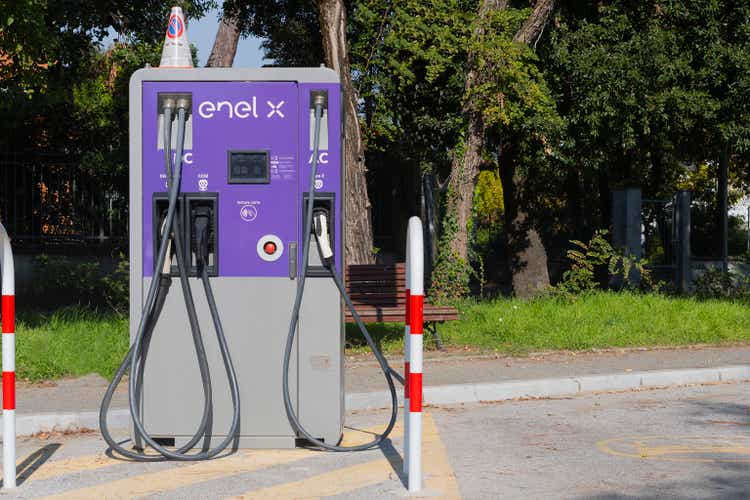 Here at the Evidence Lab, we are passionate about utility companies and we do have a soft spot for Enel SpA (OTCPK: ENLAY). It is not the first time that we are analysing the Italian utility and we'd like to remind our readers that even if the company is headquartered in the Belpaese, Enel has a global and unique footprint.
Q4 and FY Results
The CEO opened the call stating: "Enel's results for 2021 once again demonstrate the resilience and sustainability of our business model even in an increasingly complex scenario, characterized on the one hand by signs of post-pandemic recovery and on the other by the negative impacts of increasing fossil fuel prices. It is now clear that utilities have a key role in managing the rapid changes in the energy sector, and this is the direction in which our strategy is heading, focusing on decarbonization and electrification".
Looking at the financials, Enel closed 2021 with a group net profit of almost €3.2 billion, an increase of 22.2%, and a group ordinary net result of almost €5.6 billion, signalling a +7.6% compared to the previous year-end results. As already communicated with the preliminary results, revenues rose to €88 billion for an increase of 33.3% versus 2020 thanks to the positive contribution of energy production and also thanks to the Open Fiber sale.
Ordinary EBITDA rose 6.7% to €19.2 billion thanks to the performance of EGP (Enel arm in the renewable space) with a +2.5% increase to €4.7 billion and ENEL X (+86% to €283 million). The only item in decline was the EBIT figure, which came in at around €7.7 billion (-9.2%) due to higher depreciation and some other adjustments. Enel moved on to buy an additional equity stake in Enel Américas plus the negative FX led to an increase in debt equal to €51.9 billion (+14.4% compared to 2020). Cash flows from operations were over €10 billion, the liquidity generated with an issue of a non-convertible bond loan for €2.2 billion, and Open Fiber sale partially offset the financial requirement.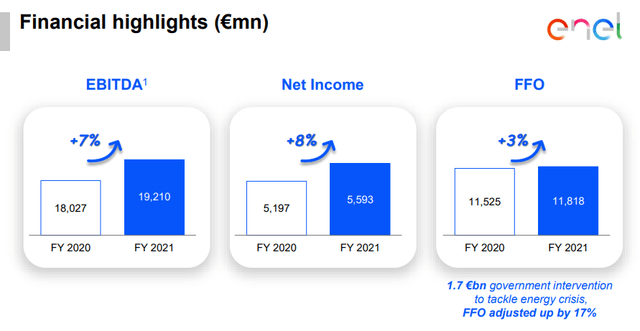 Source: Enel Q4 and FT Results
Investments grew to around €13 billion (+27.5%), mainly concentrated in Infrastructure and Networks, Enel Green Power and Enel X. The new renewable capacity built in 2021 exceeds 5.1 Gw, including 220 Mw of batteries. This will further progress the decarbonization process. The company's long-term goal remains the achievement of "Net Zero" by 2040 both for direct and indirect emissions.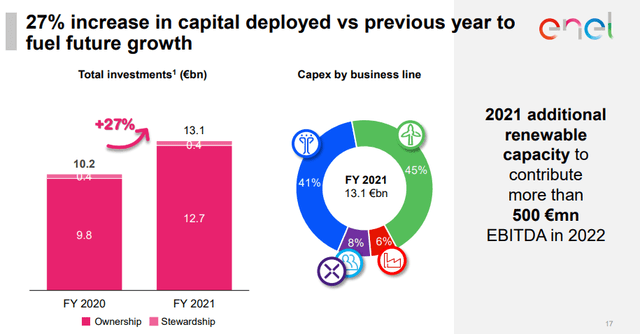 Source: Enel Q4 and FT Results
Enel will propose a total dividend of €0.38 per share for the entire 2021 financial year of which €0.19 was already paid as an advance in January. Thus, shareholder remuneration rose by 6.1% compared to 2020. The dividend policy for the period 2022-2024 provides that shareholders receive a fixed dividend per share, which is expected to increase by 13% from 2021 to 2024, to reach €0.43 per share. At the shareholder's meeting in May, the company will also be called to renew the buy-back for up to €2 billion.
Enel Russia exposure & Conclusion
Today for many European companies, gas and electricity costs have increased so much that they are temporarily closing. Despite the good demand we note a spike in temporary closures that have been recorded in the last two months. The most affected sector is heavy industry from steel mills to foundries.
Enel is freezing its Russian assets and will evaluate how to dispose of them over the next few months. This was announced by CEO Francesco Starace during a conference call with analysts, commenting: "Enel cannot have further growth in Russia". In that country, the company has three combined cycle generation plants and two wind farms. They are separate assets from other activities in Europe. EBITDA 2021 contribution was approximately 1%. "All the possible ways in light of the local legal system and sanctions - he specified -. Employees are safe. A decision will be made in the coming months".
Another key topic is the fear about the extra-profit tax to lower the electricity bills and the proposal to put a cap on gas prices. The CEO said he had no worries about extra tax stating that the governments will understand that the proceeds they can derive from these taxes will be very limited.
For the current year, despite the geopolitical tensions, the group confirms its financial target with EBITDA between €19 and €19.6 billion, ordinary net profit between €5.6 and €5.8 billion, and a dividend of €0.40 per share. Following the recent company underperformance at the stock price level, with a juicy dividend payment and a discounted valuation compared to peers at both P/E ratio and EV/EBITDA, we confirm our buy rating at €8.5 per share implying a 46% capital appreciation opportunity. Currently, Enel is trading at a P/E of 9.5x on 2023 numbers compared to the peer's group at more than 12x, and on an EV/EBITDA basis, Enel is trading at 7x versus the other integrated players at more than 8x. This is totally unjustified.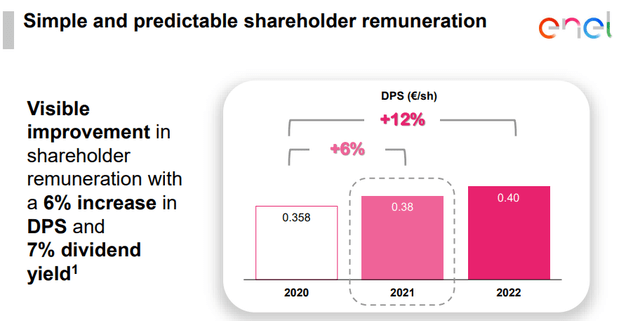 Source: Enel Q4 and FT Results
Previous coverage in the utility sector: