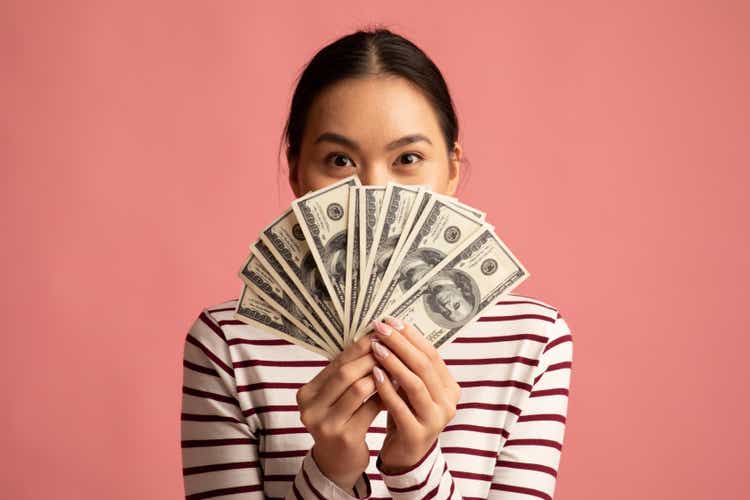 Aeva Technologies, Inc. (NYSE:AEVA) expects to start delivering a substantial number of products by the end of 2022 and reports a lot of new marketable securities to finance marketing campaigns. If truck manufacturers continue to be interested in autonomous driving technologies, and vehicle manufacturers incorporate Aeva's LiDAR-on-chips, FCF will likely increase substantially. In my opinion, market participants didn't have a look at the production plan expected by management. Future free cash flow discounted at a conservative rate implies a valuation that is significantly higher than the current market price.
Aeva Technologies Has Already Announced Products With Nikon, And Promised Scaled Deployment Programs Starting Late 2022
Founded in 2017 by two former Apple (AAPL) engineers, Aeva is designing new 4D LiDAR-on-chip silicon photonics technology for wide-scale adoption of autonomous driving. I believe that it is the right time to discuss the company's business model. Aeva just reported a significant amount of cash and marketable securities, and expects to scale deployment across commercial programs to start by the end of 2022. In my view, with sufficient liquidity to launch marketing campaigns and substantial capex, Aeva will likely report future FCF soon: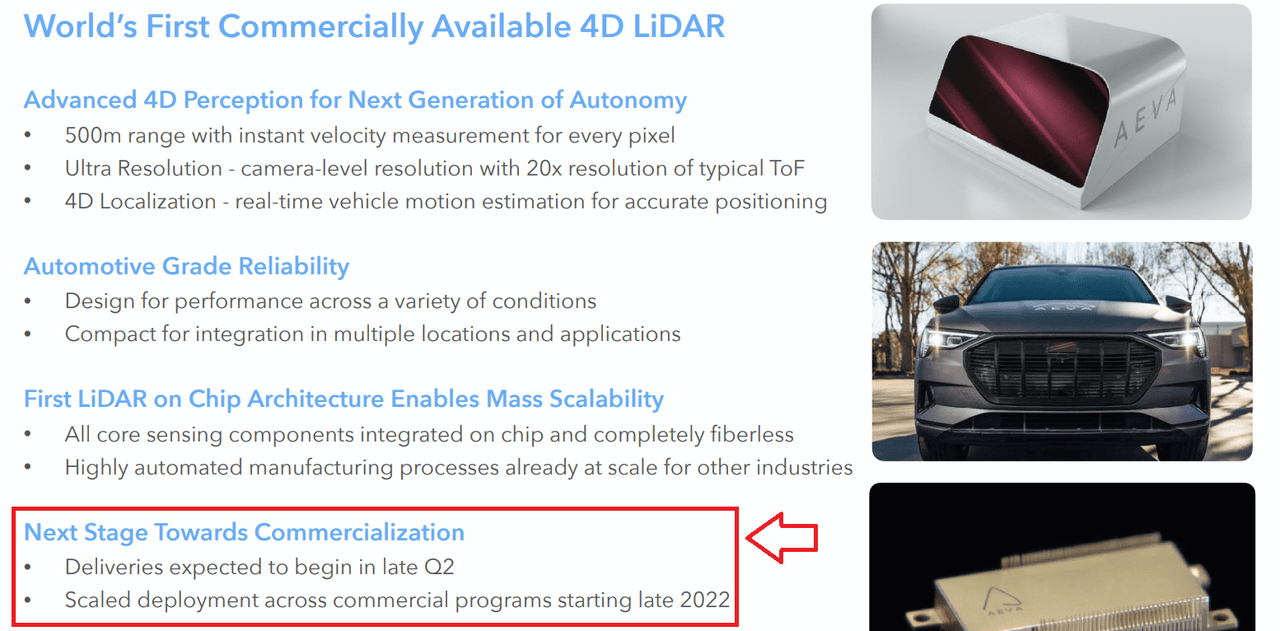 The Autonomous Trucking Industry, More Patents, And A Few More Clients Could Mean A Fair Price Of $6.49-$4.41
Among the different catalysts, which could make the FCF increase substantially, the growth of the autonomous trucking industry could be critical. In the last prospectus, management was optimistic about the demand for automated driving technology in the trucking industry. With tons of marketable securities and cash, Aeva will likely sign agreements with truck manufacturers if management invests sufficiently in sales and marketing along with R&D:
More stringent government rules and safety considerations have also generated demand for automated driving technology in this sector. Many truck OEMs are partnering with AD technology manufacturing companies to produce autonomous truck systems. Source: Prospectus
I am quite optimistic about the company's future research and development activities. In the last report, management reported 198 pending applications worldwide for patents related to the FMCW LiDAR system, integrated photonics, and related software. Under this case scenario, I assumed that the number of patents obtained will increase, and many large automotive companies would like to sign agreements with Aeva:
As of December 31, 2021, we have approximately 198 pending patent applications worldwide. In addition, we have approximately 4 registered U.S. trademarks and 15 pending U.S. trademark applications. Our patent applications cover a broad range of system level hardware and component level aspects of our key technologies including, among other things, FMCW LiDAR system, integrated photonics, laser solutions and perception software technology. Source: Prospectus
I couldn't find any large client noted in the last prospectus. However, management did mention that it signed services agreements, and sold prototypes to a number of clients. In the future, I will be expecting something more specific about Aeva's partners. In my opinion, only one contract signed with a large corporation would make the expectations for future free cash flow increase:
More recently, we have entered into production memorandums of understanding, development agreements and similar arrangements with certain of our customers that outline the potential development and commercialization of our products into such customers' vehicle programs and the utilization of Aeva's products in such vehicle programs targeted for series production. Source: Prospectus
Under normal circumstances and taking into account that the target market grows significantly, I believe that 2028 sales of $1 billion is achievable:
Automotive LiDAR market is expected to grow to US$2.3 billion in 2026 at a 111% CAGR between 2020 and 2026. Lines are starting to move for the industrial LiDAR: smart infrastructure and logistics are showing the highest growth, reaching US$500 million each by 2026. Source: yole.fr
I assumed double-digit sales growth from 2027 to 2031 along with a growing EBITDA margin. Taking into account the numbers of growing companies operating in the EV industry, in my view, an EBITDA margin of 11%-9% is quite conservative. Finally, with an effective tax rate of 22%, Aeva should deliver NOPAT of $67 million:

Now, with D&A growing from $2 million to $75 million and capex of $37 million, I obtained 2031 FCF of $204 million. If we use a discount of 7.6%, the sum of future FCF stands at -$133 million:

With other competitors trading at 12x EBITDA, I believe that assuming an exit multiple of 12x makes sense. It means that the terminal value would stay close to $1 billion. Summing everything, I obtained an enterprise value of $867 million. If we add the cash in hand, subtract the debt, which right now is small, the implied price would be $6.49 per share.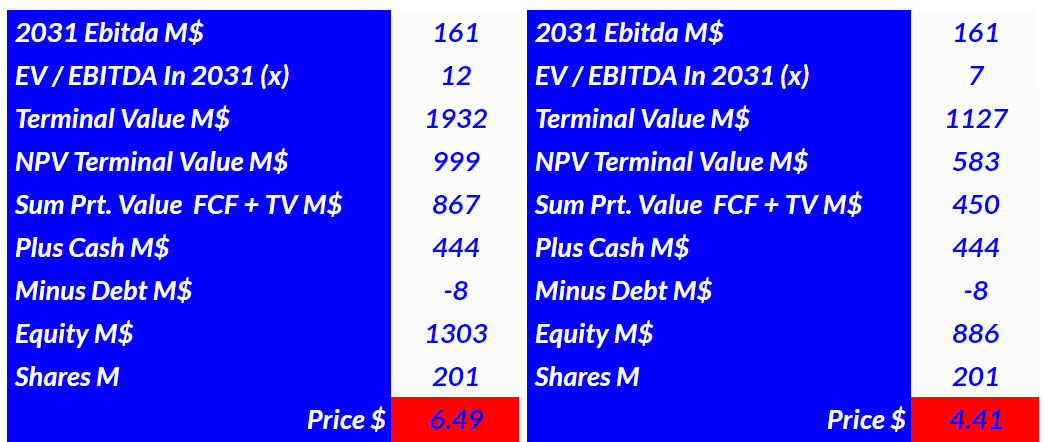 I wanted to be even more conservative and used an exit multiple of 7x, which implied a fair price of $4.41. In my view, the current amount of cash in hand is what matters here. With more than $400 million in cash and a share count of 201 million, the cash per share is larger than $2. It doesn't really matter whether the future FCF increases very fast. The share price will likely be larger than $2-$3.
Under The Worst-Case Scenario, I Envision A Share Price Of $2.25
According to the last prospectus, Aeva does not expect to start commercial deliveries until 2024, which means that we should expect losses until 2024 and even later. Management disclosed very clearly that its products may never be commercially successful at all. Under this case scenario, I do assume that Aeva would be able to sell sufficient products to report positive and growing. However, I assume that FCF will not grow any time soon:
Even if Aeva is able to successfully develop and sell its products, there can be no assurance that they will be commercially successful. Aeva's potential profitability is dependent upon the successful development and successful commercial introduction and acceptance of its products, which may not occur. Source: Prospectus
Aeva's expectations, global light vehicle production, and content per vehicle estimates are based on assumptions obtained from third parties. Management has not verified most numbers used to develop the business plans and future predictions. If the estimates used are not accurate and the target market is smaller than expected, Aeva may report less revenue growth and less FCF. As a result, I believe that sales expectations should decline, and the total valuation will likely decrease:
The Company's estimates of total addressable market are based on a variety of inputs, including production estimates per product group (which are largely based on global light vehicle production ("LVP") data and estimates from IHS Markit), content per vehicle ("CPV") estimates. We have not independently verified any third-party information, including LVP estimates by IHS Markit, and cannot assure you of its accuracy or completeness. Source: Prospectus
We still don't know the number of automotive tier 1 companies that will use Aeva's technology in their vehicles. Under this scenario, I assumed that Aeva would not be able to supply its products for many vehicle models for many years. As a result, management will have to wait for new models to be designed by OEMs. In sum, we may have to wait many years to see Aeva's equipment in autonomous cars:
If Aeva fails to win a significant number of vehicle models from one or more automotive OEMs or their suppliers, its business, results of operations and financial condition will be materially and adversely affected. Source: Prospectus
Under this scenario, I also assumed that Aeva may get into some trouble because it intends to work mostly with third-party manufacturers. In my view, if management loses control over the manufacturing process, clients may receive lower quality products. Besides, management may need to negotiate agreements with manufacturers from time to time. If Aeva does not work with several manufacturers, the bargaining power may not be significant, and the EBITDA margin could decline:
Since inception, we have entered into arrangements with third-party manufacturers to develop and manufacture our products for our customers' development programs. We intend to continue to rely on third-party manufacturers, to commercialize our products for automotive grade production. Source: Prospectus
Already with patents, Aeva could suffer from reverse engineering methods used by competitors to figure out the company's devices. In the worst-case scenario, competitors would copy Aeva's systems, and potential clients may not be willing to pay for Aeva's technology. If competitors don't have to invest a lot in R&D, they may offer similar devices at lower prices than that of Aeva:
Despite the actions Aeva is taking to defend and protect its intellectual property, Aeva may not be able to adequately protect or enforce its intellectual property rights or prevent unauthorized parties from copying or reverse engineering its products or technology. Aeva's efforts to protect and enforce its intellectual property rights and prevent third parties from violating its rights may be costly. Source: Prospectus
In the worst-case scenario, I assumed that sales growth would not reach more than 7.5% from 2026 to 2030. If we also assume an EBITDA margin of 10.5% and effective tax rate of 22%, 2031 NOPAT should be close to $15 million:

I also assumed D&A of $10-$30 million and capital expenditures of $10-$50 million, which implied free cash flow close to $40 million in 2027 and $95 million in 2031:

Under this case scenario, I decided to use a WACC of 8.5% and EV/EBITDA of 7.5x, which implied an equity value of $450 million, and an implied share price of $2.25: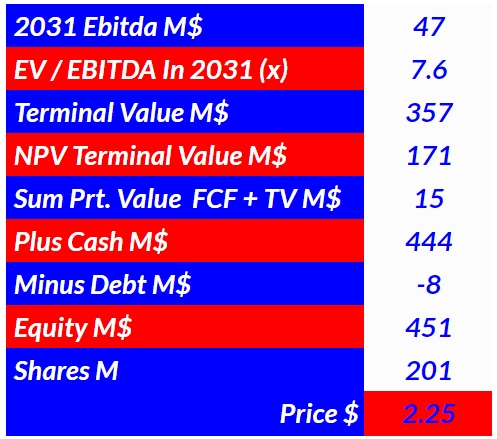 Balance Sheet: Plenty Of Cash In Hand
As of December 31, 2021, Aeva reported $378 million in marketable securities and almost $67 million in cash. Also, with $479 million in total assets and only $22 million in total liabilities, in my view, the balance sheet looks very healthy. In my view, Aeva Technologies appears well prepared to support further research and development: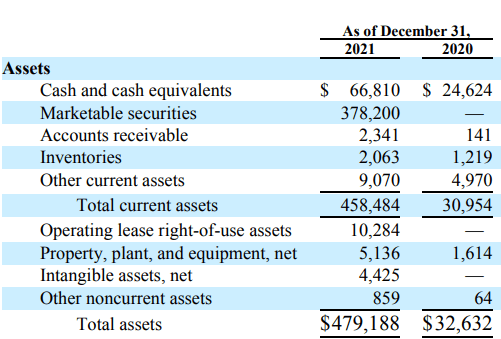 With respect to Aeva's financial debt, most investors should not worry. I counted only $9.3 million in lease liabilities and a warrant liability worth $1 million: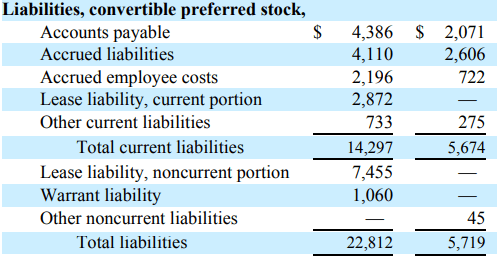 Conclusion
Aeva recently disclosed a significant amount of marketable securities and cash, which management will likely use for research and development. If management also hires sufficient business development personnel to sign agreements with vehicle and truck manufacturers, FCF may trend north. The future is quite uncertain for Aeva because the company still needs to present relevant clients to market participants. With that, the current valuation does not seem at all fair. Under my best-case scenario, future FCF, the total amount of cash, and marketable securities would justify a stock price significantly higher than the current market price.