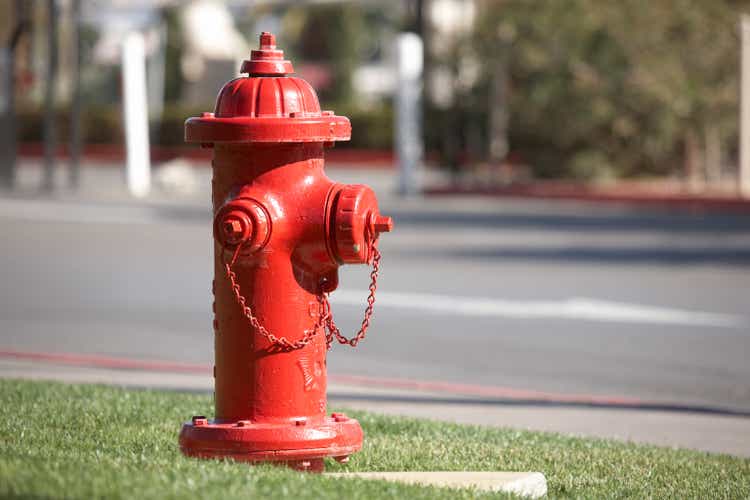 Residential construction remains healthy, and municipals are already coming up with cash for water and wastewater infrastructure projects ahead of stimulus-driven spending, but that's not helping the water infrastructure space outperform recently. Between supply chain pressures and derating off of what were generally too-high multiples (at least in my opinion…), this has been a weaker sub-segment of industrials since the late fall of 2021.
I thought Mueller Water (NYSE:MWA) had better prospects on its leverage to residential construction and self-help, but that didn't work out quite like I'd expected. Although Mueller shares have outperformed Xylem (XYL), they've still lagged the broader industrial space and the S&P 500. There's still a relative value call to be made here, but margin pressure is going to last a while longer and I think investors can and should consider names like Zurn (ZWS) and Franklin Electric (FELE) alongside Mueller today.
Mixed Leverage To Infrastructure Projects
Investors keen to play themes related to water infrastructure repair on the back of the infrastructure bill will find mixed appeal at Mueller. While there's some leverage here, it's not as strong as it may appear at first glance.
It's well worth remembering that about 70% of the municipal business is "break/fix" repair and replacement work. That's a steady source of revenue throughout cycles, but it doesn't lead to as much upside when projects start moving forward again - a lot of this business is done because municipalities can't delay or ignore the needed repair work. In other words, this is a good business when times are bad, but not an especially great business when times are good.
Mueller's strength in areas like iron gate valves, specialty valves, and brass gives it some leverage to stimulus-driven efforts to replace old water transport infrastructure and improve water access and stormwater management, but I think it's better to think of this as an incremental boost than a game-changer. Repair and installation products could get a bigger boost, but it's not an especially large part of the business.
Stimulus should drive more interest in areas like leak detection and condition monitoring, but Mueller has struggled to gain much traction in these areas. Stimulus spending could change that, but again I'd be careful about getting too far ahead of the curve on expectations.
Ongoing Residential Construction Is A Positive Driver
Mueller's leverage to residential construction is a little complicated, but it's still relevant. A lot of the spending here is done before construction can begin (hydrants, valves, et al), but strong demand for residential housing should nevertheless continue to drive demand for site development. Likewise, as more residential developments go up, municipalities need to add infrastructure to serve those developments, and that drives more demand for valves and other products provided by Mueller.
Margin Pressures Today, But Opportunities Further Down The Line
As a short-cycle manufacturer, price/cost has definitely had an impact on Mueller's results, and management has indicated that pricing may not catch up to cost inflation until 2023. While the impact has certainly not been catastrophic, Mueller likely won't regain 20%-plus EBITDA margins until 2024
While management is looking to offset input cost inflation with pricing, the company is also underway with a meaningful manufacturing improvement plan. Some of this is basic consolidation and efficiency improvement, but Mueller is also building up internal sourcing capabilities to reduce its need to outsource some of its valve components. The company is also expanding its casting capabilities, allowing it to enter the large gate valve market. This market is less than a third of the iron gate valve market, but it is growing faster than the overall market and is an area where I do think stimulus-enabled municipal spending can accelerate in the coming years.
Unfortunately, it will now be harder for investors to monitor the progress of what used to be the Technology segment. Management has re-segmented the business (into Water Flow Solutions and Water Management Solutions), and while there may be legitimate operating reasons for this move, it does also have the effect of blending the money-losing (or at best minimally profitable) Technology operations into more profitable business lines.
I can appreciate that the Street was too focused on the near-term dilutive impact of the business (focusing on the short-term pain over the long-term gains), but this could also dilute the impact of improving revenue/scale in the future - relevant since the Street has in the past given considerably higher multiples to "water tech" businesses as opposed to more traditional infrastructure businesses.
The Outlook
Mueller doesn't have as much direct leverage to new water infrastructure project spending as some bulls might hope, but it does have some, and that incremental exposure should help drive growth beyond the more staid break/fix opportunities. I also like Mueller's ongoing leverage to residential housing, as I believe this market should stay healthy through at least 2023.
Turning to the model, my revenue expectations really haven't changed much at all. Results were a little stronger than I expected in 2021, and I think some demand is getting pulled forward, but I'm still looking for around 5% long-term revenue growth.
Margins are under more pressure now than I'd expected a year ago, but I think the company will come through this in around two years and will still see long-term FCF margins in the neighborhood of 10%. If subscale contributors like leak detection and software-enabled IoT can gain traction in the coming years, there could be an upside on margins. As is, though, I expect FCF growth in the mid-to-high single-digits.
Discounting those cash flows, Mueller looks modestly undervalued and priced to generate a mid-to-high single-digit return over the long term. That's not remarkable for an industrial, but it's better than what most water-centric industrials have offered in recent years. My margin/return-driven EV/EBITDA approach is more encouraging, with Mueller's financials supporting a forward multiple of 12x, or a fair value of around $15 on my '22 EBITDA estimate.
The Bottom Line
Given the sell-off in the market, 15% or so undervaluation isn't as compelling as it once was for a water-based industrial, and I do still have some ongoing concerns about further derating in the subsector as investors move on from a once-hot area of the market. Fundamentally, though, Mueller is in good shape and if the company can deliver some improved price/cost leverage in a few quarters, I think the shares can do better.