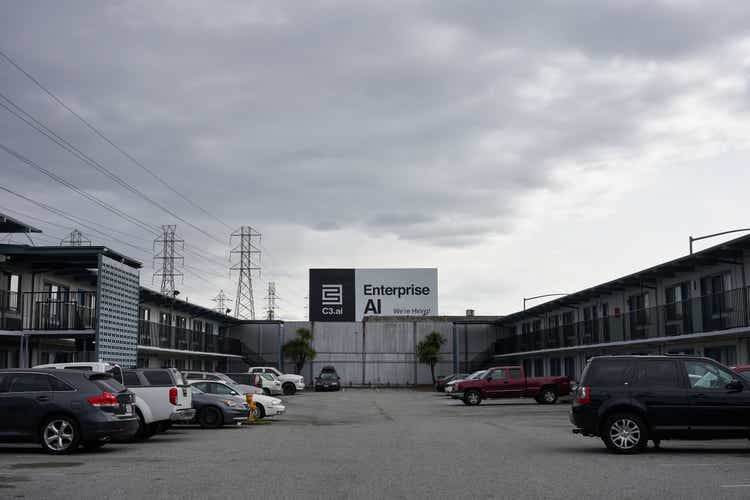 Background
C3.ai Inc. (NYSE:AI) has amassed an impressive track record and continues to keep its positive momentum. Despite negativity around the stock, the company has achieved significant business updates and record financial highlights. Analysts and retail investors alike have not seen a company like C3.ai, so it's so far down on their watchlist, it is not even on their radar of companies. This is not a tiny startup, but investors will realize the size and importance that C3.ai has to the US Department of Defense.
The financial highlights only encapsulate some of the enormous successes C3.ai has had in the past 12 months. The company is scaling with customers across a variety of industries. Keep in mind that while it may only have 218 customers, major investors have funded the balance sheet. The CEO, Tom Siebel, after he sold Siebel Systems to Oracle (ORCL) in 2005 for 5.8 billion, supported a variety of software ventures and saw the potential in C3.ai. I believe other billionaire investors like him would be willing to back this project now that it has a $500M deal with the Department of Defense.
Artificial Intelligence Contract with the DoD is a Major Milestone
The contract with the Department of Defense and positive political news will prove to be the watershed moment for c3.ai. The company can finally capitalize on its technology in a way that doesn't interact with any significant technology corporations such as Amazon (AMZN) or Microsoft (MSFT). The new political developments have given C3.ai the room to operate how it wants and still have all the possibilities of a public company.
The 2022 Defense Authorization act will increasingly enable public companies to engage in defense activities. This is not a private-public partnership and is more of an expansion of the US government's existing relationships with these enterprises. Cybersecurity is crucial to national defense, and having a US native commercial vendor is critical to the success of military operations at home and abroad.
The DoD contract will bring in future revenues and demonstrate to other corporations and governments the proof of work that C3.ai has. Its track record is worthy of note. Going from roughly 60M annually to 50M should shoot up the share price. Instead, C3.ai has been in a structural decline for months. When analysts realize the implications of this contract on the future earnings of C3.ai, they will begin to buy shares in bulk.
Currently, much of the float is owned by institutions. Institutions own 52%, and insiders own 15%. This leaves 33% owned by private investors and the public and shows how much potential insiders have not only to sell shares but give up significant share stakes for institutions to come in.
Intelligent Operational Positioning
The operating position the company has put itself in will help boost shareholder confidence and support critical infrastructure across the burgeoning new supply chain. The new works in logistics will look much different than what they were in the previous era, and I believe that as the world becomes increasingly digitized, governments and institutions will need a company that can interact and read that data most efficiently. I view C3.ai, a company dedicated to building and monitoring our natural and digital infrastructure, as a leader in this field. Sure many companies can claim that. However, none can say that they have a contract bigger than C3.ai's.
Margin is one of the most essential parts of a business. C3.ai has high margins due to its recurring revenue stream and technological advantage that few companies offer. These margins will help fuel the lengthy capital investments of various private groups and institutions. Volume-wise, C3.ai may be close to reaching a bottom due to the support from large asset managers.
Expenses continue to grow at rates well within the potential earnings margin growth. At current levels, the expense should not put C3.ai in a vulnerable debt position. Most of the market value is from its balance sheet, and the core business needs to be evaluated as technology R&D to serve the needs of large enterprises.
Risks Remain High due to Sector and Overall Market Risk
The risks with C3.ai will remain for some time. The company is unproven, and currently, the stock is in freefall. This is not healthy for any growing enterprise and could lead to problems later on. I believe in Tom Siebel, but part of me also trusts me and tells me that the story is too good to be true. If C3.ai is so good, then why does everyone rave about Palantir (PLTR) and its contracts with the Air Force and various defense departments and not do the same about C3.ai?
However, there is no doubt the DoD deal is a significant contract and development. C3.ai needs to capitalize on its underappreciation and buy back shares to add value to its portfolio, and raise its R&D spend.
Valuation can Stabilize from These Levels
The valuation of C3.ai has been crushed in recent months. This is due to many sector issues and because investors generally lost faith in these companies after they didn't perform well enough for the institutions investing in them. It may be hard to picture, but the large institutions aren't like you and me. They care about what happens in a few quarters, not what will happen 1 to 5 years later. Investing with growth at a reasonable price (GARP) in mind is challenging, but a stock like C3.ai is the epitome of stock with potential and is out of favor so much that it is time to get greedy.
The price return for C3.ai is horrendous and has entirely been run over by large tech stocks. I compare C3.ai to Amazon and Microsoft because they are the two most dominant significant enterprise services companies globally. While they may operate as competitors in some markets, these companies are overwhelmingly focused on different areas of development. However, C3.ai can take on contracts unavailable to larger tech companies. The agreement with the DoD is just the beginning. With that proof of work, it should not be challenging to start working for defense companies at home and internationally with allies.
Conclusion and Rating
There are many benefits to owning C3.ai stock. Of course, remember that the risks are apparent, and any investor should be fully aware of all the risks with a highly volatile asset like C3.ai equity.
However, the future is bright due to the DoD contract. I therefore maintain my rating on C3.ai as a Buy. I look forward to continuing to cover C3.ai's developments with the DoD contract and more broadly in the future.