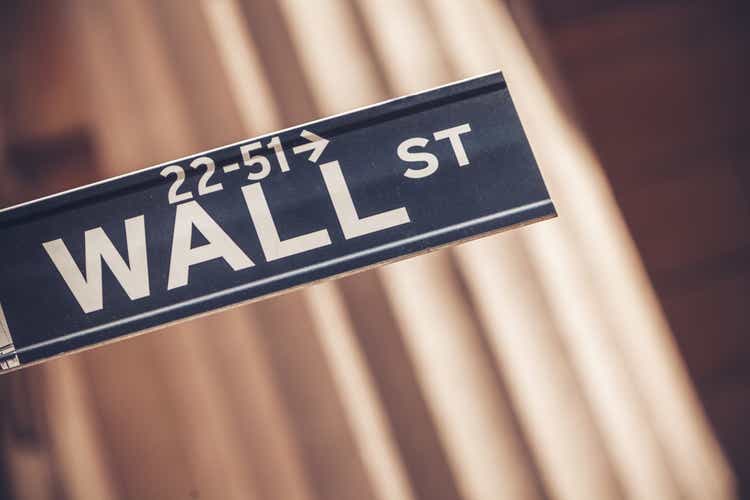 This past week provided the kind of market volatility which traders, usually, 'can only dream of;' and which, after a very difficult quarter, longer-term fundamentals-based investors, it would seem, 'would surely welcome!'
The Dow Jones 30 Composite Index posted a nearly 1900 point trading range, from early Tuesday morning's bottom to Friday afternoon's closing top.
The Nasdaq 100, actually posted its deepest lows on Tuesday since the beginning of the broad market's highs the first week of January, and its own highs in November. And in four days this week reclaimed 38% of its losses from the past 7 months.
And since Tuesday's early morning lows, the S&P500 SPY ETF has rallied from $413.70 to $445.60, and is now just 'a hair short' of having rallied halfway back to its own January highs!
Active advanced short-term technical analysis-based traders are reported to have been loving this quarter's extreme volatility; but, what of average longer-term fundamentals-based investors? Many financial experts suggest that most longer-term investors in the stock market will not be happy with their next, and soon coming, portfolio quarterly reports. So, what does come next for the stock market and investors? And especially now that the market is 'halfway back?'
DJX, DOW JONES INDUSTRIAL AVERAGE INDEX, Y2022, Q1 DAILY CANDLES
DJX, Y2022, WEEKS 10&11 HIGHLIGHTS, ZOOMED, 10 MINUTE CANDLES
The current macroeconomic environment for stocks may be viewed as presenting considerable potential headwinds: historic and lingering Covid, historic inflation, historic European war (and its potentially emerging global geo-economic realignments), and the outlook of a potentially significant Fed rate hike regimen, spanning the entire year, while coming off of historic interest rate lows.
When the Fed announced its quarter-point rate hike Wednesday afternoon, the stock market, which had been up over 400 Dow points, slumped into fully negative territory in just 35 minutes! But then, as Fed Chairman Powell was making his statement, and in it began citing the strength of wages, and the strength of the US consumer, the market turned.
In one amazing week, and the right kind of 'FedSpeak,' significant enthusiasm appears to have returned to the broad stock market! And some financial analysts and reporters who have been 'on the fence' have started to join a seeming 'bandwagon' of believers that at least a possible short-term market bottom had been 'put in', and possibly even a bottom for the year. Now, many investors seem to be asking, "which 'Fed' is it that I'm not supposed to fight": the 'coming rate hike regiment', or Fed Chairman Powell's amazing 'market direction turning' FedSpeak?"
High gas prices, high food prices, high rental prices, high home prices, tight labor supply, potentially upward wage prices all seem to remain in the mix. And this is in the forefront, domestically, of a competitive Congressional 'coattails' election year, too. Treasury bonds and inflation hedging metals continue to move in their positive "alternative to equities' momentums. And supply chain issues (not just labor supply) also continue to abound.
In our view, with the exception of war in Europe, there actually was nothing new presented within this month's antecedent macroeconomic news. And historically, on balance, when interest rates increase, that has actually been good for stocks. With the Fed Chairman emphasizing what might be viewed as 'wage strength' and 'consumer strength', the stock market may be further undergirded.
However, we tend to view portfolio 'protection' as paramount to successful long-term investing, especially with regard to stock market price level occurrences in that typical fourth 'off-year' within the Presidential Cycle, which, in 2022, we are now in. So our bias is to remain fundamentally cautious this year; however, positioning in concert with the stock market's response to FedSpeak from the Fed Chair during this important time, while continuing to 'ladder in,' along with hedge insurance protections.
In the last 16 years (the maturity cycle), we believe Ben Bernanke, Janet Yellen, and now Jerome Powell, as Fed Chairs, have done excellent jobs in their roles, and done so while it always remained so very easy to 'bash' the sitting Fed Chair as the current trials being faced at the particular time during any year resounded.
So, regarding what's next, we are remaining particularly observant of, and attenuated to market price dynamics, and especially to Chair-led FedSpeak observably and directionally impacting it, along with present macroeconomic fundamentals, especially domestic employment and wages, household disposable income and consumer spending, and corporate inventory builds and earnings. We believe we received a fairly positive report from the Fed Chairman Powell this past week, all things considered. And, while our general bias remains cautious, and, 'Don't Fight The Fed' remains in force in our view, we also recognize stocks, on balance, historically perform positively longer-term in response to 'Fed tightening.' So we will continue to maintain, and further 'ladder in,' along with added advanced hedging protections.
And, with the rest of the world, we will proceed with our investing, while also keeping a close eye on global affairs, in caveat.
In the meantime, we will also try to help, as we can, those suffering so direly from the untowardness and unspeak-abilities of war.
Thank you. And Godspeed in your long-term investing and current trading.