Why Skillz Is Woefully Misunderstood And Undervalued
Summary
People like to bet. Skillz lets people legally bet on their video game play and win money. It's an entirely new form of entertainment and growing like crazy.
In this volatile market, the SKLZ stock has suffered about a 95% drop in value and is now trading at "going-out-of-business" levels.
But Skillz is not going out of business. They have created valuable assets and their cash burn can be cut quickly (which has already started).
Skillz's upcoming NFL deal merges two strong money-making themes — betting and playing video football games — and is a strong driver of future earnings.
I have A Strong Buy recommendation on the SKLZ stock.
Editor's note: Seeking Alpha is proud to welcome The Lone Contrarian as a new contributor. It's easy to become a Seeking Alpha contributor and earn money for your best investment ideas. Active contributors also get free access to SA Premium. Click here to find out more »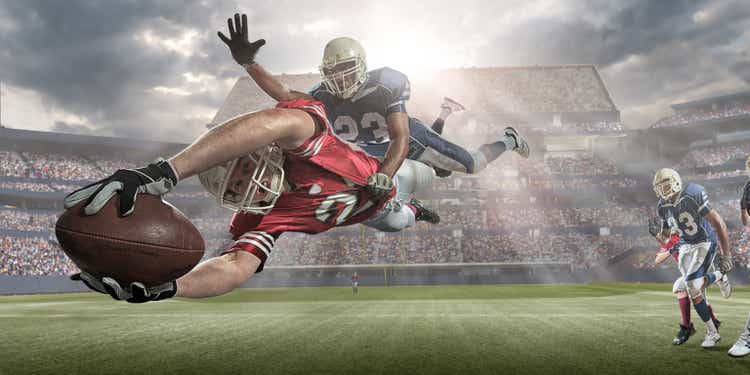 Thesis
Skillz (NYSE:SKLZ) is woefully misunderstood and undervalued. There, I said it, someone had to.
Misunderstood because investors think it's a video game company, when it's actually much more than that. It's also an enterprise software company... and a legal bookmaker for video games.
Undervalued because investors think the company will run out of money and are pricing it at near-cash levels. But an analysis of their cash burn, combined with operating statements made by the company during their recent earnings announcement and Investor Day calls, suggests otherwise.
Fall
From Grace
Skillz has had a painful decline, culminating in a dramatic fall the day after announcing Q4 2021 earnings, crashing just under 20%, but at one point heading to a 40% shellacking.
Sure, it's not just SKLZ that has felt the pain. The whole market is down, with Nasdaq entering bear territory in early March. Gone are the days of easy money, where the market was handsomely rewarding "growth at any cost." As long as you were continuing to grow, your stock kept appreciating and if you ran out of money, you just floated a secondary offering at your elevated stock prices and, voila, the market gave you more money.
Maybe it was the end of the trillion dollar giveaways reducing liquidity in the market; or maybe it was rising deficits and oil and inflation and interest rates; or maybe it was bombs dropping on Ukraine and Russia receiving sanctions that inevitably will send ripples through the world's economy, but the market changed in Q1, and "growth at any cost" was now replaced with, "you better have everything you need to survive because you ain't gettin' anything more from us."
The market doesn't think so right now, but Skillz is one of the companies that has everything it needs to survive... and thrive.
Why This Company Is Special
Most investors think of Skillz as a video game company, and they do have several in-house games, but they are much more than this. Their primary focus is to provide an enterprise gaming platform for other software game developers. Making a game isn't easy. But the technical requirements to create a scalable enterprise gaming platform - one that handles billions of games per year - goes way beyond simple game construction. Big barriers-to-entry here.
Further, the enterprise gaming platform that they've built has an innovative business model. Advertising networks created a massive digital ad industry arbitraging between a buyer and seller of digital ads. Likewise, Skillz acts as an intermediary between two similarly-skilled players in a video game competition and takes a percentage of their "entry" fees.
Said another way, Skillz allows two players to bet each other... with Skills acting as the "house"... a.k.a., the "bookie." And as it turns out, there is more upside to being a bookmaker in this particular market than may meet the eye. Imagine an enterprise software company that figured out how to become THE bookmaker for the ENTIRE video game world. That's Skillz.
Online Competition Content Much Larger Than Offline
While traditional sportsbooks allow you to bet on football, basketball, soccer, and maybe a handful of other physical-world sports, Skillz is the bookmaker for potentially every video game in the world. The content for their potential market dwarfs what a traditional sportsbook can ever hope to address.
For example, you might be familiar with a new game causing quite a sensation called Wordle. It didn't exist several months ago. But now it has millions of players. It's a game that was created out of digital bits & bytes, i.e., thin airthin air. And it's only a matter of time when, with Skillz, you'll be able to bet someone you can solve the secret word in fewer guesses than them.
This shouldn't be a surprise, though, hit video games are created all the time. But when was the last time a new physical sport was created that you could wager on? Not for a while. Skillz is the only betting game in town that has the potential to take advantage of an ever-expanding universe of digital content.
What Everyone Missed From The Conference Call
One of the two most important statements in Skillz's most recent conference call wasn't when the company said they had a lot of money in the bank (gross almost three-fourths of a billion dollars); or solid revenues, almost $109 million for the quarter, up 61% from last year; or 610,000 paying players, up 56% from last year.
It was when the company said, "... and we've been listening to your feedback." Andrew Paradise, CEO, attributed this to shareholders. Maybe. But we also all know it was pretty hard not to hear the market crushing the life out of the stock price, too. Regardless, he continued with a welcomed statement for any public company operating today: "... we will transition from our strategy of revenue growth at all costs to increasing profitable growth and efficiency."
And the second most important statement... the one that everyone seems to have missed? Casey Chafkin, CRO, saying in context to reducing marketing spend, "... the result of that is going to be, and already is...". That is, that the transition away from "growth at all costs" has already begun.
But can they really turn on a dime? Those that run businesses know they can. Because unlike headcount, facilities, or equipment costs - areas that are hard to cut and where it takes time to see savings - 73% of their 2021 costs were attributed to "Sales and marketing"... and many of these costs are straightforward to turn off.
You literally say, "stop," and they simply stop. Chafkin even confirmed that on their March 15th Investor Day webcast.
Further, Skillz shared their exact new user acquisition costs for Q4 2021, $85.6 million. Compare that to their reported $99.0 million loss for the quarter. Knowing the bulk of this spending was ineffective and is now being cut, imagine what Q4 earnings could have looked like if they started cutting last quarter. Revenue would not have been impacted much, but instead of a ($0.25) per share loss - with a ($0.10) expectation miss - it might have been a $0.10 beat... and optically more important, a ($0.05) loss would have seemed tantalizingly near breakeven. That's hardly a company going out of business.
Actually, that would be a company way ahead of plan.
Since Chafkin also confirmed in the Investor Day Q&A that the actual cutting started in early Feb, we now could see up to a $40 million savings, or up to a $0.10 per share beat in Q1 2022 results, too. That would be a nice surprise for a stock that could use a nice surprise.
Driving Future Earnings: The NFL
It's no secret that people like to bet on football. And it's also no secret that people like to play football video games like Madden. Capitalizing on these, SKLZ has forged a partnership with none other than the NFL and are working with game developers to create NFL-branded football games that let you bet your opponent. Seriously, can you think of a more perfect union than playing NFL video games and betting?
I know many have reported on this strategic partnership but not in this way: That this is an incredibly compelling betting proposition. Betting will go together with video football games like, well, real football and betting.
(Hot-Off-The-Presses: Skillz is offering a sneak peak of all of their NFL-branded games at the 36th Annual Game Developers Conference Mar 23-25. Just an FYI for those that might not believe these are real.)
All Bookies Are Not Created Equal
Thinking about SKLZ as a bookmaker invites new valuation comparisons. One of the monster sportsbooks is DraftKings (DKNG). Both DraftKings and Skillz are online bookmakers. But one takes book for physical-world games, the other for digital games. And while DKNG has about 3x the revenues - and only about 2x the cash - DKNG is valued about 7x greater than SKLZ.
This suggests that either DKNG is trading over twice what it should be or SKLZ is trading at less than half. Given DKNG has more than 3x the analyst coverage, it's more likely they're better understood and it is SKLZ's valuation that's amiss by half. But I don't think this is a fair comparison because Skillz has material advantages over DraftKings. DKNG has limited physical-world gaming content they can monetize, while SKLZ's has virtually unlimited content potential.
Both may be considered bookmakers, but DKNG's action is considering gambling and thus they have vastly more regulatory requirements and legal expenses. However, SKLZ's action is not considered gambling, so Skillz doesn't bear those costs, a significant advantage.
And DraftKings has tons of competition. They have to spend heavily to get into a market and heavily to protect it. Skillz has zero competitors, they invented their market. An awesome - and rare - advantage in business. So comparing SKLZ to DKNG might provide an initial valuation adjustment, but the more you dig into the business details, the better SKLZ looks. Translation: SKLZ shouldn't be trading at less than half the sales multiple of DKNG, it should be trading higher than DKNG's sales multiple.
Did SKLZ Really Guide Revenue Downward?
Skillz guided 2022 revenue downward, from $550 million to $400 million. Seems to me, though, they were being extra conservative. Even with no new customers, the company - with just its existing player base - is on a $435 million run rate.
And, per the conference call, they're working on improving existing player environment and social features. That's company speak for getting more money out of each player. Typically they could see a 50% lift from these kinds of activities - in fact, SKLZ actually bought one of the domain experts in this space: Aarki, so it's pretty conservative to project a small 10-15% bump to ARPPU (Average Revenue Per Playing User). That would jump revenues to about $480 million to $500 million.
And, as the company pointed out multiple times during their Investor Day, their guidance does not include the upcoming new NFL games. We can use existing data to help us project future potential here. Just three games accounted for almost 80% of SKLZ revenues in early 2021, or nearly an average of 27% each. It's important to note that these games do not have household brand names... like the NFL has. So it's not unreasonable for SKLZ's NFL games to achieve at least a similar average acceptance within the Skillz player base. As such, and factoring in about half-a-year of contribution, betting on NFL video games could add another 10%-15% to the top line, which pushes potential 2022 revenues to a $525-$565 million range. Right back to the initial forecast, eh?
Yes, there will be some existing player churn. But not included in the analysis above are any additional players SKLZ brings on due to the NFL helping to promote. The NFL has a really BIG megaphone, so of course Skillz will see new players... in fact, the numbers could actually rip much higher. What I think the analysis above says, though, is even looking at it pretty conservatively, their 2022 revenues could still be closer to $550 million than $400 million. Which of course no one is now anticipating.
Revising Misunderstood Price Targets
A few analysts lowered the price targets for SKLZ after their earnings call. The low is now $2.50. My range is $9.00-$12.00. This may be disappointing to those that purchased at higher levels but please know I think this is just over the next six months, so SKLZ will go higher as the company continues to prove it can execute along its new path. And, at least in the short term, it's a nice opportunity for everyone else. I get to my range by adjusting SKLZ sales multiple to that of DKNG, increasing by 50% to reflect my higher 2022 revenue estimate, and noting that SKLZ's short % of near 20% is scary high... which inevitably means overshooting when everyone rushes in to cover.
Risks
I think Skillz has been misguided in their big picture customer acquisition strategy. I believe it would be more effective if they spent less time trying to acquire individual players and more time trying to acquire gaming partners and require them to market to their individual players. After all, money is flowing to their partners.
I know many investors may want me to claim that Skillz's recent $300 million debt financing was misguided as well. After all, it was taken at an eyebrow-raising 10.25% rate. But given that the secondary market has now slammed shut, it feels more like management had a bit of foresight to sock away some extra $'s. With interest rates on the rise, who knows, we might look back and think the money is not all that expensive after all. Don't forget, with the way they're now operating the company, they may just surprise everyone and pay it back early.
Churn always worries me. It's usually bigger for non-betting app games, but smaller for betting games like casino slots and such. If it's close to the betting norm (1-2%), then I'm less worried.
The real lingering uncertainties I have revolve around the NFL. Are the new NFL games fun and competitive? And what is the business relationship with the NFL? Do the economics allow SKLZ to make a healthy profit; or did they have to sell their soul?
I'm actually OK with the first uncertainty because there are a lot of popular football games to serve as models… and I believe the added, all-important betting component will prove irresistible. People just like to bet on football and play football video games. I am worried about the second uncertainty, though. Having negotiated a partnership agreement with a professional sports franchise in the past, I know they can be quite one-sided. Since the NFL games are the key to the future, bad NFL economics could slow that future down.
Final Thoughts
Many investors are wondering if SKLZ can turn things around. Here's something interesting to consider: Skillz actually has the word "frugality" in its corporate values statement. This should give all investors an idea of what kind of guy Paradise is… because that's not a very glamorous word (i.e., who wants to work for a frugal company?). So if he put it in such a visible place as the "About Us," it's genuine. I'll go even farther and say running a tight ship is in the CEO's wheelhouse... because he's a repeat, successful entrepreneur, so none of this is new to him.
So I don't think the company is going to run out of money like most analysts think, which, ultimately, has created the opportunity here. From trading at about 50x sales about a year ago, SKLZ is now trading at near gross cash levels. What that says is the market is valuing all the rest of the stuff in this enterprise software company - a proven model, scalable, sophisticated technology and infrastructure, an established base of paying players, great multi-year growth, an achievable path to profitability, and a deal with the all-powerful NFL that is also sure to attract other top brands - at just about nothing.
Honestly, at these levels, and with these assets, I don't know why some enterprise, gaming, or sportsbook outfit is just not trying to acquire them... in the same way I scratched my head that no one picked up Apple when its stock was depressed in 1996. And we all know how AAPL eventually did.
The CEO uses more acceptable language when describing the mission he's on: To become the "competition layer" of the Internet. That's fancy but I think investors might like my description even better: To become the bookmaker for every video game on the planet.
That sounds less like a bet and more like a winning investment.
This article was written by
Over two decades as a technology entrepreneur and investor.  Founded several companies, took one public, and had two other exits.  Multiple software and process patents.  Received B.S. and M.S. in Industrial Engineering from Stanford University.
Analyst's Disclosure: I/we have a beneficial long position in the shares of SKLZ either through stock ownership, options, or other derivatives. I wrote this article myself, and it expresses my own opinions. I am not receiving compensation for it. I have no business relationship with any company whose stock is mentioned in this article.

This article cites my reasoning for recently opening a SKLZ position.
Seeking Alpha's Disclosure: Past performance is no guarantee of future results. No recommendation or advice is being given as to whether any investment is suitable for a particular investor. Any views or opinions expressed above may not reflect those of Seeking Alpha as a whole. Seeking Alpha is not a licensed securities dealer, broker or US investment adviser or investment bank. Our analysts are third party authors that include both professional investors and individual investors who may not be licensed or certified by any institute or regulatory body.