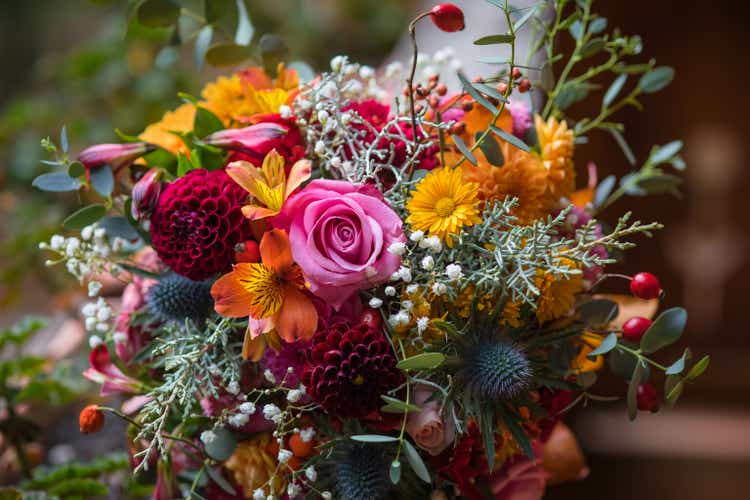 One of the deep value choices available to investors today is 1-800-Flowers.com (NASDAQ:FLWS). It has suffered from several bearish variables hitting at once. The most critical negative is the end of the pandemic has and will slow demand for its online ordered, delivered to home gift items. Other important issues are supply-chain cost increases from rising shipping costs (both pandemic disruption and gas/oil cost caused), and the big jump in labor wages for warehouse, office and production workers. Finally, weaker management guidance for 2022 from all of the above became public during a stock market swoon generally. This rotten timing for the issuance of bad operating news usually leads to sharper declines in price than would otherwise occur.
Below is a chart of the 1-year total return for FLWS, with comparisons vs. peers and competitors in the internet/online retail category. This sort group includes Amazon.com (AMZN), Wayfair (W), Etsy (ETSY), eBay (EBAY), Poshmark (POSH), Chewy (CHWY), Shutterstock (SSTK), Overstock.com (OSTK), Lands' End (LE), PetMed Express (PETS), and CarParts.com (PRTS). Essentially, the whole internet retailing industry has been shunned by investors over the past year, after the surge in interest at the beginning of the pandemic in 2020.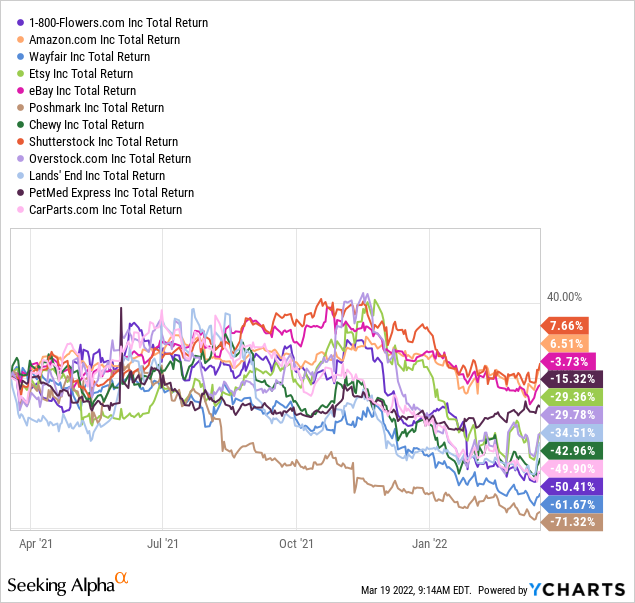 The bullish thesis is the stock valuation has gotten so cheap, it is now "discounting" all the bad operating news to come during 2022. While it's not easy to stick your neck out and purchase a stock declining weekly in price over many months, 1-800-Flowers' steady business returns/margins and above-average growth rate over many years are definitely worth a closer look.
Deep Value Story
The good news for investors searching for bargain basement ideas is 1-800-Flowers today trades at its lowest valuation in over a decade. Below is a graph of price to trailing earnings, sales, and book value. You have to go back nearly nine years to find another instance where the share quote was similarly inexpensive.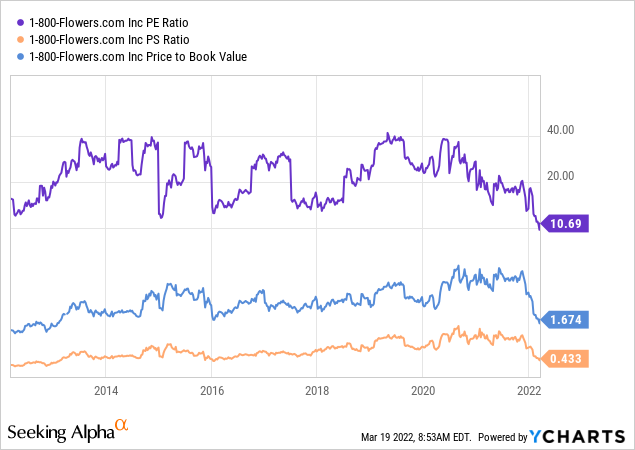 Even factoring in management's weaker guidance, the stock quote appears to be the cheapest in the major internet retailer group in March 2022. On forward 1-year earnings and sales estimates, or a readout of price to book value vs. peers, 1-800-Flowers may be "the" bargain choice for value investors.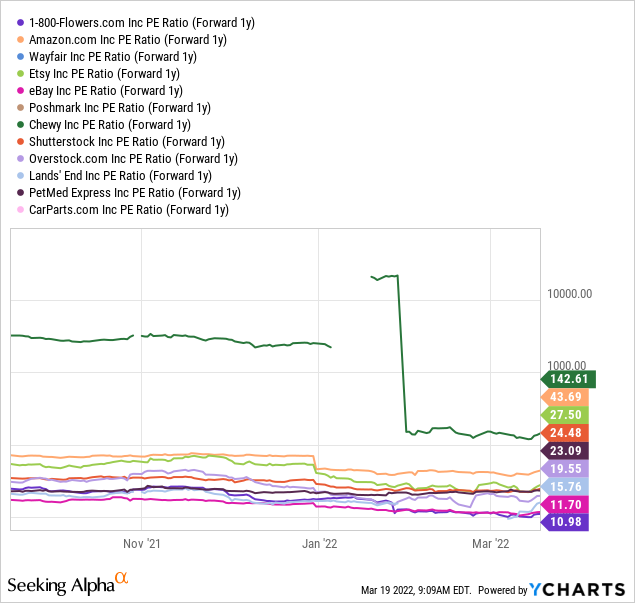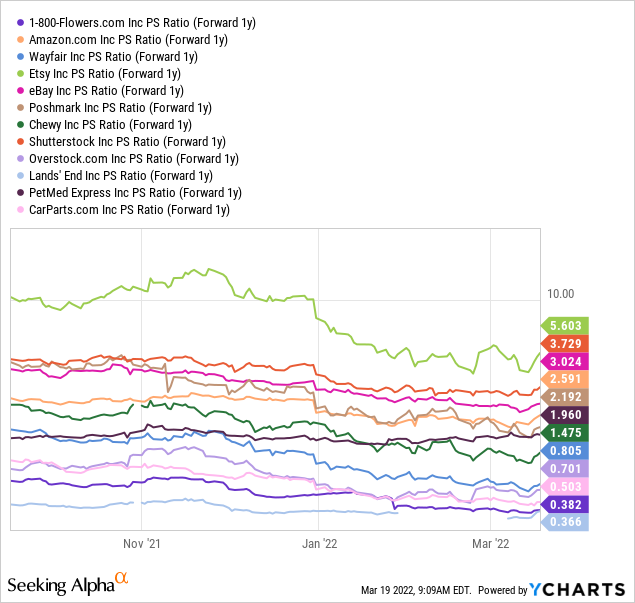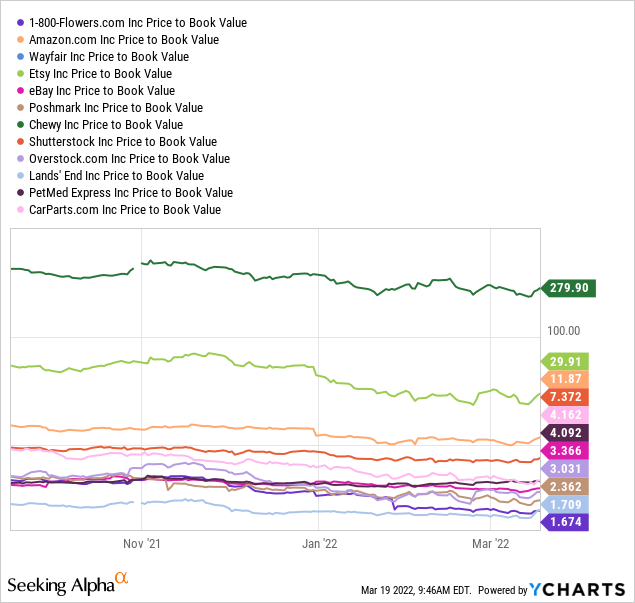 When we add net debt (total debt minus cash holdings) into the valuation equation, the stock gets even cheaper vs. historical trading and the peer group. Below I have the basic enterprise value ratio on earnings before interest, taxes, depreciation and amortization expenses. This gives us a cash generation number in a take private, pay off all debt scenario. Plus, it is an easy apples-to-apples comparison tool to strip down management-led financial shuffles at similar companies for quick comparison. The end conclusions are 1-800-Flowers is now priced at a decade low on underlying cash generation, and may be an even bigger steal for investors vs. the internet retailing industry. Another data point to ponder is the S&P 500's EV to EBITDA number is closer to 16x today, meaning this stock is available for a 70% discount to the large-cap market average in March 2022!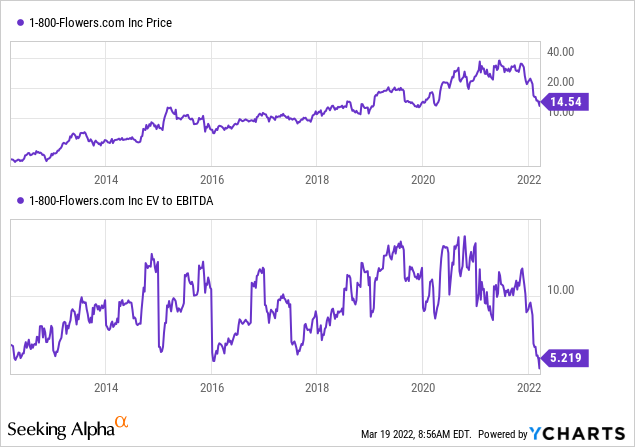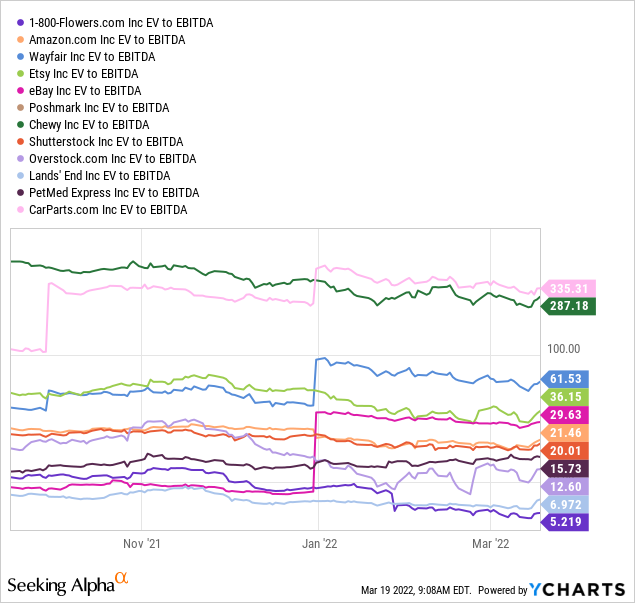 The main reason for the company's subpar valuation is it spits out income and cash flow at lower margin/returns than many businesses. However, the discount today appears to be much larger than normal. So, either operating results are going to surprise on the downside the rest of 2022, or the stock quote will have to trend higher to a regular valuation zone vs. peers and the equity market generally.
The most bearish data points for 1-800-Flowers revolve around weaker-than-expected final cash flows from the just finished 2021 holiday season. You can see this downturn in the chart below reviewing cash flow as a percentage of sales on a trailing annual basis.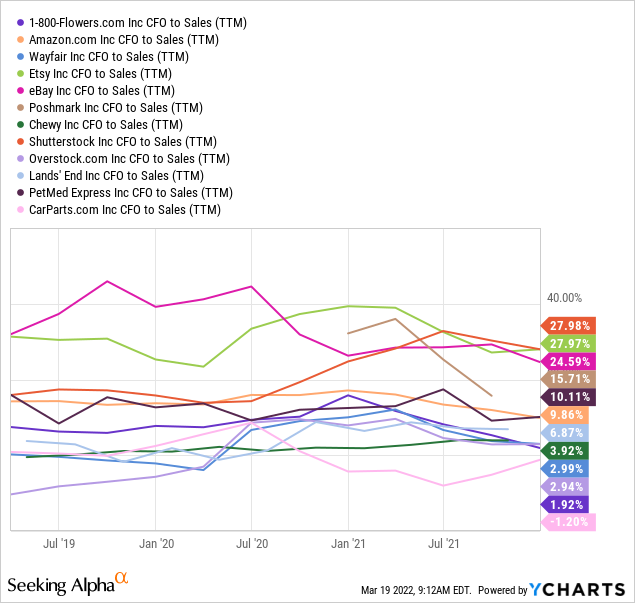 The flip side of the bearish argument on immediate cash flow generation is profit margins remain normal and total liabilities vs. assets are relatively average for the peer internet selling group.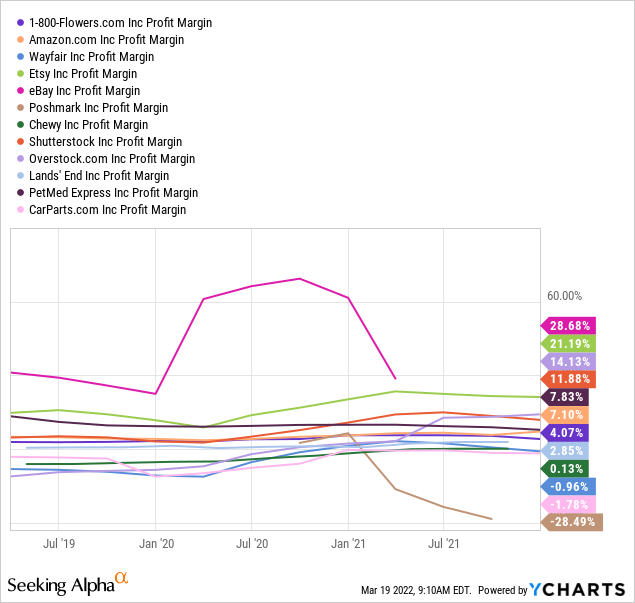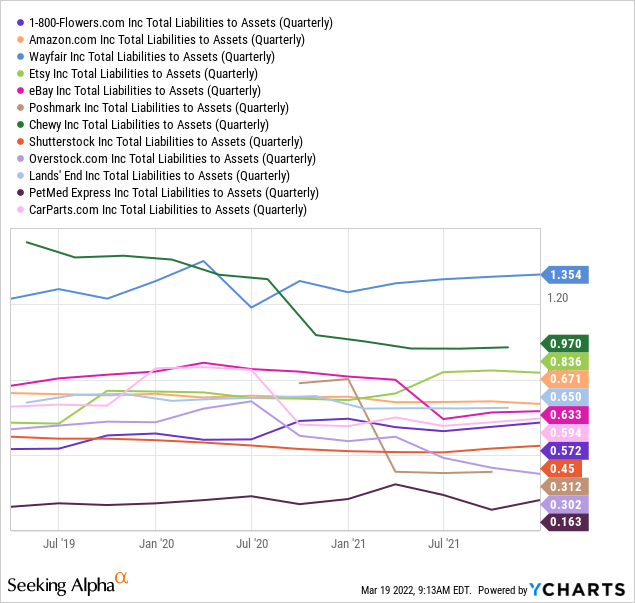 Technical Trading Chart
Technical momentum indicators are almost uniformly sluggish right now, quite ugly actually. Buying shares in March under $15 is basically a fundamental valuation decision. Perhaps the most bullish technical argument is the Average Directional Index, a measure of intermediate oversold/overbought conditions, has reached a level where major reversals in price occur.
On the 5-year chart below of "weekly" price and volume changes, the 4-week ADX reading of nearly 80 is consistent with sharp turnarounds in price from the prevailing trend. I have circled in green the current setup alongside the last bullish signal in October 2018 (also around 80 following a down move). April 2019 and August 2020 circled in red saw the reverse situation, a reading of 80 after an intermediate-term uptrend, which pinpointed a price peak.
The 50-week (1-year) and 200-week (4-year) moving averages are somewhat telling regarding price discovery for long-term investors. While price rigorously held above the 4-year moving average before 2022, a simple retest of this line as major resistance would still translate into a rough 60% price gain from last week's low trade under $13.
I would also point to the decent trend in the weekly Negative Volume Index. 2020 and 2021 witnessed a very strong NVI trend, where slower volume weeks generally included more buyers than sellers. Absent the heavy volume selling of early 2022, I would have categorized the NVI trend momentum as quite positive.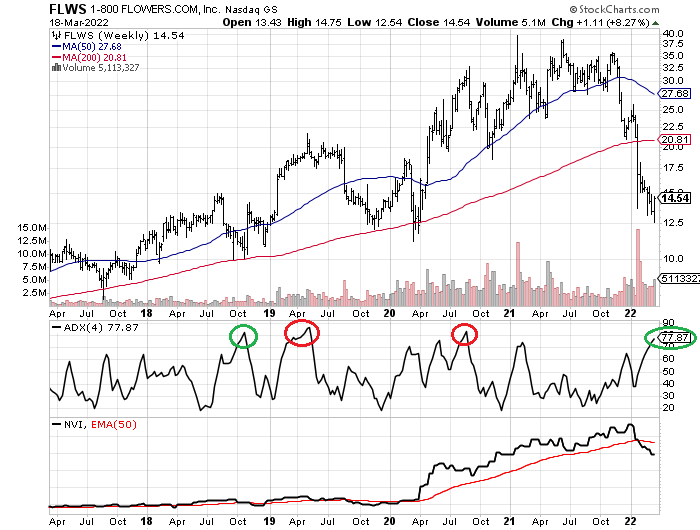 Final Thoughts
I have to admit I pay the annual membership fee to get free shipping at 1-800-Flowers. I have sent just about every gift the company has to offer to my mother, who resides in a different part of the country, on important holidays and birthdays during the pandemic.
A bullish long position really depends on your outlook for the company's operating future past 2022. I believe 1-800-Flowers will survive just fine, if not thrive after this year's headwinds subside. The company has a history of earning/sales beats, with overly conservative guidance from management. For example, 17 of the last 20 quarterly reports (over five years) either met or beat EPS expectations by Wall Street analysts. It is entirely possible the worst guidance put out by the company and expectations from analysts on the operating front has past.
In addition, competitors in the online gift-shipping portion of the U.S. economy are facing the same economic headwinds and operating cost issues. My feeling is many direct competitors will be run out of business in 2022-23 from higher delivery and labor costs this year, leaving the market-leading 1-800-Flowers organization with normalized margins and growth prospects starting in 2023.
All kinds of smaller enterprises and mom/pop online gift sellers were started during the work-from-home pandemic period. Weeding them out in a slower demand span for online shopping would actually benefit the 1-800-Flowers outlook long term. After the pandemic ups and downs in online ordering, ship to home/business gift giving, management may find a normalized operating environment, like existed in 2019, a welcome development.
What could go wrong? I think the biggest risk is oil/gas prices continue to climb. Sharply higher delivery costs could negatively affect the economic benefits of ship-to-home business models. If you double the consumer expense of shipping/delivering gift items from $10-15 to $20-30 per order, brick-and-mortar shopping might be more enticing for cost-cutters. Outlier risks today include a Russian cyberattack on America generally or one hitting company websites specifically. Since nearly all transactions are handled online, website hacks or an internet shutdown would be quite catastrophic over the short run.
For me, the upside potential draw is just too strong, based on its ultra-low valuation today. I purchased a small position in 1-800-Flowers last week under $13, and may add shares in the coming weeks. Modeling a variety of scenarios for the economy and stock market, I come up with theoretical downside to $10 and upside beyond $25 over the next 12 months. That's assuming current management guidance and analyst estimates are close to reality. If price drifts above $18 into April-May, I would downgrade my view into a Neutral/Hold range. Prices lower than $14 during March for 1-800-Flowers definitely qualify as Strong Buy territory in my research.
Thanks for reading. Please consider this article a first step in your due diligence process. Consulting with a registered and experienced investment advisor is recommended before making any trade.