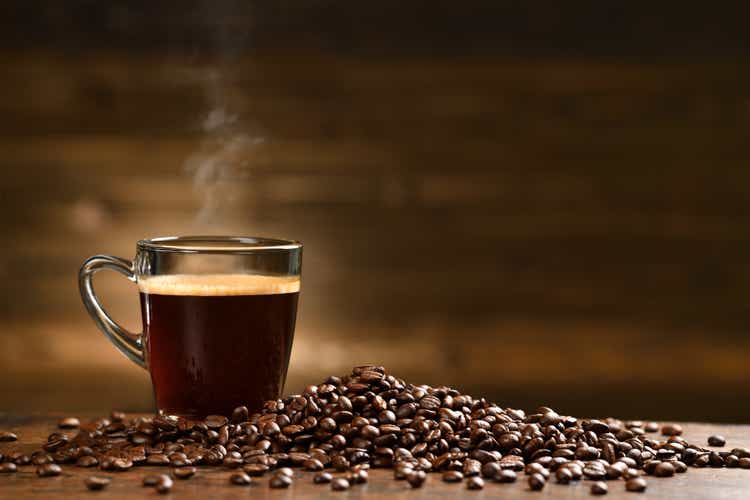 To say the stock market has seen its fair share of volatility since I last wrote an article (about four months ago) on this bunch, is a major understatement. Jitters around high inflation, Fed tapering, and the war in Europe are understandably the culprits. Last week's relief rally certainly had a calming effect, with the market rising about 5% across the board.
In terms of the DJIA, it fell 2.9% from 35,804 to 34,754 since my last article. The DCVP was dubiously marked down 7.9% from $148.36 to $136.61 (2.79 times worse the DJIA). Out of its six components, all were down except (FARM) which managed a markup of 9%. The stock with the most egg on its face and clear winner of the "dunce cap" award was (WPRT). It took a 33% drubbing. (JVA) was next in line with a 19% shellacking. Although (F) was only down 14% from my last article, its price still produced a fall of 35% from its 52 week high of $25.87. Both (BRID) and (GE) were nearly unscathed, with similar 2% markdowns.
The esteemed list:
Coffee Holdings Company
Coffee Holdings Company (now considered a nano stock with a market cap hovering around the $20 million vicinity) just reported its first quarter results, to mixed reviews. Although its gross profit margin expanded 90 basis points from 24.70% to 25.60%, added operating expenses lopped off 7 cents from its bottom line.
These costs included $213,000 to battle the Aldi Supermarkets associated lawsuit, $190,000 for stock option expenses, $55,000 in additional freight fees and higher packaging material (cardboard and steel cans). These added charges increased the company's operating expenses as a percentage of sales by 400 basis points from 18.20% to 22.20%
Without these charges, the company would have earned 12 cents. Although sales fell 7.9% to $16.7 million, mainly due to a loss of customers at the company's Steep N Brew operation- further sales erosion was exacerbated by the pullback of purchases by the company's small and medium roasters, whom JVA market green coffee beans to.
Apparently, these customers had to reduce their buying volumes to reflect a more conservative approach. They are buying on an "as needed" basis, deemed a "hand to cup" approach per CEO Andy Gordon. With Covid being snuffed out, these independent coffee roasters should begin to normalize, and increase their buying.
There is plenty of good news, too, even though the shares were taken behind the woodshed and beaten to a new 52 weeks low. The stock is obviously oversold and over hated. This extreme bearish sentiment usually corresponds with bottoms and tremendous buying opportunities.
The company's legacy private label grocery business remains strong, with two new customers ready for shipments, by the beginning of summer. JVA's branded business is holding its own, too. The company's balance sheet is solid (its cash position rose 8% from $3.70 million to $4 million) and now sells below shareholder's equity. JVA generated $804,000 of EBITDA and plans to address its loss of revenues from Steep in Brew, before they file their second quarter earnings report. The company's top research analyst, now expects the coffee purveyor to earn 40 cents in fiscal 2022, resulting in a very low forward multiple of just 9 times.
The Gordon Brothers (between them) own a 7.79% stake in the company, excluding options to purchase an additional 630,000 shares @ $5.43. It is obvious that David Gordon, the CFO and Andy Gordon the CEO carry an ownership position too low, to be considered a "controlling entity", even though their father Sterling Gordon founded the company in the early 1970's.
We must be open to changing the direction of the ship- a course correction if you may. Lately it seems like JVA is akin to a ship without a rudder. Let's face it, the share price is near a twelve-year low. The Board of Directors has a fiduciary obligation to act in the shareholders best interests.
Target price: $6
Westport Fuel Systems
This one can really move. On March 8th, the shares doubled intraday, all the way up to $2.73 on tremendous volume of 26 million shares. Unfortunately all of those gains were quickly wiped out and the shares challenged their all their 52 week low of $1.34, within in a week. After the company came out with better than expected fourth quarter earnings (they were flat on revenue, but beat its bottom line estimates of a penny loss, by earning 3 cents), the shares were able to rally to about the $1.70 vicinity. The caveat of the report was a lack of color and guidance, especially regarding the China Weichai launch.
The elephant in the room is that Weichai is still performing vehicle testing, in order to achieve certification. Once this occurs, Weichai is set to purchase enough components to build 25,000 engines. The contract lists a completion date by Dec 31, 2024. This launch is a game changer. If and when it is announced, a 100% to 200% increase in its share price could occur in minutes, because obviously Mr. Market is quite skeptical that this event will ever transpire.
Regarding the company's 50% JV ownership of Cummings -Westport. The JV ended on 12/31/22 and Cumming paid $20 million in cash to WPRT to buy out the technology. The unexpected news was on Feb 22, Cummings agreed to pay another $22.8 million to WPRT for the remaining pieces of the pile. That represents a $22.8 million cash windfall that wasn't predicted at all. Although a $10.8 cash holdout still remains, WPRT is still sitting on an impressive $125 million cash hoard.
There are other reasons to be semi-optimistic. The big brokerage firms still have confidence in WPRT. Although both HC Wainwright and Oppenheimer recently clipped their price targets, they were minimal. Oppenheimer's Colin Rusch sliced his target just $1 from $11 to $10, while HC Wainwright's new target of $7 still represents plenty of appreciation potential. JP Morgan-Chase remains with a neutral stance, and a $5 target. Water Tower Research just posted a research report too.
Follow the smart money. WPRT's CEO David Johnson just acquired another 50,000 shares in the open market ($1.50) and an outside director picked up 20,000 shares. In the last six months, Mr. Johnson has acquired over 100,000 shares with his own money. Insiders buy their own shares for only one reason-to make money.
First quarter results will be out in six weeks. In the meantime, the team is hitting the streets hard with plenty of presentations. They will be participating at the Cormark Securities conference on April 9th, the Advanced Clean Transportation Conference on May 9th, the Oppenheimer conference on May 11th, the RBC Automotive conference on May 19th and the Craig Hallum conference on June 1st. Sandwiched in between, the company will be hosting its Annual Meeting on May 5th.
Target price: $6
Farmer Brothers
These guys have been on a real roll. Just in the five trading sessions, the shares have surged an incredible 20%. Last Monday's Roth presentation was impressive and could have been the main driver for such a surge. Their slide deck lays out simply and clearly their turnaround plan. One other important fact about this equity- one of the top micro-cap contrarian investors in the country, Timothy Stabosz has taken a large position. Why re-invent the wheel, when you can simply replicate brilliance? If he's a buyer, I am too. One other point to make. FARM is currently not in the Russell 2000 index. If it able to be included when the index does its reconstitution at the end of June, that could create a rush of forced buying and a significantly higher share price
Target price: $12
Bridgford Foods
This snack purveyor just came off its largest 12 week sales period in its history (its first quarter results) and as a consequence, its share price popped more than 10% from its 52 week low of $10.26. Its first quarter was certainly a report card to be proud of. (1) sales rose 17.20% to $64,086,000 (2) operating earnings increased 158% from $649,000 to $1,680,000 (3) operating expenses as a % of sales decreased 250 basis points from 25.50% to 23.00% (4) cash position increased from $375,000 to $2 million (5) gross profit margin fell 100 basis points from 26.60% to 25.60% (6) 15.8% of the company's sales were derived from Dollar General, while 32.10% came from Wal-Mart (8) the company's stock buyback program of 2 million shares, has nearly been completed. All but 120,113 shares are still available for purchase. The enterprise has a mere 9,076,832 shares outstanding and the Bridgford family has control of 80.70%, leaving a tiny float of just 1.70 million shares.
In addition, the food purveyor is capable of being added to the Russell 2000, during this May's ranking day. Last year, during the ranking event (on May 10th), the shares shot up 50% in one trading session, from $14 to $21 when market participants, theorized that the company would be included in the index. A few weeks later, all the hoopla vanished when it was obvious that BRID would not be included. The stock gave up all its gains and then some.
One potential catalyst, that could raise the BRID's chances of eligibility this year (membership is based on achieving a certain market cap threshold) is the company's pending Chicago real estate sale, slated to close in May. This piece of property is set to bring $60 million cash, into the company's coffers. The property was purchased fifty years ago, for just $500,000. Real estate is sure a beautiful thing.
Target price: $20
General Electric and Ford
Both of these large cap stocks have showed significant ranges and volatility lately. GE got as low as $85 on March 7th, before bouncing back 12% to a more respectable $96 price tag. The fact that its CEO has elected not to take a salary, could have helped the shares in their recent rally efforts. It sends out a good signal that management's interests are aligned with shareholders.
Target price: $125
On the other hand, Ford has dropped 35% from its high of $26.83. The good news is, it has bounced back by more than 8% from its March 14th low of $15.57. The talk of splitting the company up between gasoline and electric divisions, apparently has been squashed.
Target price: $25
Summary
Despair and disappointment are clear components of fear. As a contrarian investor, I say "bring it on". Be greedy when others are fearful. How else are you supposed to buy low? This business is all about merchandising. Buying wholesale and selling retail, in the name of the game.