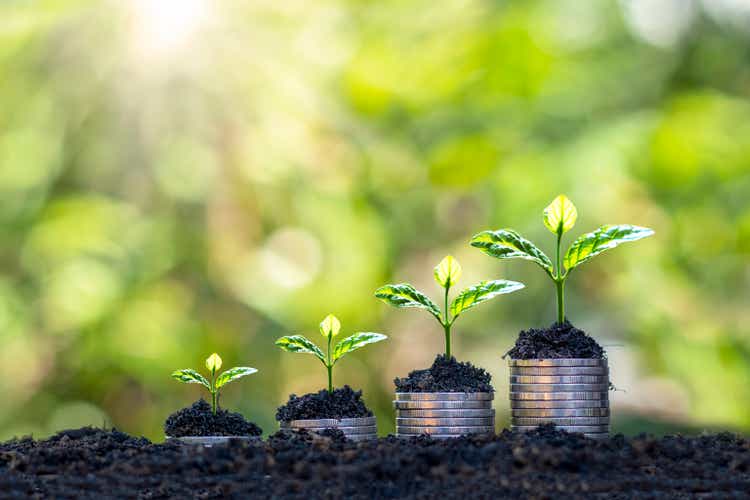 Written by Nick Ackerman, co-produced by Stanford Chemist. This article was originally published to members of the CEF/ETF Income Laboratory on March 6th, 2022.
BlackRock Enhanced Equity Dividend Trust (NYSE:BDJ) has been a solid performer over the years. A recent distribution boost certainly makes it once again an interesting choice to discuss. The fund's discount is also fairly attractive, so not only a good choice to discuss but an opportunity that an investor could pick up some shares in this fund.
The fund is quite diversified, but they aren't overweight tech stocks. That has meant quite a bit of underperformance relative to the broader indexes. That's what has been helping this fund YTD, though. Below are the YTD total return performances. I have included the SPDR S&P 500 (SPY) as a reference. As we know, SPY doesn't utilize an options writing strategy.
I also included the iShares Russell 1000 Value ETF (IWD) because they listed Russell 1000 Value Index as a benchmark. Additionally, they include the MSCI USA Value Call Overwrite Index, but I couldn't find an ETF that tracks that. As we can see, BDJ has held up better than both of these comparisons on a total NAV return. On A total share price return, it has sunk lower, but that has opened up its discount.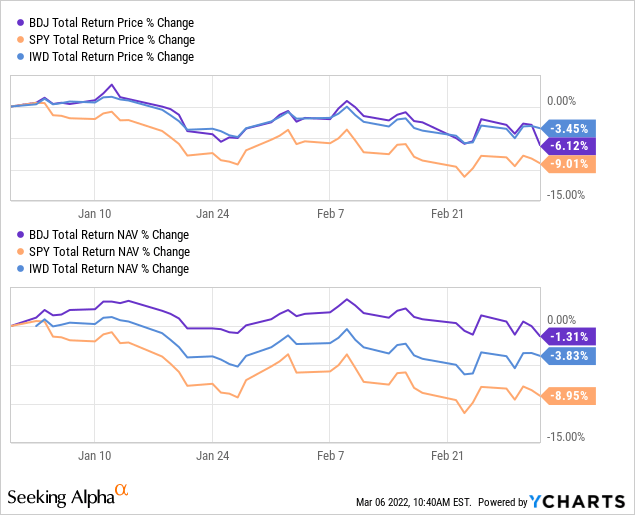 The Basics
1-Year Z-score: -1.30
Discount: 5%
Distribution Yield: 6.96%
Expense Ratio: 0.85%
Leverage: N/A
Managed Assets: $1.86 billion
Structure: Perpetual
BDJ's primary objective is to "provide current income and current gains." The fund intends to achieve this by "investing in common stocks that pay dividends and have the potential for capital appreciation."
They will also utilize an option strategy on single stocks within the portfolio to "enhance distributions paid to the Trust's shareholders." The fund last reported being overwritten by 50.88%. This is quite a substantial portion of their portfolio, considering their target is between 30 to 40% overwritten.
They concentrate on dividend-paying stocks with "80% of its total assets in dividend-paying equities." They continue to remain overweight financials which is attractive with interest rates expected to rise, in my opinion. However, the other side of this we have seen is that expenses are expected to increase as labor costs increase.
The fund is quite large, and the expense ratio is quite low for a closed-end fund. Due to no leverage being employed, we don't have to worry about higher rates directly adding expenses to the fund's operations.
Performance - Diversification Matters
As I pointed out above, BDJ has been holding up relatively well - with reduced losses relative to its index and the S&P 500. On the other hand, it had meant that over most of the last decade, it would have underperformed quite substantially. This is both through its portfolio positioning and its strategy.
The covered call writing strategy can be great for providing more regular income to investors. However, when markets are heading sharply higher, it means these positions become called away. As the positions become called away, they put the capital back to work at now higher prices. When it is called away, it is done so at a price lower than the then-current market price, too - or it wouldn't have been called away in the first place.
That's one of the benefits of having a fund such as BDJ; they aren't overwritten by 100%. That should leave some of their positions to participate in the rising market. Since they are actively managed, they can choose which to overwrite. It can also be beneficial in a slightly declining market too, as that premium is collected to offset some of those losses. So if one suspects that the market will be mainly trading sideways, a fund such as BDJ could be a great fit. Additionally, greater volatility means higher premiums to collect, which has been what we have been experiencing.
Overall, BDJ has put up some attractive annualized returns that are respectable, in my opinion.
We touched on it above briefly, but the underperformance in the fund's share price has opened up an opportunity. This opportunity has come via the fund's discount expansion; we see the 1-year z-score comes in at a somewhat attractive -0.73.
Longer-term, the fund has regularly traded at a discount, though, so that is something to be aware of. This has mostly been being reduced in 2021 as we have seen historically tight discounts in CEFs across the board. I believe that we could certainly see wider discounts from here, but that we are also at a level where some nibbling could be warranted.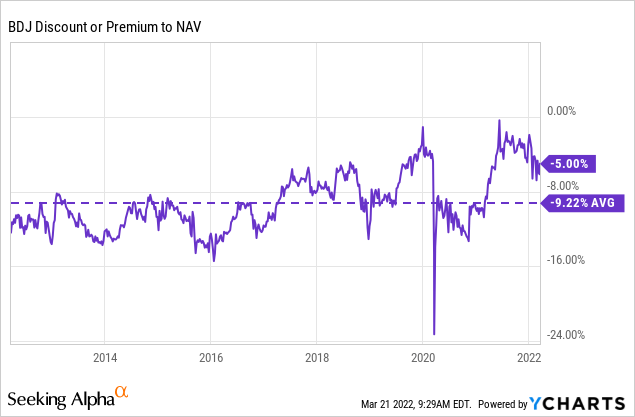 Distribution - 12%+ Boost
It has been several years since we've seen a distribution boost from BDJ. Unfortunately, their positioning in 2020 with an underrepresentation of tech meant lackluster results. I believe that held them back, but 2021 was different. The market increase was more widespread last year, and BDJ did participate. Enough so that they had enough gains to pay investors a year-end special at the end of 2021 and then increase the regular monthly distribution by 12.4%. It went from $0.05 a month to $0.0562.
In my previous article, I had touched on this a bit that it would be possible to see a year-end.
As we can see, this year, they have more than enough to fund their distribution. In fact, based on these figures, the NII and capital gains realized so far in the first half of 2021 were enough to fund the distribution through the remainder of the year.

If they realize another significant portion of gains throughout the remainder of the year, it could suggest a year-end could be needed. Of course, they could offset this by realizing losses instead; that would also keep them in compliance with being a registered investment company [RIC].
This is still a far cry from the high water mark they set pre-2008/09's GFC, but a raise is still nice to see. The fund was also a bit different back then; it had a different name and a bit of a different strategy. The BDJ we see today was a merger between other funds.
The NAV increasing through the gains they could produce last year probably left them comfortable with this move. With the latest Annual Report now available, we can see that their realized gains had only swelled even further.
On the unfortunate side, we have seen net investment income decline year-over-year. Though the fund will rely significantly on capital gains to fuel their distribution, NII still plays an important role.
One of the factors was a reduced total investment income. In 2020, they raked in over $48.319 million. For 2021, this was reduced to around $43.648 million. That indicates that some repositioning in the fund resulted in fewer dividends being collected. Since the fund's assets grew in the year, the advisory expense also grew, contributing to decreased NII.
For tax purposes, the bulk of the distribution was long-term capital gains, as one would expect in 2021. We also see a hefty portion identified as qualified dividend income; and, to a small degree, some non-qualified dividend income or ordinary income. I believe that makes it appropriate for a taxable account with these types of distribution classifications. They are generally lower tax obligations for most investors.
BDJ's Portfolio
BDJ is fairly active in managing its portfolio. The fund reported a turnover rate of 40% in 2021. In the last five years, it has been as high as 48% in 2020 and as low as 34% in 2018. I have noted the relatively stable sector weightings when covering the fund in the last couple of years.
The latest weightings once again confirm that they have stayed mostly stable in this regard. Financials and healthcare still represent the largest weightings. Financials weightings have been reduced marginally from the 27.14% it was reported previously. Healthcare's exposure has increased from 18.83%, as well as a rather immaterial increase in tech from 11.40 previously.
Regarding market cap weightings, 95.55% of the fund is invested in large-caps, 3.24% in mid-caps, and the remainder in "cash and derivatives." Geography is similarly tilted, with U.S. weighting at nearly 80%. The remainder is filled primarily with European nations, Japan and Canada.
The top holdings haven't shifted too much since the August 31st, 2021, list in the previous update.
Wells Fargo (WFC) still represents the largest holding. While I'm not overly thrilled due to their reputation, owning some indirectly isn't going to dissuade me from my position in BDJ. It was also a cheap bank, and its strong performance has reflected that. Valuation-wise, they had a lot to catch up on, and they have done that now. Citigroup (C) and Bank of America (BAC) also represent some of BDJ's largest holdings at the end of January 2022.
Between these three, WFC and BAC have done quite well. As I said, WFC was incredibly cheap, so it makes sense they had a lot of catching up valuation-wise to do. C did poorly over the last year but is now seemingly in the position of being that "cheap bank stock" that WFC was in. Relatively speaking, it appears that C has more exposure to Russia, which could weigh on the stock for some time.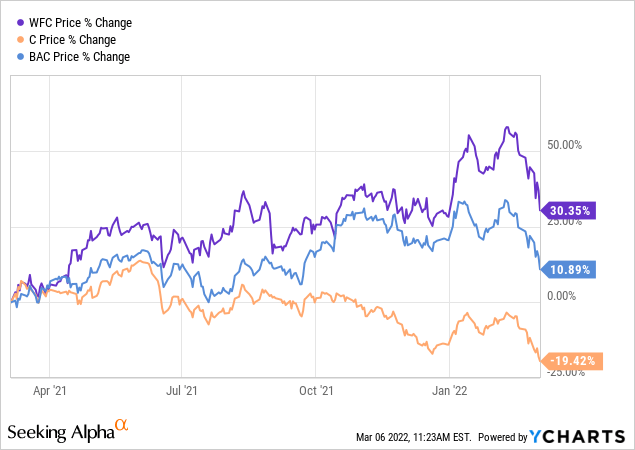 Considering that C reported $2.291 trillion in assets at the end of 2021, perhaps it isn't as much of an overhang as it should be. I think the real risk is the higher expenses that banks are expecting and what comes after Russia's invasion of Ukraine is over. No doubt, they have substantially more assets in the rest of Europe, and if the conflict spreads further could hurt them more. It wouldn't just be C in this case, but the other massive banks as well.
Conclusion
I believe that BDJ continues to be a strong fund that one can consider for monthly income. The fund's diversification means that adding it to your portfolio shouldn't disrupt what you already have. Additionally, the higher weightings toward financials and healthcare could even stand to benefit when higher interest rates come. That's what we've been seeing play out as the fund holds up a bit better on a YTD basis so far. The latest distribution boost is also certainly most welcomed for income investors, as well as its fairly attractive valuation at this time.