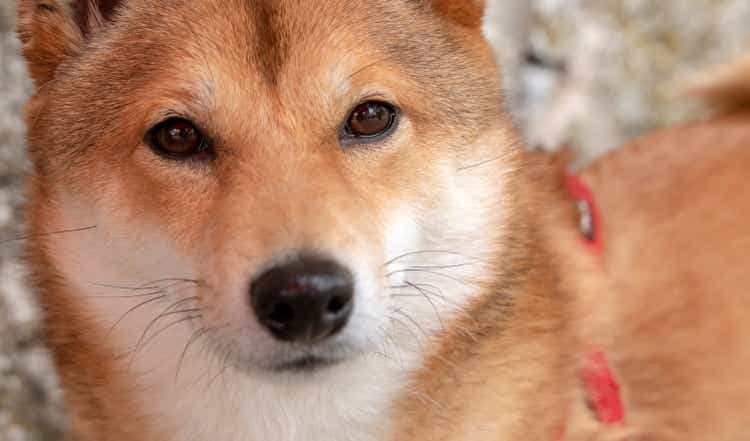 Investment Overview
As I start to write about Dogecoin (DOGE-USD), I notice that CoinGecko shows that there are a total of 13,250 listed coins or tokens. There are dozens of new tokens that are listed on various exchanges (decentralized and centralized) globally on a weekly basis.
The world of cryptocurrency has its good and bad. Joe Biden's executive order on cryptocurrency calls for responsible innovation. That's the good part. The blockchain technology is beyond just cryptocurrency trading or speculation.
The bad part is that hundreds of coins or tokens are being listed. This is translated into excessive speculation and scams. I believe that few years down the line, 20% or 25% of coins and tokens will survive.
It's therefore important to be very selective in choosing cryptocurrencies for long-term investment.
Within the cryptocurrency space, meme coins made headlines in 2021. In particular, Dogecoin and Shiba Inu (SHIB-USD) were the favorites.
After a euphoric rise to 74 cents by May 2021, Dogecoin has declined by 84.3% to current levels of 11 cents. The meme coin still trades at a market capitalization of $15 billion.
The question I want to address in this article is the possibility of survival of Dogecoin in the coming years.
After the big plunge from highs, is Dogecoin a good investment?
I want to talk about the survive and growth of Dogecoin from a slightly different perspective.
Fiat Money and Dogecoin
Let's get into a bit of macro-economics to cement a case for buying Dogecoin at current levels.
In the current financial system, the government issued currency is referred to as fiat money. In simple words, fiat money (dollar, euro, yuan, among others) are just backed by government trust.
Paper money is worthless when people lose trust in the government or financial system. In the last 100-years, there have been 29 instances of hyperinflation in the world. In each case, paper money has become worthless.
How is this linked to Dogecoin or cryptocurrencies?
Dogecoin is simply a digital currency. There are various coins or tokens in the crypto world that are backed by a strong use case. For Dogecoin, the only application is that the meme coin can be used as a currency.
Therefore, Dogecoin will exist as long as the community backs it as a digital currency.
There is another interesting perspective here.
Dogecoin was barely surviving until Elon Musk generated interest of the crypto world on the coin. The backing of Elon Musk has continued. Recently, Musk tweeted that he continues to hold Bitcoin (BTC-USD), Ethereum (ETH-USD) and Dogecoin.
Earlier this year, Tesla (TSLA) allowed users to buy selected merchandise using Dogecoin. The electric vehicle major has also started accepting Dogecoin at supercharging station. Clearly, it's Musk who is backing Dogecoin after bringing it to the limelight.
My point is as follows – As long as Elon backs Dogecoin and the community put their trust behind that backing, Dogecoin is positioned to survive. I would not be surprised if Elon allows customers to buy Tesla cars using Dogecoin once there is more clarity on the status of digital assets from a regulatory perspective. This can possibly be a major upside catalyst for Dogecoin.
Dogecoin is Attractive at Current Levels
I believe that Dogecoin is worth considering at 11 cents. It's unlikely that Dogecoin will re-test all-time highs of 73 cents. However, I will not be surprised if the meme coin returns 30% to 50% in the next 12-months.
One reason to be bullish on Dogecoin is a strong community. Currently, the meme coin has 4.2 million holders. Crypto.com data indicates that there were 300 million crypto holders in December 2021. It's further estimated that the number of crypto holders will increase to one billion by the end of 2022. In general, newer investors would prefer to hold the top coins or tokens. With wider adoption of cryptocurrency, the Dogecoin community is likely to get bigger.
Another reason to be bullish on Dogecoin is the decline in regulatory headwinds. The United States has already indicated that a ban on cryptocurrency is unlikely. Europe has also voted against a ban on Bitcoin. As the regulatory framework is clear, more companies will start accepting cryptocurrencies as a payment method. It's worth noting that more than 2,000 places, stores and services already accept Dogecoin. Of course, a majority would be small businesses. However, clear regulatory framework will translate into bigger companies accepting Dogecoin as a payment method.
I must also mention here that Bitcoin touched highs of $69,044 on November 10, 2021. On the same day, Dogecoin traded at 27 cents. It goes without saying that Dogecoin has a high positive correlation with Bitcoin. However, Dogecoin has a higher beta.
If Bitcoin trends higher again, Dogecoin will follow. Geo-political tensions, inflation, limited supply and wider adoption are multiple reasons to be bullish on Bitcoin.
Talking about Bitcoin and Dogecoin as a payment method, Elon has an important point to make –
"[T]he transaction volume of bitcoin is low, and the cost per transaction is high. bitcoin is more suitable as a store of value."
Dogecoin, on the other hand, seems like a good digital currency with a lower transaction cost.
Risk Factors
The Federal Reserve increased interest rates for the first time in three years. With inflation at a 40-year high, it's likely that multiple interest rate hikes are scheduled for 2022. On a relative basis, this is likely to translate into tightening of liquidity in the economic system.
In such a scenario, the speculative money in financial assets declines. Dogecoin or other crypto can correct if there is an aggressive rate hike through 2022 to curb inflation. However, it's worth noting that even with 4-5 rate hikes, real interest rates are likely to remain negative. This can potentially support the positive momentum in risky assets.
Dogecoin also has no utility besides being a digital currency. If we apply a business term, meme coin has a low barrier to entry. A February 2022 report indicates that early investors in Dogecoin and Shiba Inu are turning to CateCoin (CATE-USD). Having said that, the community backing for Dogecoin is much bigger as compared to CateCoin or Shiba Inu.
Concluding Views
I understand that there are extreme views about cryptocurrencies. The reality is somewhere in the middle. Bitcoin has been the best performing asset class in the last 10-years.
My point is that investors can consider good trading opportunities in the world of cryptocurrencies. Dogecoin looks attractive at a point where cryptocurrencies seem to be poised for a reversal on the upside.
Given the high-beta in the crypto world, I would not be surprised at a quick 10% to 20% gains for the meme coin. In the long-term, Elon Musk is likely to remain the symbol of trust for Dogecoin.