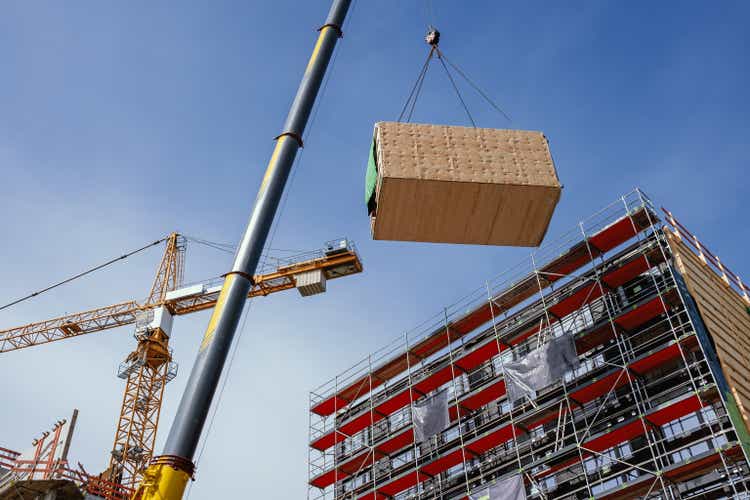 Cavco Industries (NASDAQ:CVCO) is the 3rd largest producer of factory built housing in the U.S. and has about 12% market share. Its product offerings come at a wide range of price points and are split between manufactured and modular housing.
The Buy Thesis
I believe we are headed into an extended time period of significant tailwinds for affordable housing and Cavco is well-positioned to benefit. Despite ample growth ahead, CVCO is trading at a cheap 13X forward multiple which gives the stock significant upside as that growth is realized. A recent acquisition looks to be highly accretive, but so far the earnings gains are being overlooked due to one-time margin issues associated with accounting specifics.
I see 300 basis points of margin expansion amplifying already impressive revenue growth. It is far too much growth for a company trading at a low multiple.
Let me begin with a look at the manufactured housing (MH) vertical to show why I think it has a long trajectory of growth and follow with the Cavco company specific thesis.
Affordable housing's bright future
The supply of regular site built homes has recovered nicely off its post financial crisis lows and now sits at a historically normal level.
However, there is a significant amount of skew within this number. Homebuilders are overwhelmingly building high-end luxury homes because they have higher margins. This leaves a dearth of affordable housing for America's workforce.
Manufactured housing is the solution to this problem. It comes at an average price point of about $80000 for a singlewide.
One can also buy larger manufactured homes with more bedrooms and bathrooms to accommodate larger family sizes and these tend to go for something like $120K depending on level of quality.
That makes manufactured housing significantly less than half the price of site built homes. It used to be a very popular form of housing with total shipments hitting their peak in the 1970s.
Since then, some government regulation dramatically lowered demand as they almost entirely cut off the availability of financing.
Recently, however, financing options have started to open back up allowing normal loan to cost ratios and more affordable rates such that this affordable housing option is once again…. affordable.
The purpose of discussing this history is to show that the overall supply of manufactured housing is recovering from a very low level and still has substantial upside just to get back to historical norms.
Despite the rapid earnings growth in the MH manufacturers and the MH REITs, it is still early innings.
The demand is there, but the supply is not. There are not enough factories to supply the full demand and the factories are not operating at full capacity due to labor constraints. As such, there is a large backlog of orders that are yet to be filled.
UMH Properties (UMH) as a MH REIT is one of the buyers of homes and they had this to say on their latest earnings call.
"The main problem facing our rental home program is the backlogs that our manufacturers are experiencing.

Generally, backlogs are 6 to 12 months depending on the region. This is the main reason that we have only increased our rental home portfolio by 454 homes this year. We are experiencing waiting lists throughout our portfolio and have demand to fill well more than what we received from the manufacturers this year. We have over 800 homes on order and anticipate receiving 700 to 800 new homes in 2022."
Despite this difficulty UMH is still doing great, but this situation is quite beneficial to the producers of MH. The undersupply is allowing the producers to charge significantly higher prices for their product. Cavco is a clear beneficiary.
Cavco's revenue growth and margin expansion
Cavco has more than doubled its revenues over the past few years.
Some of this is the result of cost increases with lumber, metals and labor being major inputs and their prices rising. Shown below you can see a clear spike in cost of production.
However, due to the aforementioned undersupply, the producers of MH such as Cavco can pass on all the excess cost to the buyers. In fact, they have the pricing power to pass on more than the excess cost with margins actually rising considerably.
More revenue at higher gross margin means substantially more earnings.
At this new earnings level, CVCO is trading at a low multiple. Such a multiple would be correct if this were a cyclical peak.
Historically, production of manufactured housing has been a somewhat cyclical industry so I fully understand why it might seem like a cyclical peak. However, I think there is quite a long runway of growth ahead.
At an industry level there are 2 encouraging signs
MH production is still well below historical norms
Demand for affordable housing is high due to a combination of job growth and the luxury favored skew within site-built homes.
Cavco has additional upside beyond that of its sector in the form of highly accretive M&A and built-in margin expansion.
The purchase of Commodore
Cavco recently closed on the purchase of Commodore for a total price of $153 million inclusive of write-up of inventory with a cash price of $140 million.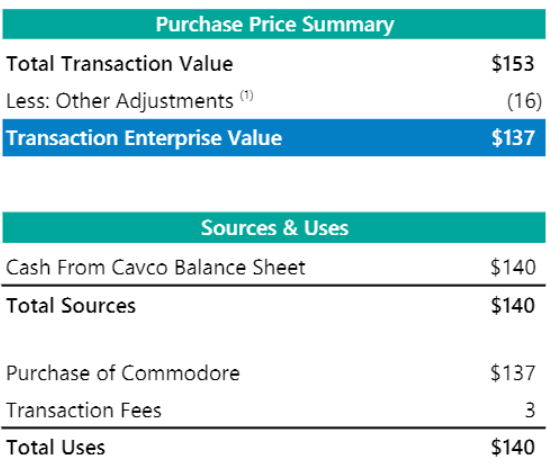 Commodore was a peer MH and modular home manufacturer and this acquisition will expand CVCO's market share and regional reach.
While I do think there are some strategic benefits, the main accretion of this M&A comes from the enormous spread between ROIC and WACC.
Commodore was bought at a 7.4X EBITDA multiple.
That is a 13.5% EBITDA cap rate.
It was purchased using cash that has accumulated on the balance sheet as Cavco had $322 million of cash. Even after the transaction the Phoenix based MH manufacturer will have far more cash than debt making it a negative leverage company.
Cash sitting on the balance sheet doesn't produce all that much earnings, so this was really low cost of capital against the 13.5% acquisition cap rate.
As such, this M&A will be substantially accretive to earnings even without considering any strategic synergies.
I don't think the full earnings power of the merger is obvious yet because there is an accounting issue and a one-time issue that are temporarily weakening earnings.
Margins to rise about 300 basis points as issues smooth
In purchasing Commodore, the existing inventory of homes that Commodore had got marked up to market value such that when sold they appear to be sold at very low margin. This was explained in better detail by Allison Aden (CVCO's CFO) on the FQ3 conference call:
"The acquisition of Commodore negatively impacted gross margin percentages from purchase accounting-related items as no gross profit was recognized on the sale of homes from inventories that were acquired in the transaction. As required by GAAP, these assets were written up to fair value on the acquisition date.

All acquired inventory has now been realized in net sales and future periods will not be impacted."
It was about a 50 basis point hit to overall combined company margins for the quarter.
Additionally, part of Commodore's backlog was price-protected which means it cannot be marked up to the now much higher market rates and is to be sold at the price that was locked in upon purchase.
Going forward, new sales can be marked to market so the reduced margin is only a hit to the next couple quarters as that backlog works its way through. The price protected backlog is estimated to have hurt margins by about 200 to 300 basis points. This was also clarified on the conference call.
"Ethan Steinberg Great job on the execution. I was curious, the 50 basis points was just on the accounting for the acquisition. Can you give us a sense of how much drag there was from just working through their low-priced backlog?

Allison K. Aden I would say that working through their low price backlog was probably 2 to 3 percentage points in the quarter?"
Both problems are extremely short term in nature (a quarter or 2) which means margins can be lifted about 250 to 350 basis points as they resolve.
Valuation
Many of the builders of manufactured housing are non-public but there are a couple public comps to which to compare Cavco. The following table has the vital metrics.
| | | | | |
| --- | --- | --- | --- | --- |
| Company (ticker) | Price to Earnings forward | Price to book | EV/EBITDA (LTM) | Debt to EBITDA |
| Cavco (CVCO) | 13.6X | 2.99X | 12.31X | 0.17X |
| Skyline Champion (SKY) | 15.7X | 5.09X | 11.96X | 0.17X |
| Legacy Homes (LEGH) | 12.5X | 1.96X | 7.83X | 0.66X |
Data from SNL Financial
CVCO appears to be in the middle of the pack in terms of valuation. I do, however, think they will get a nice jump in earnings as the margin improvements and accretion from Commodore roll in. Thus, I don't think its value is fully reflected in these metrics. I believe the whole sector is probably opportunistic at the moment due to how powerful the demand tailwind is. LEGH is the deep value small cap play and CVCO is the better value of the big players.
For more information on LEGH, please see our previous analysis.
Summary of buy thesis
Revenues are rising significantly as demand for affordable housing surges. Margins are expanding as the undersupply of factories capable of producing MH gives companies like CVCO strong pricing power. Cavco's margins are positioned to expand an additional 300 basis points beyond those of peers due to an unwinding of the one-time issues.
In aggregate these factors call for strong bottom line growth and at roughly 13X forward earnings I don't think it is priced in. Long term expansion is being valued as if it is a cyclical peak.
Risks to buy thesis
Over time new factories will be built which will eventually erode the pricing power. I think it is a long way off which gives a multi-year window for Cavco to enjoy unusually high margins before the eventual return to equilibrant margins.
The fair value today depends greatly on how long this window is. If it's a 5+ year horizon of undersupply I think CVCO is undervalued, but if factories start to open up in the near term the low multiple makes more sense. Thus, a key data point to watch will be factory openings/construction.