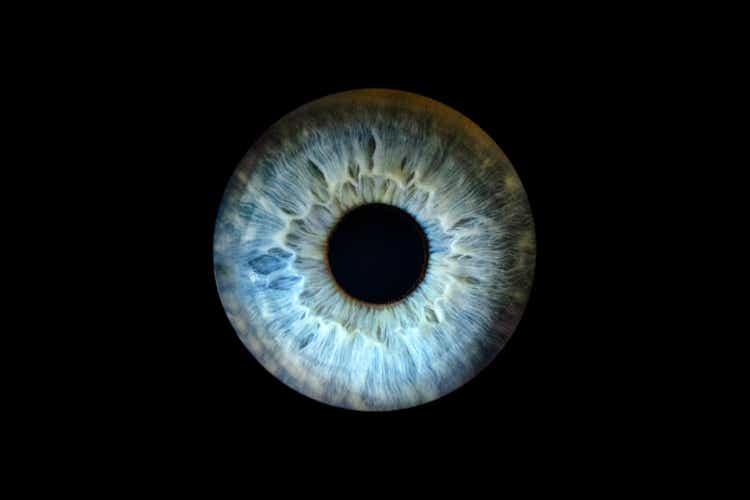 Introduction
In March 2021, I wrote a bearish article on SA about retinal prosthesis systems developer Second Sight Medical Products (EYES) in which I said that I thought that the business of the company wasn't worth much and that retail investor interest could fade away in the near term. Since then, the share price of Second Sight has fallen by 82% and the company is valued at $56.8 million as of the time of writing.
Overall, I view this as a good short-selling idea that has exhausted its potential and I'm no longer bearish. The enterprise value of Second Sight is negative at the moment as the company has around $69 million in cash. Let's review.
Overview of the recent developments
In case you haven't read my first article on Second Sight, here's a quick overview of the company. Second Sight was established in 1998 and is focused on the development of implantable visual prosthetics that allow blind people to see, specifically individuals with late-stage retinitis pigmentosa thanks to a system called Argus II. It was approved for sale in the USA in 2013 and the company generated revenues of around $31 million before it suspended production in 2019 to focus on the development of its Orion visual cortical prosthesis system.

In my view, the sales of Argus II were disappointing as Second Sight managed to implant only about 350 systems.
Looking at Orion, it's an implanted cortical stimulation device that the company claims will be able to cure all forms of blindness. The plan is to use the redesigned Argus 2s as the external system for Orion, which has better processing power. This should improve video processing capabilities.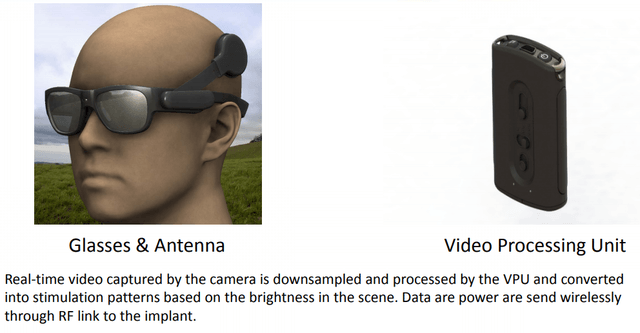 In January 2021, Second Sight announced a merger with a French bionic vision systems company named Pixium Vision (OTC:PXMVF) which pretty much looked like a reverse takeover. All Orion assets would be transferred to a new subsidiary, with 60% of its shares being then spun off to shareholders. However, the merger fell through in April. You see, the share price of Second Sight increased more than sevenfold in March 2021 and I think that the main catalyst for this was retail investor interest as the company was popular on several social media websites at that time. Well, the management of Second Sight decided to call off the deal and take advantage of its unexpectedly high share price with a $27.9 million capital increase at the end of March 2021. In my view, it was a good move by Second Sight as the company managed to sell 4.65 million shares at $6.00 apiece. In June, Second Sight raised another $57.5 million by selling 11.5 million shares at $5.00 apiece. However, the share price has kept falling since the March 2021 high as retail investor interest seemed to fade away.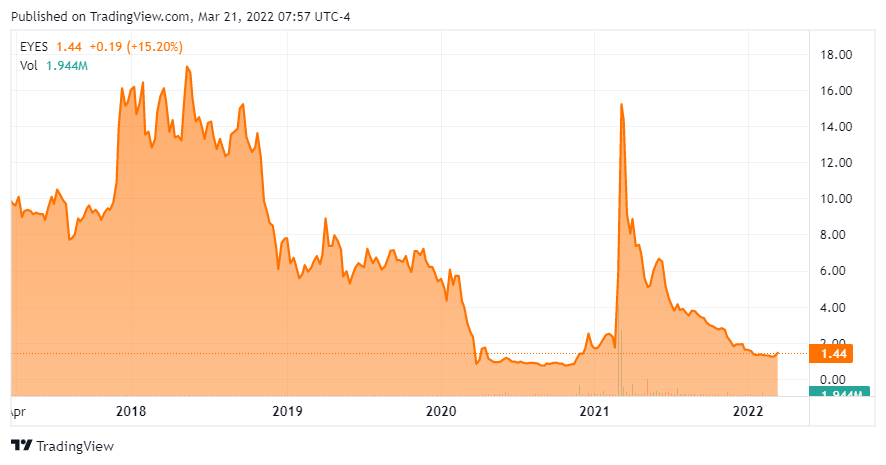 Looking at the Q3 financial report of the company, cash and cash equivalents stood at $72 million as of September. There were no debts, although it has to be noted that Pixium Vision is suing the company for $6.2 million in damages. Also, Second Sight is being sued for at least $2 million by an individual named Martin Sumichrast for allegedly arranging and securing financing for the company in May 2020.
Still, Second Sight revealed in February 2022 that it still has $69 million in cash and even if it ends up paying $8.2 million to Pixium Vision and Sumichrast, its cash balance will be higher than its market capitalization. This means that the enterprise value of Second Sight is currently negative even in a scenario in which it loses its lawsuits. In my view, short-selling the shares of a company with a negative enterprise value could be dangerous and I'm no longer bearish.
However, I'm not bullish either. Sure, Second Sight has a strong cash position at the moment but a substantial amount of it will go towards the development of new products. You see, Second Sight announced in February 2022 that it plans to merge with a company named Nano Precision Medical. Considering Second Sight will issue 134 million shares for the purchase, this can be viewed as a reverse takeover and any new investors are pretty much investing in Nano Precision Medical at this point. The shareholders of Second Sight will own just 23% of the emerging company. So, what does Nano Precision Medical do? Well, the company is in pre-clinical studies of the first subdermal implant in its NanoPortal pipeline, which treats Type 2 diabetes for up to six months through a GLP-1 receptor agonist said to improve insulin sensitivity and secretion. There isn't much information about this company, but it has to be noted that one of its shareholders is AstraZeneca (NASDAQ: AZN). In my view, the new products of both Second Sight and Nano Precision Medical are too early in their development process to make a forecast if they could become a commercial success.
Investor takeaway
Second Sight has built a solid balance sheet and I think it's challenging to be short-selling the shares of a company with a negative enterprise value. One corporate raid and the market valuation could soar.
However, I'm not bullish either as Second Sight is merging with another early-stage biotech company and the market valuation of the combined entity stands at close to $250 million as of the time of writing. Most of Second Sight's cash will likely be used for the development of the products of the two companies and it could take several years before we know if any of them have blockbuster potential.
In my view, it could be best for investors to avoid Second Sight, especially risk-averse ones.