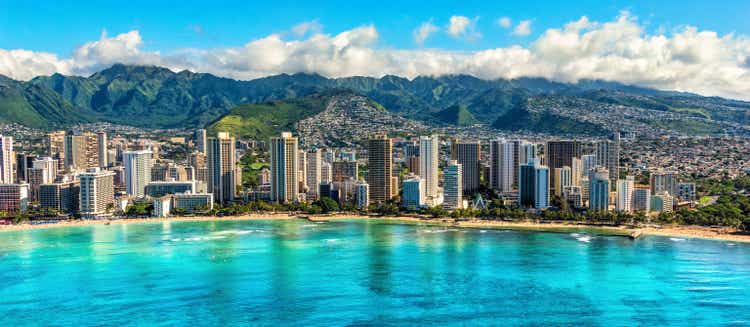 Introduction
I'm writing this article because I got a request to cover Hawaiian Electric Industries, Inc. (NYSE:HE) and because I was really interested to see if the stock could be a suitable addition to my dividend growth portfolio. The company has close to zero in share dilution, its dividend yield is 3.4%, the stock has delivered a lot of value for its investors, and investors are protected against recessions. Unfortunately, dividend growth is very weak and I'm not sure if investors are interested in buying a combination of a bank and a utility, which is what HE is.
In this article, I will share my thoughts on this somewhat unusual company.
Is It A Bank? Is It A Utility?
Hawaiian Electric Industries, Inc., through its subsidiaries, engages in the electric utility, banking, and renewable/sustainable infrastructure investment businesses in the state of Hawaii. It operates in three segments: Electric Utility, Bank, and Other. That's right, the company is a utility company AND a bank.
According to FINVIZ, the Electric Utility segment engages in the production, purchase, transmission, distribution, and sale of electricity in the islands of Oahu, Hawaii, Maui, Lanai, and Molokai. Its renewable energy sources and potential sources include wind, solar, photovoltaic, geothermal, wave, hydroelectric, municipal waste, and other biofuels. This segment serves suburban communities, resorts, the United States armed forces installations, and agricultural operations.
The Bank segment operates a community bank that offers banking and other financial services to consumers and businesses, including savings and checking accounts; and loans comprising residential and commercial real estate, residential mortgage, construction, and development, multifamily residential and commercial real estate, consumer, and commercial loans. This segment operates 42 branches, including 29 branches in Oahu, 6 branches in Maui, 4 branches in Hawaii, 2 branches in Kauai, and 1 branch in Molokai.
The numbers in the screenshot below are up-to-date as they come from an investor presentation dated March 16, 2022.
First, I start with the utility part of the company, which accounts for 64% of net income.
The Utility
Like all major US utilities, the company is looking to go "green". By 2030, the company wants to reduce carbon emissions by 70% compared to 2005. By 2045, the company aims to be "net-zero", which is 5 years ahead of the Paris target.
Management wants to achieve this by shutting down its last coal plant in September of this year, retiring and reducing the use of fossil fuel generation units, adding 1 GW of renewable generation capacity, growing rooftop solar by 55%, expanding geothermal energy, and incentivizing the use of low-cost, clean energy.
Hawaii is one of the best places to get this done. 21% of all residential customers already have rooftop solar while 37% of Oahu single-family homes have rooftop solar. In this case, the company uses distributed energy resources ("DER") to let people without solar benefit from shared solar. After growing residential PV installations by 39% per year until 2015, HE sees longer-term growth rates in the 7% range.
The company excels at keeping costs low. Adjusted O&M costs (operating and maintenance) have gone from $422 million in 2019 to $412 million in 2021. This was slightly higher due to storm costs and 42 million customer bill credit.
Before I show you the bigger picture, let's look at its banking segment, as it contributes roughly 36% to total net income.
The Bank
The American Savings Bank is one of Hawaii's largest financial institutions with $9 billion in assets. The bank has a 55.2 billion loan portfolio. 44.6% of this comes from residential mortgages. 20.3% are commercial real estate loans. 10.4% comes from commercial and industrial loans. 93% of its loan portfolio is secured by real estate.
The Combined Company
The "funny" thing about HE being both a bank and a utility is that when trading, these two are exact opposites. Utilities are "risk-off" assets while banks are "risk-on." Risk-off means defensive, in this case. Rising rates hurt utilities but benefit banks. Falling rates hurt banks but benefit utilities.
The backtest below shows that including dividends, HE has returned 8.36% per year since the 1990s. This beats the utility ETF (XLU) and the S&P 500. The Sharpe ratio and Sortino ratio are similar. The market correlation, however, is much lower. This makes sense as the company is a utility with banking exposure, which behaves differently in certain economic environments as I already briefly mentioned.
I'm not surprised by the outperformance. HE's net income growth has been strong. Over the past 10 years, we're seeing 65.4% in total net income growth. Net income per share is 46.1%, which beats a lot of utilities. Why? Because HE is not diluting existing shares as much. In 2017, the company had 108.75 million shares outstanding. In 2021, this number was 109.28 million. That's a 0.1% rate dilution per year as HE does not need stock financing due to its income from banking.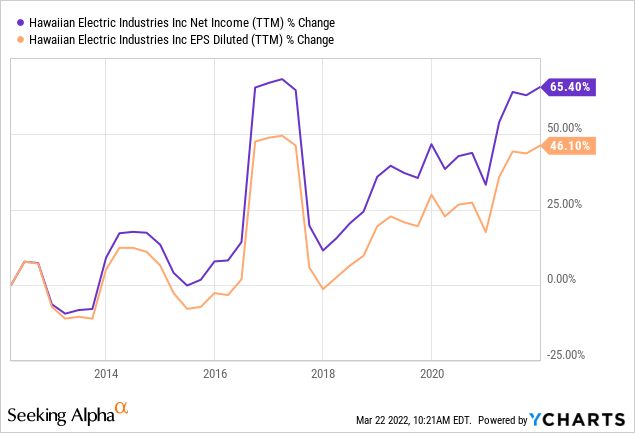 And even free cash flow is barely positive, which - believe it or not - is a positive thing as most utilities cannot maintain positive free cash flow due to investments in renewables. In the case of HE, the company needs roughly $160 million to pay its 3.4% dividend, which means that net debt is only slowly rising - after all, free cash flow already accounts for investments in renewables. And that's indeed the case. Net debt (2021 is not visible for some reason) is expected to grow from $2.0 billion in 2020 to $2.5 billion in 2024. That's 4.6% growth per year, which is below the longer-term earnings per share growth rate of roughly 8%.
Unfortunately, the dividend is somewhat disappointing.
Dividend & Valuation
The dividend yield of 3.4% is decent. It's slightly above the industry median of 3.2%. The current S&P 500 yield is 1.4%, which means investors are getting a 200 basis points premium, which is not that common in today's environment. Even high-yield stocks like PepsiCo (PEP) are now yielding less than 2.7%.
The problem is that the dividend growth rate is absolutely terrible. The Seeking Alpha table below shows the company's dividend growth history. In 1998, the company hiked by 1.6%. Then it didn't hike for more than a decade when the dividend was increased again by 3.2% in 2019.
As a result, the dividend yield is mainly driven by the stock price. The total return outperformance has come with side effects: dividend growth was unable to keep up with capital gains. The stock was yielding roughly 6% prior to the Great Financial Crisis. It then gradually fell to the current value of 3.3%, which includes four years of dividend hikes.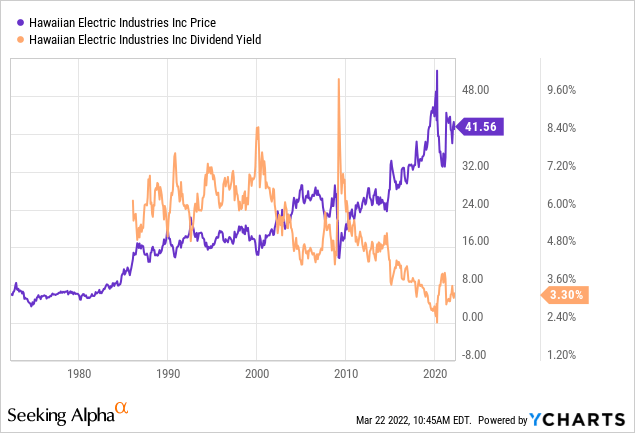 Going forward, the company looks to maintain dividend growth in line with earnings growth and a payout ratio of 60-70%. This implies that as investments in renewables wind down, we could see higher dividend growth. That's good news as it would make an already good yield more attractive.
Valuation-wise, we're dealing with a $4.6 billion market cap and roughly $2.4 billion in net debt. HE also has pension (and related) liabilities of $400 million. Adding all of it gives us an enterprise value of $7.4 billion. This translates to an 11.2x EBITDA using an average EBITDA result of $660 million.
This valuation is "fine." It's not undervalued and it's also not overvalued. It's the kind of valuation that lets you buy the stock right away in case you like what HE brings to the table.
Takeaway
Hawaiian Electric is an unusual company and I cannot believe I haven't looked into it earlier. The company is not just a utility company, but a company engaged in electric utility operations and banking. It basically gives investors exposure to the core of Hawaii in a somewhat defensive way. The electric utility business is solid and benefiting from a transition to renewables that comes with solid earnings growth. The banking segment is mainly focused on mortgages and related loans. Almost all of it is secured by real estate.
The 3.4% yield is decent in the current environment. I expect that dividend growth will remain close to 3-4% per year going forward after a 10-year dry-streak ended in 2018.
The problem is that I'm not sure if there's a must-have element here. The yield is decent, but other utilities offer a similar yield. I'm also not sure if there's enough growth potential in Hawaii. It also needs to be seen if HE can outperform its peers as most of its outperformance occurred prior to the Great Financial Crisis.
However, this does not mean that the stock isn't a suitable investment. If you like the yield and the (expected) dividend growth rate, HE is a stock for you. It's not volatile and a company that lets you sleep well at night without sacrificing a lot of upside potential.
(Dis)agree? Let me know in the comments!
PS: since I brought up that there are good alternatives. Here are two alternatives that I recently covered. I own both in my dividend growth portfolio: