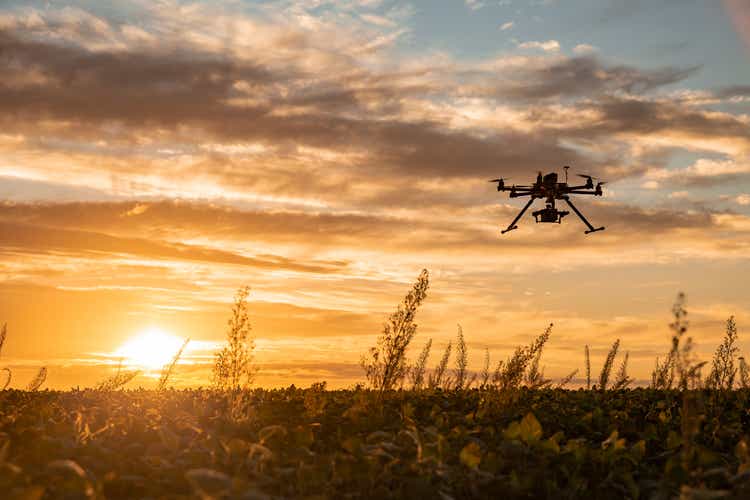 Investment thesis
In going through the top trending stocks on Fintwit, I was surprised to find there a nano cap I covered on SA in July 2021 - Draganfly (NASDAQ: NASDAQ:DPRO).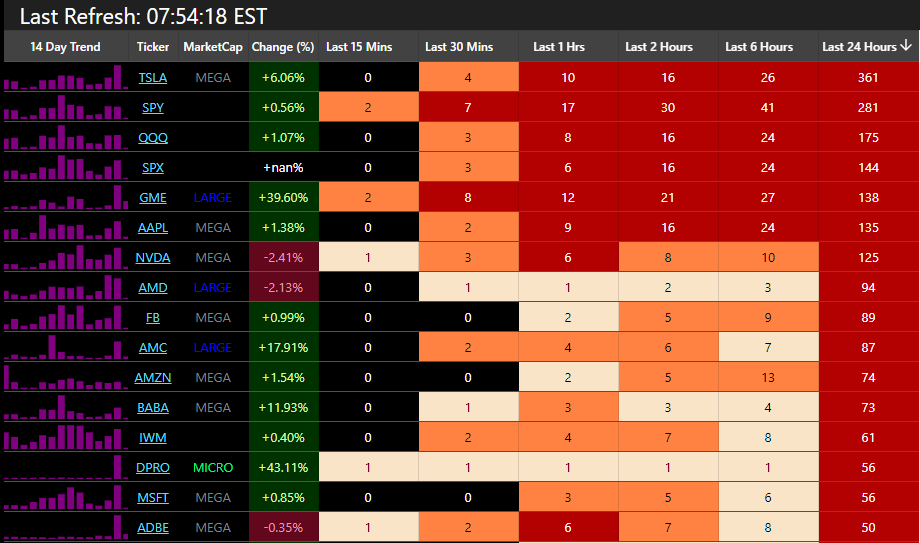 The company's market valuation rose by over 40% on March 22, at one point even surpassing $3.70 per share. The likely reason behind this move is a new order for medical response and search and rescue drones for delivery to a non-profit organization in Ukraine. In my view, the order is too small to make a dent in the company's loss and I think this sudden retail investor interest in Draganfly creates a good short-selling opportunity. Let's review.
The Ukraine order and Draganfly's financials
The order includes a total of 10 drones for Coldchain Delivery Systems, with immediate deployment with Revived Soldiers Ukraine. The latter is a non-profit organization focusing on medical response and rehabilitation of injured troops in Ukraine. Draganfly added that the total initial order size can increase to 200 units and CEO Cameron Chell said in an interview on Benzinga Live that the company plans to supply those drones by August. Browsing through the company's product listings on Adorama, we can find that Draganfly's Commander2 Ready to Fly System is priced at $13,949, with additional packages such as agriculture and public safety increasing the price tag to up to $23,647. Chell said on Benzinga Live said that these are $20,000 units when talking about what happens when a drone gets shot down. He then added that Draganfly's medical drone is priced at $35,000 per unit, while the search and rescue drone is worth about $15,000-$20,000 per unit. For the sake of making calculations simple, let's say the average price tag for the drones that the company is sending is $30,000 per unit. This means that the Ukraine order will bring in just $0.3 million in revenues, which can increase to $6 million if the deal ends up covering 200 units. While the larger figure can double the annual sales of Draganfly, I don't think it justifies a $15.7 million increase in its market valuation in a single day. Especially considering that it won't put the company in a position where it's anywhere close to being profitable.
You see, Draganfly has been around since 1998 and prides itself on having several industry achievements, including the development of the first quadcopter drone. However, its financial results are less than stellar with Q3 2021 revenues of just C$1.35 million ($1.07 million) and an operating loss of over C$8 million ($6.36 million). The gross margin looks good, but I find it really concerning how much the company is spending on marketing and advertising, which is put under Office and miscellaneous.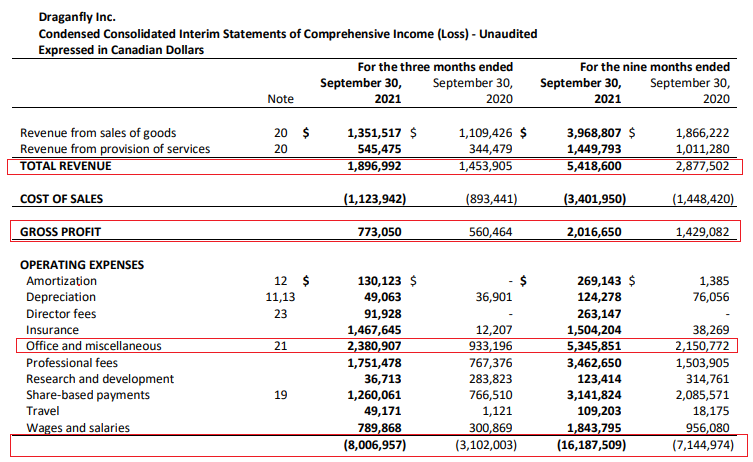 Turning our attention to the balance sheet, we can see that Draganfly had almost C$28 million ($22.2 million) in cash as of September 2021 and there were no debts. However, I expect the cash balance to decrease rapidly even if the company gets a $6 million drone order considering that cash used in operating activities was almost C$17 million ($13.5 million) for the first nine months of 2021.
Looking at the future of Draganfly, Chell said in the interview on Benzinga Live that when the effectiveness of the drones in Ukraine is shown, the company could be sitting on potential orders for thousands of them. I find the statement overly optimistic considering Draganfly's poor sales history, and I have doubts whether Revived Soldiers Ukraine has the funding available to afford even the 200 drones the company keeps talking about. So far, the organization has allocated $19 million toward supplies for Ukrainian civilians and hospitals. It doesn't have deep pockets and it relies on donations.
Overall, I see Draganfly as a small drone manufacturer that is losing over $3 for every $1 in revenues and I expect it to continue relying on stock dilution to finance its operations. After accounting for a 5:1 share consolidation, you can see from the table below that the number of shares outstanding has more than doubled since the end of 2019.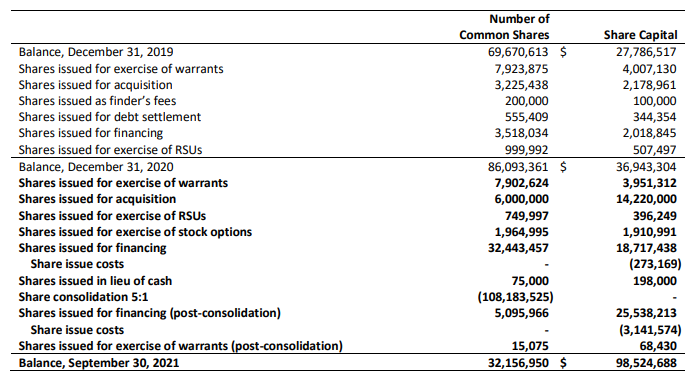 In my view, the share price is likely to resume its downward trend once retail investor interest fades off and go down below $1.10 once again. I think the recent share price spike due to the order for Ukraine has created a good short selling opportunity. Unfortunately, data from Fintel shows there are currently no shares available for borrowing. There are put options available, but I think the only ones that don't look too expensive at the moment are the ones with a strike price of $7.50. You can find ones expiring in May and July at around $5.50-$5.60 as of the time of writing.

Looking at the major risks for the bear case, I think there is a small chance that Chell could be right that orders for thousands of units could be possible if the company's drones prove themselves in Ukraine. Also, I find meme stocks and retail investor behavior hard to predict in the short term so the share price could spike once again without a clear catalyst.
Investor takeaway
Draganfly prides itself as the oldest commercial drone manufacturer in the world, but I find its financial results underwhelming. The company's market valuation has increased significantly due to a new order for Ukraine, but I consider it to be too small to change its fortunes.
Draganfly's CEO hopes that once the company's drones in Ukraine show their capabilities, there will be new orders for thousands of units, but I doubt this will happen and the market valuation is now at levels that are hard to justify. In my view, this creates a good short selling opportunity and the only way to take advantage of this is through put options as there are currently no shares available for borrowing.
For risk-averse investors, I think it could be best to avoid Draganfly as I perceive this as a high-risk, high-reward type of opportunity.