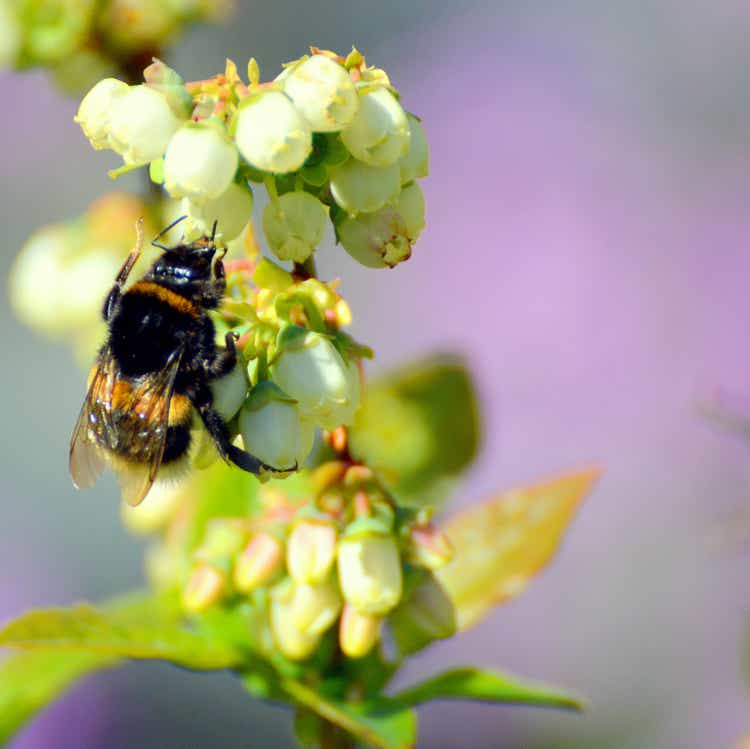 (All figures in this article are in Canadian dollars unless otherwise stated.)
Bee Vectoring Technologies (OTCQB:BEVVF) offers patented bee-delivered crop protection and fertilizer system consisting of a fungicide, CR-7, sold along with a beehive system and Vectorite, which attaches dispensers filled with CR-7 to the bees as they exit the hives. My initial article, An Early Stage Commercial Ag-Tech Disruptor; Bee Vectoring Technologies, describes how the BVT system works and the company's initial commercialization steps. This article will provide an update on the investment thesis and focuses on the recent developments that will significantly impact BVT's revenue stream. The company is just entering its third growing season but has taken giant steps to scale by:
widening the applicability of its product
increasing products offered
Territorial expansion and adding new crops
Investment thesis
There are many companies involved in bees for agricultural purposes. Looking at the websites for companies like Beeflow, Biobest BioBee, Koppert, and Aggrovio, you may think that these companies are competitors for Bee Vectoring Technologies. Remarkably, BVT partners or collaborates with all of these companies and just about every company involved in bee agriculture because no one else offers a regulatory approved, organic crop protector and fertilizer. Farmers have utilized bees for pollinating crops such as blueberries and strawberries for 9,000 years. BVT is using these same bees to fertilize and provide disease and bug protection for crops.
Despite the great strides that BVT has made in penetrating its targeted market, the stock price hasn't changed much since my original article in September last year. Growth stocks have been under pressure due to rising interest rates. My investment thesis remains intact as the company remains on track with its commercial rollout. I expect the stock price to gain traction as the company becomes better known from the expected partnerships with the world's largest agricultural companies and continued revenue growth as the company enters its third growing season. Key potential drivers include:
widening the applicability of its product
increasing products offered
expanding its territory and adding new crops
Widening the applicability of its product
BVT recently announced that after a year of testing, the application of CR-7 on soybean crops results in significant crop yield increase and reduction of disease. These results open up opportunities for BVT to collaborate with the agricultural industry giants in soybean farming. Consider that there are about 200,000 acres of blueberries and nearly 400,000 acres of strawberries, while there are 320,000,000 acres of soybeans in the world to put this development into perspective.
The press release stated that eight companies are already involved in testing programs with CR-7, with one company conducting its independent testing. In addition, BVT is seeking to license the technology, which would bring in high margin revenue.
BVT announced a memorandum of understanding with BioSafe Systems where both companies will explore ways to collaborate using each other's products. BioSafe is predominantly involved with ground and seed spraying. Formal agreements with BioSafe will expose BVT to a brand new market opportunity with a U.S. $9 billion TAM.
Increasing products offered
Vectorite is designed so that different products can be stacked and delivered to crops by bees along with CR-7. In addition, the company has been conducting pilot testing with four companies since 2020 to add third-party solutions to its offerings menu. The first of these companies to reach an agreement with BVT, Biogard, has granted the company exclusive rights to sell their biological fungicide in Europe.
CR-7 is pending and two years away from registration in Europe. The Biogard agreement allows BVT entry into the E.U. market through sales of an already registered product. BVT is continuing to work with the three remaining companies with the interest of developing additional crop products to be bundled for bee delivery.
Territorial Expansion
The territorial expansion has three different components:
U.S. expansion
Entering new territories through partnerships
Entering new territories through registration
U.S. expansion
BVT received EPA regulatory approval for its technology in September 2019. In 2020 BVT began commercial activity serving blueberry and strawberry farmers in Georgia and Florida. Florida's strawberry farmers could not compete with imported strawberries, and many filed for bankruptcy. Farmers tend to start with a small percentage of their farm acreage to compare the use of BVT with their everyday operations. BVT has retained 100% of its original blueberry farmers in Georgia, who have now generally added their entire acreage to BVT, while BVT has been adding new customers in the same territory.
Every U.S. state recognizes EPA registration except California, which requires its own registration process. Testing is required in each state because growing conditions vary. Completing each territory's registration requirements and testing process is another layer on BVT's moat for potential competitors to surmount. In 2021, BVT began serving blueberry farms in Michigan and New Jersey and blueberry and caneberry farms in Washington and Oregon. BVT gained California regulatory approval for its technology in December 2020, obtaining access to the majority of farm acreage in the U.S. Within months of California registration, BVT initiated testing for blueberries, strawberries, caneberries, and almonds. Revenue from the new states and new crops should begin in 2023. The company also has ongoing tests for cranberries in New Jersey, Massachusetts, Washington, and Wisconsin and testing sunflowers in Minnesota, North Dakota, and Idaho.
Entering new territories through partnerships
BVT has established local partners in Morocco, Turkey, South Africa, and Israel. These partners will foot the bill for registration in their respective countries in exchange for exclusive or preferential rights to BVT's technology within their respective territories. Only the Morocco partner has begun testing while the other partners are still in evaluation mode. Agriculture is the top industry of Morocco due to a long growing season.
Entering new territories through registration
BVT is pursuing registration in Switzerland, Mexico, Canada, the European Union, and Peru. The Swiss process should be completed in 2022 at the latest. In addition, BVT has been in discussion with two go-to-market companies to pursue Swiss revenue this year and has established operations in Switzerland with an R&D center, office space, and land leased to a local farmer for demonstrations.
Registration in Mexico, Canada, and the E.U. is expected to be completed by 2024 should the company raise sufficient capital to cover the costs. BVT has begun conducting testing in Mexico and is entering the E.U. market through partnerships.
Financial and expectations
There are about 117,000 shares. The company reported $1.7 million in cash and $782K in debt as of Dec. 31, 2021. The market cap is about $29K. BVT reported about $300K revenues for fiscal 2021, growing at about 80% over the prior year. P/S ratio is about 65X. Valuation ratios tend to be high for start-up companies but become more reasonable if revenue continues to accelerate quickly. Based on the potential catalysts, I would expect revenues for this year to at least double and blast off from there in the next two years.
This is an almost unknown stock with almost no institutional interest and no analyst coverage. As revenue continues to rise and new partnerships are announced with global giant companies, investors will begin finding this stock.
Risk and concern
BVT has to endure long and expensive testing and registration processes to reach the commercial stage for each respective jurisdiction and crop type. The company is dependent on raising capital to fund testing and pursue registration. Testing requirements usually involve three seasons. Any one of the seasons may have unusual weather conditions that make the testing results invalid.
The company's burn rate is about $300K per month. As a result, BVT will require a capital raise shortly, likely coming from issuing shares, diluting earnings. BVT will have to raise considerable funds in order to fund the regulatory process in Europe and other territories.
Conclusion
BVT has been successful in early efforts to scale in the U.S., as demonstrated by customer retention, revenue growth, expansion into new states, and additional crops. Entering the California market was a huge step as it is the agricultural capital of the U.S. The company has also taken a giant leap in expanding its TAM with the results of soybean testing opening up potential collaboration with multinational industry giants, entering into an agreement to collaborate for using CR-7 for seed spraying and entering the European market through exclusive rights to deliver a third-party fungicide through its delivery system. I expect revenues to ramp up as third-party products are added and territorial expansion continues while the present markets are expanded, licensing revenue kicks in, and partnerships with the world's largest agricultural companies develop.