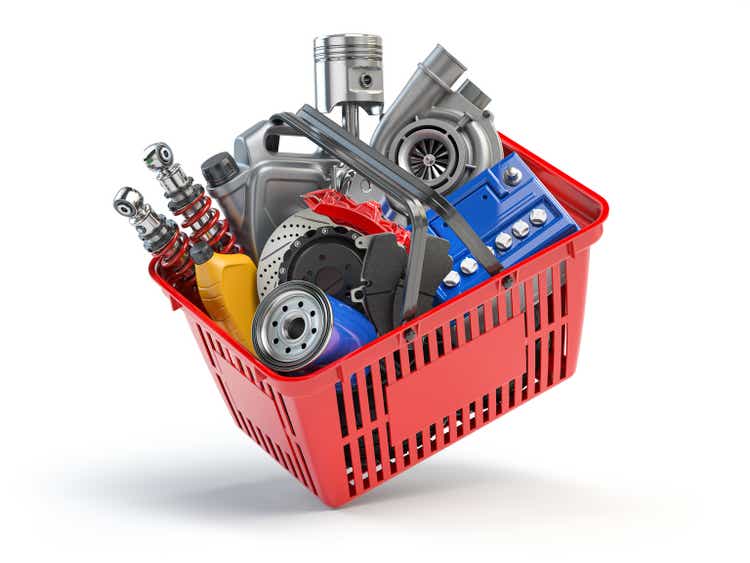 Introduction
PARTS iD (NYSE:ID) released its annual report for 2021 this week. Although sales went up almost 12% from the previous year, the income from operations was negative due mainly to increased costs in advertisement and supply chain disruptions.
On the other hand, the total addressable market (TAM) is enormous for a small company like PARTS iD. This article will analyze if it is in a good position for attacking it and scaling its operations.
Total Addressable Market
The annual report points out that according to Hedges & Company, the entire automotive aftermarket and auto care industry will be $439 billion in 2022. PARTS iD has been historically focused on specialty automotive equipment, with an estimated market of $48 billion. But it is targeting to grow through automotive repairs, international expansion, and the addition of new verticals. In any case, with Revenue during 2021 of $448.7M, there is still a long way to grow to $48 billion (100 times).
The special-equipment industry is not expected to grow spectacularly. Based on the SEMA Future Trends January 2022 Report, around 3% annually till 2030.
But what is essential for PARTS iD is also the penetration of eCommerce into this segment. According to Hedges & Company, the annual growth rate for parts eCommerce is projected just under 9% through 2025. They expect it to reach $38 billion in 2022 in the US.
Key Factors
Jeff Bezos has often mentioned the three critical factors in online retail that won't change in the future. They are offering a vast selection, fast delivery, and price. But in the case of this particular segment, we also have to consider the need for technical assistance. Whether in identifying which specific part to buy or which other complementary features require the installation, the lack of technical support can prevent the sale.
On the other hand, the famous saying in commercial Real Estate investments is that the three more critical factors are location, location, and location. We can translate this to organic traffic, organic traffic, and organic traffic in eCommerce. If nobody visits your store, then no matter how wonderful it is, you won't get any sales. Paid visits are another option, but they cost money and wouldn't scale.
Below we can see the organic traffic of the different PARTS iD sites during last month.
Although the organic traffic of the other seven verticals is growing sharper, carid.com is currently the leading revenue generator with a big difference. So I am going to focus this article on this segment.
Competitors
Analyzing the car accessories segment, we can find three different kinds of online competitors: generalist eCommerce sites, other specific online retailers, and brick-and-mortar competitors with online stores.
Generalist eCommerce sites
Like Amazon (AMZN) or eBay (EBAY), wide-purpose sites sell some of the same products PARTS iD offers. Their catalog is enormous, and you might find many specific parts. But these sites are not built specifically for the auto parts or similar complex segments (boats, recreational vehicles, etc.). So they lack the specific search functionality (where you can filter by year or model, for example), the proposal of components required for an installation, or specialized support.
So, even getting a share of this market, I don't think they will compete in the same arena. And, given their size, it doesn't seem economically profitable for them to adjust their sites to take more share of this niche.
Other Specialty Online Retailers
The online auto parts segment is a very fragmented market. Analyzing the organic traffic of the last month through Ahrefs, I have found the following figures.
Ahrefs, a tool for SEO professionals, allows identifying online competitors based on the keywords used in the searches. As we can see in the figure, PARTS iD is the leader in this specific market with many small competitors.
Being the leader in a fragmented market means having more resources for competing better and outgrowing them. Moreover, it also means that many customers already recognize its position and will come back to their site or spread its use. By 2021, 38.4% of the Revenue of iD has come from recurrent customers.
Brick-and-mortar Retailers
Finally, some big companies have owned many auto part stores around the US and some, even internationally, for years. They were working before the arrival of eCommerce, so their business model is a traditional one. But they have already created their websites from which they are already selling parts. The main ones are O'Reilly Automotive (ORLY), AutoZone (AZO), and Advance Auto Parts (AAP).
In my opinion, these are the biggest challenge for PARTS iD. They are already consolidated, specialized in this segment, and have significant resources for developing and improving their websites.
Although they provide additional parts types and services to the ones offered by PARTS iD, in total, the three currently have more monthly organic traffic.
The number of keywords is the number of different terms entered in the search engine to arrive at each site. This figure is important because it can give us an idea of how the potential buyers come to each of them.
One thing to consider is that PARTS iD (with its site carid.com) has more keywords than Advance Auto Parts and O'Reilly, and it is close to AutoZone, currently the absolute leader. This tells us that PARTS iD is getting traffic from a wider variety of keywords, even with fewer visits in total than these competitors. The reason must be that carid.com is publishing more specific content, which in a technical niche like this might result in recurring visits in the future.
It is difficult to say how this market and this bet will evolve. But what is clear is that PARTS iD, with around 18.2M of different parts, and a strategy where the eCommerce is, without doubt, its core business, is in an excellent position to disrupt these existing incumbents more dispersed in logistics, physical issues, and traditional profitable model.
Business Model
One of the significant differences between PARTS iD and the big brick-and-mortar rivals is that PARTS iD does not hold inventory. It acts as an intermediary negotiating with its vendors the drop shipping directly to customers.
This business model has two significant advantages. First, the capital employed is much lower. In fact, the working capital of iD is negative. Allowing it to have more resources to grow and escalate. And second, there is no limitation on the number of references to be sold. What is related to the critical driver of a vast selection, which Bezos points out.
The CEO, Nino Ciappina, talks about the possibility of growing into other specialty areas, such as they did with the seven verticals. Just tweaking the platform, developed on-site for ten years, they could adapt it and launch it for other specific segments in a reasonable amount of time.
Pros and Cons
To summarize, we can say that PARTS iD is an agile competitor with big optionality in a mature market not yet disrupted by eCommerce. Its business model will allow it to grow if it can capture the increase in demand. And it is in a good position for diversifying into other specialty segments. Nino Ciappina, CEO of PARTS iD, says that one of them, EV parts, is expected to generate more accessories demand than oil vehicles. Still, he doesn't cite any source which corroborates this affirmation.
About the cons, we need to consider the possibility that the big brick-and-mortar competitors improve their platforms, stealing market share from PARTS iD. In the end, their capitalization is much bigger, so they have more resources to invest in them. Apart from that, these competitors already have a customer base who may stick with them in case of going online.
We also need to point out, as a weakness, that there are no significant entry barriers. It is true that getting the vendor agreements for offering more than 18M pieces and putting in place a platform for selling and managing their logistics is not trivial. But there is not yet a wide brand recognition, a patent, or any other competitive advantage protecting these sales.
Finally, as said at the start of this article, one specific characteristic of this segment is the need for human support to help users find the right part and information for its installation. If this human support cannot be automated or requires significant expertise, it can make this business not so scalable as it sounded. There are always ways of lowering the cost of this support, but if it is, as it seems, a critical factor, it must provide a considerable degree of quality, so customers return.
From a quantitative point of view, we can check the quant rates provided by Seeking Alpha. Even being the overall rating only Hold, we are talking about a stock with considerable potential for Growth (rating B-) and at the same time scoring the maximum in Valuation (rating A+). Both scores for the same company must not be easy to find, as usually, the price should reflect this potential.
Of course, I would like it also to rank so well in Profitability and Momentum, but then, for sure, the price would have already rocketed.
Valuation
It is challenging to value a company of these characteristics. Still, I always like to get at least a very rough estimate to see if it is discounting an excessive growth or something more reasonable. As it is a new model in a mature market, we must treat it as a risky investment, employing only a tiny percentage of our portfolio.
As said at the start of this article, according to Hedges & Company, the compounded annual growth rate for parts eCommerce is projected just under 9% through 2025. Suppose we assume that PARTS iD will maintain its market share in this segment through this period and add some additional growth due to the sharper current development of the rest of the verticals. In that case, we can forecast an annual 10% growth during the next four years, which would make a revenue of $656.9M by 2025.
In the last earnings call, Kailas Agrawal, CFO of PARTS iD, forecasted that they expect the Gross Margin to be between 23% and 23.5% in the next 12 to 36 months. His main argument is that PARTS iD has a capital-efficient just-in-time inventory model. As they don't carry stock, they don't have a fulfillment cost in their operating expenses. In addition to that, they have launched some initiatives such as shipping cost, vendor, and price optimization; adjacent vertical margin improvements; and increased private label product sales. They were averaging a Gross Margin of 21.4% in the pre-COVID era. Taking these words into account, but also that we are in a world of inflation and supply shortages, we can assume, on a safer side, that this margin will be constant with a value of 21% for the next four years. This margin will make a Gross Profit of $137.9M by 2025.
As it is a platform, the rest of the Operating Expenses shouldn't grow so much as the Revenue. We don't know what will happen with the average-per-click cost, but we also have to consider some improvements in the marketing process and the rest of the operating activities. Let's say we assume an annual increase of 5% in these costs to get an Operating Income of $17.2M by 2025.
Given the potential growth of this company, we will use a multiple of 15, which, when multiplied by the Operating Income, gives us an Enterprise Value of $257.5M. Adding now the Net Debt, projected with each year's results, we obtain an Estimated Market Value of $203M. When we divide it by the number of shares (33.97M), we get a final valuation of near $6. From the last market price ($2), this would represent a potential gain of 300% or an annual gain of around 30% until 2025. See the excel sheet with these calculations.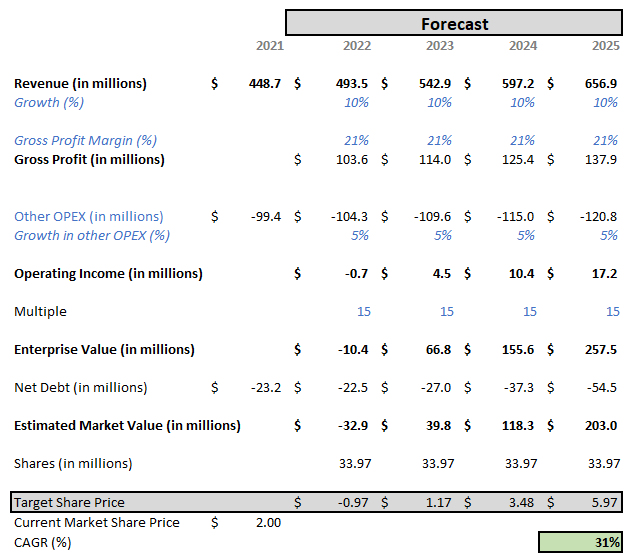 Conclusion
PARTS iD is a disruption play in a mature market with low online penetration. As such, and especially as playing in a disadvantageous position concerning the large incumbents, we need to treat it as a risky investment.
But, on the other hand, at the current price, it offers big optionality, which could justify investing a small part of our portfolio.