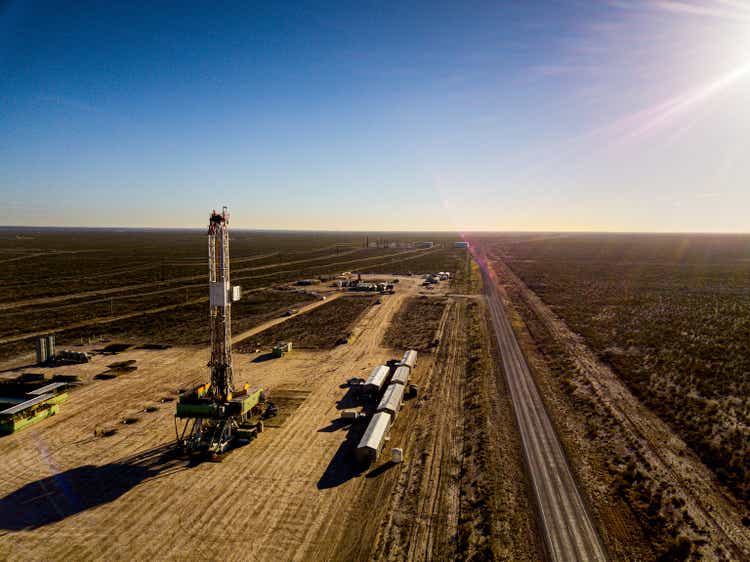 Since our initial article, the share price for NGL Energy Partners LP (NYSE:NGL) is up almost 29%. In this article, we will go deeper into the Q3 results announced on February 9th and refresh the valuation.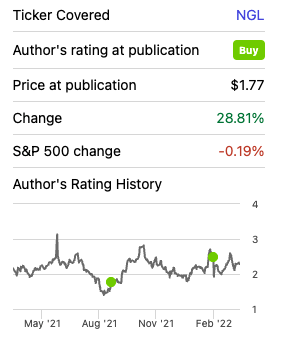 Q3 Results - growing volumes but below market expectations
The results were good and they continued the trend of increasing volumes thanks to the high price of crude oil. However, the market reacted negatively as the volumes were below expectations and guidance was lowered for the year. As a result, the stock price dropped almost 23% from $2.48 to $1.92. The main reasons for the missed volumes were lower disposal volumes by customers and lower liquid volumes due to warmer than normal temperatures. EBITDA for the third quarter was 18% higher than the previous year, totaling 147.7M USD.
Revenues of the Water Segment increased 32.1% to 130.7M USD driven by a 30% increase in volumes to 1.84M barrels. The higher water volume was mainly driven by the Delaware basin where volumes increased from 1.22M to 1.55M barrels. EBITDA margin decreased 300bps to 63.3%, coming to an EBITDA of 82.7M USD.
As per the Crude Oil Segment, revenues increased 25.1% to 607.2M USD. The increase was driven by higher crude oil prices and higher volumes transported, offset by less crude oil sold. Crude oil transported increased 19.2% to 7.6M barrels. This was supported by a 20% increase in volumes in the Grand Mesa pipeline to 83,000 barrels per day. However, crude oil sold decreased 30% to 7.5M barrels. As a result, EBITDA margin declined 60bps to 4.9%, representing an EBITDA of 29.8M USD.
Revenues of the Liquids Logistics Segment increased 63.4% to 1.4B USD despite the decrease in volumes. Propane volume decreased 22.9% to 294.3M gallons due to unseasonably warm weather. Butane volumes decreased 15.3% to 180.2M gallons due to the tight supply market and increased demand for exports. Also, refined products volume decreased 4.8% to 203.9M gallons. EBITDA margin decreased 210bps to 1.6%, representing an EBITDA of 23.2M USD. The margin decrease was mainly driven by the propane business. Propane experienced lower demand, lower prices and higher expenses. This was slightly offset by a higher margin in refined products and butane due to the tight supply market.
Management decreased its EBITDA guidance by 10M USD from 560-570M USD to 550-560M USD and increased its capex guidance by another 10M USD from 115M USD to 125-130M USD. While the lower EBITDA is due to softer volumes, the higher capex is due to unexpected repairs.
Management is planning to fully offset this 20M USD headwind asset sales. Those assets are real estate and unused assets. So far they have closed on 12M USD and another 8M USD is in the process of being closed.
Also, during the quarter, they repaid 20M USD of the 2023 unsecured notes and reiterated the goal to pay it off by the maturity of the bonds.
Valuation
Refreshing the valuation, the target share price remains $4.80 as there are no structural changes to the investment thesis. NGL is just 7.5% shy of achieving the target 2024 revenues, EBITDA margin experienced a temporary hit but margins should recover thanks to the OpEx saving initiatives and the partnership with XRI, and the debt reduction seems to be advancing as planned. And based on the cash flow projection, they should be able to pay off the 2023 notes.
Conclusion
The third-quarter results were good but they were lower than expectation, leading to a downward revision for full-year results. However, the changes are not material and the miss in EBITDA will be offset by asset sales. The investment thesis and target price of $4.80 per share are intact. Also, the CEO has continued purchasing shares as he believes they are undervalued. He bought 100,000 shares for an average price of $2.10 per share.