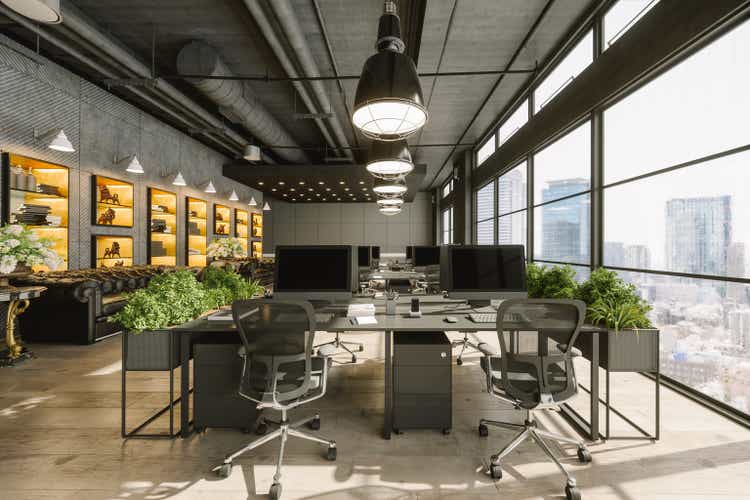 Generally speaking, REITs can make for stable and attractive long-term prospects, particularly for investors who want attractive cash yields on their investments. But not every REIT matches this profile. Some experience gradual declines in revenue and profitability. And others just meander about from year to year, generating fairly consistent cash flows. One example of a REIT that has failed to gain any traction in recent years has been Piedmont Office Realty Trust (NYSE:PDM). Even prior to the COVID-19 pandemic, this prospect struggled to really achieve much. And while revenue for the business has held up well during the downturn and since then, it has yet to demonstrate any capacity for a return to growth. One positive about the company is that shares don't look overly priced. Depending on how you look at them, they are either fairly valued or slightly underpriced. But given the totality of the circumstances surrounding the company, I do not believe that it offers investors anything other than mediocrity moving forward.
The kind of performance I would expect
The last time I wrote an article about Piedmont Office Realty Trust was in December of 2021. At that time, I noted for investors that the company was trading on the cheap. Having said that, I also claimed that it was cheap for a reason. And that reason was related to the fact that the company had not really exhibited any true growth in recent years and, as a result of the pandemic, had experienced a temporary decline in profitability. Ultimately, I felt as though the cheapness of the stock and the absence of growth balanced one another out, leading me to rate the company as a 'hold'. Since then, shares have performed more or less along the lines I would have anticipated. While the S&P 500 has seen a decline in value of 4.5%, shares of Piedmont Office Realty Trust have performed marginally worse, posting a total loss of 6.3%.
Fast forward to today, and we now have insight into how the company performed for the 2021 fiscal year as a whole. We also have management's guidance as to what the 2022 fiscal year will look like. For 2021, revenue for the company came in at $528.7 million. This compares to the $535 million the company reported one year earlier. This decline was driven in large part by a 1% drop in occupancy as weakness in the office space market persists. Heading into the 2022 fiscal year, management has not given any guidance when it comes to revenue. But they have said that occupancy, excluding asset sales and purchases, should be around 88% for the year.

Although revenue for the company worsened in 2021, there were some areas where the company improved. Take, as an example, core FFO, or funds from operations. During the year, this metric came out to $245.4 million. That's up slightly from the $238.9 million generated the same time one year earlier. Other profitability metrics also came in stronger year over year. Adjusted FFO, for instance, grew from $137.4 million in 2020 to $160.1 million last year. Operating cash flow jumped from $193.3 million to $242.2 million. And EBITDA for the company increased modestly from $295.2 million to $297.7 million. The only profitability metric that matters where the company reported a year-over-year decline was in NOI, or net operating income. According to management, this declined from $319.5 million to $317.6 million.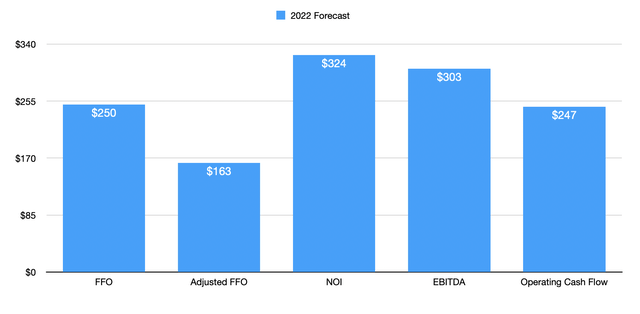 Some investors who are bullish about the company might be thinking that now that the worst of the pandemic is long since passed, that there might be some meaningful improvement in the company's fundamental condition. But I view this as unlikely. In fact, I believe that we are destined to see more of the same meandering about for the foreseeable future. Although the leased rate for the company's assets is expected to climb to 88% this year, up from the 86% the company reported at the end of its 2021 fiscal year, management has already made it clear that, ignoring some recent changes in the portfolio, that it tends to balance out asset sales and asset purchases. In all, both sales and purchases individually should be between $350 million and $450 million. When all you are doing is recycling assets, it makes returning to growth awfully difficult.
Fortunately, this doesn't mean that the company won't see any traction. The firm currently anticipates same-store NOI climbing by between 1% and 3%. As a result of this, the company is currently forecasting for core FFO to be between $1.97 and $2.07. At the midpoint, this implies FFO of about $250 million. That's marginally higher than what the company achieved in 2021. Applying the same kind of growth expectation to other profitability metrics would yield adjusted FFO of $163.1 million, NOI of $323.6 million, and operating cash flow of $246.7 million. Meanwhile, this should translate to EBITDA of about $303.3 million.
Though it's nice to see some improvement, we are still left with the fact that these cash flow figures are largely flat compared to what the company has achieved in prior years. So again, investors are left with another year of virtually no growth in the grand scheme of things. It is because of this that shares of the business are as cheap as they are today. Using our 2021 figures, the company is trading at a price to FFO multiple of 8.5. This drops only modestly to 8.3 if we rely on 2022 estimates. The adjusted FFO multiple would drop from 13 using the 2021 figures to 12.8. The price to NOI multiple would dip from 6.5 to 6.4. The price to operating cash flow multiple would drop from 8.6 to 8.4. And the EV to EBITDA multiple would decline from 13.3 to 13. As the table below illustrates, this pricing is not terribly different from how the company was priced based on my own estimates for its 2021 fiscal year when I last wrote about the business. And in some ways, the company is actually looking slightly more expensive.

If shares of Piedmont Office Realty Trust were trading at a substantial discount to similar firms, then it might well be worth buying into. However, that is also not the case. Consider just two of the metrics that we looked at. On a price to operating cash flow basis, shares of five companies that are similar to Piedmont Office Realty Trust that I looked at traded in a range of between 11.5 and 23. In this case, Piedmont Office Realty Trust was the cheapest of the group. However, using the EV to EBITDA approach, the range for the five firms was from 11.3 to 20.8. And in this case, two of the five businesses were cheaper.
| | | |
| --- | --- | --- |
| Company | Price / Operating Cash Flow | EV / EBITDA |
| Piedmont Office Realty Trust | 8.6 | 13.3 |
| Highwoods Properties (HIW) | 11.5 | 11.3 |
| SL Green Realty Corp (SLG) | 23.0 | 12.4 |
| Corporate Office Properties (OFC) | 12.7 | 18.6 |
| Douglas Emmett (DEI) | 13.0 | 20.8 |
| Orion Office REIT (ONL) | N/A | 15.0 |
Takeaway
Based on all the data provided, I do not believe that Piedmont Office Realty Trust is a bad company. Shares are cheap on an absolute basis but are probably closer to being fairly valued or slightly underpriced relative to the competition. But the business is stagnant and management is failing to substantially grow the company yet again. Until we see some change in this, a change that has not shown any evidence of occurring so far, I believe that the pricing of the company and the lackluster performance will essentially balance one another out, leading the business to more or less track the market moving forward.