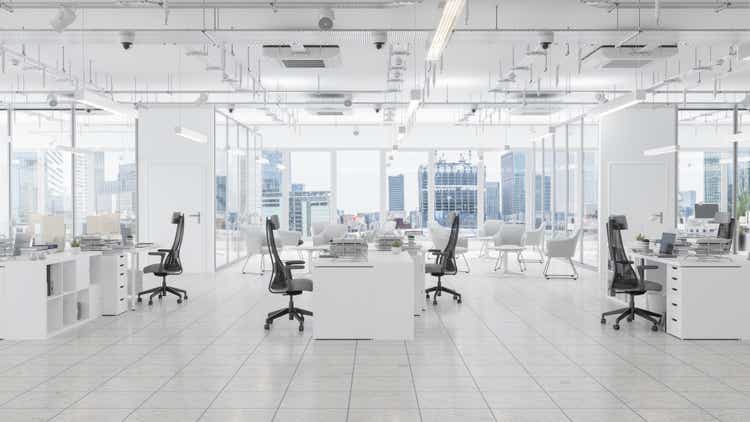 Investment Thesis
The workplace furnishing segment of HNI Corporation (NYSE:HNI) is expected to benefit as the office reopens, especially in urban markets. In addition, the company-specific growth initiatives such as improved profitability, new facility investments, pricing increases, and restructuring actions should help drive revenue and margins growth. The company was able to increase its backlog orders for the workplace as well as the residential building products segment last year which should help HNI's revenue growth in 2022. The stock looks attractive trading at ~13.47x its FY22 consensus EPS estimates with a forward dividend yield of 3.39%.
Business Basics and Recent Earnings
HNI Corporation is a manufacturer and provider of furnishing and hearth products. The company has two reportable segments: workplace furnishing and residential building products. The workplace furnishing items include seating, tables, storage, and other products whereas they sell hearth products (including fireplaces, inserts, stoves, and accessories) under residential building products. The workplace furnishing segment's end market includes contract (large corporations where furniture orders are customized according to the client or architecture), e-commerce, and SMB (small and medium-sized business) channels while the residential products are sold to homebuilders and remodelers. The workplace furnishing segment contributed ~66% and the residential building products contributed ~34% of the total revenue in FY 2021.
HNI Corporation reported Q4 2021 revenue of $602.9 million (up ~7.3% YoY), beating the consensus estimate of $596.3 million, but EPS fell ~35% from $0.66 in Q4 2020 to $0.43 (vs. $0.41 consensus estimate). The adjusted operating income for the quarter fell ~34.6% from $39.5 million Q4 2020 to $25.8 million in Q4 2021, with adjusted operating margins falling 270 basis points from 7% to 4.3%. The 4% organic growth and acquisitions of Design Public Group ("DPG") and multiple residential building products companies contributed to the increase in revenue. During the quarter, these acquisitions increased sales by $18.5 million on a year-over-year basis. The cost inflation related to commodities and freight (which was partially offset by lower SG&A costs) contributed to the drop in the adjusted operating margin and EPS during the quarter.
Revenue Growth Potential
In FY21, net sales increased 11%, owing to 27.3% Y/Y growth in the residential building products segment and 5% Y/Y growth in the Workplace Furnishing segment. Acquisitions added ~$47.3 million in incremental revenues during the fiscal year. Organic revenue for the workplace furnishing segment grew ~2.4% with higher volumes in the small and medium-sized businesses (SMB) channel and lower volumes in the contract and e-commerce channels. The lower contract market volume was due to a slower demand recovery as return-to-office plans were still inconsistent due to Covid-19. The e-commerce market also slowed compared to that of 2020 due to lower demand for work-from-home furniture. On the inorganic front, the acquisition of DPG increased overall sales by $34.9 million (or ~2.6 percent) in 2021.
For the residential building products segment, organic sales grew 25.3 percent and acquisitions of multiple building product companies added another ~$12.4 million in sales. The organic growth in this segment was fueled by strong volumes in the new construction and remodeling channels.
Looking forward, the reopening of urban markets should provide opportunities for the company's Workplace Furnishing segment to grow. As office reopening activity increases, sales of office furnishing products should increase with businesses upgrading their offices with new furniture. The backlog in the workplace furnishing business was $120 million higher than normal at the end of 2021. During the company's Q4 conference call, talking about Workplace Furnishings outlook, its CFO Marshall H. Bridges (VP and CFO of HNI Corp.) said,
In Workplace Furnishings, we expect pricing benefits, backlog normalization and assumed market improvements to drive revenue growth rates in the high teens to low 20s for the year. I would also like to point out that we started 2022 with an elevated Workplace Furnishings backlog that will support solid growth. Segment backlog at the end of 2021 was approximately $120 million above normal levels."
The company recently opened a new manufacturing facility for its Workplace Furnishing segment in Mexico, where the production is expected to ramp up through the first half of 2022. The increased production capacity coupled with a high backlog should help volume growth in 2022. The current inflationary costs have also resulted in the company taking price increases across the board. This price increase is expected to contribute 13 to 14 percent to total sales growth in 2022, while volume growth is expected to contribute 4 to 6 percent. The forecast for Workplace Furnishing sales growth in 2022 is in the high teens to low twenties. I believe that reopening of offices, strong sales growth and increased pricing will help the Workplace Furnishing segment achieve pre-Covid revenue levels (~$1.7 billion) in FY2022.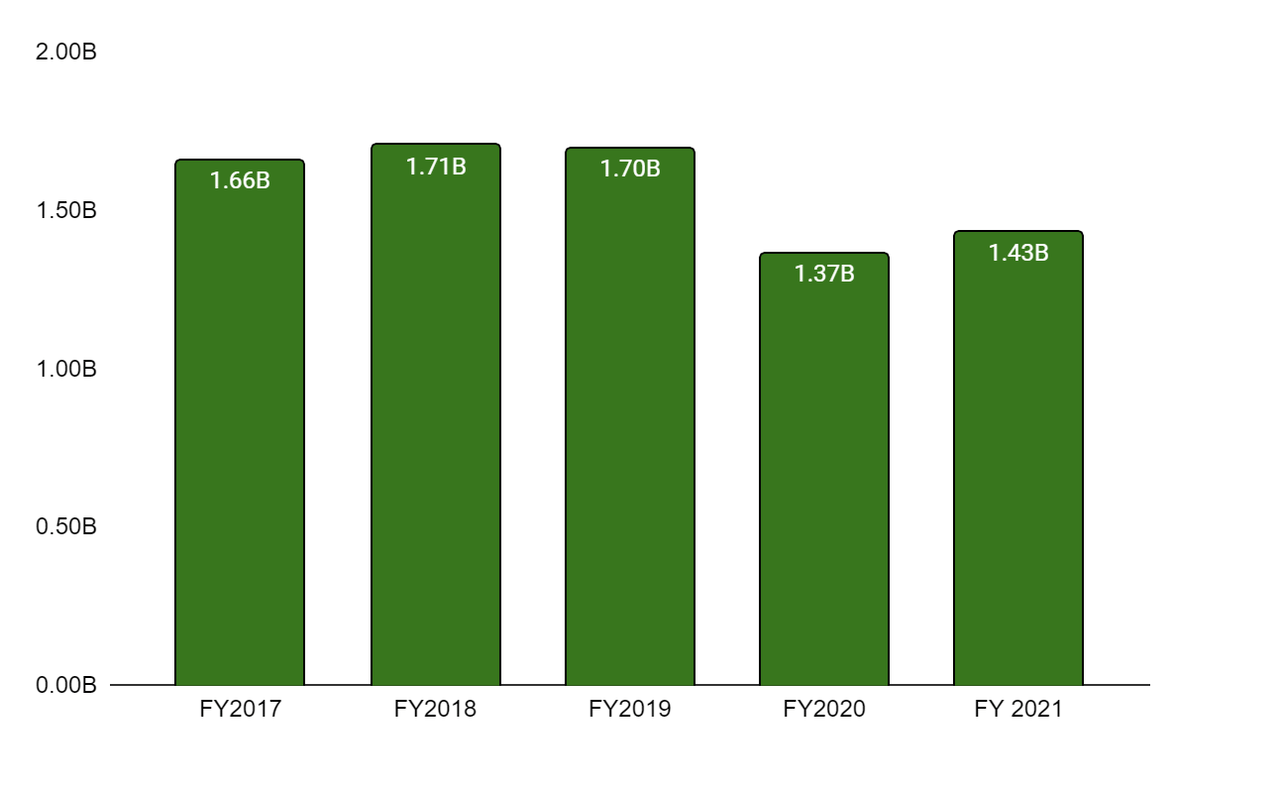 The company is optimistic about the new construction sales and remodeling industry but given the rising interest rates and supply-chain-related challenges, new construction activity in 2022 may decline slightly. However, increased backlog orders ($30 million above the normal levels), the company-specific growth initiatives, and pricing should drive organic revenue growth, while the acquisitions of The Outdoor GreatRoom Company and Trinity Hearth and Home should support inorganic revenue growth. Trinity's Southwest distributor network should help HNI maintain its competitive advantage and support its expansion in the region.
Margin Recovery
In 2021, the adjusted operating margin fell 90 basis points to 4.6 percent, down from 5.5 percent the previous year. This was due to a drop in Workplace Furnishing segment margins from 2.9% to 1%, partially offset by a 40-basis-point margin improvement in the Residential Building Product segment from 18.5 percent to 18.9 percent. The decrease in margin was due to a negative price-cost environment caused by rising commodity and transportation costs. Furthermore, the company's cost increased as a result of the labor availability constraint, which increased wages. By increasing sales volume, raising prices, and lowering SG&A costs, the company was able to offset some of the inflationary costs and supply chain constraints.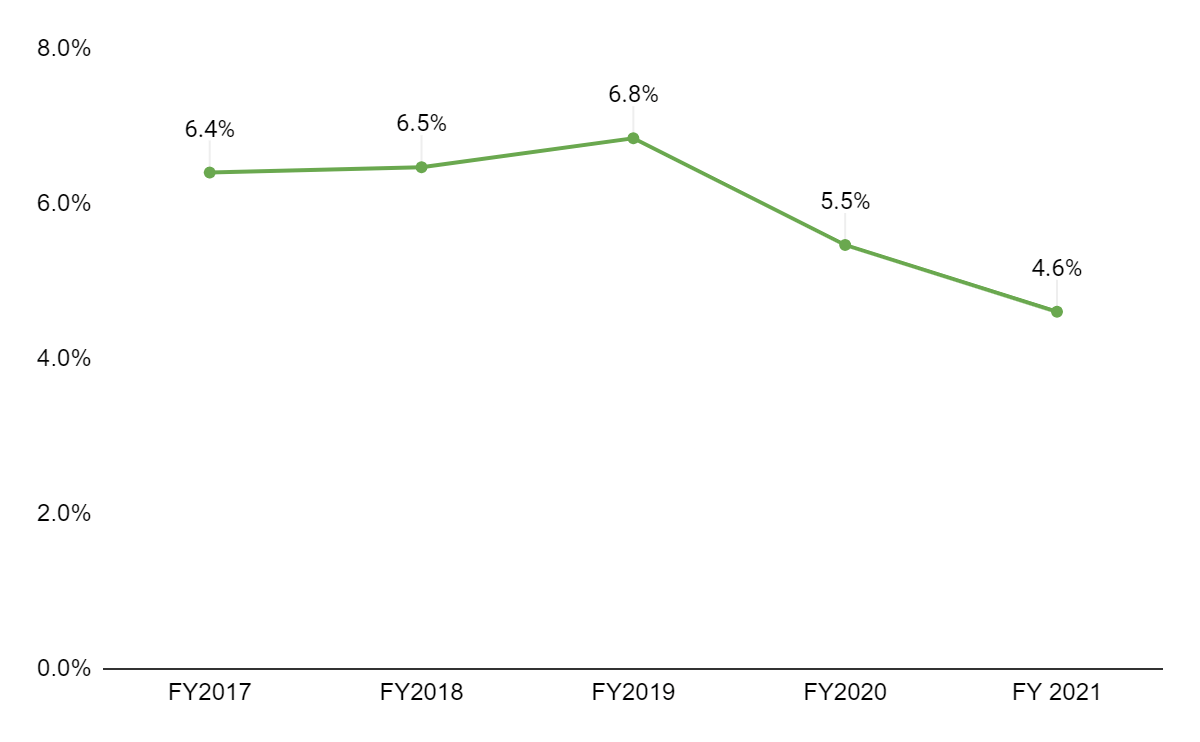 The company has implemented several price increases across its brands in 2022, which should help them offset the negative cost environment. The impact of price increases on margins should be more pronounced in the back half of the year as it continues to take pricing action; it may take some time to flow through their backlog. In addition, the company intends to optimize its Workplace Furnishing segment by phasing out small brands. This should allow them to streamline their product portfolio and focus their resources on profitable businesses. This restructuring should improve the company's operational efficiency as well as its margins, not only in the short term but also in the long run. The company is also addressing the labor shortage by moving multiple production lines to HNI facilities, with favorable labor dynamics. All of these initiatives should contribute to the company's margin expansion.
Valuation
HNI's EPS is expected to increase to $2.71 in FY22 from $1.63 in FY21 as some of the company's revenue growth and margin improvement initiative gains traction. The company is trading at 13.47x its FY22 EPS estimates versus its five-year average adjusted forward P/E of 17.09. The stock also has a good forward dividend yield of 3.39%. I believe the stock is attractively priced and has good growth prospects. Hence, I have a buy rating on the stock.