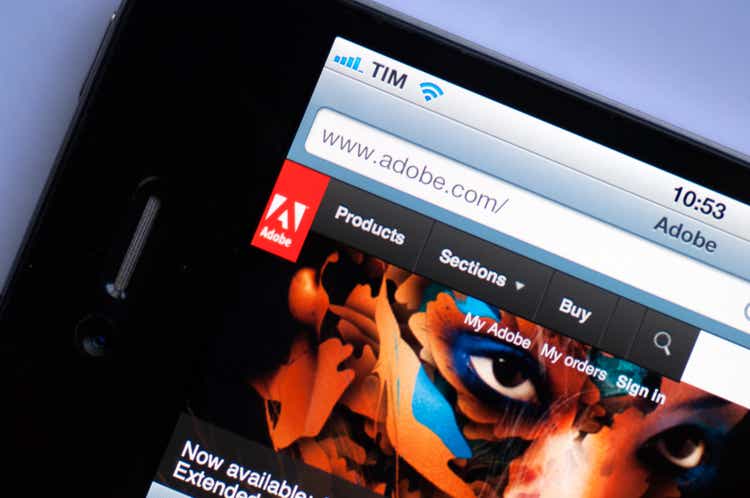 In a previous article, we mentioned why we thought it might have been a good time for investors with a shorter time horizon to take profits on Adobe (NASDAQ:ADBE). Since then, the price of the stock has dropped significantly, shedding 34% of its value.
However, long-term investors who have held on through the volatility shouldn't worry as we believe the stock can easily return to over $600 eventually. Thus, we are now very bullish on Adobe stock.
What Makes Adobe Attractive?
For an in-depth look into Adobe's competitive advantage, we suggest reading the first of our three previous Adobe articles. There, we lay out why we believe the company is one of the best in the entire stock market. In this article, we will focus more on why Adobe will continue to thrive despite very uncertain macroeconomic conditions.
We will begin with the war in Ukraine, which has further impacted an already disrupted supply chain. Many companies that sell physical products continue to see shortages and are unable to meet the strong demand that is still present. Luckily, Adobe only sells software, meaning that it doesn't have to rely on suppliers and stocking up on inventory. This has allowed it to sidestep the issues that have plagued many others.
Also important to note, Adobe has minimal business in Russia and only expects a $75 million impact on revenue for fiscal year 2022. For a company with billions in revenue, there is no need to worry.
Furthermore, thanks to Adobe's subscription-based model, it has reasonably reliable and predictable cash flows. In periods of economic uncertainty, this is exactly what you want - a company that is certain to be profitable.
We still believe that the company has significant pricing power to help hedge against inflation, especially since creative software is difficult to learn and relied upon by many creative professionals. Therefore, these users are unwilling to switch to other alternatives because they will have to relearn how to do everything.
Lastly, thanks to Adobe's strong user base, it can easily expand into new business segments/products that complement its current offerings. This is an advantage that is not common among most businesses. However, the most exciting part about Adobe is the fact that it is very undervalued under current market conditions.
ADBE Stock Valuation
Adobe is not a stock to measure based on valuation multiples because it prints cash and is expected to continue growing at a double-digit pace. Following its most recent earnings report, we've seen articles such as this one that suggest competition is catching up to Adobe because of its "lackluster forecast" and single-digit revenue growth.
The "weak" forecast was only a slight miss where the company guided for $4.34 billion in revenue and $3.30 for EPS. The expectations were $4.4 billion and $3.35 - definitely not a cause for panic. It's likely that management is just being conservative with its forecast in case geopolitical events take a turn for the worst.
In addition, the single-digit revenue growth of 9% was compared to the first quarter of 2021, which included an extra week. When adjusting for the extra week, growth was actually 17% on a constant-currency basis. Not bad at all, considering it's lapping a quarter that saw strong tailwinds because of the pandemic.
However, to prove just how undervalued Adobe truly is, we have reversed engineered a discounted cash flow analysis to determine the required growth rate to justify its current share price of $432 at the time of this writing. The results were as follows:
As you can see from the image above, it will only require an 8.35% CAGR in free cash flow over the next 10 years for Adobe to be considered fairly valued at current prices. It's very reasonable to assume that the company will grow much faster than that over the next decade, especially considering that analysts expect a CAGR of more than 17% over the next two years.

Therefore, what is the required growth rate to reach $600 per share? The answer is 12.47%, which again, seems very reasonable to us.
Final Thoughts
Adobe is one of the best stocks on the market that is trading at a steep discount to its intrinsic value. It has the pricing power to weather inflation and the stable cash flows to navigate through macroeconomic uncertainties. As a result, we are bullish on the stock.