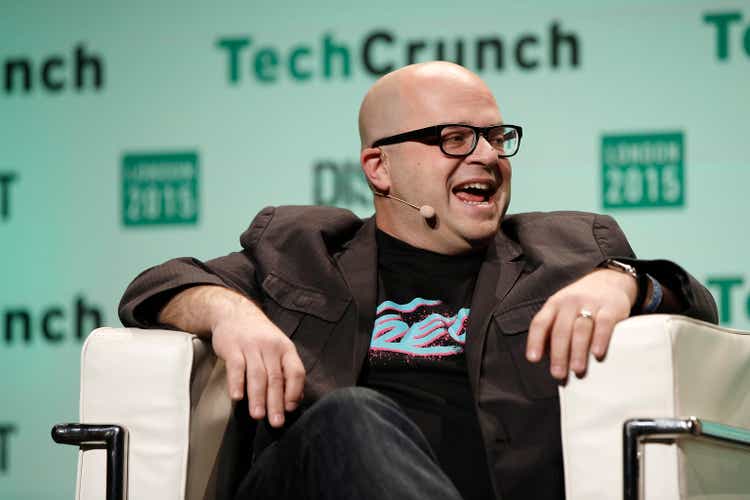 Twilio (NYSE:TWLO) caught my attention, weirdly, because Gojek is a customer of the company. I am a heavy user of Gojek and it got me curious as to how Twilio serves Gojek. With that said, here's a deep dive on Twilio. Enjoy!
Investment Thesis
Twilio has a 38% market share in the cloud communications platform as a service (CPaaS) market and it is growing by the day. The company offers highly configurable communication channel solutions through easily-integrated APIs, supported by its communication and network infrastructure. At the same time, the company is using its deep expertise in communications to branch out into the customer engagement realm - Segment and Twilio Engage will be key drivers for the company.
The company is growing at a massive clip, fueled by the growth of the digital economy. Unprofitability remains the biggest risk for investors, which may be perceived negatively in a challenging macro environment. However, management is investing heavily in growth as they attempt to build a communications monopoly, also supported by its switching costs, technology, and network effects moats.
Despite the risks, Twilio is trading close to its lowest valuation multiples ever, providing investors with a large margin of safety. Twilio is a compelling buy here.
Value Proposition
In a nutshell, Twilio is the leading CPaaS provider. Twilio provides a modern communications infrastructure as well as a customer engagement platform, which is highly configurable, scalable, and simple. Through a set of Application Programming Interfaces (APIs), developers can embed Twilio's software solutions into their applications and websites, such as SMS, chat, and email.
Mission: Unlock the imagination of builders

Vision: To become the leading customer engagement platform
Twilio started out in 2008 by launching Twilio Voice, which allows businesses to make and receive calls through the cloud. A year later, Twilio launched Twilio SMS which turned out to be a more successful business than its first product. Since then, Twilio has launched a variety of products and services, both through internal development, as well as external acquisitions. Today, Twilio is available worldwide, serving more than 180 countries.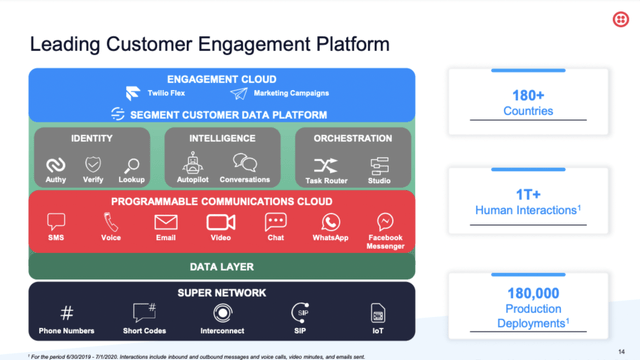 As shown above, Twilio's value proposition can be divided into four main groups:
Solutions
Application Services
Core Channel APIs
SuperNetwork
Let's briefly go over each category, starting from the bottom.
SuperNetwork
The SuperNetwork is Twilio's software layer that connects traditional telecommunications infrastructure and the Internet, enabling customers to communicate with connected devices anytime, anywhere. The SuperNetwork is built on an intelligent infrastructure with over 1,500 carrier connections, so developers can focus on building their software while Twilio manages the communication network. In its very essence, the SuperNetwork is the backbone that supports all of Twilio's products and services.
The SuperNetwork includes:
Phone Number Provisioning. Instantly access and acquire local, national, mobile, and toll-free phone numbers and connect them to the customers' applications
Short codes. A short code is a special telephone number used to send and receive high-volume text and picture messages. Twilio handles the procurement and carrier approval.
IoT SIM. Easily connect IoT devices to global cellular devices. Twilio also offers the Super SIM which includes enhanced capabilities. Customers use Twilio IoT for use cases such as fleet tracking, smart wearables, shared scooters, patient monitoring, smart building management, and more. Example customers include Lime and SmartRent (SMRT).
Elastic SIP Trunking. Enables legacy voice applications and infrastructure to connect to the SuperNetwork. This feature powers Zoom Phone (ZM), which allows users to make and receive phone calls via the Internet, rather than through a traditional phone line.
Interconnect. Protects all communications with enterprise-grade, network-level security on the Twilio Cloud.
Channel APIs
This is Twilio's bread and butter, its core offering that is built on top of the SuperNetwork. Channel APIs consist of software products that enable developers to seamlessly integrate powerful APIs to allow their companies to connect with customers through a variety of channels. These channels include:
Messaging. Send and receive messages via traditional channels such as SMS and MMS, as well as OTT channels like WhatsApp, Facebook Messenger (FB), and Google Business Messages (GOOG). In July 2021, Twilio acquired ZipWhip to enhance its toll-free messaging capabilities. Some of the use cases include ETA notifications, marketing messages, and appointment reminders which Airbnb (ABNB) utilizes.
Voice. Enables businesses to facilitate calls to a browser, app, or phone, globally. At the same time, developers can embed additional features such as text-to-speech, call recording, audio conferencing, transcribing, SHAKEN/STIR protocol to combat robocalls, and emergency calls.

MercadoLibre (MELI), Instacart, and Doordash (DASH) are excellent examples that use this feature.

Email. Twilio's Email API enables businesses to send and receive emails at scale, made possible through its acquisition of SendGrid in February 2019. Use cases include transactional emails such as account creation, shipping notification, and password recovery, as well as marketing emails such as product recommendations, customer loyalty programs, and newsletters. Glassdoor uses SendGrid to deliver personalized content to job seekers and employers.

Video. Provides developers the ability to include real-time voice and video in web and mobile applications. Some of the use cases include video consultations, recruiting, social networking, e-learning, and telehealth. For example, Twilio powers Doximity's Dialer Video (DOCS) in its app.

Twilio Live. Launched in July 2021, Twilio Live gives developers the tools to create live streaming solutions in their websites and applications. Use cases are similar to Video, but also include broadcasting live events such as conferences, webinars, fitness, concerts, and more.
Services
Twilio offers other value-added services, including:
Identity. To add an extra layer of security, developers can utilize Twilio Verify which verifies users via SMS, voice, email, push notification, and time-based one-time passwords. Twilio Authy, which was acquired back in 2015, provides two-factor authentication solutions that can be embedded into any application - the Authy app generates a two-step verification token on a registered smartphone which the user can use to complete the verification process. Both MercadoLibre and Twitch use Twilio Authy. Lastly, Twilio Lookup helps reduce fraud, increase lead conversion, and improve message delivery. In early March this year, Twilio also acquired Boku Mobile Identity to enhance the user onboarding experience while minimizing account fraud.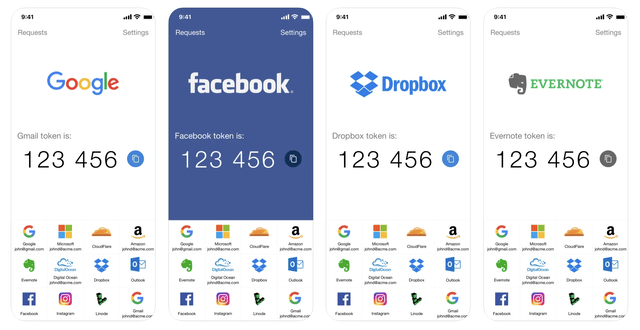 Intelligence. Twilio Conversations allows developers to build cross-channel conversations for customer support and commerce use cases, all in a unified messaging API.
Orchestration. Orchestration helps to automate the process flow within applications. Taskrouter routes messages and calls intelligently to the right agent. Studio is a low-code, drag-and-drop builder to help developers build, deploy, and manage application workflows.
Solutions
With Twilio's vast experience as a CPaaS provider, Twilio has introduced Solutions that are built on top of the Channel APIs and Services. These Solutions consist of higher-level APIs that address some of the most common use cases and customer challenges in the communications field.
Twilio Flex. Twilio Flex is a fully-programmable cloud contact center platform that enables agents to serve customers via the different communication channels that Twilio supports. Flex can be integrated with other CRM solutions including Salesforce (CRM) and Zendesk (ZEN). Shopify (SHOP) and Lyft (LYFT) leverage Twilio Flex to serve their huge network of sellers, buyers, drivers, and riders.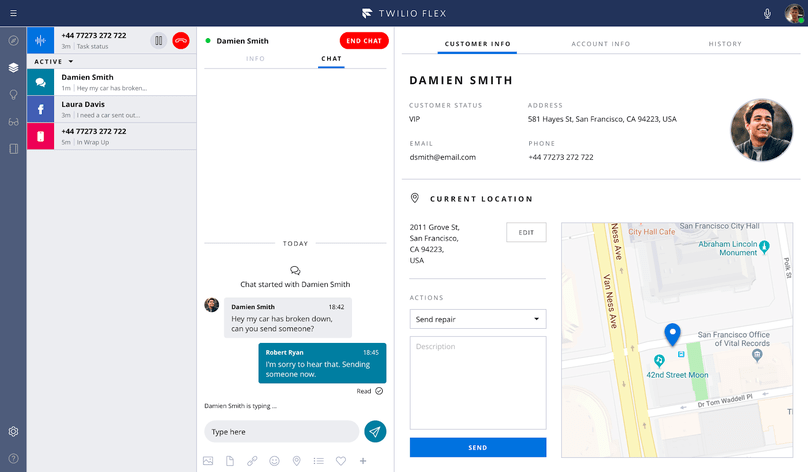 Marketing Campaigns. As the name implies, Marketing Campaigns, allows digital marketers to leverage SendGrid's leading email API platform to build and send email campaigns at scale, including access to contact management, email design, campaign set up, and a/b testing.
Segment. In November 2020, Twilio acquired Segment, the leading customer data platform, for $3.2 billion. This was a big acquisition for both parties due to the immense synergistic opportunities that come to fruition as a result of the combination. Segment's platform enables companies to: find Connections by collecting customer event data and touch points from mobile apps, websites, and servers; develop Personas by creating unified customer profiles based on the event data that Segment collects; establish Protocols by standardizing data collection across multiple sources, ensuring that the data is clean, consistent, and compliant. By combining Segment's leading customer data platform and Twilio's top-class communication channels, companies can distribute hyper-personalized, omnichannel marketing campaigns to their customers on the right communication channel. In fact, that is what Twilio is leaning towards, as seen by its recent launch of Twilio Engage in October 2021. As standalone solutions, Segment and Twilio are very powerful tools. But together, they place "data-driven customer engagement into the hands of even more builders." And that's why Twilio Engage was launched. With Twilio Engage, companies will be able to deliver personalized engagement whichever stage the customer is at in their Journey. As such, companies will be able to reduce cart abandonment rates, increase repeat purchases, increase conversions, and ultimately, drive meaningful engagement across different channels.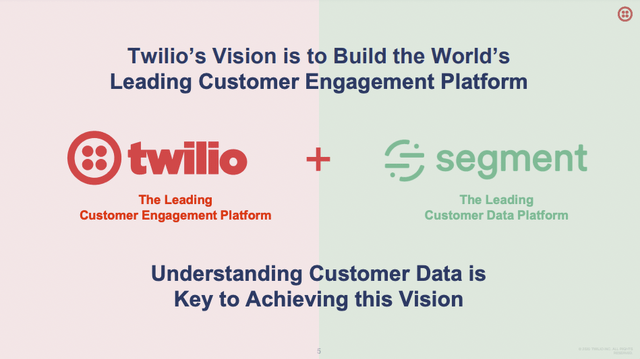 The last few paragraphs discuss Twilio's main value proposition. There are other products and services that the company offers, such as Frontline, Trust Hub, and Event Streams. However, they are still in beta mode, so it is not worth diving into at this moment.
The bottom line is Twilio offers one of the most complete CPaaS solutions in the market as demonstrated by its vast line of Channel APIs. Furthermore, it has the firepower of the leading customer data platform, Segment, which should accelerate its ambitions to become the leading customer engagement platform.
Market Opportunity
According to Research and Markets, the Global Cloud Communication Platform Market is expected to grow from $4.6 billion in 2021 to $22.4 billion by 2028, at a 25.3% CAGR. Twilio noted that their TAM is about $62 billion and the acquisition of Segment boosted this TAM to $79 billion as it expands to the customer data platform segment.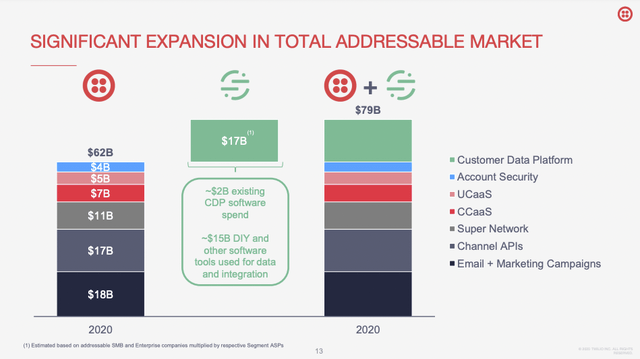 In Twilio's FY2021 Q4 prepared remarks, CEO Jeff Lawson identified three key trends for the company: digital transformation, the growth of the DTC model, and changes in data privacy policies.
As we all know, the pandemic has accelerated digital transformation and technology adoption to unimaginable levels - 97% of companies said their digital communications strategy has been pulled forward by 6 years. People scrambled to adapt to the changing environment which includes activities such as working from home, online shopping, ordering on-demand delivery, watching TikTok, and telehealth consultations. As such, businesses need to provide the digital tools required to maximize their customers' experiences. Twilio is a big proponent of the pandemic as Twilio helps businesses communicate and engage with customers on a deeper level. However, this digital transformation is unlikely to stop when the pandemic is long forgotten. The sub-industry trends that we see among Twilio's customers are likely to stay, which should benefit Twilio in the long run.
It is also worth noting that, Twilio powers the innovators and disruptors of the modern world, which are growing rapidly in their respective industries. These companies need speed-to-market, reliability, and scalability. Twilio's open API software makes it easy for these companies to go to market and scale. As such, Twilio will benefit immensely from emerging markets and industries.
The growth in the DTC business model, particularly in the data landscape, is also ramping up investments in Twilio. The challenge that smaller businesses face is the fact that they rely on customer engagement solutions offered by tech giants such as Apple (AAPL), Google (GOOG), and Facebook (FB). These solutions may not offer granular data insights that customer data platforms can provide. Furthermore, these tech giants can use the vast amount of data they collect and then use it to their advantage, thus causing businesses that rely on these solutions to lose market share and loyalty. In addition, businesses have to pay "taxes" for using these solutions. Twilio's Channel APIs and Segment's customer data platform solve these problems. Jeff Lawson at the Morgan Stanley 2022 TMT Conference:
If you have to pay a cut to Apple or to Google to Amazon, it's like 30% of your revenues just to keep, stay in business because your company reacquiring your own customers. How is that a sustainable business model? Now, the answer is you have to acquire a customer once and then serve them incredibly well. So, when I want shoes, I go to nike.com first. I don't go to Amazon first. And that's the challenge every company has, but that's also the opportunity because the CDP is how you understand your customer.
Lastly, the recent changes in data privacy policies, particularly changes in Apple's Identifier for Advertisers (IDFA) and third-party cookies, means that companies will need access to first-party data more than ever. Again, Twilio, Segment, and Engage solve these problems. The shift from third-party data to first-party data sources will be a massive tailwind for Twilio.
With recent Apple IDFA changes, Google's planned deprecation of cookies, and increased global regulation of customer data, companies need to decrease their reliance on third-party data. Today Twilio Segment manages an enormous amount of first-party customer data but it's a de minimis fraction of the total customer data that's out there. IDC forecasts the CDP market to grow to over $3B by 2025, from an estimated $1.5B in 2021. The opportunity to improve how companies engage with their customers using data gets bigger every year as they continue to digitize and we're just getting started.
Revenue Model
Twilio generates revenue in two ways. First, the company incorporates a usage-based business model where Twilio earns a fee when, for example, a customer sends a message or makes a phone call. As customers use more of Twilio's software products, Twilio earns more fees, a win-win situation. Usage-based fees make up about 72% of Twilio's FY2021 revenue.
The rest of Twilio's revenue primarily consists of monthly subscription fees. Some of the monthly charges include Twilio Flex and Email API.
Here's a price list of some of Twilio's popular products.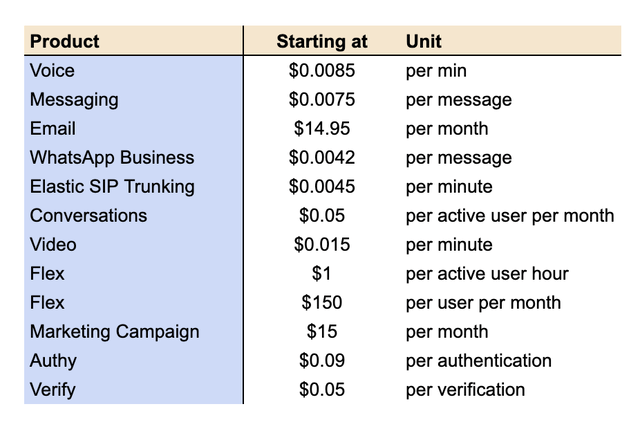 The beauty about Twilio's business model is that Twilio's pricing is quite flexible so customers can choose whether they want to pay by usage or pay upfront based on a fixed monthly fee. At the same time, developers can begin building with a free trial. This removes a lot of financial friction, especially for smaller, underfunded businesses. As they build more confidence in Twilio's products, they can increase consumption and pay based on usage.
Twilio's Cost of Revenue is primarily made of fees paid to network service providers based on the volume of phone calls, texts, and telephone numbers acquired, cloud infrastructure fees based on server capacity consumption, and personnel.
Income Statement
In FY2021, Twilio grew Revenue by 61% YoY. As you can see, Revenue growth was decelerating between 2019 and early 2020. However, the pandemic fueled the digital transformation which saw an acceleration of growth. Furthermore, the 2020 election year, saw increased usage of Twilio's products, as displayed by the 65% increase in FY2020 Q4. Since then, Twilio maintained 50%+ revenue growth throughout FY2021, despite tough YoY comps.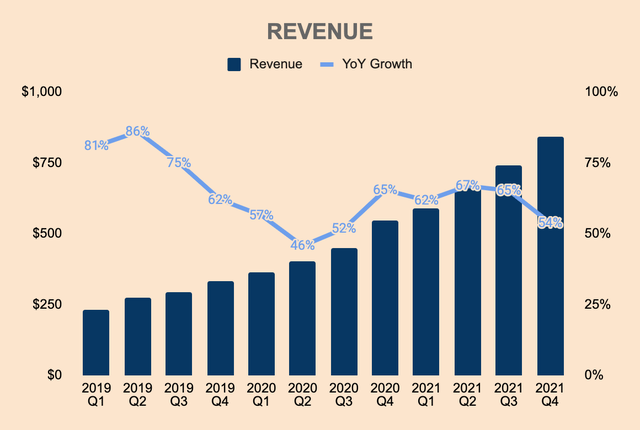 Revenue growth was robust for the last few quarters due to three reasons. First, Twilio continues to land more and more Customers, although the only-16% growth in the last quarter may have worried some investors. Again, this may have been due to higher-than-average churn rates after the presidential election campaign in 2020 Q4. Nonetheless, the slowdown in Customer growth is expected due to the law of large numbers.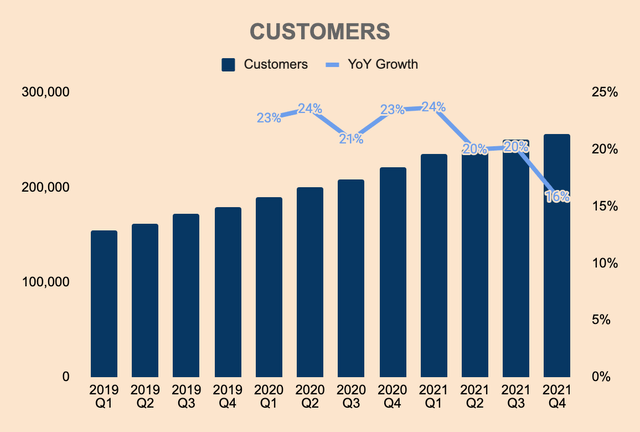 Second, Dollar-Based Net Expansion Rate (DBNER) continues to be strong. The slowdown in Customer growth can also be explained by the slight drop in DBNER, which was 126% in Q4. Excluding political traffic, however, DBNER was 130% in FY2021 Q4. This shows that new Customer growth and existing Customer spending remain fundamentally strong.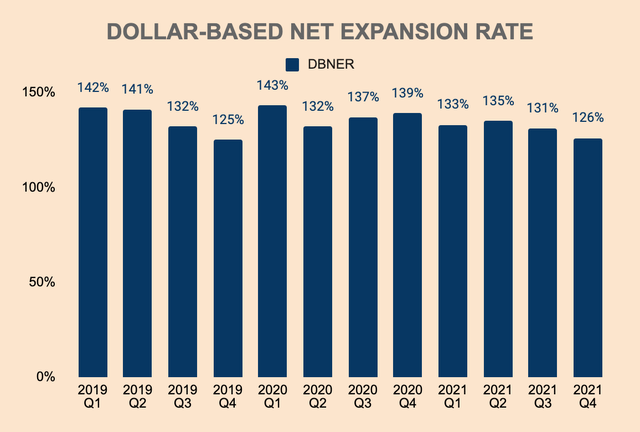 Third, Revenue growth was artificially lifted due to a few acquisitions. Segment and Zipwhip contributed $201 million and $55 million of Revenue in FY2021, respectively. Organic Revenue, which reflects Twilio's core businesses and excludes Revenue from acquisitions, grew 42% in FY2021, and 44% when excluding political Revenue. For Q4, Organic Revenue excluding political Revenue was 39% - still strong growth numbers although not as strong as those from previous quarters. I think this is another area that investors were worried about.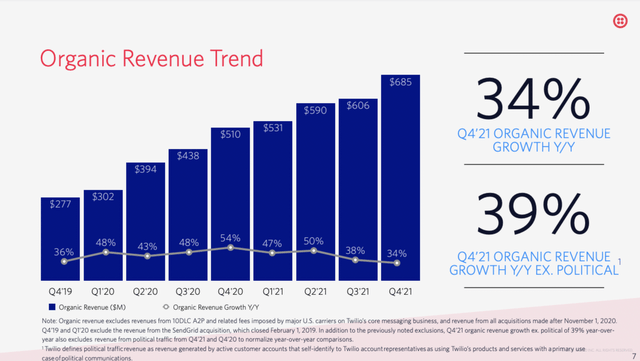 While it is helpful to look at Organic Revenue to understand Twilio's growing core business, I think investors shouldn't worry too much about it as it does not take into account Revenue synergies (i.e. Twilio Engage and cross-selling) as a result of Twilio's acquisitions. I think it's a classic case of when two or more companies come together, the whole is greater than the sum of its parts.
The next few charts show Twilio's profitability metrics and trends. I will include both GAAP and Non-GAAP measures.
FY2021 Gross Profit grew by 52% YoY, slower than Revenue growth of 61%. This is due to a decrease in Gross Margins, primarily as a result of higher contribution from International Customers, higher A2P fees set by certain carriers, and higher network service provider fees.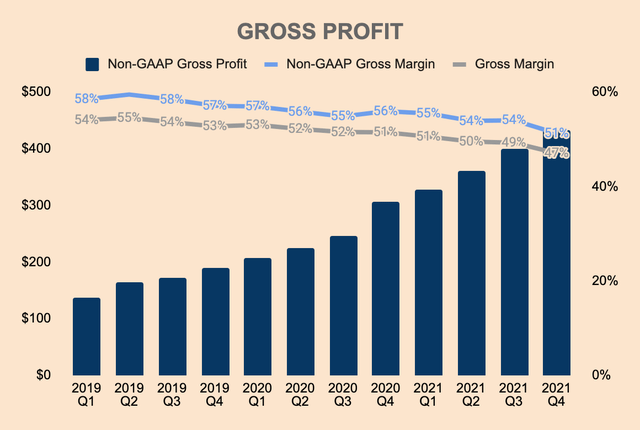 Here we can see that margins have been pressured due to the growing International Revenue as a % of Total Revenue, which stands at 34% as of the latest quarter. The Messaging product was the primary driver of this growth, which has lower Gross Margins than most products.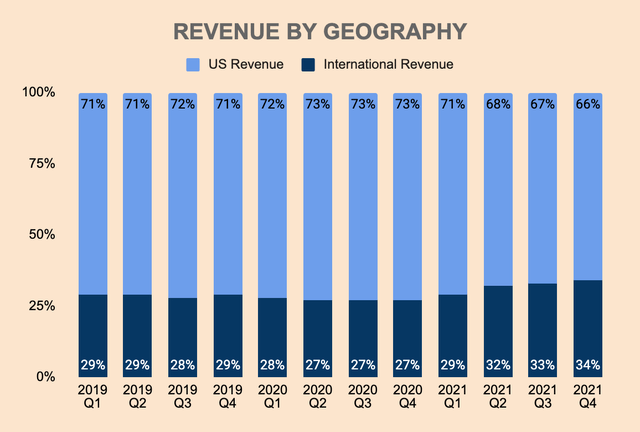 While the downtrend is concerning, management reaffirms long-term Non-GAAP Gross Margins of 60%+ as higher-margin products such as SendGrid email APIs and Segment make up a bigger part of total Revenue.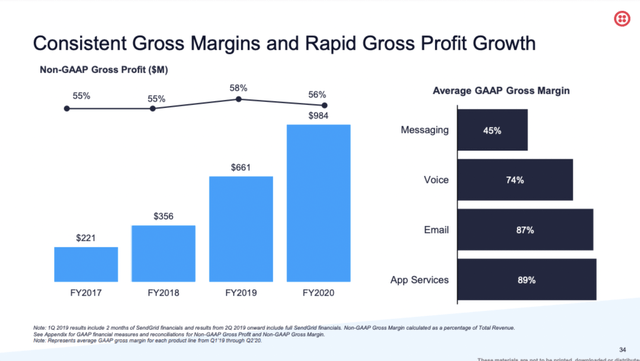 Moving down the income statement, Operating Expenses was $2.3 billion for FY2021, a 64% increase from the previous year. Below shows how the different components of Operating Expenses are broken down as a % of Revenue. We can see that Sales & Marketing Expenses make up the bulk of Operating Expenses. It is also trending up, primarily due to the company's increased expenditures for its annual customer and developer conference, SIGNAL.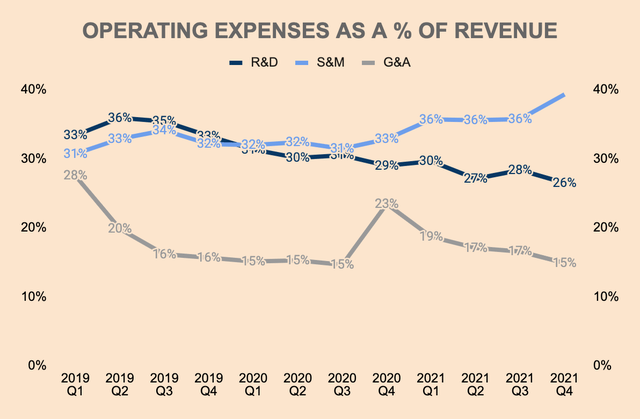 GAAP Operating Profit is still very negative at (30)%+ due to heavy reinvestments into the business. Even after adjusting for non-cash items and other non-operating items, Non-GAAP Operating Profit is still flirting around the breakeven level. This is typical of high-growth SaaS businesses. Even so, it would be encouraging to see a material improvement in Operating Margins - management mentioned that they are committed to achieving consistent Non-GAAP Operating profitability by 2023.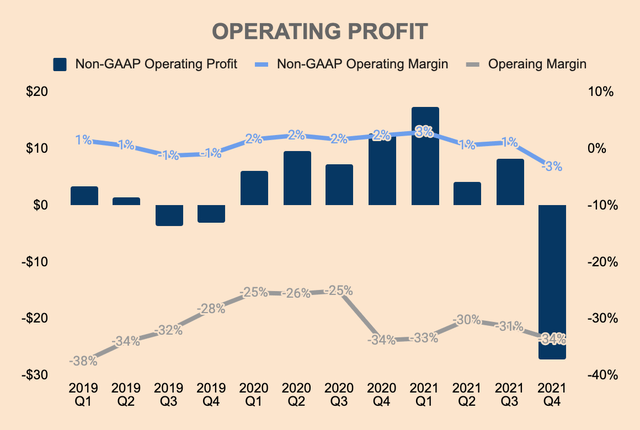 Net Profit Margins are seeing the same trends. Below, we can see Net Profit Per Share for the company, which was $(5.45) and $(0.25) per share in FY2021, on a GAAP and Non-GAAP basis, respectively. The widening GAAP loss per share is definitely a concern, which may worsen sentiment if it continues to trend downwards.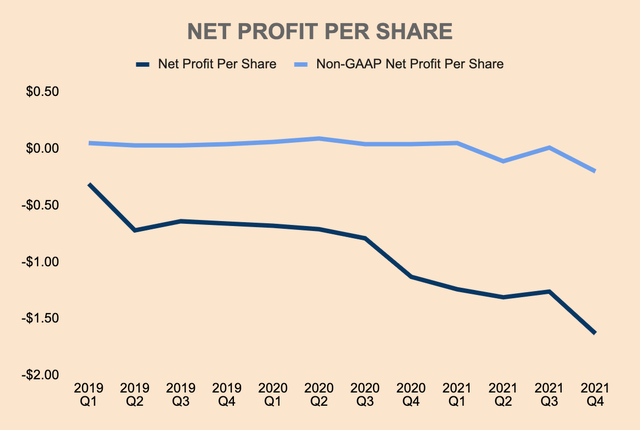 In terms of outlook, management issued the following guidance for FY2022 Q1. While it is not the 60%+ YoY growth rates that we have been accustomed to seeing over the last few quarters, a 46% Revenue and 33% Organic Revenue YoY growth rates are still commendable despite tough YoY comps. Do note that starting in Q1, Segment Revenue will be included in Organic Revenue. In addition, management has a history of issuing conservative guidance, which the company always beats, whether it be its own guidance or analyst estimates. This is likely due to the fact that Twilio's business model primarily runs on usage-based fees which are harder to predict. Nonetheless, investors should expect better performance as compared to management's guidance.

In the long-term, management expects to achieve 30%+ Revenue growth in the next three years, 60%+ Non-GAAP Gross Margins, and 20%+ Non-GAAP Operating Margins. Of course, this is on a Non-GAAP basis, which Wall St and Main St may not be particularly happy with. Even so, management's affirmation of Non-GAAP profitability by FY2023 is a small step towards being a self-sustaining, cash-rich business.
Balance Sheet
Twilio has a very strong balance sheet, with a net cash position of $4 billion as of the latest quarter. Its balance sheet is also very liquid, with Current Ratios of 8x as of the latest quarter. It is important to note that most of Twilio's cash position has been bolstered by equity and debt offerings, rather than Cash Flow from Operations. The good news is, management's timing couldn't be any better. For example, Twilio locked in ultra-low interest rates for its $1 billion Senior Notes Offering back in March 2021, as well as issued $1.5 billion of new shares at a price of $443 per share, which was an all-time high.
All in all, Twilio has a strong balance sheet despite being neither cash-generative nor cash-burning. Its net cash position also presents an opportunity for the company to seek additional M&A opportunities.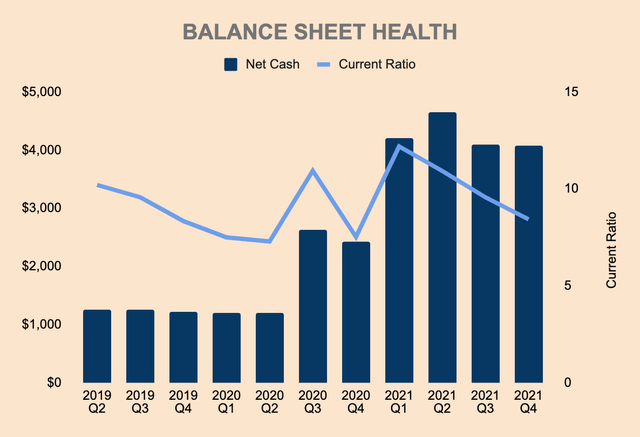 Cash Flow Statement
The chart below shows Twilio's Cash Flow activities over the last few quarters. Operating Cash Flow has been quite thin as the company hovers between profitability and unprofitability. Investing activities have been used predominantly for acquisitions and investing in marketable securities. Financing Cash Flow, as discussed earlier, primarily consists of occasional equity and debt raises. Twilio does repurchase its common shares every quarter, but it is not a material figure.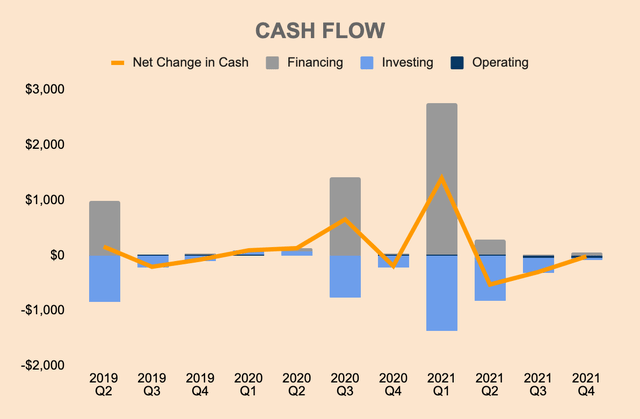 Share-based compensation is still high at about 20% of Revenue. This is reasonable given that Twilio is still in its high-growth stage.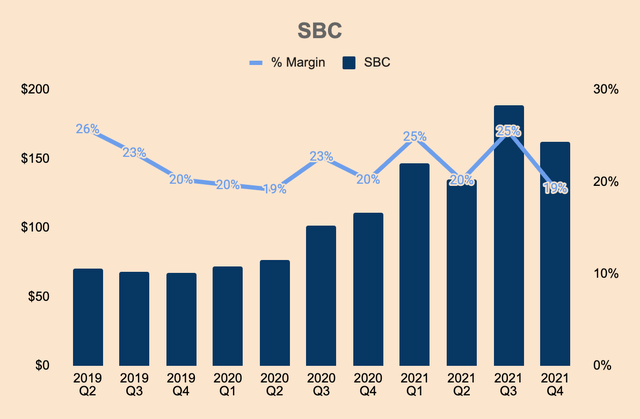 Again, Twilio is still reinvesting in all areas of its business. The company has been spending on growing its workforce, increasing market awareness, and R&D for product innovation. As such, Free Cash Flow is still negative, at $(104) million in FY2021. The cash burn is still manageable given Twilio's strong balance sheet.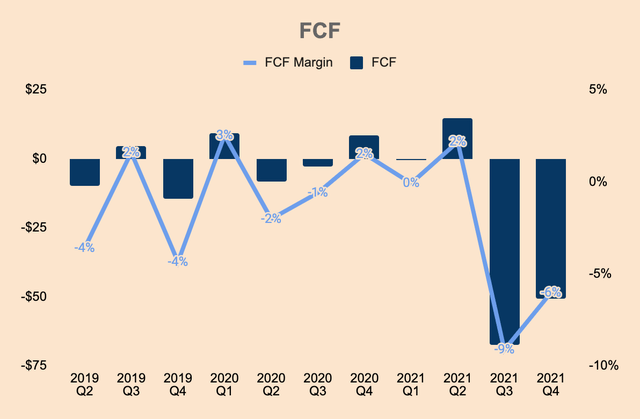 Competitive Moats
Based on my research and analysis, I identified four competitive moats on the company: switching costs, proprietary technology, network effects, and culture.
Switching Costs
Twilio provides the communications infrastructure and software for developers to integrate into their apps or websites. Developing in-house solutions is time-consuming and costly given the overall complexity of building a communications platform from scratch. As such, once customers use Twilio's solutions, they are hooked into it for the long run as switching providers or building an in-house platform would mean a radical change in the communications infrastructure of the business and how it communicates with customers. That is a major headache that most businesses are unwilling to go through.
Furthermore, staying on Twilio's platform increases the likelihood for companies to use and spend more of Twilio's products and solutions. As Jeff Lawson always mentioned, Twilio adopts a land-and-expand strategy, or what he likes to call an "in and up" strategy. As companies embed more of Twilio's products, both platform stickiness and switching costs increases exponentially.
Our strategy to address this massive opportunity is simple: "in and up". It starts with us developing easy to use APIs that developers love, which leads us into companies of every shape and size. Our focus on and support of developers drive them to become our champions inside of companies. The key to great APIs is that they're easy to adopt, they're priced in a usage-based model, and they abstract great complexity so a developer can solve difficult problems with just a few lines of code.

It won't surprise most people to find out that our most scaled developer products are messaging and email, because email and messaging are so ubiquitous. Every developer needs them in their toolbox, which is why SendGrid was a great acquisition and why our messaging business continues to deliver such great results. That's the "in" motion and it's crucial. Customers typically leverage these APIs to solve some kind of business problem – usually for better marketing, better sales, better in-product experiences, or better service and support. And because our messaging business has been growing so fast, for so long, sometimes this "in" motion mixes down gross margins in the short term, which is a tradeoff we accept, because it allows us to add customer relationships at scale, that we can grow in the long term.

Importantly, these relationships also allow us to move "up" – up in strategic value, up in contract value, and up the org-chart. It allows us to move up to software, where we offer Flex, Frontline, Segment, and soon, Engage. These are the software products that are often adopted by business decision makers like the head of support, the head of marketing, or the head of sales. While all of these products generate less revenue than messaging today, collectively they are growing faster than organic messaging, and over time, they will drive improvements in gross margins, as well. The software products also tend to be "sticky" as business leaders find these capabilities indispensable to the customer experience they are trying to cultivate.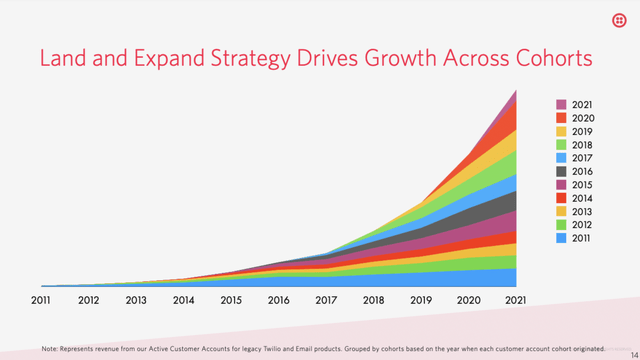 Proprietary Technology
According to IDC, Twilio is the market leader in the CPaaS space. As shown below, Twilio is miles away from its competitors.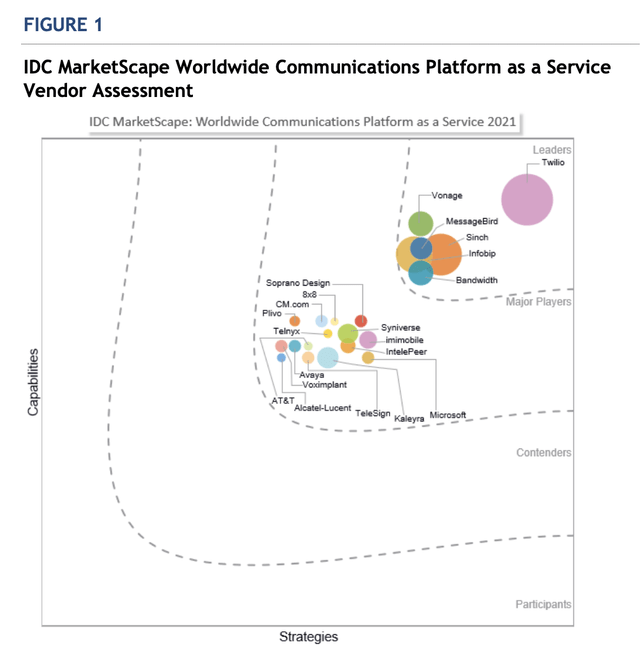 G2 also recognizes Segment as a leader in the Customer Data Platform (green logo at the top right corner).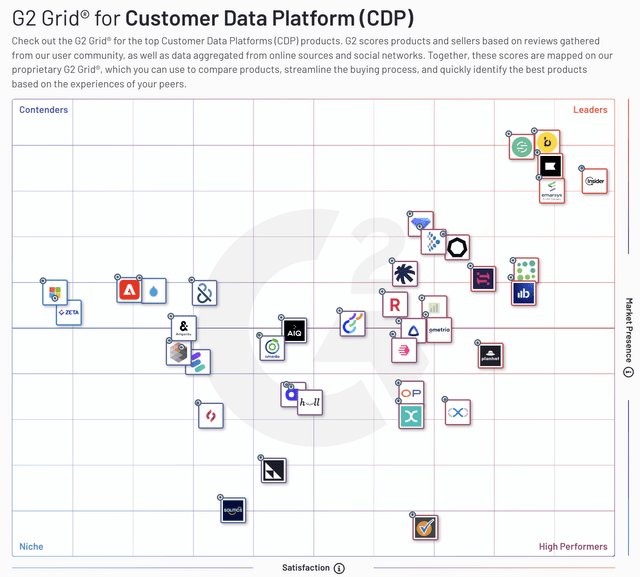 Moreover, IDC also recognizes Segment as the market leader in the Customer Data Platform market, with an 8.8% market share.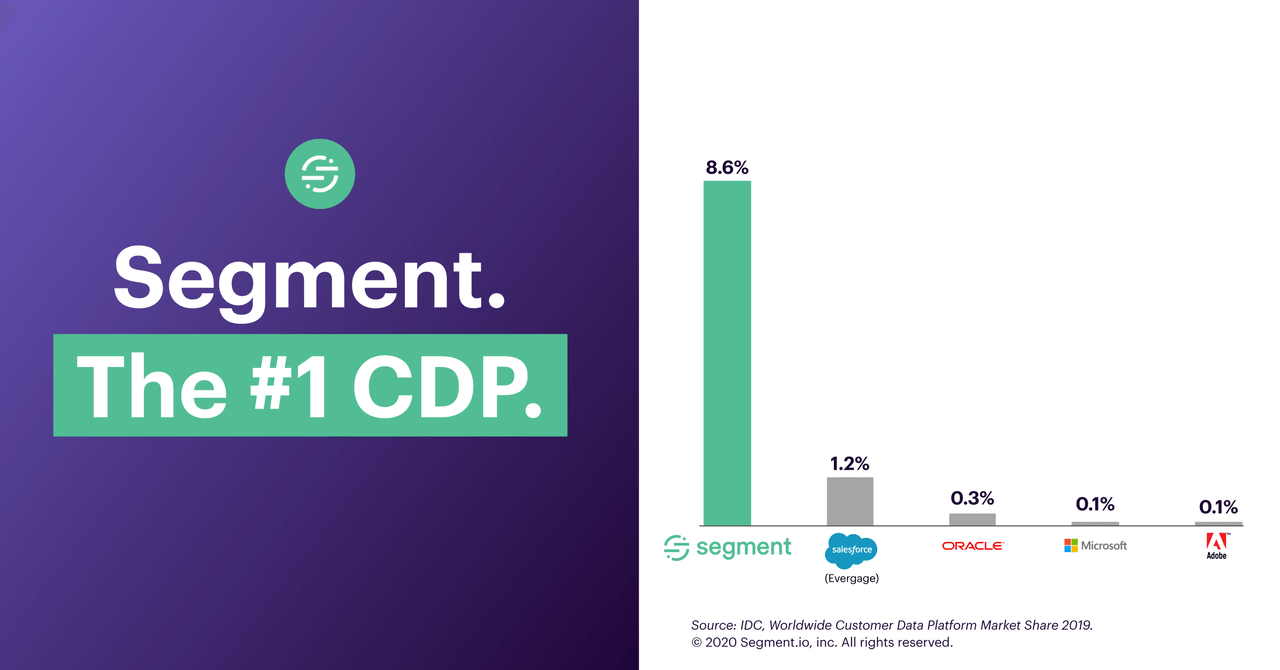 Being a market leader in both the fast-emerging CPaaS and CDP markets speaks volumes about Twilio's superior value propositions as well as its immense opportunity to capture the growing market.
Network Effects
Twilio's scale is unmatched. The company supports 1 trillion interactions per year, connects 3.4 billion phone numbers globally, sends 592 million messages per day, sent over 3 trillion emails, and processed over 10 trillion Segment events. The vast amount of data it collects enables the company to launch better, smarter, faster products, which can be deployed across its network of customers.
Twilio serves 36% of the Global 2000, spanning multiple industries and different business sizes. In FY2021, Twilio ended the year with more than 500 consulting partners, a 119% increase YoY. It is also worth noting that Twilio's customers have strong brands, network effects, and scale of their own, which further amplifies the network effect moat.
Culture
I don't normally include culture as a moat but it is hard not to mention that Twilio's culture plays a huge part in the company's success. The company is founder-led with one of the most energetic, visionary leaders I've seen. Twilio ranked #14 in Glassdoor's Best Places to Work in 2022 and it has an overall rating of 4.3/5.0. In the end, the people are what drives the company forward and upward, and Twilio's high Glassdoor rating shows how strong its culture is. Ultimately, competitors can copy products, but culture cannot be replicated.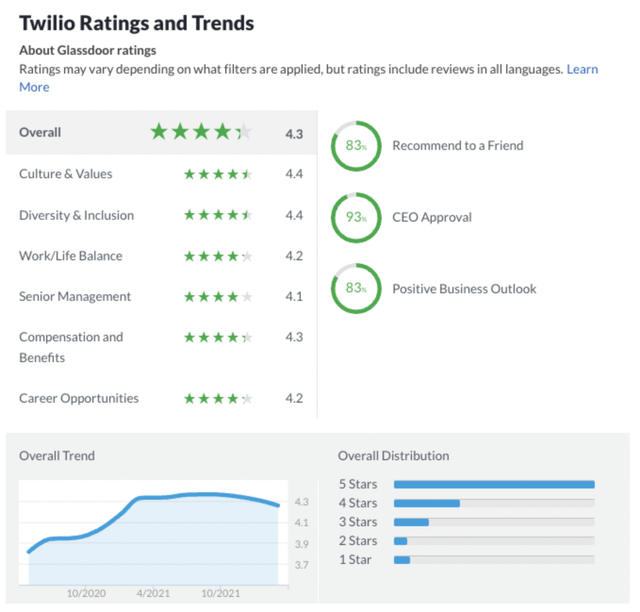 Valuation
As of this writing, Twilio is down 65% from its all-time highs. On an EV/Sales basis, TWLO is trading close to its historical lows at only 8.5x LTM Sales and 6.3x NTM Sales. Its multiple is also lower than the March 2020 lows, despite being a much bigger and stronger business today.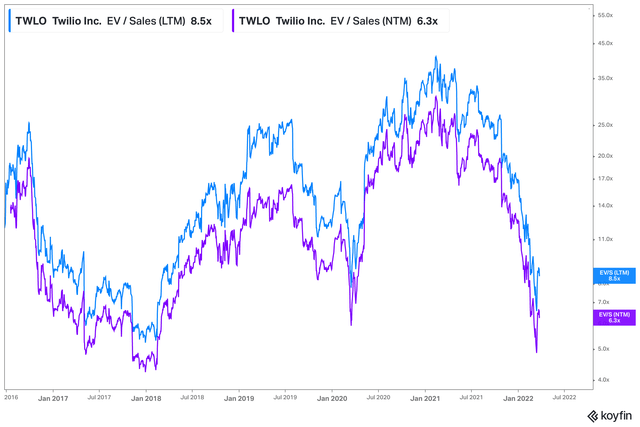 In terms of EV/Gross Profit, Twilio is trading at 17.3x, at its March 2020 lows.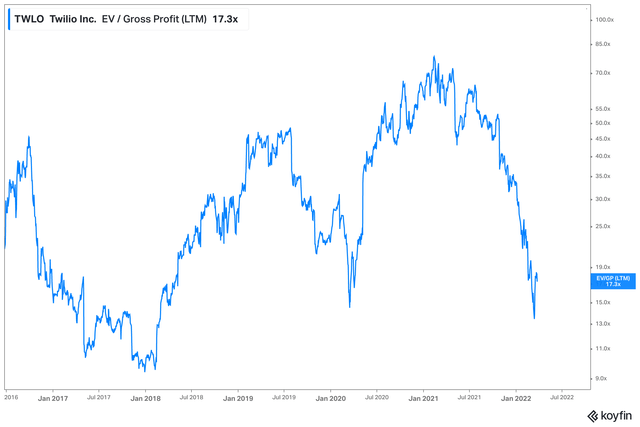 Compared to peers, Twilio is attractively valued. Twilio has the same valuation multiple compared to Microsoft despite having expected growth rates twice that of Microsoft. Bandwidth (BAND) is probably the closest peer in terms of business model - Twilio's higher multiple is more than justified given its market leadership status, competitive moats, and higher growth rates. Five9 (FIVN), a cloud contact center provider, is trading more expensively than Twilio despite slower expected growth rates. Of course, these are not perfect comparisons, but they are still good proxies to Twilio's valuation.

Put simply, the selloff has provided investors with a large margin of safety as shown by its valuation multiples being very close to historical lows. Given Twilio's high-quality business model, long growth runway, and competitive advantages, Twilio is a compelling buy at these levels. Discounts like these don't happen very often.
Catalysts
Twilio Ventures: In December 2021, Twilio launched Twilio Ventures, a $50 million fund aimed at finding and investing in early-stage customer communication and engagement companies. If proven opportunistic, some of these companies could end up being acquired by Twilio and embedded into its platform. Here are its current and previous investments so far:
Algolia, an API platform for search and dynamic experiences;

Mux, a platform that enables developers to build unique live and on-demand video experiences;

Hyro, an adaptive conversational AI platform;

Calixa, a product-led growth platform for go-to-market teams;

Well Health Inc., a SaaS digital health leader in patient communications;

Terazo, an API-first software development, DevOps, and platform managed services firm;

Community, the innovative text messaging platform that powers direct relationships and one-on-one conversations at scale;

Courier, a developer infrastructure for product notifications; and

Krisp, an AI-powered app to remove background noise and echo in meetings.
Twilio Engage: Engage is the by-product of combining Twilio's industry-leading Channel APIs as well as Segment's innovative customer data platform. Engage could serve as a significant revenue driver as it enables customers to communicate with their customers at a deeper level, which should increase engagement and ultimately, conversion. It is also the perfect medium to cross-sell to Twilio-only and Segment-only customers, thus solidifying its "in and up" strategy.
Building a Communications Monopoly: In a rapidly evolving world, competition has always been tough. For Twilio though, it is playing in a league of its own. Not only is Twilio the market leader in the CPaaS category, but it also continues to eat away market share. According to Synergy Research Group, Twilio had a global market share of 32% in Q3 of FY2019. Today, Twilio dominates the space with a 38% market share. If Twilio continues to delight existing and prospective customers, Twilio could run a global monopoly as a CPaaS provider.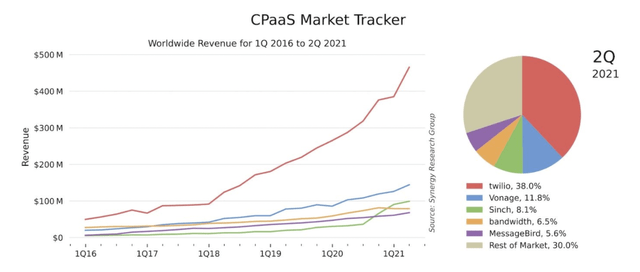 Risks
Unprofitability: As discussed earlier, Twilio is still unprofitable on a GAAP basis. Even by Non-GAAP measures, Twilio is still struggling to find consistent profitability. Sure, Twilio is investing aggressively for future growth. But if profitability metrics worsen amidst a rising interest rate environment and a looming global recession, the stock may be punished in the short term.
Management Changes: There have been a few management changes in Twilio lately, including COO George Hu, also a former Salesforce COO. Although not a major concern, it is surely discouraging to see George Hu leave.
Growth Through Acquisitions: Twilio's acquisition spree could backfire due to cultural conflicts, shareholder dilution, and less favorable cost and revenue synergies. Twilio's slowdown in Organic Revenue growth may also be the reason why management is seeking external opportunities. Although growth through acquisitions carries some level of risks, I have not seen any red flags in terms of the companies being acquired.
Data Privacy: Segment collects first-party data on every digital touch point. Although still early, changes in first-party data privacy could be detrimental to Twilio Segment.
Conclusion
To wrap up, Twilio is the leading CPaaS provider, serving a diverse set of customers including some of the most disruptive companies today. The company is growing rapidly and it is capturing more market share day by day, slowly building a cloud communications monopoly. Unprofitability is undoubtedly a concern but the company is investing heavily for future growth. Furthermore, Twilio has high switching costs, technology, and network effect moats that will sustain its position as the market leader.
Following the selloff, Twilio is trading very close to its lowest multiple ever, despite being a larger and stronger business today. With that, investors get a large margin of safety for a high-quality, disruptive business on track to become the leading cloud communications and customer engagement platform.
Thank you for reading my Twilio deep dive. If you enjoyed the article, please let me know in the comment section down below. If you have any suggestions or feedback, don't hesitate to share your thoughts as well.