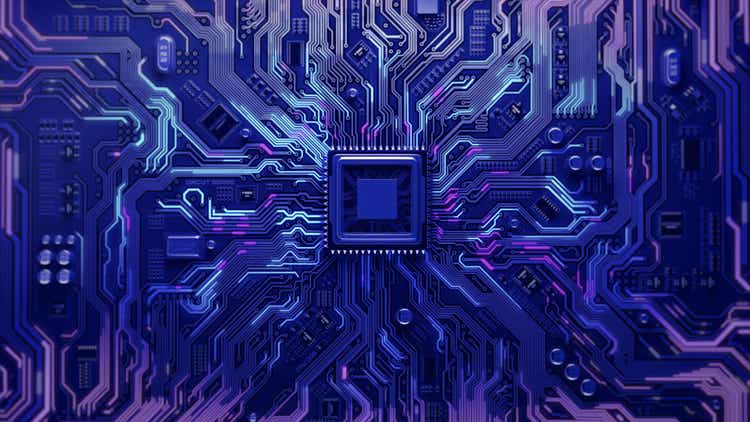 Investment Thesis
Digitization is the process of converting analog information into digital form using an analog-to-digital converter, such as in an image scanner or for digital audio recordings. As the popularity of the internet has risen during the 1990s, so has the prevalence of digitalization. However, the digital transformation includes more than simply digitizing outdated processes. Thinking about how new digital technologies could alter goods, processes, and organizations is essential for digital transformation.
One of the key technologies in this change is blockchain. Although the fundamentals of database technology were laid out in 1991, it wasn't until 2009 that blockchain was deployed in practice with Bitcoin. Since then, the potential applications for blockchain have grown dramatically. However, technology is still in its infancy in many sectors. Nonetheless, analysts believe that blockchain will have a significant influence on business in the next years.
According to a recent report, the digital transformation market is expected to grow at a compound annual growth rate of 19.1% from $521.5 billion in 2021 to $1'247.5 billion in 2026. Therefore, companies in this industry are likely to grow at a faster pace than the world economy and as a result, outperform other sectors of the economy. That said, a number of publicly listed companies involved in the digital revolution had a fantastic run in the last 24 months and rewarded shareholders handsomely. As a result, many of them are now expensive from a fundamental perspective, at a moment in time when central banks around the world are withdrawing liquidity from the system. In this report, I will review the VanEck Digital Transformation ETF (NYSEARCA:DAPP) which provides exposure to a basket of global stocks involved in the business of digital assets.
Strategy Details
The VanEck Digital Transformation ETF tracks the performance of the MVIS Global Digital Assets Equity Index. This index selects companies that are at the forefront of the transformation of digital assets, such as digital asset exchanges, miners, and other infrastructure companies.
If you want to learn more about the strategy, please click here.
Portfolio Composition
From the sector allocation chart below, we can see the index places a high weight on the information technology sector (representing around 77% of the index) and the financial sector (accounting for 23% of the index). DAPP is therefore highly concentrated in these two industries, which are very sensitive to changes in the economy, particularly interest rates.
In terms of geographical allocation, DAPP invests in 6 countries, most of them being labeled as developed economies. The US accounts for 66%, whereas other countries such as the UK seem to be underrepresented given the low weight (only a 4% allocation to the UK).
DAPP invests over 79% of the funds into small-cap growth issuers, characterized as small-sized companies where growth characteristics predominate. Small-cap issuers are generally defined as companies with a market capitalization below $2 billion. The second-largest allocation is large-cap growth equities. It is interesting to see that DAPP allocates approximately 80% of the funds to small-cap issuers, which generally have a larger runway to compound than large-cap issuers, but are generally more volatile.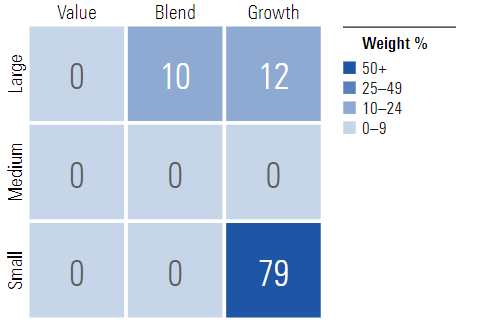 The fund is currently invested in 25 different stocks. The top 10 holdings account for 61% of the portfolio, with no single stock weighting more than 9%. All in all, I would say that DAPP is concentrated around a few names, which are likely to drive returns going forward. Given the high allocation to the top 10 holdings, I think it is important to be comfortable with a concentrated portfolio before buying DAPP.
Since we are dealing with equities, one important characteristic is the portfolio's valuation. According to data from VanEck, the fund currently trades at an average price-to-book ratio of ~3 and an average LTM price-to-earnings ratio of ~14. However, if we look at the top 10 holdings, most of these stocks are trading at over 25x LTM earnings. I think DAPP did a good job at putting together a basket of companies that are leaders in their field. That being said, I'm not sure if most of these companies will be able to maintain their competitive advantage and not be disrupted by new entrants over a long period of time. At the same time, I expect a majority of constituents trading at lofty valuations to correct in the upcoming months, as central banks around the world are beginning to withdraw liquidity from the system, which is likely to be a drag on DAPP's future performance.
Is This ETF Right for Me?
I have compared below DAPP's price performance against the Invesco QQQ ETF (NYSEARCA:QQQ), which tracks the NASDAQ 100 index, over the last year to assess which one was a better investment. Over that period, QQQ outperformed DAPP by a ~60.5 percentage points margin. It is interesting to see that QQQ has only delivered a 6.8% return over that period. Most of the outperformance was realized on the back of DAPP's massive drawdown since late 2021.
To put DAPP's performance into perspective, a $100 investment in this ETF at its inception would now be worth ~$46.28, which is a terrible return for investors that are long the stock since the beginning. I suspect future trading data will confirm how volatile this ETF is compared to QQQ. Even if DAPP has strong growth prospects in the long term, I expect a lot of volatility in the short term, which is a profitable opportunity for options traders.
Key Takeaways
DAPP provides exposure to a basket of global stocks involved in the business of digital assets. The fund has a high allocation to the top 10 holdings, which makes future returns highly correlated to the performance of these constituents. I believe investors purchasing ETFs for their diversification benefits should assess if they are comfortable with a 60%+ allocation to the top 10 holdings prior to buying DAPP.
If we look at the bigger picture, I'm not sure how long most of these constituents will be able to maintain their competitive edge and avoid being disrupted by new entrants. At the same time, I anticipate that a majority of components trading at high valuations will correct in the coming months, as central banks around the world begin to remove liquidity from the system. On top of that, I see digital assets facing regulatory risk going forward, which adds another layer of risk.