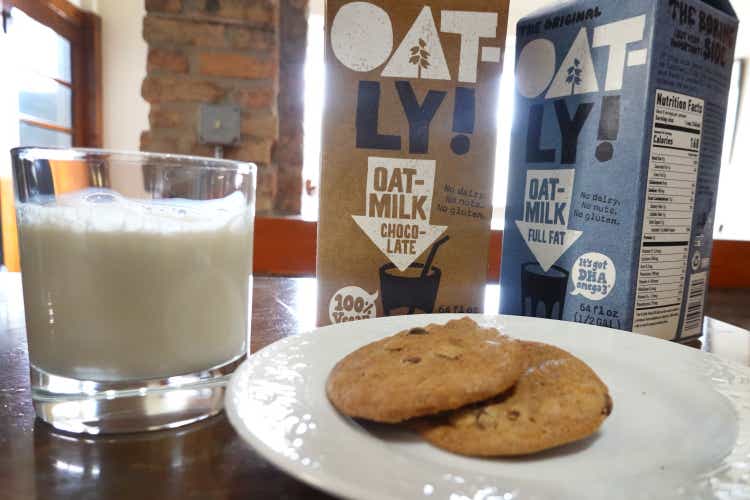 Elevator Pitch
I rate Oatly Group AB's (NASDAQ:OTLY) shares as a Hold. I wrote my prior update for OTLY on November 23, 2021, which reviewed the stock's "valuations and future profitability expectations." In this latest article, I focus on Oatly Group's share price decline of greater than -30% in 2022 year-to-date and its financial forecasts.
OTLY's shares fell by -35.7% in 2022 year-to-date as a result of weaker-than-expected FY 2022 revenue guidance and a shift in investors' preference favoring profitable companies with reasonably long track records (unlike OTLY). Oatly Group's long-term financial forecasts as per market consensus show a mixed picture; the slowdown in the company's revenue growth is expected to be offset by gross profit margin expansion going forward. In consideration of these multiple factors, Oatly Group is assigned a Hold investment rating.
OTLY Stock Key Metrics
OTLY announced the company's Q4 2021 financial results on March 9, 2022 before trading hours. Initially, investors' response to Oatly Group's fourth-quarter financial performance was positive with the company's shares rising by almost +12% before the market opened. But OTLY's stock price eventually declined marginally from $5.73 as of March 8, 2022 to $5.72 as of March 9, 2022. Oatly Group's share price decreased by an additional -6% to close at $5.37 on the next day, March 10, 2022.
In view of Oatly Group's stock price performance post-results release, it is worth spending some time to review OTLY's key financial metrics for the recent quarter.
As per the company's Q4 2021 financial results media release, OTLY's revenue expanded by +46% YoY from $127 million in the fourth quarter of 2020 to $186 million in Q4 2021, and this was +4% higher than Wall Street's consensus top line forecasts of $178 million. This could have explained why Oatly Group's shares were initially up on March 9, 2022 pre-market.
However, it was no surprise that OTLY's shares eventually dropped on March 9 and March 10, if one reviews the company's other key financial metrics.
Oatly Group's net loss per share widened from -$0.08 in Q4 2020 to -$0.13 in Q4 2021, and this represented a "$0.02 miss" according to a March 9, 2022 Seeking Alpha News article. In the same article, it was also highlighted that the mid-point of OTLY's FY 2022 revenue guidance at $900 million was -10% below the sell-side analysts' consensus revenue estimate of $1 billion. Moreover, this implies that Oatly Group's top line expansion is expected to moderate from +107% for FY 2020 and +53% for FY 2021 to +40% in FY 2022.
With respect to expectations about the company's profitability in the near term, it is noteworthy that OTLY didn't provide EBITDA guidance for fiscal 2022. At the company's Q4 2021 earnings call on March 9, Oatly Group explained that this was because the pandemic, "inflationary pressures", and the Russia-Ukraine war "puts us in a situation where it's quite difficult to assess where we will be."
In summary, Oatly Group's revenue growth is forecasted to slow in 2022, and there is also limited visibility with regards to the company's profit margins this year. As such, OTLY's shares have underperformed post-results announcement. In the next section, I discuss other factors which might have also contributed to Oatly Group's poor stock price performance thus far this year.
Why Has Oatly Group Stock Dropped This Year?
Oatly Group's stock price has dropped by more than -30% (-35.7% to be specific) and underperformed the S&P 500 by a wide margin this year thus far as per the chart below.
OTLY's 2022 Year-to-date Share Price Performance

As discussed in the preceding section, OTLY's Q4 2021 net loss per share was worse than what the market expected, and the company was unable to provide guidance for its EBITDA this year. This is one of the key contributing factors for Oatly Group's year-to-date share price weakness.
The below-expectations fourth-quarter losses are a reflection of the substantial inflationary cost pressures that food & beverage companies are facing, and Oatly Group is no different from its peers. OTLY did disclose at its recent fourth-quarter results briefing that it is "strategically taking price increases in EMEA and the Americas to help offset a portion of these higher costs." But there is uncertainty over the extent of Oatly Group's cost pass-through, and it is also a concern that OTLYs' future product demand and revenue could be potentially hurt by higher selling prices.
Separately, Oatly Group is losing favor with investors considering a change in investing styles and preferences in recent times, as the market now shuns high-growth, unprofitable stocks with a short listing history. OTLY was listed on the Nasdaq less than a year ago on May 20, 2021, and the company is only expected to turn profitable in fiscal 2025 as per S&P Capital IQ's consensus financial data. To make things worse, OTLY's revenue growth is also slowing. As I indicated in the previous section of this article, Oatly Group's FY 2022 top line expansion is forecasted to be inferior to that of FY 2020 and FY 2021 as per management guidance.
Is Oatly Stock Undervalued Now?
Oatly stock's last traded share price of $5.12 as of March 25, 2022 is -70% below the company's $17 IPO price, and it is relevant to have another look at OTLY's current valuations.
OTLY's Peer Valuation Comparison
| | | | | |
| --- | --- | --- | --- | --- |
| Stock | Consensus Forward Next Twelve Months' Enterprise Value-to-Revenue Multiple | Consensus Forward One Fiscal Year Revenue Growth Metric | Consensus Forward Two Fiscal Year Revenue Growth Metric | Expected Profitability For The Next Twelve Months As Per Consensus |
| Oatly Group | 2.9 | +39.8% | +51.2% | Loss-making |
| Vital Farms, Inc. (VITL) | 1.2 | +30.8% | +22.2% | Loss-making |
| Whole Earth Brands, Inc. (FREE) | 1.3 | +8.2% | +5.2% | Profitable |
| Danone S.A. (OTCQX:DANOY) (OTCQX:GPDNF) [BN:FP] | 1.7 | +5.3% | +2.9% | Profitable |
| The Hain Celestial Group, Inc. (HAIN) | 1.9 | -0.7% | +6.8% | Profitable |
| J & J Snack Foods Corp. (JJSF) | 2.1 | +15.8% | +3.9% | Profitable |
| Tattooed Chef, Inc. (TTCF) | 3.3 | +31.4% | +23.9% | Loss-making |
| National Beverage Corp. (FIZZ) | 3.4 | +6.6% | +5.7% | Profitable |
| The Simply Good Foods Company (SMPL) | 3.6 | +13.5% | +7.3% | Profitable |
| BellRing Brands, Inc. (BRBR) | 4.3 | +12.9% | +12.1% | Profitable |
| Fevertree Drinks Plc (OTCPK:OTCPK:FQVTF) (OTCPK:OTCPK:FQVTY) [FEVR:LN] | 5.2 | +16.8% | +13.1% | Profitable |
Source: S&P Capital IQ
OTLY's valuations are right in the middle of the pack based on the forward Enterprise Value-to-Revenue metric as per the peer valuation comparison table presented above. Although Oatly Group's expected revenue growth rates are the fastest in the peer group, it is one of the few companies on the list which are unprofitable and that deserves a valuation discount. Among the fast-growing and loss-making food & beverage companies on the list, OTLY is valued by the market at a slight premium to TTCF, but it trades at a huge premium to VITL.
In conclusion, I hold the opinion that Oatly Group is fairly valued rather than undervalued now.
What Is OTLY's Long-Term Forecast?
OTLY's medium-to-long term financial forecasts as per sell-side consensus data sourced from S&P Capital IQ shows a mixed picture.
On one hand, Oatly Group's revenue growth should moderate over time.
OTLY's top line increased by a CAGR of +76% from $180 million in FY 2018 to $643 million in FY 2021. But Oatly's forward five-year revenue CAGR will be much lower at +38% based on the Wall Street analysts' consensus fiscal 2026 revenue estimate of $3,246 million.
The company's relatively more modest revenue growth expectations in the next few years are not surprising. Sell-side analysts from HSBC (HSBC) note that "there are early signs that interest in the brand (Oatly) and category (oat milk) is plateauing in early adopter states (in the US)" as per a January 22, 2022 Seeking Alpha News article. Also, I have already cautioned in my May 25, 2021 initiation article for OTLY that "stiffer-than-expected competition from existing rivals and new entrants, and oat milk products becoming less popular with consumers over time" are the key downside risks for the company in terms of future revenue growth.
On the other hand, OTLY is expected to witness a gradual improvement in the company's profitability going forward.
Oatly Group was loss-making at the EBITDA level in FY 2021, and boasted a gross profit margin of approximately 24% last year. As per its Q4 2021 results presentation slides, OTLY has set a goal of achieving gross margin "greater than 40%" and EBITDA margin "approaching 20%" in the long term. The sell-side consensus expects Oatly Group to generate an EBITDA margin of 18.0% and a gross profit margin of 39.7% in fiscal 2025.
Apart from positive operating leverage as a result of a larger revenue base, OLTY's plans to gradually optimize its production mix to have a higher proportion of self-manufacturing will be another key driver of future profitability improvement.
Oatly Group's Long-Term Targets For Production Mix And Gross Margin

In a nutshell, the long-term prospects for OTLY are mixed, with margin expansion being offset by slower top line growth.
Is OTLY Stock A Buy, Sell, or Hold?
OTLY stock is a Hold. Long-term financial forecasts imply a moderation in the company's revenue expansion, but they also suggest an improvement in its profit margins. In addition, Oatly Group appears to be fairly valued based on a peer comparison exercise.