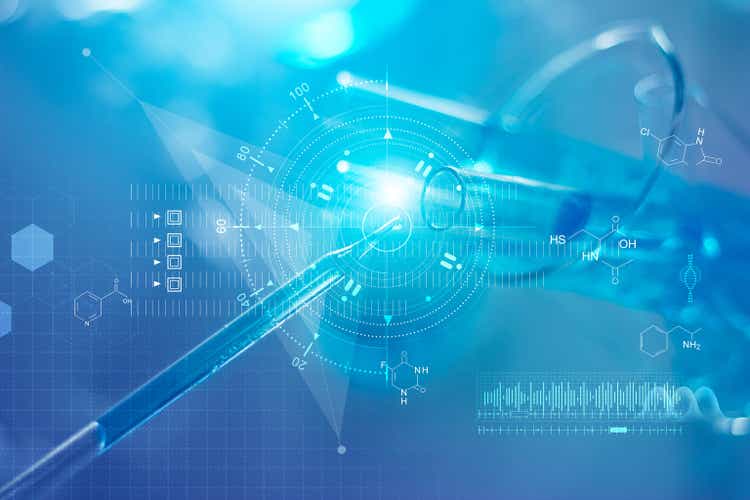 HOOKIPA Pharma (NASDAQ:HOOK) is a great speculative biotech play to look into and/or hold, because it has several catalysts expected in 2022. Not only are there several catalysts to look forward to but it has also amended its agreement with Gilead Sciences (GILD) to develop its arenavirus platform for HIV. The agreement that was in place for the portion to develop Hepatitis B remained the same. Gilead selected to advance the Hepatitis B program to an IND-enabling stage and this program will get going in 2022. The most notable out of all the catalysts will be the results from the phase 2 study, which is using HB-200 in combination with KEYTRUDA (Pembrolizumab) as a 1st-line and 2nd-line therapy for patients with head and neck squamous cell carcinoma (HNSCC). Why is this the most notable? Well, for two reasons. The first is that preliminary data showed that HB-200 was safe/tolerable with preliminary evidence of disease control rate and tumor shrinkage. The second reason is because results from this study are expected in the 2nd half of 2022. With several catalysts expected in 2022, growing pipeline and amended agreement for cash runway, these are the reasons why I believe it is a great speculative biotech play.
Two Shots On Goal In Large Markets With Huge Partner Gilead Sciences
HOOKIPA Pharma recently was able to establish an amended agreement with Gilead Sciences dealing with the use of its arenavirus platform to advance a program for HIV. HIV stands for human immunodeficiency virus. This is another large market opportunity that could rake in billions of dollars. The global HIV/AIDS market size could reach $36.49 billion by 2027. What makes this virus deadly is that it goes after and destroys important cells in the body that fight disease and infection. It is not that the disease itself causes harm, rather it eliminates a person's way of fighting off regular infections and bacteria. In essence, it weakens the immune system. There are lots of antiviral therapies, which primarily come from Gilead Sciences, but they are not long-lasting medicines. The reason why Gilead wanted to partner with HOOKIPA was for its arenavirus platform. What is the goal? To create a long-term treatment option for these patients with Hepatitis B. That is, where a patient wouldn't have to receive treatment as often. There are approximately 1.1 million people in the United States with HIV. The thing is that about 1 in 7 people (14%) don't even know they have it. That means unless they are tested or show significant symptoms, they don't even know they have it. The agreement between both HOOKIPA and Gilead Sciences was amended in February of 2022. HOOKIPA will be responsible for getting the HB-500 drug through a phase 1b study for HIV. If Gilead likes what is sees, then it has the exclusive right for further developing it thereafter. The amended agreement also brought the ability for a $54 million commitment from Gilead. The breakdown of such terms is as follows:
$4 million as a preclinical milestone
$15 million as a non-refundable initiation fee
$35 million as an equity commitment
Eventual sales and development milestone payment potential of $237 million, plus royalties on net product sales
The ability to move this program forward is a huge shot on goal for HOOKIPA, because of the large market opportunity for HIV. However, that's not the only thing it is partnering with Gilead for. It is also partnering with it to advance the arenavirus platform for a potential functional cure for Hepatitis B Virus (HBV). This program is also in good shape, especially when you consider that Gilead has already requested a development milestone for this program. Having said that, Gilead is advancing it to an IND-enabling stage in 2022. If everything goes according to plan, then it will allow it to file an IND for this Hepatitis B drug thereafter in 2022. Hepatitis B is a serious liver infection caused by the Hepatitis B virus that may possibly be prevented with a vaccine. The problem is that this disease is a chronic lifelong problem that doesn't go away. Most people become infected with it because of spread through blood, semen or other body fluids. There are multiple symptoms that these patients may experience such as:
Dark urine
Severe abdominal pain
Eye yellowing
Liver cancer
Scarring of the liver
Like most viral infections sometimes the body can fight it off. However, in other cases, the body can't fight Hepatitis B, therefore patients have a chronic case. Chronic Hepatitis B patients need to take certain types of medications and may possibly even need a liver transplant as well. You can imagine why so many biotechs are attempting to develop a treatment for Hepatitis B. That's because it is expected to be a very large market in the coming years. Consider that the global Hepatitis B Virus market is expected to reach $35.63 billion in 2030. Hopefully, it can be successful in advancing this program as well, because this is a huge unmet medical need. The thing is that HOOKIPA isn't the only one to be attempting to find a potential functional cure for Hepatitis B. You have many other biotechs that are also looking to advance their own drugs for this patient population. Such biotechs are: Arbutus Biopharma (ABUS), Vir Biotechnology (VIR), Assembly Biosciences (ASMB), Dicerna Pharmaceuticals (which was acquired by Novo Nordisk (NVO)), Arrowhead Pharmaceuticals (ARWR), VBI Vaccines (VBIV) and many others as well.
Most Crucial Program With Preliminary Evidence, Plus Several Catalysts In 2022
The most important program in HOOKIPA's pipeline would be the use of HB-200 for heavily pre-treated patients with Human Papillomavirus 16-positive (HPV16+) squamous cell head and neck cancers (HNSCC). HPV positive cancer is a good target indication. The reason why is because this therapy will be used for HPV16+ cancer indications. That is, the majority of HPV associated cancer are caused by the HPV serotype 16. HPV is short for human papilloma virus. This is a widespread indication, because it involves a whole group of related viruses. That's why each HPV type is given a number. In this case, HOOKIPA Pharma is going after HPV type 16. Having said that HPV is split into two different groups:
Low-Risk HPV Types
High-Risk HPV types
Being that this biotech is mainly focused for the time being on HPV16+, that involves the "High Risk HPV types" group noted directly above. It is good that this company is targeting the "High-Risk" group, because these are the patients that are at risk for potentially developing cancer in both women and men. The most common HPV types that cause cancer are HPV 16 and HPV 18. In certain instances, people can clear HPV on their own. However, in other instances, it is chronic because people can't clear it on their own. That's why a treatment like HB-201 can possibly help these patients. To break it down even further, HOOKIPA is going after HPV16+ patients with HNSCC. Head and neck squamous cell carcinoma (HNSCC) develops from the mucosal lining of the upper aerodigestive tract. It is the 9th leading cancer cause worldwide and it accounts for 90% of all head and neck cancer cases. In the United States, there are about 50,000 new incidents of HNSCC each year. These groups of cancers can affect multiple parts of the body like: Mouth, nose, throat and sinuses. These patients can experience several symptoms that may arise and they include:
Soreness or lump in parts of the body
Consistent sore throat that doesn't go away
Difficulty swallowing
Changes in someone's voice
This is a large multi-billion dollar market as well. It is said that the global head and neck squamous cell carcinoma market could reach $4.7 billion by 2027. The thing is that the company has already established preliminary safety and efficacy evidence using HB-200 for HNSCC.
Not only did it establish some pretty good proof of concept for this HNSCC patient population, but it decided to prioritize its pipeline in oncology because of the success with HB-200. Why would it prioritize its oncology program? It goes back to the proof of concept which I have noted before, which came from an ongoing phase 1 dose-escalation study. It was noted that heavily pre-treated patients with Human papillomavirus 16-positive (HPV16+) squamous cell head and neck cancers (HNSCC), who took HB-200, were able to achieve pretty good numbers with disease control rate (DCR) and shrinking of target lesions. The data for both of these endpoints are as follows:
DCR of 75%
Shrinkage of target lesions by 53%
On the safety front, things were good as well. Why is that? That's because there were no serious adverse events, dose-limiting toxicities or treatment-related adverse events rated grade 3 or higher. Not only that, but no discontinuations or dose changes were necessary either. Mind you, this was only with HB-200 alone as a monotherapy in a dose escalation phase. The ultimate goal is to explore the synergy of HB-200 together with KEYTRUDA (pembrolizumab). This is exactly what HOOKIPA did, because it initiated a phase 2 combination study using HB-200 plus KEYTRUDA to treat 1st-line and 2nd-line HNSCC patients. The FDA has already granted Fast Track Designation status to HB-200 in combination with KEYTRUDA for 1st-line advanced HPV16+ HNSCC. This program is highly substantial, because it brings about a few catalysts this year. The first catalyst is that HB-200 monotherapy data from the phase 1 study in HPV16+ patients is expected in mid-2022. Then, you have readouts from the phase 2 study in the 2nd half of 2022 as well. This 2nd half data will include the use of HB-200 in combination with KEYTRUDA for 1st-line and 2nd-line HPV16+ HNSCC patients. Lastly, if all goes well with the combination data, the goal is to initiate a randomized phase 2 study using the HB-200 combination to treat 1st-line HPV16+ HNSCC patients. This is expected to begin in the 1st half of 2023.
Financials
According to the 10-K SEC Filing, HOOKIPA Pharma has cash, cash equivalents and restricted cash of $66.9 million as of December 31, 2021. However, this doesn't include the $20 million from the amended Gilead Sciences agreement or the net proceeds of $70 million from the sale of common stock and convertible preferred stock in a follow on offering in March of 2022. Including all this, HOOKIPA's pro-forma cash, cash equivalents and restricted cash as of December 31, 2021 would have been $156.9 million. The main thing investors need to know is how long will the cash on hand last? The estimate from HOOKIPA is that it has enough cash to fund its operations into the 1st half of 2024. In my opinion, this provides enough cash to establish key catalysts coming the 2nd half of 2022. It will be a good test on whether or not HB-200 can establish significant proof of concept when it is combined with KEYTRUDA in treating HPV16+ HNSCC patients.
Risks To Business
Even though HOOKIPA provides a great speculative opportunity as a high risk/high reward speculative biotech play, there are several risk factors that investors should be aware of. The biggest risk of all would be the several data readouts from both phase 1 and phase 2 studies using HB-200 alone and in combination to treat patients with HBV. The phase 1 results are expected in mid-2022 and then 1st-line/2nd-line results are expected in the 2nd half of 2022. There is no guarantee that either of these set of results will turn out to be good. Considering that the most advanced program in the pipeline deals with HBV-200, a failure in this program would be a huge blow to the company and to its stock. This goes to the 2nd possible risk, which is that the stock could trade below $1 if the data doesn't deliver. In such a case, it may have roughly 1-year to attempt to bring price back above $1, but if it doesn't then it will be at risk of needing a reverse stock split. Again, this is only a huge concern if the upcoming results with HB-200 in HPV16+ HNSCC patients end up being bad. It has other program as well, but a lot of those are in early testing. For instance, and IND filing for HB-300 for treatment of patients with prostate cancer is expected in Q3 of 2022. If all goes well, then it will be able to initiate a phase 1 study using HB-300 for this patient population. Even then, it has the ability to attempt to test out other indications for HB-200 as a combination treatment. Lastly, it has HB-700 which is intended to be used to go after KRAS mutated cancers. Such KRAS mutated cancers the biotech can go after are: Colorectal, pancreatic and lung cancer.
Conclusion
The final conclusion is that HOOKIPA Pharma is a great speculative biotech to play to look into. I think it might be worth a look, but I remain cautious because it has to prove that the HB-200 combination with KEYTRUDA works in treating HPV16+ HNSCC patients. If it can establish proof of concept in using HB-200 as a combination treatment, then it can go after other large market cancer indications. Even then, as I noted above, it has other drugs it is moving to the clinic like HB-300 for prostate cancer and HB-700 for KRAS mutated cancers. Lastly, it does have that partnership with Gilead Sciences. Such a partnership is important because both companies are going after large market indications here as well, like HIV and Hepatitis B virus. I still believe it is speculative because of the need to establish proof of concept with the HB-200 combination therapy. If the results are terrible, then the stock would be at risk at moving under $1. I still think it is a great speculative biotech play which is high risk/high reward.