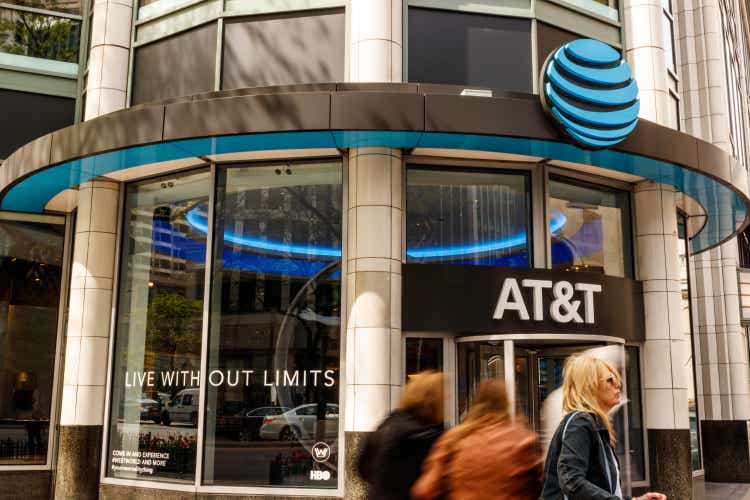 Over the past few days, more data came out from AT&T (NYSE:T) regarding the company's plan to spin off WarnerMedia and to merge it with Discovery (DISCA) (DISCB) (DISCK). For months, there has been some ambiguity over what the fundamental picture would look like when this takes place. This is because it wasn't just a simple spinoff. There were also questions regarding other compensation that AT&T is entitled to receive in the amount of $43 billion. We now know about as much as we can and as that special date approaches, slated for early next month, investors should keep a watchful eye on their portfolios so that they know what will transpire and how to act to best fit their own interests.
Details are here at last
On March 25th of this year, entertainment and telecommunications conglomerate AT&T announced details regarding the spinning off of its WarnerMedia business and that company's subsequent merger with Discovery. According to management, at the close of business on April 5th, the transaction in question will finally be executed. At that time, investors in AT&T will receive 0.24 shares of Spinco, which will have ownership over the assets of WarnerMedia. That entity will then receive the right to exchange those shares for shares in an entity called Warner Bros. Discovery (the ticker will be WBD).
The overall mechanics of this transaction are a bit complex. But in short, based on my calculations, with AT&T having 7.16 billion shares of its own stock outstanding, investors in AT&T will receive 1.71 billion shares of Spinco. These shares will be exchangeable for roughly the same amount of stock in Warner Bros. Discovery. Meanwhile, investors in Discovery will see their roughly 506 million shares of stock, plus the preferred units outstanding, exchanged for 695 million shares of Warner Bros. Discovery, leaving AT&T's investors with a 71% ownership over the combined firm and Discovery's investors with a 29% stake.
Based on my calculations, this will essentially value, at current pricing, Warner Bros. Discovery stock at roughly $18.02 per share. This will translate to about $4.45 in value per AT&T share that an investor has. In theory, this should result in a similar decline in share price in AT&T, resulting in that company's stock dropping from the $23.87 that it's currently trading for to about $19.42. Based on the dividend plan that management at AT&T has set forth, the $1.11 per share in annual payouts should translate to a 5.7% yield for investors. The first quarterly dividend for the company was also announced on March 25th, coming out to $0.2775 per share. At the end of the day, Warner Bros. Discovery will have about 2.41 billion shares outstanding, valuing the company at roughly $43.4 billion.

There are other parts of this transaction that have now become public. We knew that as part of the transaction, AT&T would receive additional consideration of $43 billion. We also knew that some of this would be cash, while some of it would be debt securities. Now we know the composition. Originally, AT&T was slated to receive $30 billion of this consideration in cash. Due to some agreed-upon adjustments, this number was increased to $33 billion on a preliminary estimate basis. That leaves the remaining $10 billion in debt securities. However, management did not detail the terms of this debt. The good news for investors, though, is that the terms don't really matter. This is because AT&T decided to exchange this debt for a loan and then see that the debt securities were sold to third-party investors.
In prior articles, I calculated what I viewed to be an appropriate value for AT&T following the completion of these transactions. But my emphasis was always on that business, not necessarily on the assets that are ultimately being spun off. Given that we now have some more information on this matter, we can effectively value the new standalone company. Of course, any valuation is subject to relying on various assumptions. And the assumptions that we are relying on in this case assume that the management teams at both AT&T and Discovery are accurate in the projected financial performance of their operations.

For starters, let's begin with AT&T's opinion of WarnerMedia's potential. Their forecasts call for revenue from the company to be about $36.7 billion this year. They also believe that it will generate EBITDA of $6.8 billion. Meanwhile, Discovery sees its operation generating $13.1 billion in revenue this year and $3.6 billion in EBITDA. Combined, this will translate to revenue of $49.8 billion and EBITDA of around $10.4 billion. This assumes that no synergies can be achieved from the combination of these firms. More likely than not, some synergies will be realized.

Taking this data, and factoring in the net debt that the combined company known as Warner Bros. Discovery should have, we end up with an EV (enterprise value) of $90.05 billion. That implies an EV to EBITDA multiple of 8.7. Forecasting out financial performance to 2025, we end up with revenue of $59.1 billion and EBITDA of $14 billion. That would bring the EV to EBITDA multiple of the company down to 6.4. Though not perfect comparables, we can probably compare Warner Bros. Discovery to The Walt Disney Company (DIS) and Comcast (CMCSA). Disney, because of its extremely diverse business, is probably the least similar of the two firms. And the EV to EBITDA multiple for it comes out to 28.4. By comparison, the EV to EBITDA multiple of Comcast would be 8.1. So in the best case, Warner Bros. Discovery would probably be underpriced, while in the worst case, it would likely be more or less fairly valued. Though if financial performance ends up as management has forecasted, then the spin-off may ultimately offer some attractive upside over the next few years.
| | |
| --- | --- |
| Company | EV / EBITDA |
| Warner Bros. Media (forecasted) | 8.7 |
| The Walt Disney Company | 28.4 |
| Comcast | 8.1 |
As for what investors do next, that is a decision each investor must make on their own. However, it is important to understand the delicate situation we have today. At present, if you sell your shares of AT&T, for instance, you sell the entire pie. However, there is a narrow window where investors could make a transaction they come to regret. You see, beginning on April 4th and continuing through the close of trading on the business day before the closing date of the merger, there will exist essentially multiple ways to trade AT&T. During this time frame, you will have the option to sell AT&T with the 'T' ticker symbol. By doing that, you will be selling both the AT&T stock and the right to receive the Warner Bros. Discovery stock. If, however, you sell the ticker symbol 'T WI', you will be selling only the share of AT&T while still retaining the right to receive the Warner Bros. Discovery shares. And finally, if you sell the ticker symbol 'WBDWV', you will retain your AT&T shares while divesting of the right to receive Warner Bros. Discovery shares. Once the merger is completed, these different shares will disappear, leaving only the two separate entities remaining.
Takeaway
Right now is certainly an exciting but confusing time for AT&T shareholders, as well as for shareholders in Discovery. I personally remain very optimistic about the prospects of AT&T as a standalone business. More likely than not, I will end up selling off my Warner Bros. Discovery shares since I view that part of the business as being closer to fair value. But for investors who believe that the streaming part of the enterprise is where the real opportunities are, I could understand why some might hold on to those shares as well.