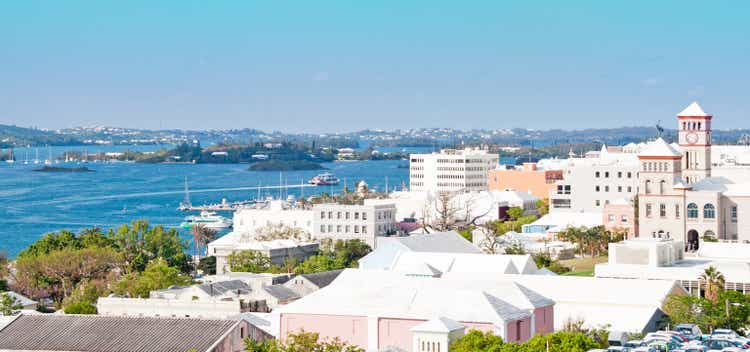 Thesis: An Interesting Short-Term Opportunity
The Bank of N.T. Butterfield & Son (NYSE:NTB) is a holding company for offshore banks around the world, most notably Butterfield Bank. Headquartered in Hamilton, Bermuda, NTB has leading market positions in Bermuda and the Cayman Islands as well as a long history of operations in the Caribbean.
The offshore bank is highly interest rate-sensitive - more so than the average bank - because most of its loans are floating rate. Thus, when interest rates rise, NTB's earnings rise as well. During the last Federal Reserve rate-hiking cycle, NTB's earnings per share more than doubled in the two years from 2017 to early 2019.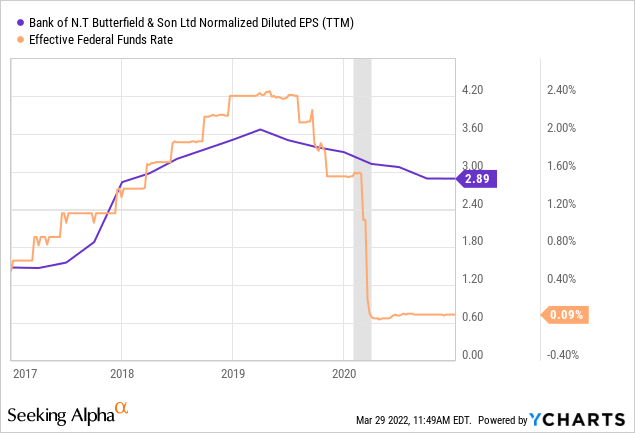 And immediately after interest rates began to drop in 2019, NTB's earnings dropped along with them.
The market knows about NTB's upside from rising interest rates. The bank's stock price also more than doubled from 2017 to late 2018, pushing NTB's price to book value up to above 3x.
Could NTB be poised for a similar bull run? I think so.
The core high net worth client base is doing well, the Fed is aggressively raising interest rates, and the valuation is relatively low.
As you can see above, price to book value is about 2x. And based on core EPS of $3.28 in 2021, NTB is currently valued at a P/E ratio of 11.4x.
Based on NTB's annualized dividend of $1.76, the bank's payout ratio is around 54% based on 2021 earnings. More than likely, the payout ratio will fall below 50% this year due to rising earnings.
On top of all that, NTB has been aggressively buying back shares, with nearly 535,000 repurchased in 2021 and authorization for buybacks of up to two million shares in 2022.
While I am of the view that interest rates will eventually sink lower again, even if after an aggressive rate hiking cycle, I think NTB makes an excellent dividend-paying way to play rising interest rates as a short-term trade.
Update On NTB
I explained in my first two articles on NTB what exactly private and offshore banking entails. Indeed, those two articles provided a more in-depth background and basic explanation of the kind of company NTB is. You can find them here:
In short, NTB is the holding company for offshore banks around the world, but the company's primary market position is in the Caribbean, where the business began.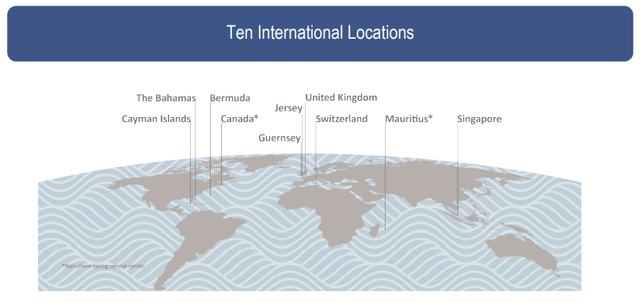 The Channel Islands between the United Kingdom and France is also an area of growth for NTB as it expands its presence there.
As the wealth of high-net-worth individuals across the globe rises, NTB's total deposits likewise continue to rise.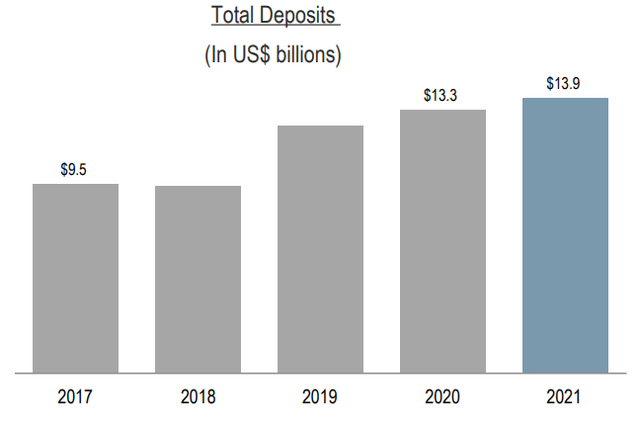 In 2021, NTB's business slowly bounced back from the difficult days of the pandemic. Core EPS of $3.28 rose 7.9% over 2020's $3.04, aided by over half a million shares (~1% of shares outstanding) repurchased, mostly in the latter half of the year. Core net income rose 5.9%.
As explained in previous articles, NTB never had that many delinquent or non-accrual loans during the pandemic, as most of its loan book is very conservative. Two-thirds of loans are residential mortgages (split evenly between the Caribbean and the UK/Channel Islands), and a mere 4.1% are consumer loans. Hence the extremely low charge-off ratio.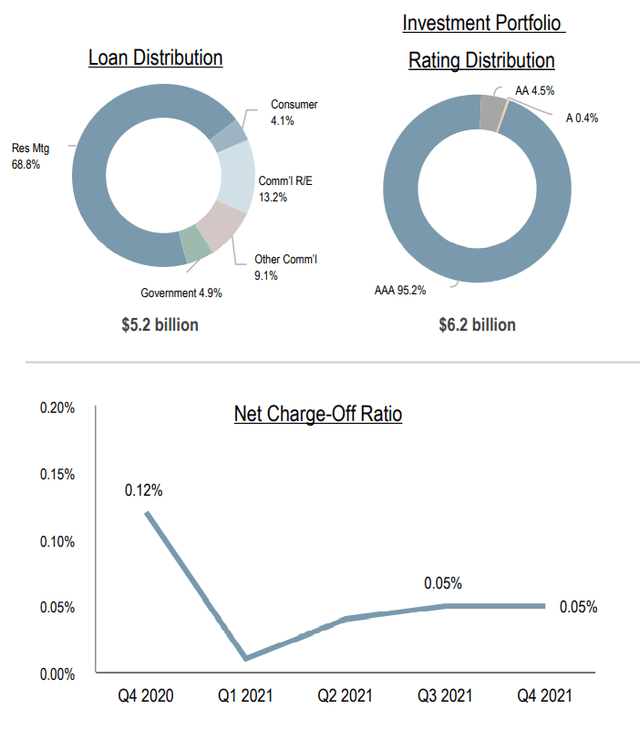 Rather, the primary mechanism by which return on equity dropped over the last few years has been falling interest rates on its floating rate loans. NTB's average loan yield fell from 4.95% in Q4 2019 to 4.42% in Q4 2020 to 4.18% in Q4 2021. In fact, it has fallen every quarter since at least Q4 2019.
Last year, however, NTB's return on average tangible common equity did rebound off of its COVID-era low.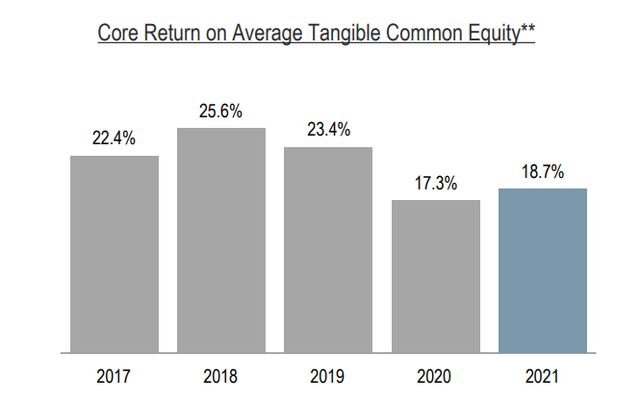 In Q4 2021, ROATCE ticked up to 18.8% from Q3's near-term low of 17.9%.
The bank's net interest margin was a different story, though. That continued to sink into 2021. Here's NTB's net interest margin by year:
2016: 2.45%
2017: 2.73%
2018: 3.25%
2019: 2.86%
2020: 2.42%
2021: 2.02%
In contrast, according to Bank Reg Data, the average net interest margin for all US banks vacillated between 2.29% and 2.35% in 2021.
Comparing 2021's net interest margin of 2.02% to its cost of deposits of 0.11%, however, we find that NTB's cost of capital is quite low. Add to that the bank's investment grade (BBB+/A3) rated balance sheet, and the weighted average cost of capital is indeed quite low.
On the bright side, NTB has been growing the roughly 40% of its revenue derived from non-interest income, which should make its income stream incrementally more resilient and stable. In Q4 2021, non-interest income rose over 10% year-over-year, boosted mainly by banking and trust revenue.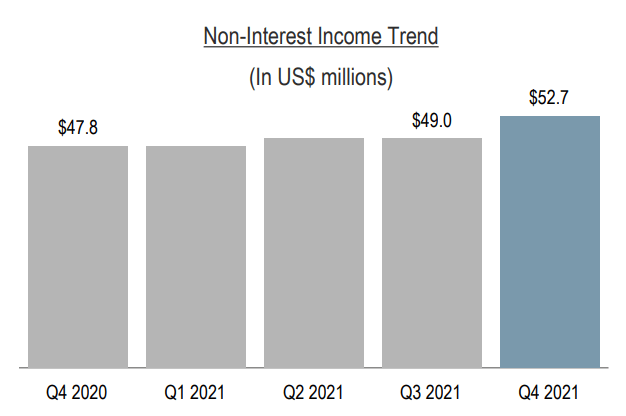 For now, though, NTB's earnings are dominated by its interest-bearing assets and thus are heavily leveraged to the rise and fall of interest rates.
Bottom Line
Recall that NTB's loan yields have declined steadily since late 2019. Since then, the Fed Funds rate dropped from 2.5% down to 0%. But during the rate hiking cycle from 2017 to the end of 2018, it was a very different story. Here's what NTB's loan and securities yields did during that time:
| | | | | | |
| --- | --- | --- | --- | --- | --- |
| Quarter | Q2 2017 | Q4 2017 | Q2 2018 | Q4 2018 | Q2 2019 |
| Loan Yield | 5.11% | 5.23% | 5.44% | 5.56% | 5.67% |
| Securities Yield | 2.2% | 2.27% | 2.67% | 2.87% | 2.92% |
NTB's loan yields topped out in Q1 2019 at 5.67% (56 basis points higher than Q2 2017), and its securities yields topped out in the same quarter at 3.07% (87 basis points higher than Q2 2017).
It was during this time that NTB's core EPS doubled.
If the rate-hiking cycle we have just entered turns out similarly for NTB, then the bank looks like a fantastic, short-term play on rising interest rates.
The only reason I stipulate "short-term" is my belief that rising interest rates will eventually damage the economy and precipitate a recession, which would then cause rates to drop again. This has been the pattern since the late 1980s.
But for value-oriented dividend investors looking to play rising rates, I don't believe your options will get much better than NTB.