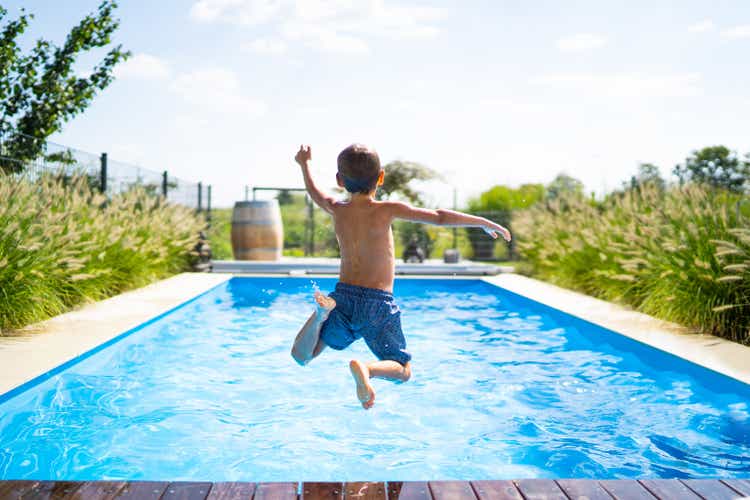 Pool Corporation (NASDAQ:POOL) delivered strong financial results in FY2021. Revenue grew 35.8% and EPS surged 78.04%. However, the stock pulled back over 24% from its all-time high as of the closing trading price on 28 March 2022. The fundamentals of POOL are strong, and the company's future is promising. It seems sensible to buy the dip. However, I do not think this is the perfect opportunity to buy the stock as POOL is facing multiple headwinds ahead.
Introduction to Pool Corp.
POOL owns a business related to swimming pools. They distribute swimming pool supplies and equipment, provide parts for repair and maintenance, and supply materials for swimming pool construction in the US and internationally. The company has a 270% return over a five-year period, outperforming the S&P 500 index by over 150%, and had an incredible return of 76,000% since being listed in 1995.
Behind its stellar performance, POOL's strong financial result over the past years is a major factor. POOL earns significant recurring revenues from the repair and maintenance segment. It contributes approximately 60% of total revenue (FY2021) and 69% of operating income (FY2021 2Q & 3Q). The average age of a swimming pool in the US is approximately 20 years. Proper maintenance is essential to keep the swimming pool in operation.
Below shows some strong top-line and bottom-line data reflecting the company's solid profitability over the past five years. POOL has steadily high figures of ROE and ROIC, with its operating margin expanding continuously and improving by over 5%.
(Data abstracted

from Gurufocus)

2017

2018

2019

2020

2021

Revenue per share

(YoY%)

65.68

71.91

(9.49%)

78.30

(8.88%)

96.33

(23.04%)

130.82

(35.8%)

Gross Margin

28.88%

29.02%

28.91%

28.73%

30.54%

Operating Margin

10.20%

10.47%

10.67%

11.96%

15.68%

EPS

(YoY%)

4.51

5.62

(24.61%)

6.4

(13.88%)

8.97

(40.16%)

15.97

(78.04%)

ROE

89.47%

104.97%

82.55%

69.88%

76.06%

ROIC

26.37%

28.29%

26.31%

29.82%

32.22%
Long-term Opportunities
POOL's strong performances over the past two years were benefited from the COVID-19 pandemic and the lasting WFH trend. COVID encouraged citizens to move south and west like Dallas and Houston, and less populated suburbs. A recent Census Bureau report shows mega-cities like New York, LA, Chicago, and San Francisco lost more than 700,000 people from mid-2020 to mid-2021. New homeowners in suburbs will seek properties with a backyard, including a pool. This created a situation that favors POOL. POOL currently has many backlogging new pool construction cases in hand. This situation may continue over 2022 given the high demand for new pool construction and refurbishment. Plus, the Census Bureau forecasts a further 18% and 21% of population growth through 2040. An increasing trend of new pools also favors POOL in the repair and maintenance segment. So, over the longer term, the company will enjoy recurring expenses from homeowners.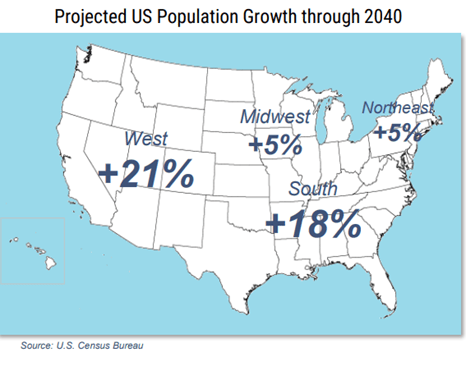 New homeowners are transforming existing pools into more technologically advanced pools or smart pools. As shown in the data below, products that enable energy-saving features and technology generally have over 100% growth from 2019 to 2021. Most new pools are now equipped with automated and energy-saving features. However, it is estimated that less than three-tenths of pools are automated. The demand for upgrading existing pools into smart pools is expected to be huge in the upcoming years, which favors POOL in the "Renovation, Remodel and Upgrade" segment.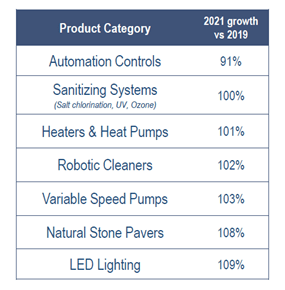 In 2021, POOL acquired Porpoise Pool & Patio and other three companies to unleash the potential for further expansion and step into the DIY pool maintenance customer market. The acquired Porpoise Pool & Patio is expected to add 5% to POOL's total revenue in 2022. Its cutting-edge technology platform and tools, like customer apps, water chemistry chemical application guide, and valuable local pool market databases, also enable POOL to grow its business over the long term.
Besides, some homeowners may prefer to carry out DIY pool maintenance instead of employing an expert. The potential of this sector should not be ignored. The DIY customer market is estimated to reach $3 billion in market capitalization in 2021. POOL is expected to open 8 to 12 Pinch A Penny franchise stores in Texas in 2022. This provides a sustainable platform for POOL as the sector is comprised of highly desirable recurring revenue maintenance products.
Challenges Ahead in 2022
Supply Chain Issue
Despite POOL's strong past performance and potential over the long term, there are a couple of headwinds ahead that may adversely affect the stock in 2022. The first one is the worldwide supply chain issue, leading to surging transport and distribution costs. With a high probability, the supply chain issue sees no signs of easing in 2022 due to geopolitical tensions, the resurgence of COVID-19 in China, labor shortages, and so on. It is reported by a supply chain consultant that container ships unloading goods stay at American ports for a week on average, which is a 4% increase from 2021.
For POOL, chemicals and computer chips are facing supply shortages now. This affects products like variable speed pumps and automated equipment. Many manufacturers announced additional increases over the price lift in the fourth quarter. This added additional pricing pressure on the company which may lead to wobbling in demand. The good news is that POOL has sufficient inventories, such that there is little pressure on margins in the first half of 2022. Besides, although the company adjusted its product price upward, POOL reflected that there are no signs of consumers retreating yet.
Labor Shortage Problem
Despite the strong job data in the previous months, many companies found insufficient laborers working. The US JOLTs Job Openings reported 11.266M job openings in February 2022, which is among the highest level since 2000. The labor shortage problem not only affects POOL, but also the suppliers and manufacturers that provide goods and services for the company. For POOL, the renovation, remodel and upgrade segment and the new construction segment were the most adversely impacted. The number of buildable days is very much reliant on the labor market and the weather, which subsequently affects the sales and operation of the company. Both segments contributed about 40% of revenue in total. This problem may also delay the delivery of products from manufacturers and suppliers, which affects the progress of distribution and construction work subsequently.
Cooling Housing Market
New home sales in February 2022 is recorded at 772,000 (released on 23 Mar 2022), which is still at a record high level on a 12-month average basis. However, the number is 16,000 less than the previous month and on a three-month declining trend, reflecting a cooling-down property market in Q1 2022. Also, the period between mid-2020 to mid-2021 is staggering for new home sales, given a tough basis of comparison in 2022. It is quite likely that the data in YoY will continue to record a decline. For instance, in February 2022, it fell 6.2% YoY.
Moreover, with the Federal Reserve planning to further increase interest rates, the 15-year and 30-year mortgage rates have been climbing upward over the past half-year. The diagram below shows U.S. weekly average mortgage rates. The increasing mortgage rate will potentially hurt the property market. Despite the overall demand remaining strong, the above scenario gives POOL a difficult task to achieve another impressive performance in the new pool construction segment in 2022.
Looking Forward to 2022
Whether the company could remain such a strong performance in 2022 is questionable. 2022 will have a tough comparison over 2021 as POOL had a very solid performance. The company forecasts a 17%-19% revenue growth, 9%-10% coming from inflation. The estimate for EPS in 2022 is $17.19 to $17.94 per share, which is a 7.6% to 12.3% increase from 2021's $15.97 per share.
The market remains full of uncertainty. Apart from the challenges I have mentioned above, the labor shortage problem and US mid-term election may add further pressure to the company's operation and stock price. I believe POOL will meet market expectations in the first half of 2022 as the company has sufficient inventories and backlog construction projects to resist the inflationary pressure and supply chain issue. However, the second half of 2022 will be more unpredictable. Margins may be reduced due to higher product costs. At the same time, the inflationary pressure may come down with the Federal Reserve planned rate hike working. So that the revenue growth of POOL may fail to reach 17% to 19%.

Valuation
I will use PE Ratio to demonstrate the valuation since POOL delivers constant and predictable earnings result over the past decade. FY2021 is the exception so I will exclude this year from my calculation. The chart below shows the YoY% change in Earnings per Share (EPS) in the last ten years.
| | | | | | | | | | | |
| --- | --- | --- | --- | --- | --- | --- | --- | --- | --- | --- |
| FY | 2012 | 2013 | 2014 | 2015 | 2016 | 2017 | 2018 | 2019 | 2020 | 2021 |
| EPS YoY% | 16.33 | 19.88 | 19.02 | 18.85 | 19.66 | 29.97 | 24.61 | 13.88 | 40.16 | 78.04 |
As the second half of 2022 would be highly unpredictable with multiple headwinds, I would prefer to be more conservative, using a 7.6% EPS increase in 2022 for calculation, which is the lower bound of the company's earnings estimate. This put the current forward PE ratio of POOL at 25.09, a 22% discount from the 5-year average. Then I assume POOL can pick up to reach a 10-year average (excluding FY2021) EPS growth of 22.48% as supply chain issues and labor market shortage ease gradually. The calculations for FY2022 and FY2023 target prices are listed below.
2022

2023

EPS ($)

17.19

21.05

=17.19*(1+22.48%)

Stock Price ($)

at a 5-year average forward

PE Ratio of 32.18

(Calculated by EPS*32.18)

553.34

677.39
POOL closed at $440.25 on 28 March 2022, which has a potential 16.2% to 20.4% upside annually. Compared with a 27.1% CAGR performance in the last decade, this is not very attractive. Besides, the current PEG ratio of the stock is 1.17, which means the stock is priced fairly at the current moment.
Conclusion
POOL has promising long-term prospects from strong recurring income opportunities, favorable migration patterns within the US, and acquisitions. However, the supply chain problem and labor shortage issue continue to affect the progress of distribution and construction work. The housing market is cooling down from its peak in 2021. Short-term uncertainty and volatility that will be expected in 2022 are overwhelming.
Investors with POOL in their portfolio should be aware of the turbulence expected before these uncertainties are cleared. With the stock priced fairly now, I see this is not the perfect timing to add new positions. I will give a "Hold" rating to POOL.