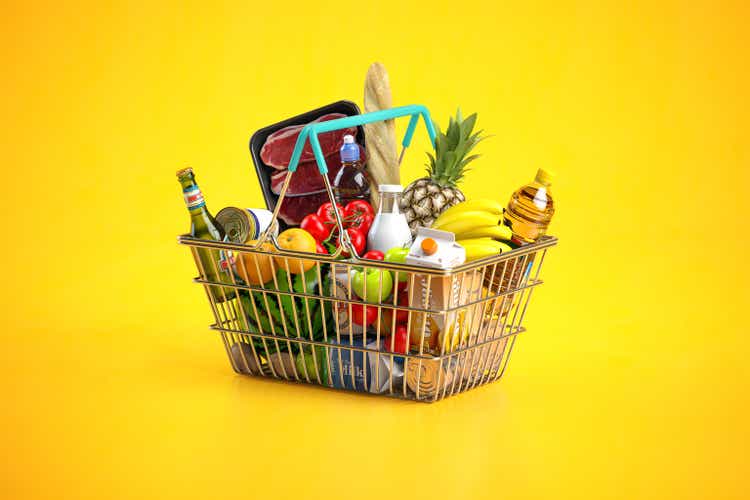 Grocery anchored shopping centers have quickly become a highly desired real estate asset class as grocery stores provide such a reliable supply of foot traffic. Prices of the grocery anchored REITs have been rising, but four of them still trade at attractive valuations: Kimco (KIM), Brixmor (BRX), Kite Realty (KRG) and Urstadt Biddle (NYSE:UBA). I think any of these four would be a solid investment, but the two that really stand out to me are UBA and KRG. This article will provide an overview of the relative valuation within the sector and then go deeper on the specific fundamentals of UBA. Later this week we will post our Kite Realty analysis to Portfolio Income Solutions.
Urstadt Biddle: The Buy Thesis
The affluent catchment radii around UBA's shopping centers make its locations ideal for attracting new tenants as well as increasing rental rates on existing tenants. I see upside to occupancy as the economy shifts from pandemic style delivery back to in-person shopping. Over the next two years, UBA is slated to grow FFO/share by 18% which is strong growth relative to its 13X FFO multiple. It also boasts a 24% discount to NAV making it the deep value play in the shopping center sector.
Broad valuation and metrics in the grocery anchored shopping center sector
There are quite a few grocery anchored REITs, but many trade at rather high multiples around 20X FFO. While I do like grocery fundamentals, that is more than I feel comfortable paying for this kind of asset.
If we exclude the high multiple companies, those trading in the attractive range are the four mentioned above and their vital stats are tabulated below.
The table is duplicated for AFFO in addition to FFO because both are important metrics for retail REITs. AFFO tends to be lumpier between years, so it can be thrown off by timing issues, but it captures the maintenance capex that is missed by FFO.
What you may notice in the table is that these REITs trade in a fairly tight band of valuation with only a small spread between their multiples. In fact, they have traded in a reasonably tight spread for quite a while, generally rising and falling in tandem.
UBA had broken out ahead of the pack in 2019 but due to its location in New York it got hit a bit harder by the pandemic and is now the slight laggard of the group.
I find this sort of pricing pattern to be intriguing as it means UBA has the biggest rebound potential if they can fully overcome the COVID related difficulties. There are a few factors that make me quite confident UBA will fully rebound fundamentally.
Balance sheet
Small shop nature of disruption
Location strength
Most of the shopping center REITs operate with fairly conservative leverage, but UBA is particularly cautious with a debt to total capital of 21.56%.
As such the temporary revenue interruptions caused by the pandemic are unlikely to have caused any ripple effects via financial distress. Therefore, if the properties can rebound the company can fully rebound, and it looks as though the properties are most of the way through a rebound.
FFO/share dropped in 2022 to $1.19 from the pre-pandemic level of $1.43. UBA mostly recovered in 2021 with FFO/share of $1.36 and looks to pass its pre-pandemic peak in 2022 with expected FFO of $1.50 per share.
I think the rebound could actually be more significant than this and that UBA might surpass the consensus estimates. See, UBA still is not collecting about 4% of its rent as of January.
And occupancy is only 92%.
This leaves quite a bit of upside as these non-paying tenants get replaced with paying tenants and occupancy rises to perhaps 94%-96%.
Whether or not this can happen depends on if the damage done was at a property level or a tenant level. Examining the data, it looks to me as though the damage is entirely at the tenant level and that the properties themselves are in high demand.
Dark anchor versus loss of small shops which pay high rent
When an anchor tenant goes under it can damage the entire property. A dark anchor store means less foot traffic which erodes the viability of the small shops. It can be a nasty situation and even worse if there are co-tenancy clauses in the lease contracts of the small shops.
However, anchors also pay significantly less rent per square foot so the damage hit to earnings from a dark anchor will actually be less in the near term than a non-paying small tenant.
Well, UBA is overwhelmingly grocery and pharmacy anchored, both of which performed quite well during the pandemic and continue to perform well today. Instead, its damage was in the small shops. The laundromats/dry cleaners, day care centers, gyms, and some restaurants.
This small shop damage causes a bigger hit to near term FFO/share because they pay high rent per square foot, but importantly it has a rather muted effect on the viability of the shopping center.
The grocery stores remained open which kept foot traffic high. In fact, foot traffic at UBA shopping centers has already surpassed the pre-pandemic peak.
So at a cursory glance, the big dip in FFO might make it look like UBA was severely damaged by the pandemic, but when you dig in and look at the property level fundamentals I think a full recovery is quite clear.
It is only a matter of time before they can kick out the bad tenants and replace them with high paying small shop tenants.
The anchors are stellar foot traffic generators and the locations are among the strongest. UBA's portfolio is concentrated in the wealthy areas around Manhattan.
This places it firmly at the highest household income of all the retail REITs in a 3-mile catchment radius.
Small shop tenants like to locate near customers with high disposable incomes which makes demand for UBA space high.
Over the coming years I anticipate full collection of rents owed (or replacement of bad tenants) and a significant tick up in occupancy - both of which significantly grow FFO/share.
I find the coming FFO growth to be unusually strong relative to what is typically expected for a 13X multiple REIT. UBA also looks attractive from an NAV standpoint.
NAV accretion not priced in
Consensus NAV for UBA is $25.61 which places it at a 24.7% discount to NAV.
However, I think this is a stale number. As grocery anchored shopping centers became a hot commodity over the past couple quarters, cap rates have come down considerably and now sit in the 5s. The $25.61 NAV is based on a 6.10% cap rate, so if one were to value it in the mid 5s the NAV would be significantly higher.
Risks To Buy Thesis - Why I'm Not Presently Long
I wrote this article as a bull thesis because I think it would be entirely reasonable to buy UBA here. The reason I am not presently long, however, is because I strongly believe domestic migration will continue to be a major factor.
For quite a while people have been moving from expensive cost of living coastal areas toward the sunbelt and to a lesser extent toward the Midwest. This trend picked up significantly during the pandemic and some people think it will slow back down as the pandemic ends.
I am of the belief that it will continue at a rapid pace. Quite simply, most of the U.S.A. is beautiful and I think people can be happy living in a variety of areas, so why not do so at a dramatically lower cost of living?
The cost difference between areas like NYC and San Francisco as compared to the sunbelt has gotten so enormous that there is this semi-permanent incentive to move. Work from home has unlocked the ability to capitalize on the cost savings and I suspect the rapid domestic migration will continue.
UBA is at risk here because its Manhattan adjacent market is more likely to be on the negative internal migration side of the equation.
If you are less convinced than I am that the southward migration will continue, then UBA can be a great stock. Its sub 13X FFO multiple and massive discount to NAV make an opportunistic entry point into a long standing and well-run company. It has a bit of a near term catalyst in the form of fairly rapid FFO growth from the rebound on top of normal organic growth.