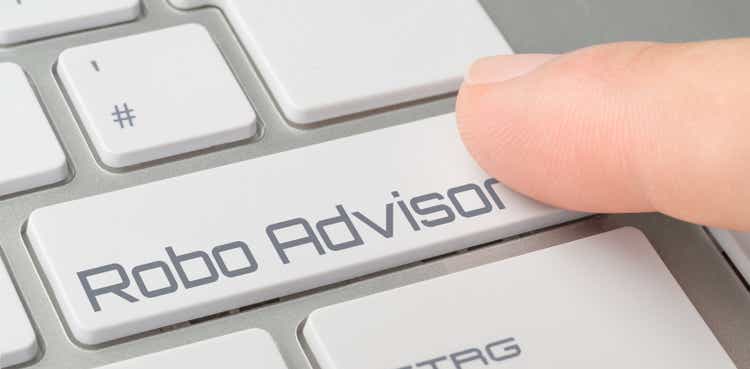 What Is a Robo Advisor?
A robo advisor is an automated service used by investors to manage an investment portfolio with little or no human interaction. To achieve automation in its delivery, robo advisors use a combination of inputs from the investor and intelligent computer algorithms to build and maintain the portfolio of investments.
Robo advisory services first became available to investors in 2008, during the Great Recession. In 2010, Betterment introduced a digital interface that could passively manage and rebalance diversified portfolios for investors. Today, many brokerage firms and investment companies, such as Charles Schwab (SCHW), Morgan Stanley (MS), and SoFi (SOFI), offer robo advisory services.
How Do Robo Advisors Work?
Robo advisory services differ among various brokerage firms but generally work in a similar way. A robo advisor commonly provides automated investment portfolio management to an investor-client, based upon collected data, which is typically collected through an online survey. The data may lead to a range of services, such as investment recommendations and portfolio rebalancing.
The primary services offered by robo advisors may include:
Risk profile and assessment
Investment recommendations
Portfolio rebalancing
1. Risk Profile and Assessment
Robo advisors build a profile based upon the investor-client's data input, typically gathered in an online survey. Data may include risk tolerance, financial goals, and a combination of demographic and financial information, such as gender, age, income, debt level, and current asset allocation.
2. Investment Recommendations
Based upon the collected data and risk profile, the robo advisor will automatically build a diversified portfolio. The client receives a mix of asset types, such stocks, bonds and cash, and a diverse set of investments, which are typically exchange-traded funds, or ETFs.
3. Portfolio Rebalancing
After the investment portfolio is constructed, portfolio rebalancing involves periodically returning the investments to their original or most recent target allocation weight percentages.
Note: Robo advisory services vary among the brokerage firms that offer them. For example, some services include an option to speak with a financial professional that can provide live guidance. Some robo advisors may also include tax-efficient investing, such as tax-loss harvesting, for clients with taxable accounts.
Pros & Cons of Robo Investing
Robo advisors offer a number of benefits, such as low-cost automated investing, but they are not for every investor. Before committing to a robo advisory service, learn the benefits and limitations.
Benefits of Using a Robo Advisor
Easy access: Setting up an account with a robo advisor is easy and access is typically available 24/7.
Automated investing: Once a robo advisory service is established, the automated investment recommendations and rebalancing begins, making portfolio management almost effortless.
Low-cost: Robo advisor fees are commonly below 0.5% of assets, whereas human advisors often charge fees around 1.0% of assets under management.
Risk management: Removing the human element from portfolio management also removes manager risk associated with professionally managed accounts, as well as the risk of an investor making emotion-based decisions, which can hurt returns over time.
Limitations of Using a Robo Advisor
Account minimums: While robo advisor fees may be lower than typical human advisor fees, the account minimums for robo advisors may range from $500 to $5,000 just to get started.
Limited investment selection: The typical robo advisory service is limited to ETFs or index-based mutual funds and the investor does not choose these funds.
Simplistic: Automated investing has its merits but risk tolerance questionnaires and algorithmic systems can be overly simplistic for higher-net worth clients who may need more personal and comprehensive attention.
Robo Advisor Account vs. Brokerage Account
A robo advisor account has the same general structure as a brokerage account, in that both can be set up for multiple purposes, such as retirement or non-retirement (taxable). But in terms of the primary features, robo accounts and brokerage accounts have some key differences, such as investment choice and the approach to portfolio management.
The key comparison points for a robo advisor account vs. brokerage account:
Investment account types: Robo advisor accounts and brokerage accounts can be set up as any of the primary investment account types, including taxable accounts, IRAs, and custodial accounts. Some robo advisors may manage trusts but very few manage 401(k) plans.
Investment choice: Robo advisors primarily use ETFs or index funds for investments. However, other types of brokerage accounts offer stocks, bonds, ETFs, mutual funds, and options.
Portfolio management: Robo advisor accounts are automated and mostly passive in management style, whereas a conventional investment account is managed by the investor or the investor's advisor.
Cost: Fees for robo advisors are generally lower than fees for full-service brokerage accounts but can still be higher than a completely self-managed investment account using low-cost mutual funds or ETFs.
Who Are Robo Advisors Best For?
When considering robo advisor features, such as automated investing, together with some of their drawbacks, such as limited investment choice, robo advisors are not for every investor. For example, some DIY investors may be a good fit for robo advice but not a high net worth individual.
Robo advisors may be best for:
Beginning investors with at least $500 to $5,000 to get started investing.
DIY investors who like the idea of automated investing with little or no human interaction or intervention.
Passive investors who prefer ETFs or index funds, and are not interested in holding other investment securities, such as individual stocks or bonds, or in alternative strategies, such as stock options or leveraged ETFs.
Investors with simple investing needs and not needing comprehensive financial planning.
How to Open a Robo Advisor Account
While each brokerage firm or investment company may differ in the types of robo advisory services offered, the general steps investors need to take in opening a robo advisor account is similar. For example, most robo accounts begin with an investor survey or questionnaire, which is used to guide the automated investing decisions.
The basic steps to open a robo advisor account are:
Step 1: Complete a Questionnaire
Complete a questionnaire to assess risk tolerance and gather demographic and financial background information, such as age, income, and current investments.
Step 2: Robo Advisor Builds a Diversified Portfolio
The tool builds a portfolio based upon the investor's unique profile. The investments are typically ETFs that were originally pre-selected by investment professionals.
Step 3: Account is Monitored & Rebalanced
The robo advisor continually monitors and rebalances to maintain an investment mix that is suitable for the investor's risk tolerance, preferences and goals.
Is a Robo Advisor Right For You?
Robo advisory services can be a convenient means of obtaining and maintaining a low-cost, automated, diversified portfolio to suit an investor's risk tolerance and financial goals. Not a perfect fit for every investor, a robo advisor may be right for you if you are a DIY investor with relatively simple investing preferences and financial planning needs.