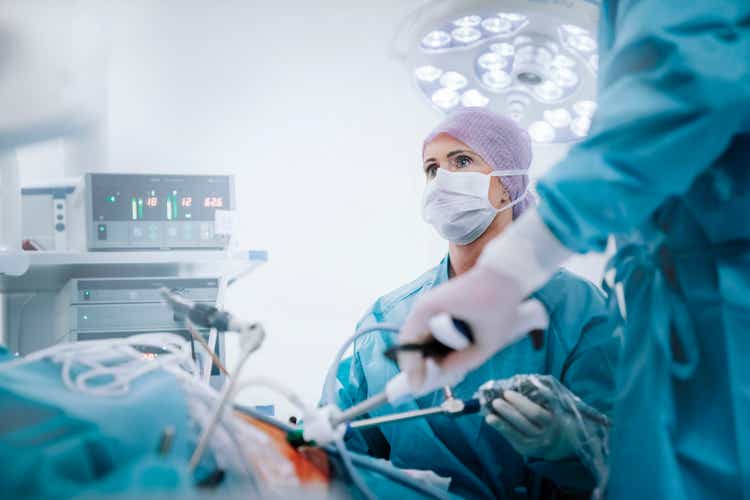 It's been almost a year since my previous article on Heron Therapeutics (NASDAQ:HRTX) and while the company made progress, the stock is sitting near 52-week lows and is down 60% since the publication of my previous article.
Some of the most important problems were solved – the company secured a broader label for Zynrelef in late 2021 and it did raise cash shortly after my article was published in May 2021, but the launch numbers for Zynrelef are not where they should be and the continued troubles of the CINV franchise have once again made the cash position a significant issue.
Cash burn is a problem again
Heron ended 2021 with $157.6 million in cash and equivalents. Cash used for operating activities in 2021 was $203 million and paints an ugly picture of the company's current financial position. Yes, cash burn will more than likely decrease this year, but the decrease will not be significant enough to bring the company to profitability. For example, Heron expects to use between $44 million and $48 million for operating activities in the first quarter. At best, the company has enough cash to last until late 2022.
This is the key issue the company needs to address as soon as possible. Issuing more debt is an option, but I would not be comfortable adding more debt on top of the $150 million convertible notes issued last year. As painful as it looks now, equity is probably the best option, and raising $100 million would result in an issuance of approximately 20 million shares on top of the 102 million shares outstanding (which do not include the potential issuance of almost 10 million shares if $150 million in notes are converted).
However, I should mention that Heron does have two important levers to pull to address the cash burn.
The first was achieved in the fourth quarter of 2021 when the company received approval of two manufacturing supplements for Zynrelef to add a large-scale secondary supplier, and this should lead to significantly reduced cost of product sales in 2022 and beyond.
And management also said it aims to achieve the same this year with its CINV franchise products Cinvanti and Sustol. The cost of product sales is quite high for a branded pharmaceutical company as the gross margin in 2021 was below 50%. Getting the gross margin to 80% would reduce cash burn by more than $25 million a year, assuming sales are flat in 2022.
The second is R&D spending as it accounted for nearly 50% of total expenses in 2021 and the company should soon finish the clinical trials required to support further label expansion for Zynrelef. But cutting expenses can only take you so far and the focus should be on revenue growth.
Zynrelef's launch – slow but improving
The main reason cash is a problem again is Zynrelef's slow launch. The company's hands were initially tied by the narrow label given by the FDA, but hospital launches take time, and the first few quarters would not have produced meaningful revenues even with a broader label. Even Exparel's successful launch did not produce meaningful revenues in the first few quarters.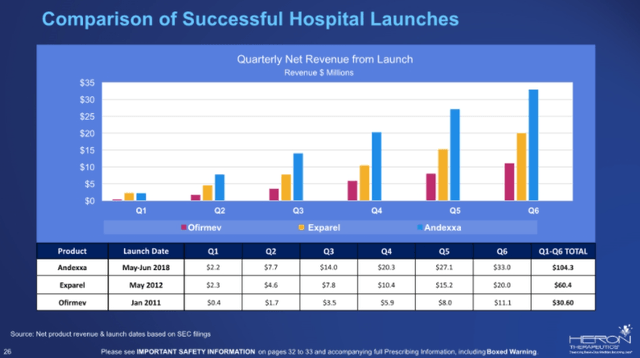 The narrow label problem was solved in late 2021 – the number of procedures covered by the updated label grew from 2.1 million to around 7 million and management sees a clear path to a broad label that covers more than 14 million procedures a year. To sNDA for the broadest label possible is expected in the second half of the year and will be based on data from several ongoing studies – C-section, spine, abdominoplasty, and shoulder.
Going back to the launch, it is slower than we might have anticipated, despite the initially narrow label and the usual initial difficulties of getting coverage - $2.1 million in Q3 and $0.8 million in Q4. The sequential decline is not due to lower demand but due to initial inventory stocking in Q3. A big part of the problem was COVID-19, but the situation has improved considerably lately on that front and is less of an excuse going forward.
The company shared monthly unit sales in the latest presentation and sales were flat in January due to the COVID-19 surge and grew significantly in February as the impact of the Omicron variant dissipated.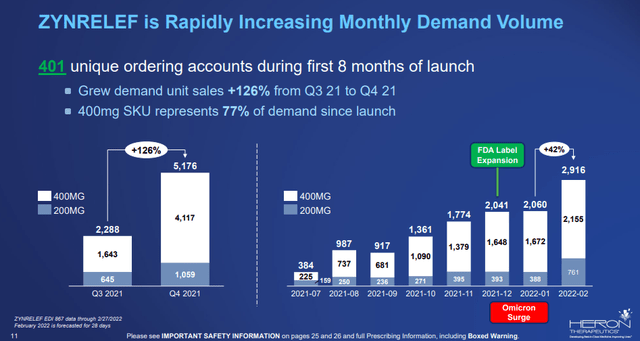 But Heron needs a lot more than February unit sales to get to where the product belongs – hundreds of millions in annual net sales. The February unit sales translate to an annualized net sales run rate of only $7 million based on an average net price per unit of approximately $200.
The early indicators of demand look good, though. As of February 25, Zynrelef had 260 formulary approvals with a 90% P&T approval rate in hospitals, and 65% of approvals are for unrestricted usage. The company expects over 100 additional P&T committee reviews before the end of the first quarter.
Another significant event for Zynrelef was getting pass-through payment status on March 25. Beginning on April 1, Zynrelef will have three years of separate reimbursement outside the surgical bundle payment in the outpatient setting of care. The company estimates 72% of Zynrelef's indicated procedures were performed in the outpatient setting in 2021.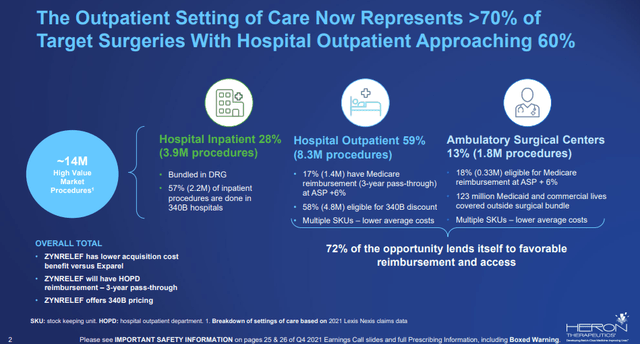 In addition to Zynrelef's clinical efficacy profile (clear superiority to the standard of care bupivacaine), it will have an economic benefit over Pacira Biosciences' (PCRX) Exparel in the next three years. And Exparel never achieved superior efficacy to bupivacaine.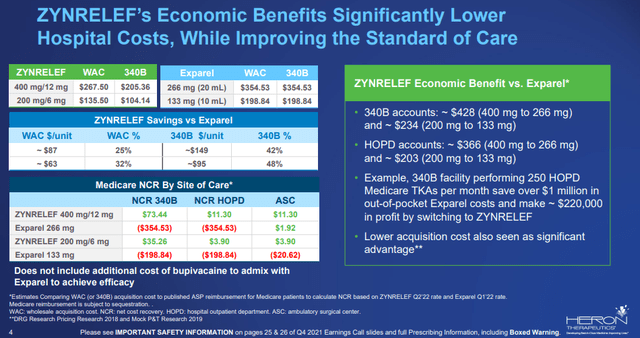 To put it all together, Zynrelef has several growth catalysts in the following quarters – COVID-19 subsiding, expanded label that includes 7 million procedures as of December 2021, early coverage wins starting to translate to sales, the pass-through payment status starting in April, and further label expansion in 2023, if approved by the FDA.
I continue to see Zynrelef as a potentially meaningful product for Heron with peak sales matching or exceeding those of Exparel. Exparel generated $506 million in net sales in 2021.
Growth prospects of CINV and PONV products
The CINV (Chemotherapy-Induced Nausea and Vomiting) franchise has been a source of disappointment over the last few years. Both Sustol and Cinvanti were negatively impacted by generic launches of competing products and neither product has fully recovered.
Net sales of the two products fell from $88 million in 2020 to around $84 million in 2021 and Heron guided for Q1 net sales of $20 million to $22 million, which at least means the franchise is stable.
I was more optimistic about the growth prospects of the CINV franchise last year as it had a clear opportunity to recover due to the pricing reset of Sustol and the end of generic arbitrage that was impacting Cinvanti. But neither opportunity was realized, and as of today, I do not believe the CINV franchise can grow meaningfully going forward due to aggressive competition and the new value-based contracting dynamics in this market.
There is, however, a potential growth driver for the PONV side (Postoperative Nausea and Vomiting). The PDUFA date for HTX-019 is September 17, 2022. This is essentially Cinvanti but will likely have a different brand name for the PONV market which the company estimates to be 25 times the size of the CINV market and it believes HTX-019 could generate several hundred million in annual sales.
However, I am skeptical about this estimate and would want to see a few quarters of sales before getting excited about the PONV market for HTX-019. And to this, I would add the company's problematic regulatory history – both Sustol and Zynrelef were approved after initial rejections and delays.
Conclusion
Heron would be in a much better position to deliver shareholder value if it had more cash. As the situation stands, the company will run out of cash by the end of 2022 and only a buyout would eliminate the need to raise cash. This is an addressable issue but will likely lead to additional dilution.
Zynrelef did not have a great start last year, but there are several inflection points for the product this year and next to significantly improve its growth trajectory, and that is assuming the cash situation is addressed in the next few months (the sooner, the better).
The CINV/PONV franchise has more limited growth prospects, and I am acknowledging (but not counting on) HTX-019 as a decent potential contributor in a few years, but I do not think it can generate several hundred million in peak sales.
I see Heron's fair value in the mid-teens based on $500 million in combined annual peak sales of Zynrelef and CINV/PONV products and up to $20 per share if I move it to $600 million (model available to subscribers), but this could be reduced by 15% or somewhat more if the company issues 20-25 million in additional shares.