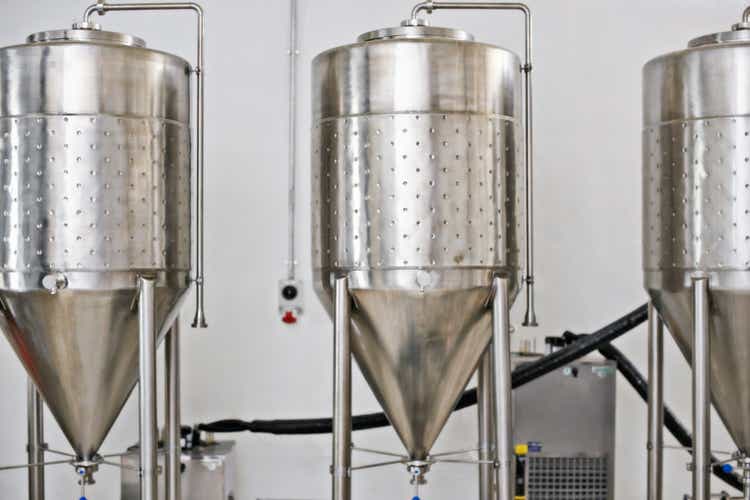 Writing about Calyxt (CLXT) in the past, my concern was never whether the company's core TALEN gene editing technology (licensed from Cellectis (CLLS)) worked, whether it could work in agriculture, or whether it could develop credible modified crops. My concern was whether the company could execute, and the answer was definitively "no".
Now the company is on to its third iteration, attempting to remake itself as a "synthetic biology" company that harnesses its core competencies to develop and produce sustainable plant-based molecules for use in end-markets like pharmaceuticals, food/supplements, and cosmetics. The company starts this next chapter with less than $25 million in cash and not much time to convince potential partners of the validity of the platform in order to secure partnerships.
The basic concepts behind the company's PlantSpring and BioFactory platforms seem credible, but this company has never given investors a reason to believe that they can deliver, and this is at best a speculative bet that Calyxt can secure enough capital to prove the commercial viability of this latest plan.
Harnessing Plants To Produce Commercially Interesting Molecules
There's a definite appeal to growing a product as opposed to mining or pumping it out of the ground or producing it in a factory – plants need comparatively little direct labor, next-to-no supervision, and photosynthesis does most of the heavy lifting. On the other hand, growing plants takes time and space and there are many significant uncontrollable variables like weather.
What Calyxt is looking to do, in essence, is take a desired end-product (like say a monoterpene, a class of chemicals used in perfumes, or a flavonoid, chemicals often used as natural preservatives), figure out how to coax target plant cells into producing it (and/or optimizing the relevant pathways), and then use its proprietary BioFactory bioreactor technology to produce that product in commercial quantities without having to resort to conventional full-scale architecture. This is not unlike how many drugs are produced today, and the basic concepts seem credible.
Why do this?
For starters, some plants produce commercially-interesting chemicals but are endangered, difficult to "domesticate", and/or difficult to grow economically. Additionally, there's a sustainability angle to the BioFactory process, as it does not rely on large swaths of farmland, groundwater, fertilizers and so on. The process should also reduce the vagaries of conventional plant-derived products, as the BioFactory process is essentially a controlled/controllable industrial bulk-production process.
In principle, then, a company that wants a sustainably-produced molecule for a supplement, perfume, or what have you could go to Calyxt, with the company then using its technology platform to identify and develop plant cells that can produce the product, then doing so (ostensibly at commercial scale) through its BioFactory process.
Much Still To Prove
While the underlying concepts of this new venture into synthetic biology may be viable, there remains a great deal left to prove. Calyxt has shown that it can effectively gene-edit plant cells to produce a range of targeted outcomes, including soybeans with a modified oleic acid compound, and most of what the company is likely to try to produce are already naturally-occurring chemicals, giving the company a "starter set" of instructions for where to begin.
The bigger question is whether the BioFactory process can work at scale. The target cells will be placed in proprietary multicellular Plant Cell Matrix structures that are then loaded into the bioreactors and "bathed" in growth media, with the Plant Cell Matrix designed to emulate the metabolism of an entire plant. At a minimum, this sounds a fair bit more complicated than, say, standard fermentation-based production, and Calyxt will need to show that it can do this consistently and cost-effectively at commercial scale.
It also remains to be seen what the economics of this process will be like. Many plant-derived compounds can be synthesized through industrial processes and while that may not fit with the sustainability goals of Calyxt's target clients, it does mean that there may well be economic constraints on what products Calyxt can produce, as most consumers will only pay so much for sustainability. Even so, I would expect that there are numerous rarer, harder-to-synthesize natural compounds where this process could be invaluable and where the "cost per liter" may not be nearly as important.
For now, the company has to prove that it can get customers to sign up. Management has talked about inbound interest from six large sustainability-focused companies, but management also talked about indications of interest from large potential partners with its two prior iterations and that never amounted to much. What the company really needs, then, is a signed deal in hand with actual dollars attached, and the ability to publicly name a company known to investors would likely do a lot for sentiment.
The Outlook
With a mid-February offering of shares and warrants that raised $10M plus the cash that the company ended the last fiscal year with, Calyxt should have enough cash to at least complete some pilot-stage development and production runs. At that point, if the company hasn't done enough to get a meaningful partnership or two, it's difficult to see how the company finds more time to prove out this synthetic biology business plan.
I find it unlikely that Calyxt will be able to ramp this concept fast enough to become cash flow breakeven over the next five years (or at less than $100M in revenue), so development partnerships will be crucial for sustaining the company, both in terms of upfront cash and rebuilding sentiment on the Street to where further financing rounds can be done on less dilutive terms.
The Bottom Line
Perhaps this will be a case of "third time's the charm" for Calyxt, but this looks solely like a speculative bet at this point, with the company having very little cash to support current pilot-stage efforts. At a minimum, while I understand the appeal of trying to find ground floor opportunities with big upside, I'd wait for the announcement of at least one solid commercial partnership. Yes, the shares will be more expensive at that point, but there will be a little more substance to Calyxt's own sustainability at that point.