4d Pharma: Leading Developer Of Live Biotherapeutics
Summary
4d Pharma claims to be a world leader in the development of live biotherapeutics.
Positive interim results were announced last week from the trial of lead combo therapy candidate.
Form F-3 has been filed with the SEC to raise up to $150 million.
Looking for more investing ideas like this one? Get them exclusively at The Total Pharma Tracker. Learn More »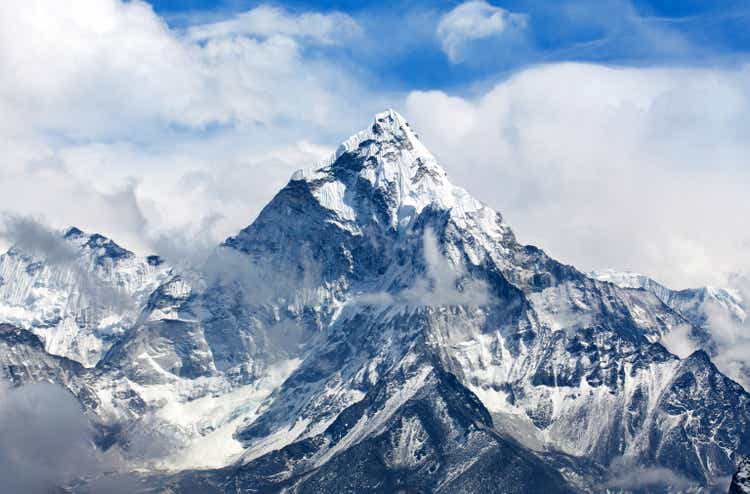 4d Pharma, Plc. (NASDAQ:LBPS) is a UK-based clinical stage pharmaceutical company developing a novel class of drugs termed live biotherapeutic products ('LBPs), derived from the microbiome. The Company is a world leader in the development of LBPs, which are single strains of bacteria naturally found in the healthy human gut, administered orally for the treatment of diseases in various areas including immuno-oncology, gastrointestinal ('GI), respiratory, autoimmune and central nervous system ('CNS) disease. 4d Pharma last week announced positive interim results from a Phase I/II trial of its lead combo therapy candidate, which met the primary efficacy endpoint ahead of enrollment completion. The Company also earlier this month filed a form F-3 registration statement with the SEC to raise up to an aggregate of $150 million from sale of various securities including American Depositary Shares (ADSs).
Pipeline
The Company utilizes a proprietary platform MicroRx, developed inhouse to rationally identify LBPs, from a deep understanding of function and mechanism in diverse therapeutic areas.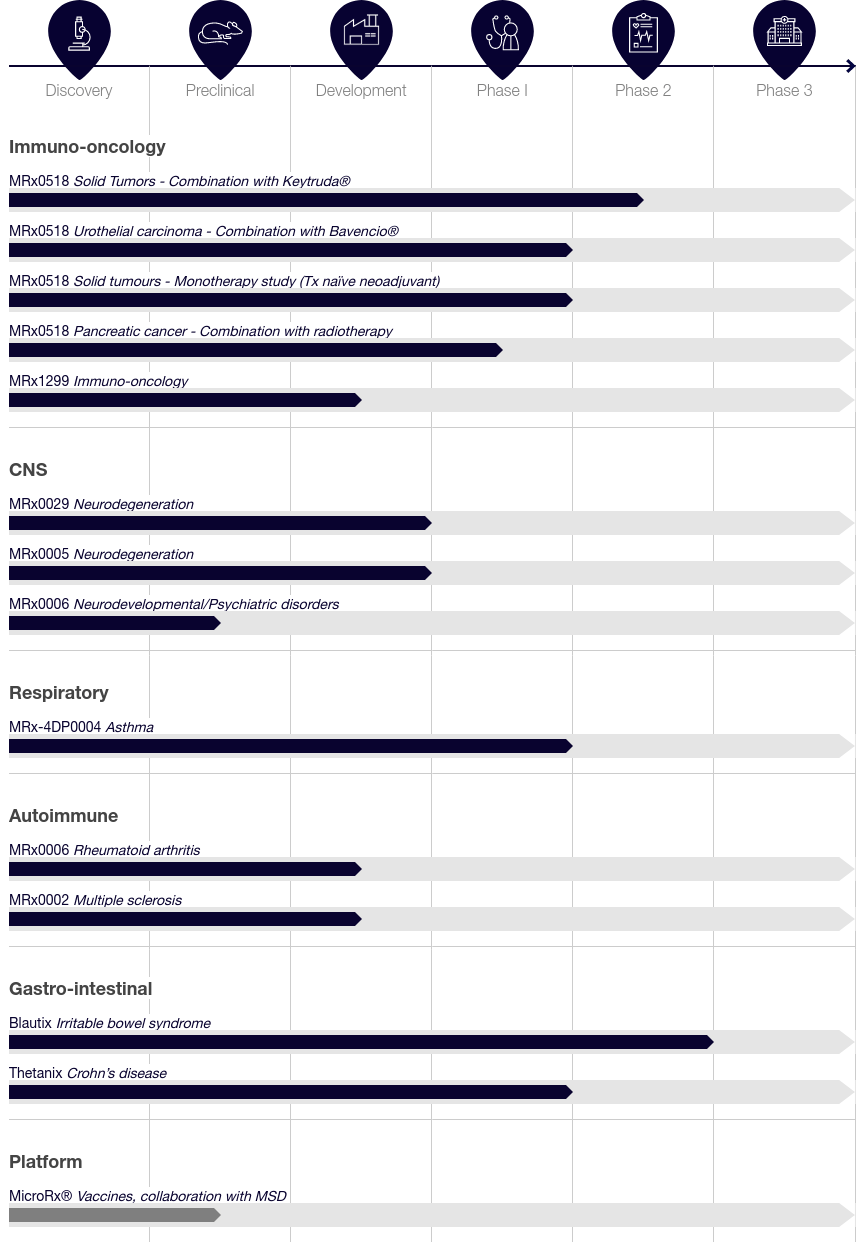 The Company's lead immuno-oncology therapeutic candidate MRx0518 is being evaluated in a Phase I/II trial in combination with Merck's (MRK) anti-PD-1 therapy, Keytruda (pembrolizumab) in patients with heavily pre-treated solid tumors secondary resistant to immune checkpoint inhibitors ('ICIs) like Keytruda. Part A of the trial, a three-week treatment cycle and an initial safety phase was completed in May 2020, with the combination achieving a disease control rate of 42% along with good safety and tolerability. Part B cohort expansion phase of the study is ongoing at multiple sites in the US, with 47 patients enrolled of up to a total of 120 heavily pre-treated metastatic patients with solid tumors including renal cell carcinoma ('RCC), non-small cell lung cancer ('NSCLC), bladder cancer, triple negative breast cancer ('TNBC), head and neck squamous cell carcinoma ('HNSCC) and MSI-H/dMMR (High levels of MicroSatellite Instability/deficient MisMatch Repair). The Company announced on 3/23/2022 that the primary efficacy endpoint was met early in the RCC group, with four of the first 16 evaluable patients achieving clinical benefit of at least six months of disease non-progression. 4d Pharma is looking at a potential pivotal study in patients with ICI-refractory RCC, and potential expansion into other types of ICI resistance, while enrollment for the remaining cohorts continues.
A Phase Ib neoadjuvant monotherapy study of MRx0518 to be conducted at Imperial College, London, UK, is enrolling treatment naive patients due to undergo surgical removal of solid tumors.
A Phase I study is being conducted at The University of Texas MD Anderson Cancer Center, to evaluate the safety and preliminary efficacy of MRx0518 in combination with preoperative radiotherapy in patients with resectable pancreatic cancer ('PC).
Under a clinical trial collaboration and supply agreement with Merck, and Pfizer (PFE), a Phase I/II trial will investigate MRx0518 in combination with anti-PD-L1 ICI Bavencio (avelumab) in a first-line maintenance setting for patients with locally advanced or metastatic urothelial carcinoma ('UC) that has not progressed on first-line platinum-containing chemotherapy.
4d Pharma has also identified in July 2021, a second-generation immuno-oncology LBP candidate MRx1299, with the ability to enhance the anti-tumor activity of cytotoxic T lymphocytes ('CTL) and CAR-T therapies, demonstrated by better tumor clearance in animal models. Preclinical studies are ongoing.
The Company has completed Part A of a Phase I/II clinical trial of MRx-4DP0004, an immunomodulatory single strain LBP candidate discovered using MicroRx. Being conducted in Europe and the US, it is the world's first clinical trial of an LBP in patients with partly controlled asthma. Enrollment of up to 90 patients for Part B of the trial is to commence soon.
The Company has identified two LBP candidates in the GI diseases area. Blautix is a single-strain human gut commensal bacteria with a distinctive metabolism suitable for the treatment of irritable bowel syndrome ('IBS). Currently available therapeutics focus on symptom management rather than treating the underlying cause. Blautix demonstrated highly favorable safety, tolerability, and clinical activity in both major subtypes IBS-C and IBS-D in a Phase II trial that has been completed. The Company plans regulatory engagement for a potential Phase III pivotal program.
Thetanix is also a single-strain human gut commensal bacteria with an anti-inflammatory mechanism being investigated for the treatment of inflammatory bowel disease ('IBD). The US Food and Drug Administration ('FDA) granted Orphan Drug Designation to Thetanix for pediatric Crohn's disease (an IBD). A Phase Ib clinical trial of Thetanix in pediatric Crohn's disease patients demonstrated it was well tolerated with a good safety profile. A Phase II trial is being designed.
The Company's candidates in the CNS space are being developed to treat neurodegenerative conditions such as PD via the gut-brain axis. MRx0005 and MRx0029 are orally administered single-strain LBPs also discovered using MicroRx. In preclinical studies, both have shown positive impacts on gut barrier integrity, neuroinflammation, oxidative stress and neuroprotection. In animal models, MRx0005 protected against the loss of dopamine metabolites, and MRx0029 protected against the loss of dopamine-producing neurons in the brain. The FDA recently cleared investigational new drug ('IND) applications for both in the treatment of PD. A first-in-human Phase I clinical trial is expected to commence mid-2022. The Company has been an industry partner of the Parkinson's Progression Markers Initiative sponsored by The Michael J. Fox Foundation for Parkinson's Research since December 2020.
MRx0006 is another LBP candidate that has been shown to upregulate the expression of neuropeptides implicated in social behaviors. The candidate is being investigated for the treatment of neurodevelopmental and psychiatric disorders. MRx0006 also showed anti-inflammatory and joint-protective effects in preclinical models for autoimmune diseases such as rheumatoid arthritis ('RA), and is being investigated further. Another candidate under investigation is MRx0002 that has shown strong efficacy in industry standard preclinical models of multiple sclerosis ('MS).
Discovery and Diagnosis Platforms
4d Pharma built a proprietary platform MicroRx that uses over two decades of research into the role of the microbiome and its influence on the immune system to rapidly select bacteria having therapeutic effect in specific diseases. The Company states:
Traditional pharmaceutical drug discovery involves multiple rounds of hit and lead optimization to identify a clinical candidate – a process which can take many years. As we do not need to optimize our Live Biotherapeutics from either a safety or an efficacy perspective, we can enter clinical development in as little as 24 months from the initiation of the program.

Our MicroRx platform drives candidate discovery and development and is the most productive platform in the microbiome space. We use MicroRx to interrogate our extensive library of bacterial isolates to identify Live Biotherapeutic candidates for a given disease based on a deep understanding of functionality and mechanism.
The Company has a research collaboration and option agreement with Merck to utilize the MicroRx platform for discovering and developing LBPs as novel vaccines. Merck is also a shareholder in the Company.
The Company also established MicroDx, a microbiome analysis platform using machine learning and proprietary algorithms to aid the diagnosis and treatment of patients with LBPs, stratifying them based on their metagenomic and functional microbiome profile. The Company completed a comparative analysis of the microbiome profiles of healthy individuals and IBS patients demonstrating proof-of-concept in IBS, and is expanding the platform's coverage to other disease areas.
Financials
The Company was incorporated as 4D Pharma plc., under the laws of England and Wales in January 2014, and has been listed on the AIM (operated by the London Stock Exchange) since February 2014 under the symbol "DDDD." Subsequent to a merger with Longevity Acquisition Corporation (LOAC), the Company's ADSs have been listed on the Nasdaq Global Market in the US since March 2021 under the symbol "LBPS" and the Assumed Warrants have been listed under the symbol "LBPSW." Each ADS represents 8 ordinary shares with a nominal value of £0.0025 each. As of 12/31/2021, the Company was authorized to issue up to 308,236,884 ordinary shares, of which 180,300,967 shares are outstanding. While the ordinary share at AIM last closed at £0.5235, the ADS last closed at $5.26, putting the market capitalization at approximately $118 million. The Company has been funding its operations primarily from the sales of common stock, the Merck collaboration agreement and government grants. As of 6/30/2021, the company had cash and cash equivalents of $28.6 million, which along with subsequent inflows as of 2/18/2022, is anticipated to provide a cash runway through 4Q-2022.
Risks
4d Pharma is an "Emerging Growth Company" and a "Foreign Private Issuer" and may take advantage of certain exemptions from various reporting requirements, including but not limited to executive compensation disclosure rules.
The Company had an accumulated loss of approximately $173.2 million as of 6/30/2021.
Bottomline
With claims of having the largest intellectual property ('IP) estate in the microbiome sector, comprising more than 65 patent families, encompassing over a thousand granted patents covering their lead products; and collaborations with and investment from big pharma, 4d Pharma is interesting.
About the TPT service
Thanks for reading. At the Total Pharma Tracker, we offer the following:-


Our Android app and website features a set of tools for DIY investors, including a work-in-progress software where you can enter any ticker and get extensive curated research material. 
For investors requiring hands-on support, our in-house experts go through our tools and find the best investible stocks, complete with buy/sell strategies and alerts.
Sign up now for our free trial, request access to our tools, and find out, at no cost to you, what we can do for you. 
This article was written by
Cautious, low key, disciplined investing in biopharma stocks
Avisol Capital Partners runs the Total Pharma Tracker Seeking Alpha Marketplace service. This is managed by Dr Asok Dutta, BVScAH and Dr Udaya Kumar Maiya, MD Oncologist. The service offers end-to-end research on both investing and trading ideas everyday, and includes a 150-stock watchlist and two 40-stock model portfolios that are continuously tracked.

Dr Dutta is a retired veterinary surgeon. He has over 40 years experience in the industry. Dr Maiya is a well-known oncologist who has 30 years in the medical field, including as Medical Director of various healthcare institutions. Both doctors are also avid private investors. They are assisted by a number of finance professionals in developing this service.

If you want to check out our service, go here - https://seekingalpha.com/author/avisol-capital-partners/research

Disclaimer - we are not investment advisors.

Analyst's Disclosure: I/we have no stock, option or similar derivative position in any of the companies mentioned, and no plans to initiate any such positions within the next 72 hours. I wrote this article myself, and it expresses my own opinions. I am not receiving compensation for it (other than from Seeking Alpha). I have no business relationship with any company whose stock is mentioned in this article.
Seeking Alpha's Disclosure: Past performance is no guarantee of future results. No recommendation or advice is being given as to whether any investment is suitable for a particular investor. Any views or opinions expressed above may not reflect those of Seeking Alpha as a whole. Seeking Alpha is not a licensed securities dealer, broker or US investment adviser or investment bank. Our analysts are third party authors that include both professional investors and individual investors who may not be licensed or certified by any institute or regulatory body.