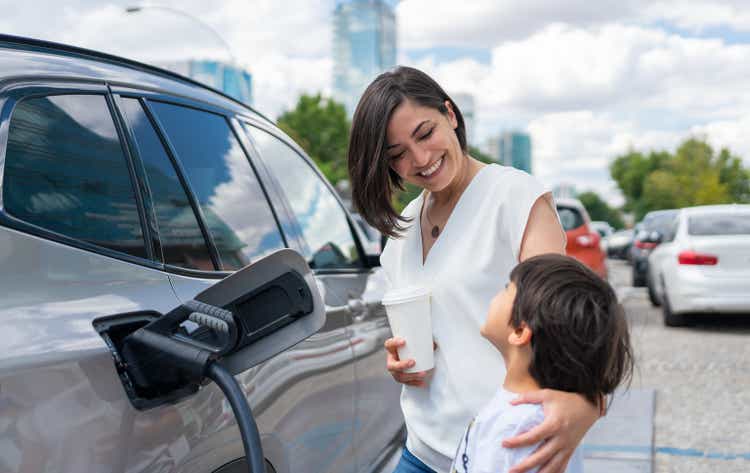 Introduction
I like writing about companies that lack coverage on SA, and today I'm taking a look at Dutch electric vehicle charging firm Allego NV (NYSE:ALLG). It was listed on the NYSE on March 17 following a merger with a special-purpose acquisition company (SPAC) named Spartan Acquisition III. I think the company looks expensive at the moment as I think it lacks the funding it needs for its growth plans considering redemptions came in at $541 million. Also, it seems that Allego's market valuation has received a boost from retail investor interest, which I expect to decline in the near future. Let's review.
Overview of the business and financials
Allego was established in 2013 as a subsidiary of Dutch grid operator Alliander before being acquired by French investment company Meridiam in 2018. It offers charging solutions and infrastructure for local authorities, private companies, and transport firms.
As of December 2021, Allego had a network of about 28,000 public charging Ports and some 13,400 public and non-public sites in 14 countries across Europe. Looking at the map, you can see that most of the company's facilities are located in Benelux, Germany, and England.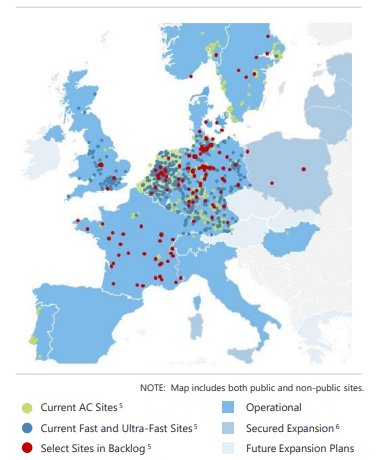 Allego's near-term plans include the installation of More than 2,000 fast and ultra-fast charge points at over 200 locations across France. in November 2021, it closed a €138 million ($153.4 million) special purpose project finance vehicle to finance this project.
So, what sets Allego apart from its European competitors besides the large size of its network? Well, the company thinks it has a technological edge thanks to its Allamo and Allego EV Cloud software platforms.
The goal of Allamo is to identify premium charging sites and forecast demand based on external traffic statistics. Allego EV Cloud, in turn, offers software solutions for EV charging owners, including payment and achieving high uptime. In my view, the business plan of Allego seems to be working well as the company became EBITDA positive in 2021. Allego says that its charging stations need a utilization rate of around 3% to achieve a positive gross profit, and 6% to get a positive internal rate of return. Well, the utilization rate was 7.6% as of December 2021, which I think is a clear sign that Allamo is doing its job.
Turning our attention to the financials of Allego, revenues for 2021 are expected to come in at €86 million ($95.6 million). The company is EBITDA positive, and it forecasts to become cash flow positive in 2026. In order to achieve this, Allego plans to make capital expenditures of €1.31 billion ($1.46 billion) between 2022 and 2026.
I think these goals are ambitious and the idea of the Spartan Acquisition III deal was to fund a substantial part of planned CAPEX with $552m held in the SPAC trust as well as $150m from institutional investors. Following the deduction of advisory and transaction fees, Allego was supposed to be left with $556 million in the bank.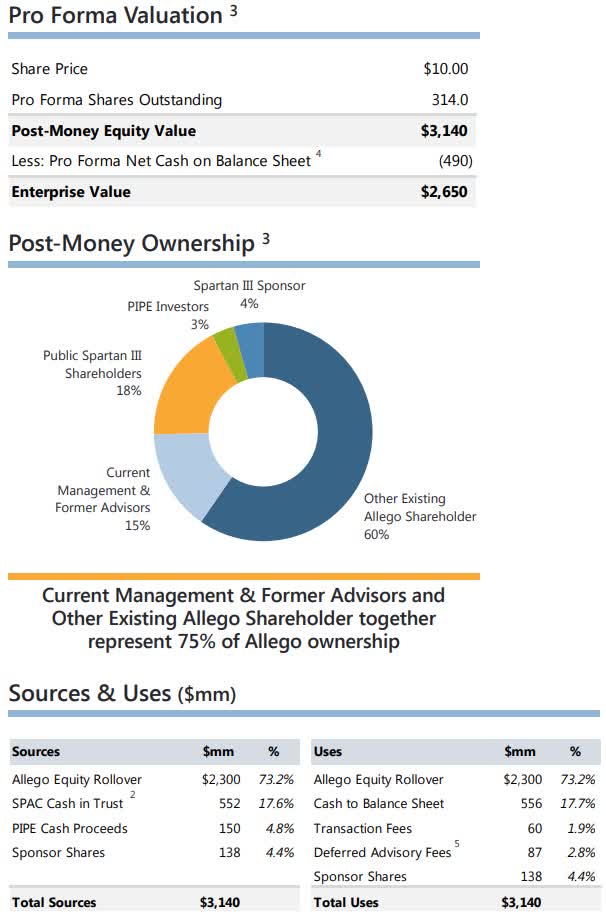 Unfortunately, the owners of 54,092,418 shares of the SPAC chose to return them for cash. This means that $541 million was removed from the trust account. Thus, Allego needs to rely mainly on the $150 million of private investment in public equity (PIPE) to fund its growth. I think the amount of redemptions is not surprising considering that the average redemption rate from SPAC deals soared to 75% in January 2022 from 14% a year earlier, according to data from Boardroom Alpha. It's just that SPACs are no longer liked by investors.
So, where does Allego go from here? Well, I see two paths forward, neither of which look good. First, the company could scale back its expansion plans significantly, but this means that competitors like EnBW and Ionity are likely to leave it in the dust. This is why I think Allego is more likely to choose the second path which includes debt funding and capital increases at below $10 per share to fund its CAPEX plans, but this means stock dilution will be high.
Overall, I think that Allego is in a tight spot at the moment and I'm bearish. However, the share price has soared since the listing and stands at $15.12 as of the time of writing.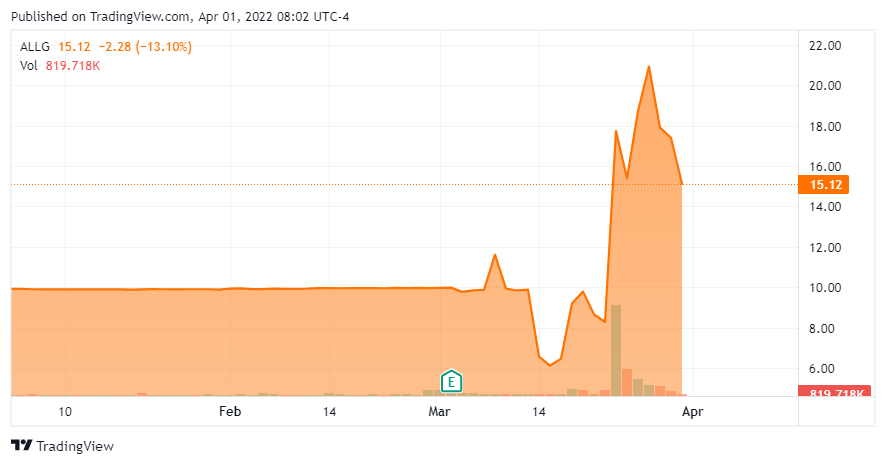 I think that the reason for this is that the share float is almost non-existent due to the 98% redemption rate, and this has attracted interest from retail investors. As SA reported on March 23, there are a large number of posts about the company on websites like Twitter, and StockTwits. On YouTube, Allego is being covered by several stock trading channels, including Warrior Trading, True Trading Group, Hot Trades, Hai On Stock, Relentless Trader, and red2green. Several of the videos have more than 4,000 views each, with the top one getting over 14,000 views as of the time of writing. Note that the company isn't doing the promotion of its business or shares itself, but this is being done by a considerable number of traders.
In my view, retail investor interest is likely to fade off in the near future and the share price will fall below $10. However, I don't think this creates a good short selling opportunity. There are no put options available yet and data from Fintel shows that the short borrow fee rate stands at 132.64% as of the time of writing. Even if the latter decreases to double digits, I still think that short selling Allego is dangerous as the low share float creates a good environment for a short squeeze.
Investor takeaway
Allego is one of the leading electric vehicles charging companies in Europe but its listing in the USA was lackluster and the company doesn't have the funds for its growth plans at the moment.
However, the company's market valuation has been soaring and I think that the low share float seems to have attracted significant interest from retail investors. In my view, retail investor interest is likely to fade off in the next month or two.
However, there are no put options and the short borrow fee rate stands at over 130%. In my view, it could be best for investors to avoid Allego for now.