ZIM Shipped A Monster 20% Dividend, At A Low Valuation
Summary
Zim (NYSE:ZIM) Integrated Shipping Services is one of the top 20 global shipping companies.
The firm has recently (March 22nd) announced a gigantic $17/share dividend, which equates to a massive 23% of their share price.
ZIM's net cash generated from operations has increased by 5 times to $2 billion in Q4,2021 compared to the prior year.
ZIM has benefited massively from rising shipping costs & volume, Is the stock still a buy? or Has this ship sailed?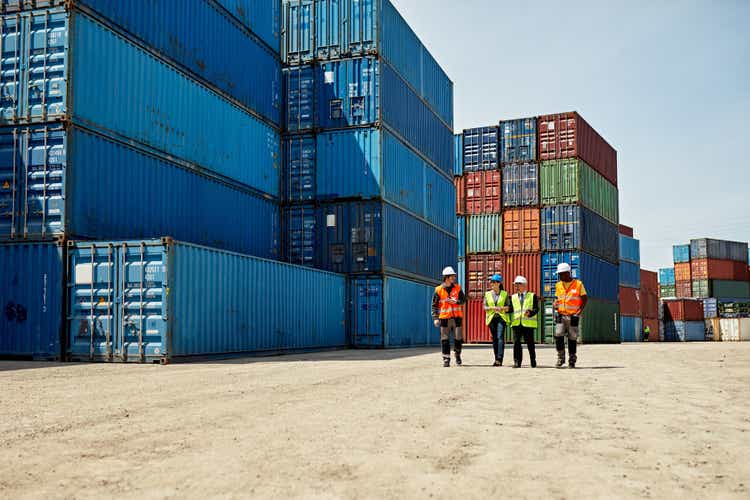 ZIM Integrated Shipping Services (NYSE:ZIM) is one of the top 20 global shipping companies which operates on the world's most popular trade routes. The firm has benefited massively from rising freight costs which Bloomberg estimates to have increased by up 50% and Time reports a 547% increase in the average price to ship a container from Shanghai to Rotterdam. These rising freight costs have caused Zim's revenue to increase by 155% and their EBITDA margins to nearly double. This has left the firm flush with cash and they recently paid out a gigantic $17/share dividend, which equates to a whopping 23% of their share price.
The firm trades at a low valuation relative to its peers and moving forward are expected to generate strong cash flows. They are even investing for growth and chartering at least 8 new vessels to be built for emerging market growth routes such as Asia-Africa and Latin America.
Most investors are weary of shipping stocks as freight prices can be notoriously cyclical. However, according to a study by McKinsey US consumer demand is expected to remain strong in 2022 and even though shipping costs are predicted to normalize, this is estimated to be "above levels seen in 2019". Therefore I do expect revenue growth rates to slow substantially, but the firm should still be poised to "ship" a healthy dividend moving forward.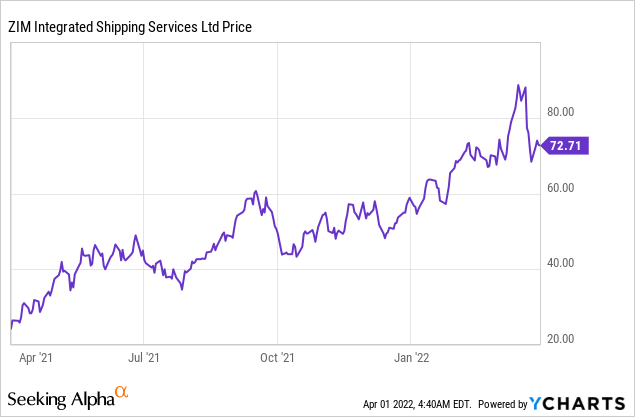 Solid Business Model
ZIM was founded in Israel in 1945 and became a pioneer in container shipping. The company IPO'd at $12/share on the NYSE in 2021 and since then the share price has skyrocketed by 503%, which has been mainly driven by rising shipping costs.
The firm covers the world's major trade routes, today they have their operations split with a strong presence in the Trans-Pacific (39% of their shipping) which covers Asia-America (west coast). This is followed by Intra-Asia (27%) and the Atlantic (18%). The firm runs an asset light "chartered in capacity" model to reduce the risk to their business model as shipping is notoriously cyclical. As of the end of 2021, ZIM had a long term charter for 10 x 15,000 TEU (twenty foot unit) vessels and 18 x 7000 TEU LNG dual fuel vessels.
Investing for the Future
ZIM is investing in order to increase market share in high growth emerging markets, where the firm currently has niche offerings. They have chartered new vessels thus far in 2022, these include:
These vessels are new-builds which are expected to be delivered by 2024. Zim's management is expected to use these vessels for operation on emerging growth routes. These include Asia-Africa and South America, routes where an increase in trade is expected. In addition the firm increased it's offering between India, Israel and Turkey.
Strong Financials
ZIM produced some fantastic results in Q4, 2021 with revenues of $3.47 billion, up 155% from $1.36 billion in the year prior. This was driven by both increased freight volume & rates.
ZIM carried 858 thousand TEUs in Q42021 up 7% from 799 thousand TEUs in Q42020. However, the average freight rate per TEU was more than double at $3,630 in Q42021, compared to $1,518 for Q42020. Thus the firm has generated an adjusted EBITDA of $2.36 billion for Q4, 2021 up a massive 344% from $531 million in the prior year. The company's adjusted EBITA margin has close to doubled from 39% in 2020 to 68% in 2021.
The firm's cash position has also increased substantially to $3.81 billion for FY2021, up from $572 million in 2020. While the firm prudently decreased their debt from $1.74 billion to $1.24 billion over the year.
Paying a Monster Dividend
ZIM was flush with cash in 2022 and thus they paid a gigantic 50% of their net income ($2.04 billion) out as a special dividend, this worked out at $17 a share which is approximately 23% of their current share prices.
Is the stock undervalued?
Zim is trading at a very low forward PE ratio of just 1.9, however relative to historical levels this is actually at the high end. It seems investors as a collective are still wary about the cyclical nature of the industry. However, ZIM does trade at a lower PE ratio of 1.9 compared to its peers in the shipping industry. These firms include (NMM) which trades at a forward PE of 2 and Danos (DAC) which trades at a forward PE of 4.2.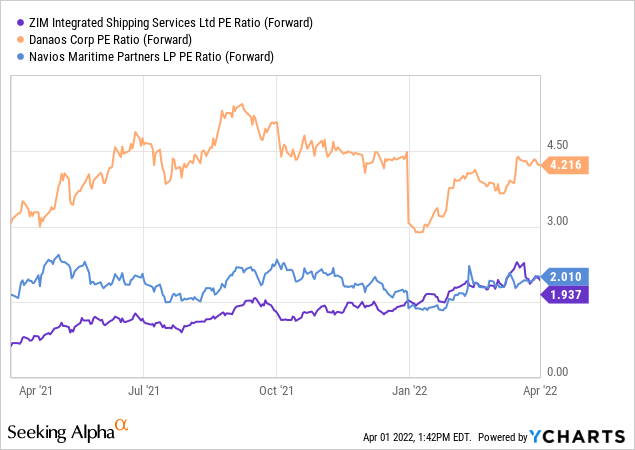 Risks
Shipping Rates Normalize
The shipping industry is notoriously cyclical, thus the firm is not expecting its historic 155% revenue growth rates moving forward. ZIM's guidance suggests an Adjusted EBITDA of approximately $7.1 billion for 2022, this is an increase of 7.5% from 2021 levels at $6.6 billion. These growth rates seem much more realistic moving forward & I would expect a decline in revenues as shipping prices normalize. According to a McKinsey study, they do expect rates to "normalize" but still be above levels seen in 2019. In addition, the same study highlighted that the high shipping rates are not due to a lack of ships but rather a lack of "effective ships". Port congestion was the main issue and inland infrastructure which was over capacity, this included a lack of trucking capacity, full shipyards and railways congested. Therefore, as these factors normalize shipping rates will decrease & thus ZIM's financials will decline.
Decreasing Globalization
The recent supply chain crisis has highlighted the risk of complex supply chains to firms. Thus moving forward economists agree the trend is towards "deglobalization", which is the movement of supply chains to localized regions. For example, Intel (INTC) has recently announced a new $20 Billion Ohio Factory. While fast fashion retail firm Boohoo (BOO) has also accelerated the opening of their US Factory after major supply chain issues caused a profit warning to be issued in 2021. Therefore as deglobalization continues the demand for ocean shipping may decrease, in the super long term. However, I believe for at least for the next decade, demand will remain strong.
Conclusion: Has the Ship Sailed?
Zim is a fantastic company which has benefited from the huge tailwinds brought on by increased shipping costs. These tailwinds have left the firm in a strong financial position. However, as most economists expect these rates to normalize, although at slightly higher levels than prior, I would lower your expectations of the stock moving forward. Despite this, the stock is still trading at a low PE ratio relative to competitors, they are investing for growth in key markets and have a solid strategy moving forward. Thus the stock is still a high dividend play, which offers exposure to the shipping industry.
This article was written by
Senior Investment Analyst for Hedge Funds. Interviewed Hedge Fund Managers and CEO's. Investment Strategy: Focus on Deep Dive Valuation, G.A.R.P (Growth at a Reasonable Price). Masters in Equity Valuation, 755+ Companies Analysed.
Analyst's Disclosure: I/we have no stock, option or similar derivative position in any of the companies mentioned, and no plans to initiate any such positions within the next 72 hours. I wrote this article myself, and it expresses my own opinions. I am not receiving compensation for it (other than from Seeking Alpha). I have no business relationship with any company whose stock is mentioned in this article.
Seeking Alpha's Disclosure: Past performance is no guarantee of future results. No recommendation or advice is being given as to whether any investment is suitable for a particular investor. Any views or opinions expressed above may not reflect those of Seeking Alpha as a whole. Seeking Alpha is not a licensed securities dealer, broker or US investment adviser or investment bank. Our analysts are third party authors that include both professional investors and individual investors who may not be licensed or certified by any institute or regulatory body.