Summary
The company has grown revenue nicely, and recent acquisitions will probably goose that further. The problem for me is that expenses are rising even faster.
The shares aren't cheap in my view. They're about 56% more expensive than when I bought. The last time they hit this valuation, they underperformed.
Unfortunately, it's not possible to sell put options, as the premia for reasonable strikes is too thin in my view. The juice isn't worth the squeeze.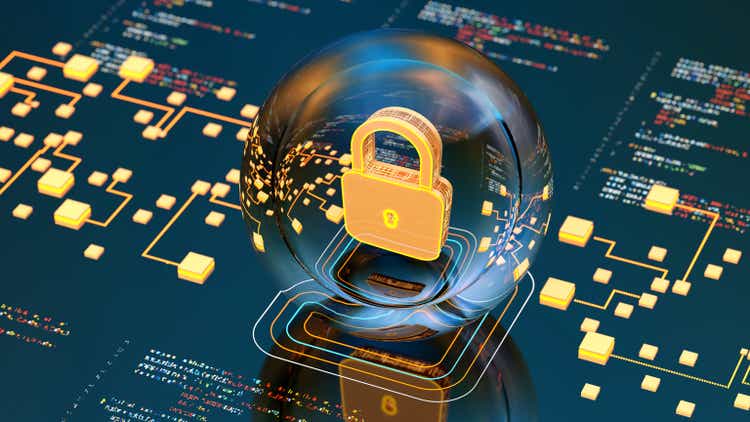 It's been a little over 41 months since I wrote my bullish article about F5 Networks Inc. (NASDAQ:FFIV), and in that time, the shares have returned about 25% against a gain of ~64% for the S&P 500. I thought I'd check on the company again to see if it makes sense to buy more, hold, or sell. I'll make that determination by looking at recent financial history here, and by looking at the stock as a thing distinct from the underlying business. Also, I sold puts on this stock before, and that demands comment, too.
You've got supermodels to date, shipwrecks to explore, and new frontiers of science to unlock. For my part, I've got lots of "Days of Our Lives" to catch up on. We're all busy, and living rich, fulfilling lives. For that reason I want to save as much of your time as possible by giving you the highlights in this, the "thesis statement" paragraph. I'm of the view that in order for something to be a "growth" company, the profits have to grow along with sales. When that doesn't happen, I grow concerned. That doesn't disqualify the stock from consideration, though, unless the valuation gets "out of whack." Unfortunately, the valuation is currently "out of whack", and so I'm obliged to take my chips off this particular table. The combination of slowing profit growth and very rich valuation is too much for me. I'd also point out that the last time the shares traded at current valuations, they went on to perform badly. Normally in this circumstance I like to compromise and sell puts at reasonable strike prices, but the shares are so far above what I'd be willing to pay that the premia don't justify the effort.
Financial Snapshot
I characterised this company as a "growth" company when I last reviewed it, and in some ways that perspective stands. For instance, the company grew revenues by just under 11% in 2021 relative to 2020. The same could be said when we compare the most recent quarter to the same period last year. Revenue is 10% higher than it was in 2020, and just under 21% greater than it was during the same period in 2019. The problem is that expenses grow right along with sales.
For example, from full year 2020 to 2021, Sales and Marketing, R&D expenses, and G&A expenses are higher by 8.6%, 10.3%, and 16% respectively. To put this in dollar terms, while revenue grew by $252 million from 2020 to 2021, these three expenses grew by $325 million. This is a problem for me, and I would need to see sales growth to exceed cost growth to remain excited.
It's at this point that I feel a sudden urge to remind some of my technology investor friends that we're compensated with what's left over after the business pays staff, suppliers, taxes, interest, and the like. Thus, sales growth is all well and good, but we owners need to be concerned with profit growth only.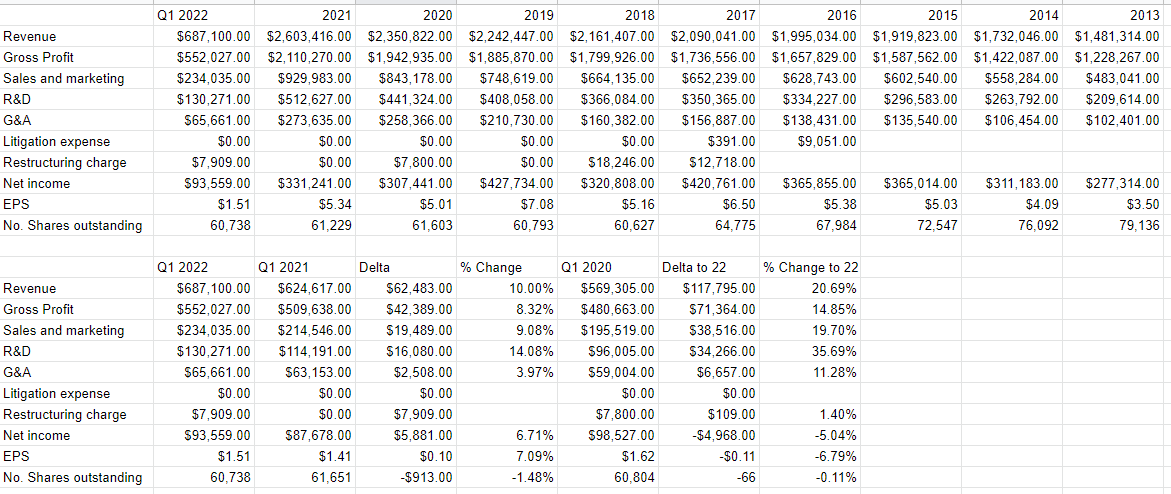 The Stock
Just because I consider this company to be relatively troubled doesn't mean that I'm not comfortable adding to my position here. After all, the cloud and internet security remain growth sectors, and the company is profitable. Additionally, in 2021 it acquired some compelling businesses (Volterra and Threat Stack), and those may improve profitability dramatically. So, it's time to consider the stock as a thing distinct from the business. If the shares are cheap enough, I'd be happy to buy.
I need to consider the stock as a thing distinct from the underlying business, because the business is about selling internet security solutions. The stock price, meanwhile, is a reflection of the crowd's mood about a given entity. The crowd seems to change its mind very quickly, which is why the share price has been so choppy over time. I'll highlight this point by using F5 itself as an example. The company reported its latest earnings on February 4th. Had someone bought that day, they'd be up about 2% since. Had they waited three weeks, they'd be down about 3.7%. Not enough happened at the underlying company to justify a near 6% swing in returns in three weeks, so the investment was either "good" or "bad" depending only on whether or not you happen to have bought on a day when the mood was more downbeat. This is why I only ever want to buy stocks that are cheap relative to their own history and to the overall market.
With all that as preamble, in my previous article on this name, I gushed about the fact that the shares were trading hands at a price to free cash flow of ~14.6 times. The shares are now about 56% more expensive per the following: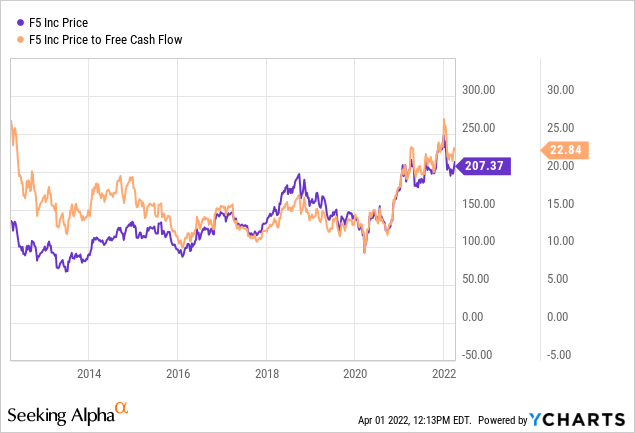 Source: YCharts
While history doesn't repeat it certainly "rhymes" in my experience. The shares are near a multi year high valuation, and the last time they reached these levels, they went on to perform badly. That's enough for me to sell my shares at this point. There's growing evidence that profits aren't keeping up with sales, and the market is now much more optimistic, and that's never good in my view.
Options Update
In my previous article, I recommended selling the January 2019 puts with a strike of $155 for $3.80. These expired worthless, which was a pleasant outcome at the time. Because I'm the sort to repeat the same point over and over again, I'm going to do so again. I consider these to be "win-win" trades when I earn decent premia for strike prices that I'd be willing to pay. If the shares remain above the wonderful strike price, the puts expire worthless, and the whiskey acquisition fund expands a little bit. If the shares drop in price, I'll be obliged to buy, but will do so at a price that I've determined to be very good.
While I normally like to try to repeat success, the share price is so far above strike prices that I'd be willing to transact at, that I can't do it. For instance, the July 155 puts are currently bid at $0, which is understandable given that that strike price is about 25% below the current market price. For that reason, I'm obliged to sit and wait for shares to drop to a more reasonable level before considering buying back in.
Conclusion
In my view, for something to qualify as a "growth" company, profits have to grow along with sales. That isn't happening in this case, and that presents a difficulty for me. This lack of profit growth may be one of the reasons for the stock's underperformance since I acquired it, but I'm now "out." I'm selling today, and will buy back in if valuations return to something reasonable. Indeed, if the shares drop in price, I'll also sell some puts on the name. I'm of the view that "price" and "value" are distinct things, and that they can remain disconnected for a long while. In my view, investors would be wise to sell before price falls to more closely match value here.
This article was written by
I'm a quant investment newsletter writer who marries fundamental analysis with the latest research in momentum. Over the past few years, I've developed a piece of software that helps me track the level of optimism and pessimism embedded in stock price. I seek to challenge the assumptions embedded in price by profitably exploiting the disconnect between what the market thinks and what is a likely outcome. I invest in those companies that have a greater than average chance of giving us all a surprise in the next few months.
Analyst's Disclosure: I/we have a beneficial long position in the shares of FFIV either through stock ownership, options, or other derivatives. I wrote this article myself, and it expresses my own opinions. I am not receiving compensation for it (other than from Seeking Alpha). I have no business relationship with any company whose stock is mentioned in this article.

Although I'm long at the time of submission, I'm about to sell.
Seeking Alpha's Disclosure: Past performance is no guarantee of future results. No recommendation or advice is being given as to whether any investment is suitable for a particular investor. Any views or opinions expressed above may not reflect those of Seeking Alpha as a whole. Seeking Alpha is not a licensed securities dealer, broker or US investment adviser or investment bank. Our analysts are third party authors that include both professional investors and individual investors who may not be licensed or certified by any institute or regulatory body.