Tsakos Energy Navigation: LNG Exposure Will Enhance Returns
Summary
The company has recently acquired its newbuild LNG carrier with $100 million revenue potential.
Corporate strategy consists of mainly time charter rates with some spot rate exposure to spice things up.
As older time charters expire, rates will continue to improve rapidly.
Although dilution has taken place in the past years, the company has the potential to deliver better-than-average returns, should the oil market fundamentals improve.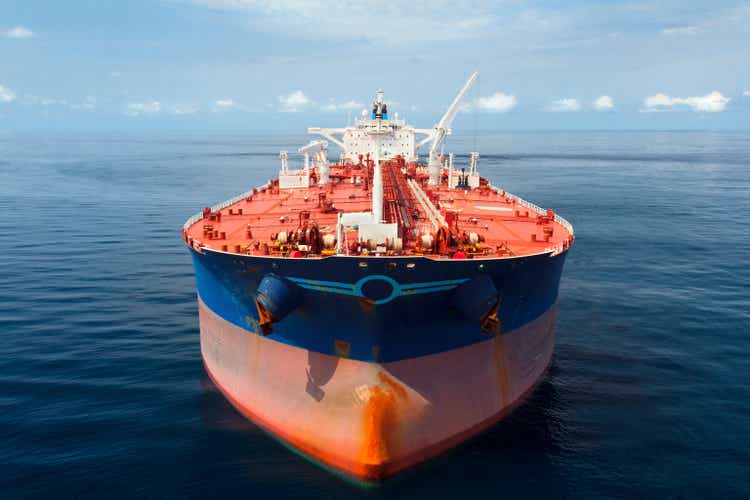 Today I will be looking at another Greek shipping company, this time in the area of petroleum shipping. I'm talking about Tsakos Energy Navigation Limited (NYSE:TNP), a company which currently owns a total of 65 vessels across different types. In the following paragraphs, I will provide a review of the company and name the most important reasons why I like this stock, as well as some negatives that I consider to be important.
Fleet size and type
As I mentioned in the introduction, Tsakos Energy Navigation has invested in a variety of vessel types, ranging from VLCCs to Handysizes and LNG carriers. In the graph listed below we can see that most of the company's vessels belong to the Aframax and Suezmax categories, followed by Panamaxes.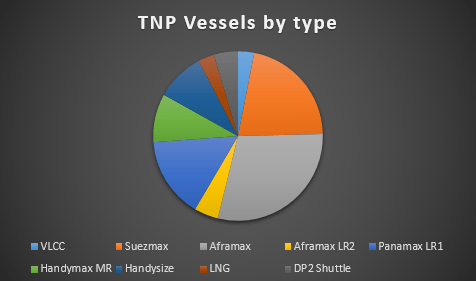 The data do not contain the newly delivered LNG vessel, which is currently chartered on a 5-year contract, with expected minimum gross revenues of $100 million. On top of that, the company expects a DP Shuttle delivered in Q2 2022 and four more, dual fuel LNG vessels delivered in the second half of 2023.
The company's fleet accounts for a total of 7.3 million DWT, which is mainly formed by the Aframax and Suezmax segments. The average age of the company's fleet is 11.7 years. During the recent past, the company has sold some of its oldest vessels and entered agreements to purchase newer, LNG vessels, in an attempt to gain exposure to the currently strong LNG market. In addition, the company has completed dry dockings for a significant amount of its fleet last year, which makes it ready to exploit favorable oil market conditions when they arrive. Finally, both of the company's VLCCs are "eco" designated and the same is true for 9 of the company's Aframaxes.
Spot market vs. time charters
Tsakos Energy Navigation seems to prefer time charters against spot markets, which is something that I personally like. More specifically, 55% of the company's fleet is time chartered, which stands for 60% of the total fleet tonnage. A few weeks ago, they announced the extension of the time charter contract of two Panamaxes for a 24 - month period, with gross proceeds of $25 million. In their Q3 2021 earnings report we can see that the daily average time charter rate reached $15.7k for the three months and $17.1k for the nine months.
The company hasn't released any newer information on the subject. However, we can see in the table listed below that oil tanker time charter rates are exceeding the rates mentioned earlier. This points to an even better quarter regarding time charters.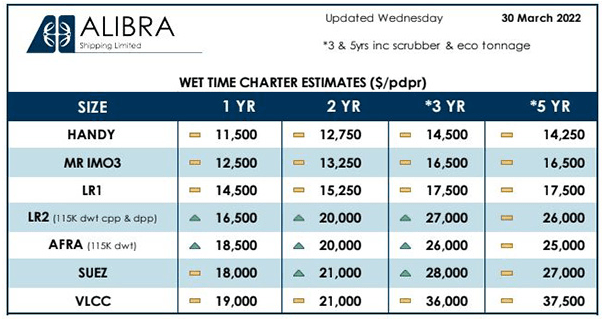 This is particularly important considering that, according to the company, for every $1k increase in time charter rate per day, the company's annual EPS grows by $0.48. The company hasn't disclosed information about their average time charter duration, which would be nice. For example, in my article about Dianna Shipping (DSX), which is a company operating in the dry bulk segment but solely committed to time charters, I stated that the company should perform better from now on, due to many time charter contracts expiration in the short term.
However, let's not forget the LNG footprint of the company. Although still a baby one, it has the ability to be a game changer, given the recent Ukraine - Russia conflict and its implications. For the most part, Europe is dependent on Russian natural gas, which as it seems is no longer an option, at least for some time. The gap was almost immediately filled by the U.S. stating that they will supply Europe with the so much needed LNG. One doesn't need to have a Nobel prize in economics to understand the implications of such policy.
As I wrote earlier, the company expects $100 million in gross revenues from their newly delivered LNG vessel, in a period of 5 years. Such a figure corresponds to a gross daily rate of $55.5k. The recently delivered vessel is a dual-fuel, XDF vessel. As we can see in the chart listed below, LNG spot rates for dual fuel XDF vessels reached the ballpark of $80k per day. Given that long term charter contracts are usually less volatile and hence, less risky than spot prices, that $55.5k per day rate seems reasonable.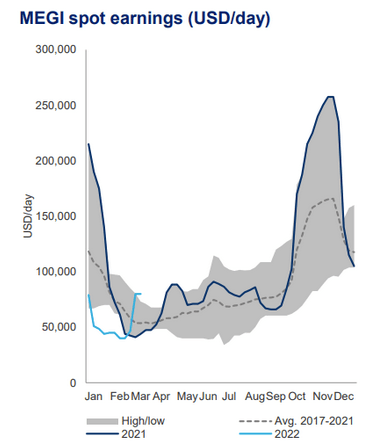 Financial profile
Like all shippers, Tsakos Energy Navigation uses leverage to maintain and expand its operations, in different market conditions. According to the latest available data, the company has a net debt to capital ratio of 48.6%, having paid down almost $500 million of debt during the last 5 years. As a matter of fact, the current leverage levels are the second lowest, with the lowest ones being observed in 2012.
Last October, the company proposed an amendment to its share offering program, including a common and preferred share offering of up to $100 million in value. The company moved forward to a 1 to 5 reverse stock split in 2020. It seems that during the last 4 years, Tsakos Energy Navigation issued approximately 1 million common shares per year (taking into account the reverse stock split), or approximately 4%-5% of the total share count. This, in my opinion is a significant negative for the company. This serial dilution is offset to a certain degree by the existing dividend yield of 4.3%.
Bottom line
Tsakos Energy Navigation is a company that is trying to differentiate its revenue stream and take advantage of the new prospects that have emerged in the LNG business. Despite the fact that the company has diluted its shareholders in the recent past, the revenue stream differentiation give the company an edge in providing better than average returns. While there are no available data on when their next time charter expires, we can expect that the company will provide less lucrative, but more stable returns, should the oil market fundamentals improve.
This article was written by
True Orion is comprised of two notions. Orion, the ancient mythical hunter, and truth. The neverending pursuit for truth. This is my motto. I believe that knowledge is key to achieving oversized returns in a financial as well as in a personal level. As a private investor, with a real estate investment educational background and with more than 15 years of investing experience in the real estate and stock market, I can tell you that. Here in SA, I provide my readers with articles regarding specific stocks, or market analysis. My main focus is in REITs, shipping and value/growth smallcap stocks. Megacaps (usually) leave me tremendously indifferent. The purpose of my articles is to express my ideas and get them tested by reality, while at the same time gain additional knowledge throughout the process. As I said above, the notion of the neverending pursuit of truth is hidden behind True Orion. If you like my content, don't forget to follow me, like, share and comment. As a contributor affiliated with SA, signing up for the SA's premium annual subscription plan by clicking here, you are supporting my efforts even more.
Analyst's Disclosure: I/we have no stock, option or similar derivative position in any of the companies mentioned, and no plans to initiate any such positions within the next 72 hours. I wrote this article myself, and it expresses my own opinions. I am not receiving compensation for it (other than from Seeking Alpha). I have no business relationship with any company whose stock is mentioned in this article.

This article was written for information purposes only. You should not, in any case, take the contents of this article to be an urge to buy, hold or sell securities. Always perform your own research before investing in the stock market.
Seeking Alpha's Disclosure: Past performance is no guarantee of future results. No recommendation or advice is being given as to whether any investment is suitable for a particular investor. Any views or opinions expressed above may not reflect those of Seeking Alpha as a whole. Seeking Alpha is not a licensed securities dealer, broker or US investment adviser or investment bank. Our analysts are third party authors that include both professional investors and individual investors who may not be licensed or certified by any institute or regulatory body.