Chicken Soup For The Soul Entertainment: 'It's The Content'
Summary
Chicken Soup's content acquisition strategy seems to be working very nicely based off owned content revenue percentages.
The company still has nearly $9 million in share repurchases that have been cleared by the BoD.
Record revenue in Q4-21 and a content library that is potentially undervalued.
The company's navigation of the market for its shares has been impressive.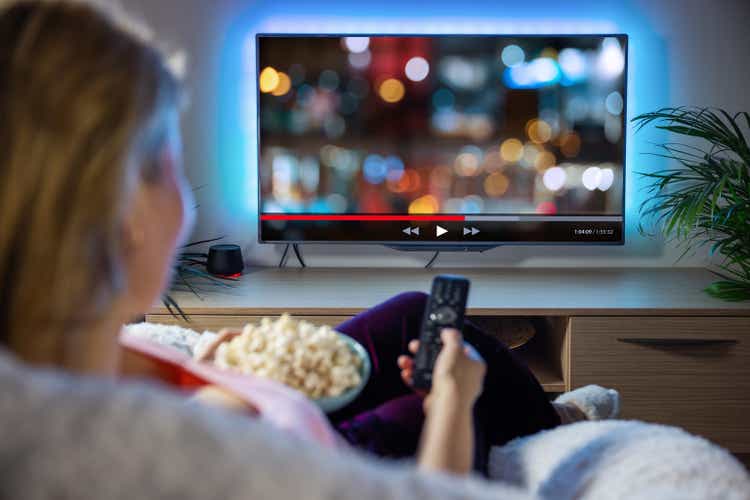 Chicken Soup for the Soul Entertainment (NASDAQ:CSSE) released Q4-21 earnings on Thursday after market close. While the top line numbers are strong, I was even more encouraged by the commentary from CEO Bill Rouhana on the conference call shortly after. I've been covering this name for a couple of years now and though I haven't listened to every call, I think this is probably the most animated I've heard Rouhana. Animated in a good way, to be clear. I'll get into some of that later in the article. First, let's review some of the numbers and news nuggets from the company.
Revenue Growth
In Q4, the company earned $36.0 million in net revenue. This is an increase of 78% year over year and 24% over Q3. For the full year, revenue came in at a little over $110 million, an increase of 66% compared to 2020. Total cost of revenue for the year increased by 52%. Gross profit margin came in at 28% for 2021. Which is well ahead of the 21% posted in 2020. Adjusted EBITDA grew 86% year over year to $21.8 million for the full year.
The revenue breakout for the full year really shows how much the company's business model has evolved in just 12 months. At 43% of total revenue, "licensing and other" has grown by 279% year over year and become a considerable portion of the company's overall revenue. This speaks to the importance of Chicken Soup's content strategy.
Content is King
At the beginning of March, Chicken Soup acquired independent distribution business 1091 Pictures. The deal was for $15.6 million. Of which, $8 million was in cash, $2 million in preferred shares, and the rest in 375,000 shares of common stock. Those common shares were priced at $14.80 per share. The 1091 Pictures deal adds approximately 4,000 films and TV series to CSSE product offerings according to the company. Just last week, the company announced agreements with BBC studios that brings 300 hours of new BBC content to Chicken Soup's owned platforms and makes Crackle the exclusive home for streaming the hit show Sherlock. These are just some of the latest examples of Chicken Soup's content acquisition strategy, and it appears to be working very well.
Regarding content, there were two takeaways from the call Thursday that I think are worth sharing on this point. In this first comment from CEO Bill Rouhana, there are now more ad impressions coming from exclusive content than in previous quarters:
As a percentage of overall ad impressions, original and exclusive viewership generated as high as 28% of total ad impressions in December. 24% for the quarter, both of which exceeded our goal, our year-end goal of 20%. And that number will undoubtedly increase with our more robust 2022 pipeline. Remember, this is our most profitable content.
Those of you who read my first article about Chicken Soup may recall that the core of my thesis, stripped down, was that aVOD players who owned their own content would be in a highly advantageous position because content is what ultimately drives viewing and engagement. According to Rouhana, competing platforms are starting to get the point:
Over time, all of the AVOD players will end up imitating our strategy. Just take a look at Tubi. They'd be the first to tell you they're watching what we're doing and doing it. They just announced they did MarVista. They announced they're going to have, I don't know, I think they said 80 pieces of original exclusive content this year or next year or something like that. We'll be over 100.
And imitating the content acquisition strategy isn't just limited to Tubi. Roku (ROKU) bought Quibi's library in Q1 of last year. More recently YouTube (GOOG) ramped up its premium content strategy as well.
The Market For Shares
Back in February, Chicken Soup for the Soul Entertainment announced it would be increasing its share repurchase program from $20 million to $30 million. During the last earnings call, CFO Chris Mitchell provided an update on how that repurchase plan has been progressing. He stated 879,000 shares were purchased in Q4-21 at a cost of $12.6 million. He went on to state the Q1-22 repurchases were for 765,000 shares at a total cost of $8.5 million.
This would indicate there is roughly $8.9 million remaining in the share repurchase program which the company plans to opportunistically exercise. As might be expected, the company's repurchase program cost basis so far is significantly higher than Thursday's close of $7.99 per share.
| | | | |
| --- | --- | --- | --- |
| | Shares | Cost | Cost Basis |
| Q4-21 | 879,000 | $12,600,000 | $14.33 |
| Q1-22 | 765,000 | $8,500,000 | $11.11 |
| Total | 1,644,000 | $21,100,000 | $12.83 |
Source: Chicken Soup for the Soul Entertainment, Chris Mitchell
While the company has been busy buying shares, the bear side has been busy selling them. In my last article, the short position was only 632k shares. That number has ballooned to over 1.1 million shares sold short as of March 15th.
While the short interest has ramped to a point where there are actually more shares sold short now than when the stock was in the 30's last summer, the average daily volume has fallen off a cliff and the company has been buying the shares back. If you remember back in July 2021, the common stock offering was for 1,875,000 shares with $75 million in expected proceeds. The company has now repurchased 1,644,000 shares for just $21.1 million. The point is, most of the shares from that offering have now been bought back at a considerably lower price. I think the market dynamics around CSSE shares are probably what led to a 45% increase on 19 times 30 day average volume during Friday's session. Just an absolutely incredible rip.
How do you really feel, Bill?
Personally, my favorite part of Thursday's call was when Rouhana started going at GAAP philosophically speaking. In response to a question, Chris Mitchell described how the current generally accepted accounting principles are structured in a way that disallows writing-up content asset values when the expected revenue generation from those assets has been underestimated. Yet, when it is clear content revenue will miss expectations or is at maturity, the value of the content is written off. In summary, asset valuations can be decreased but not increased on the balance sheet in these cases. Rouhana provided some intel on how this potentially impacts the company's asset value on paper to a negative degree:
In the last few weeks alone, we've received proposals on individual pieces of content. I'm not going to exaggerate. I'm going to give you the actual number, where the offers are 1,800% higher than the content cost is on our balance sheet. We don't get to write that up.
When Michael Morris, who asked the initial question that spawned that comment, followed up by asking if Rouhana was referencing licensing offers or content acquisition offers, we got this:
People come to us all the time and go, can we buy this or buy that? We have intellectual property that's very, very valuable. At exactly the same time, these folks are writing off some small number of millions of our library. We are getting offers for individual pieces of content that are more than the total amount of the write-off. It doesn't make any sense to me. I just find it ludicrous.

Our library is incredibly valuable. We have one of the largest film and television libraries now in the world, and it's high-quality programming. And we own much of the intellectual property underlying it. And we have long-term rights on most of it. It's an unusual amalgamation of asset value. And in fact, if you look at the way some of the distribution companies are being sold today with libraries that are a fraction of our size, they're selling for more than our market cap, which is another ridiculous thing, by the way, if you want to talk about ridiculous things. Our market cap is one of the most ridiculous things I've seen.
That last paragraph probably explains why Chicken Soup's board has given the go-ahead on additional share repurchases. The company feels the market is not properly reflecting the value of the business. And Rouhana is putting his money where his mouth is.
Risks
Recession. Pure and simple. Just like any business dependent on advertising for a significant portion of revenue, a recession could get in the way of Chicken Soup's revenue growth story. That said, just as the company's stock turned out to be a big beneficiary of the COVID trade, Chicken Soup's consumer offering is free of charge. If cord-cutting continues and more sVOD churn is realized, it will partially be a product of consumers looking to cut expenses from the monthly budget. aVOD platforms that offer advertisers an attractive audience demographic as well as exclusive content and cost-less barrier to entry for the consumer should be fairly well positioned even in economic uncertainty. Chicken Soup checks off each of those boxes.
As I alluded earlier in the article, there is a very interesting market dynamic taking place with the company's common shares. On the surface, the short position seems aggressive. What bears are likely banking on is the issuance of 4,649,471 shares of common stock if warrants are exercised. This would represent 60% of the shares outstanding according to Thursday's annual filing. There are no guarantees these warrants will be exercised, but the potential for dilution shouldn't go unnoticed.
Conclusion
Numerous times during Thursday's call Rouhana said "it's the content." I agree with this viewpoint. My last article on Chicken Soup claimed adding common shares would pay off down the line. At the time of publication, the share price was just under $14 and I tagged it as a "strong buy." In the months that followed, the stock traded down even further. I view that as an opportunity and added to swing positions under $10. Now, with fresh earnings figures, record revenue, and guidance through the end of the year, I believe we're finally making the trend reversal in the share price.
The revenue growth is strong. While the company is still losing money, the margin is improving and the true value of the company's assets don't seem to be properly reflected by GAAP accounting. Rouhana's emphasis from the earnings call is a strong indication to me that there's quite a bit of untapped value here. As I've said in past articles, I think Chicken Soup is a slept-on buyout candidate and Rouhana clearly assigns a company valuation that is much higher than what the market is reflecting today.
Coming Soon
I'm very happy to announce that in the weeks ahead, I'll be launching a Marketplace service right here on Seeking Alpha called "Heretic Speculator PRO." As we get closer to the launch, I'll be able to get into more of the details about the service and the value proposition for subscribers. Make sure you follow me so you don't miss what's coming!
This article was written by
5 years as a media research analyst. Main coverage areas are crypto, BTC miners, and media equities. Outside of Seeking Alpha, I write the Heretic Speculator newsletter where I share additional thoughts on finance with more of a social backdrop.
Analyst's Disclosure: I/we have a beneficial long position in the shares of CSSE either through stock ownership, options, or other derivatives. I wrote this article myself, and it expresses my own opinions. I am not receiving compensation for it (other than from Seeking Alpha). I have no business relationship with any company whose stock is mentioned in this article.

I am not an financial advisor. Please do your own research.
Seeking Alpha's Disclosure: Past performance is no guarantee of future results. No recommendation or advice is being given as to whether any investment is suitable for a particular investor. Any views or opinions expressed above may not reflect those of Seeking Alpha as a whole. Seeking Alpha is not a licensed securities dealer, broker or US investment adviser or investment bank. Our analysts are third party authors that include both professional investors and individual investors who may not be licensed or certified by any institute or regulatory body.