PBF Logistics: 8.4% Yield With Stable Outlook
Summary
PBF Logistics generated substantial cash that covers their dividend in 2021, and the future outlook is stable given the high price of petroleum.
Since 2019, management has been improving the balance sheet and reducing long term debt (decreased from $802 M in 2019 to $622 M in 2021).
With a strengthening balance sheet and strong cash generation, I expect PBF Logistics will see increasing revenue going forward.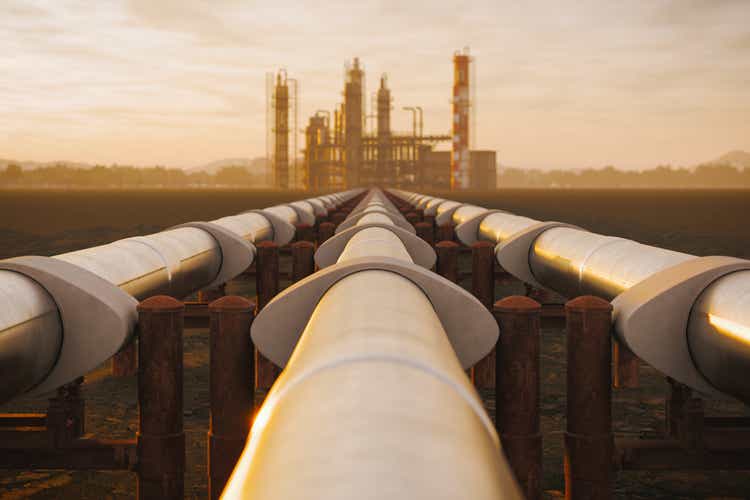 Investment Thesis
PBF Logistics (PBFX) is a fee-based limited partnership that owns, leases, and operates petrochemical product terminals, pipelines, and storage facilities. PBF Energy is the sole managing member of PBF Logistics, and the majority of PBF Logistics' revenue comes from PBF Energy. This means that the business performance of PBF Energy is very important to PBF Logistics. During the pandemic, in the midst of extreme low oil prices, PBF Energy suffered big losses. Stock price of both PBF Energy and PBF Logistics dropped. Reduced income and unstable outlook caused PBF Logistics to cut their dividend. However, PBF Energy's revenue and balance sheet have improved as the oil price has recovered. Now they have a strong future outlook given the current market conditions. I believe PBF Logistics provides a great opportunity for the dividend investor because:
Since my last analysis, PBF Logistics reported earnings in mid-February, and they had a strong 2021 with increasing operating cash flow.
They have been steadily improving the balance sheet since 2019, and their long term debt has substantially decreased ($802 M in 2019 to $622 M in 2021).
Oil price will remain at a high level for the foreseeable future, due to under-investment during the pandemic and ongoing geopolitical concerns.
Strong 2021 Result
PBF Logistics reported pretty strong financial results for 4Q 2021 and overall 2021. Their net income increased from $147 M in 2020 to $153.3M (5% increase), and they generated more than enough operating cash flow ($187 M) to cover their dividend payment ($75 M). As a shareholder, it was great to see that stable operations continued despite the turmoil caused by the pandemic. I believe the result demonstrates the strength of their business model, which uses a revenue structure that is based on fees and long-term contracts.
In addition, parent company PBF Energy reported a strong 2021. After recording a loss during the turmoil of the global shutdown, PBF Energy recovered with profits that were in line with their pre-pandemic levels (earnings from continuing operations of $315 M in 2021 and $375 M in 2019). Given PBF Logistics' large exposure to their parent company, the recovering business activities of PBF Energy was great news.
PBF Logistics operates facilities (pipelines, terminals, and storage), and charges their customers a fee for handling and transferring crude oil, refined products, and natural gases. Therefore, their revenue is not directly impacted by the fluctuating commodity prices, and shareholders can expect the operation to generate stable revenue and cash flow. Given that oil is one of the most volatile commodities in terms of pricing, this stable operation provides a cushion against this volatility and is certainly welcome news for a shareholder.
Strengthening Balance Sheet
Since 2019, PBF Logistics management has made a focused effort to improve the balance sheet and reduce long term debt. Over the past three years, PBF Logistics has repaid over $100 M in long term debt each year, which has substantially reduced the long term debt from $802 M in 2019 to $622 M in 2021. Thanks to this effort, the balance sheet looks substantially stronger. Total debt to equity is now down to a more comfortable level of 250%.
This improving balance sheet will offer a number of beneficial impacts on the long term financial health, and this will translate into larger returns to the shareholders. Lower debt levels mean lower interest payments, which will improve the cash flow of the company in the long run. Also, there is less chance of the company experiencing financial hardship (e.g., bankruptcy) in the event of a recession or industry-wide downturn. So, the improving strength of the balance sheet along with high liquidity (current ratio of 3.65x) were great metrics to see as a long term investor.
Strong Future Outlook
During the pandemic, many oil majors substantially reduced their capital expenditure. Since an oil well takes a couple of years to develop, the full effect of this under investment is only now starting to show. Also, the ongoing geopolitical conflict added another layer of uncertainty to the oil supply. Therefore, I expect oil price to stay at its current level ($90-100 per barrel) for the foreseeable future, and the elevated commodity prices of crude oil, gasoline, and other petro-chemical products will provide a great tailwind for PBF Logistics.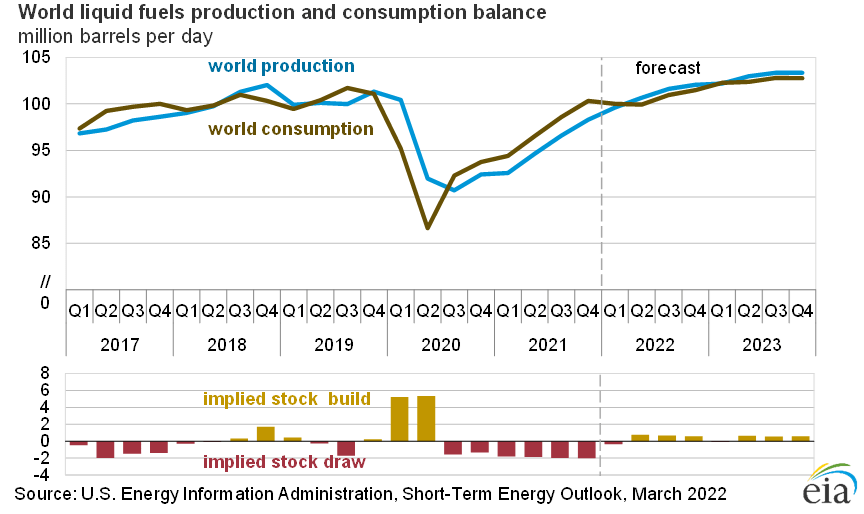 Another factor that has a stabilizing impact on PBF Logistics' outlook is the minimum volume commitment (MVC) written into their contracts. Under the MVC, if the customer fails to transport its minimum throughput volume over a certain period, the customer has to pay the difference between the actual volume and the MVC amount. In other words, the customer has to pay for the minimum volume regardless of whether or not they use the capacity. Therefore, this MVC term serves as a floor to ensure that PBF Logistics will collect at least a certain level of minimum revenue. This provides nice revenue assurance for the company and shareholder.
Intrinsic Value Estimation
I used a DCF model to estimate the intrinsic value of PBF Logistics. For the base case, I utilized TTM dividend cash distribution ($75.0 M total distribution, $1.20 per share) and current WACC of 9.0% as the discount rate, assuming perpetual payment at the same rate. For the bullish and very bullish case, I assumed $1.40 per share and $1.60 per share annual dividend payment, respectively, using the same WACC and perpetual payment assumption. The dividend payments of $1.40 per share and $1.60 per share are in line or slightly lower than their pre-pandemic distribution level. As the petroleum related commodity prices are expected to stay high, I believe PBF Logistics will start increasing the dividend, ultimately returning to its pre-pandemic level.
The estimation revealed that the PBF Logistics presents an opportunity with a great combination of stock appreciation and nice dividend yield. With an improving future outlook and balance sheet, I expect PBF Logistics to achieve this upside.
| | | | |
| --- | --- | --- | --- |
| | Price Target | Stock Price Appreciation Potential | Dividend Pay |
| Base Case | $13.33 | -5% | $1.20 per share |
| Bullish Case | $15.55 | 10% | $1.40 per share |
| Very Bullish Case | $17.78 | 26% | $1.60 per share |
The assumptions and data used for the price target estimation are summarized below:
WACC: 9.0%
Current Dividend Payment: $75.0 M ($1.2 per share)
Current Stock Price: $14.08 (04/01/2022)
Tax rate: 30%
Risk
Even though the fundamentals (supply and demand) favor high crude oil prices, crude oil is one of the most volatile commodities. Any kind of geopolitical shift or government policy change can have a large impact on oil price for both short and long term. Therefore, investors should keep abreast of news related to energy prices.
Some experts are projecting lower economic growth this year and next year due to high inflation, labor shortages, and supply chain disruptions. Lower economic growth may reduce demand for oil, and this may negatively impact revenue for PBF Logistics. Therefore, investors should pay attention to this macro-economic indicator.
Conclusion
PBF Logistics has a strong business model with great cash flow generating ability. Given the improving balance sheet and strong outlook for petroleum commodity prices, I expect PBF Logistics to start increasing their dividend until it reaches the pre-pandemic level. Uncertainties around oil price or slower economic growth may challenge their business, but their business structure and contract agreements provide some buffer against these threats. Overall, I expect 10-20% upside along with a generous dividend of 8.5%.
This article was written by
Visit me at Cappuccino Finance, I share my top picks (Value, Growth, Dividend & Growth), market outlook, and interesting ideas from super investors, based on my 12 years of experience and knowledge in stock investment and in real estate. I, Justin J. Lee, believe in fundamental analysis and disciplined market research. I have strong quant background with a Ph.D. (University of California, Santa Barbara) in model predictive control and an MBA (Jones School of Business, Rice University). My primary focus is to identify 1) small cap companies with strong fundamentals and growth potential, 2) large cap companies going through temporary set-backs, and 3) stable companies with solid dividend yields and growth potential.
Analyst's Disclosure: I/we have a beneficial long position in the shares of PBFX either through stock ownership, options, or other derivatives. I wrote this article myself, and it expresses my own opinions. I am not receiving compensation for it (other than from Seeking Alpha). I have no business relationship with any company whose stock is mentioned in this article.
Seeking Alpha's Disclosure: Past performance is no guarantee of future results. No recommendation or advice is being given as to whether any investment is suitable for a particular investor. Any views or opinions expressed above may not reflect those of Seeking Alpha as a whole. Seeking Alpha is not a licensed securities dealer, broker or US investment adviser or investment bank. Our analysts are third party authors that include both professional investors and individual investors who may not be licensed or certified by any institute or regulatory body.